With these 15 unusual needs you'll love for your classroom, life will be just a little more pleasant for you AND your students all year long.  
Most of these involve making your classroom a little bit more comfortable.  This will encourage more attention and learning from your students.
Some of them involve organization.  This helps the teacher to make her daily routine just a little bit easier.  Then the teacher gets to go home earlier!
Are they needs?  Maybe not in the technical sense. But if they help your day and your students' day to go a bit (or a lot) easier, then maybe the need factor does come into play here.
Most of these items are pretty affordable.  But there are a few with a higher price tag.  I chose them because they won't need to be replaced often, if at all.  Most of them also come in a variety of shapes and forms that still allow you to make your classroom your own.
So let's go ahead and take a look at 15 unusual needs that you'll love for your classroom!
1.  Fluorescent Light Filters
These are actually great for a number of reasons.  Most people (adults and children) don't love the harsh light of fluorescent lights.  But for some people, the light can be harmful.  There are a lot of people that get headaches from them.  And there are many more health issues related to them.  This is especially true for some  special needs children.
The great thing about these filters is that everybody will enjoy the way they take away the harshness of fluorescent lighting.  And they make a more pleasant room to study and play in.
They come in a variety of colors and designs.  For simplicity, you could just choose a solid color.  You could even change those with the seasons.  But there are some pretty awesome designs out there as well.  There is a tree one that one reviewer described as turning her classroom into a skylight.
These can get pricey to put across your whole classroom at once.  So you can place them strategically around the room, at least until you can build them up.  Every little bit will be a great help in the area you use it in.
Buying them separately over time also allows you to buy different styles.  I will put a couple of links here so you can see some great options.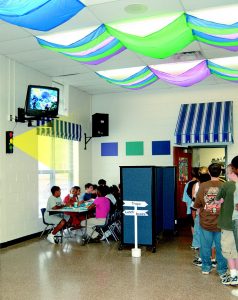 Fluorescent Light Covers (Trees)
Classroom Decor
The next series of unusual needs you'll love for your classroom are to make a really great reading/relaxing area for your students.
2.  Reading Carpet
This carpet is amazing for so many reasons.  It is stain resistant, odor-reducing, and thicker than your average industrial carpet.
This carpet comes in an astonishing 58 different sizes and dimensions.  It comes in rectangles, squares, circles, and ovals.
So regardless of your reading corner size, there is a perfect size carpet for you.  It also comes in 12 different colors so it will be a cinch to coordinate your reading corner.
Because of it's wide availability for whatever your need is, it makes my #1 choice for unusual needs you'll love for your classroom.
3.  Floor Lamp(s)
This further contributes to the ambiance of the classroom, allowing your kids to feel more comfortable and at home in their classroom.  You definitely don't want them falling asleep!  But allowing them to have a touch of home comforts can promote better learning in an atmosphere that they can appreciate.
I am not going to leave a link for this because you can choose the lamp that works for you at virtually any department or home goods store.  Or of course, you can order from Amazon and have it delivered straight to your home or school.
4.  "Mailboxes" for Your Students
Having mail slots for each of your students is good for so many uses–homework assignments, letters for parents, rewards, surprises from time to time–the possibilities are literally endless.
Plus you can use yet another set for yourself to keep your teaching, art, or other materials organized.  Once again, the possibilities are endless!
But the problem I faced was that the corrugated cardboard ones were pretty expensive compared to the wooden ones.  And they definitely wouldn't hold up as well as the wooden ones.
But on the flip side, the wooden ones were mostly made of cheap particle board that didn't hold up well even in the assembly phase.
But then I finally found some that were made of 100% recycled plastic.  The reviews are for the most part much better than the cardboard or wooden ones.  The vast majority of customers were happy with their purchase.
Even better, there is now a newer version that is $40 less than the original version.
They come in either black or gray, both great accent colors for the classroom.
5.  Reading Seats
These bean bag seats are the perfect balance between super comfortable and uncomfortable.  You don't want your students falling asleep or getting so relaxed that they aren't able to learn anymore, even though these are for the reading corner.
These are super comfortable, but not put-you-to-sleep comfortable.  they are velvety soft.  And they are pretty darn cute for the classroom.  These come in sets of two but they can also be bought individually for a slightly higher per-item price.    They also come in several different colors.
Reading Corner Bean Bag Chairs
6.  Throw Blankets
Throw blankets for your students to curl up with a good book with are the icing on the cake!  You'll have students hurrying to finish their work so they can get to that luxurious reading corner.
The biggest things you need to look out for is that the blankets are:
hypoallergenic
fire resistant/retardant
easy to clean
And you will probably have to take them home somewhat frequently to throw them in the wash.  But your students will be thanking  you all year long!
7.  Curtain Lights
This may very well be your students' favorite part of your whole class.  Make your reading corner magical with these lights that can fill up the back two walls of your reading nook.  Make sure that you get the warm glow lights so that the blue light doesn't hurt their eyes or bother them.  Your class has now arrived!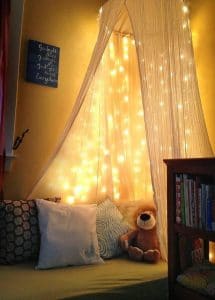 8.  Corner Shelves
Corner shelves are awesome.  They don't take up as much room as regular shelves.  Plus they allow you to display a few things prominently.  And you can use them for so many things.
I used them to display a copy of the literature book we were reading at the time.  It was usually a special copy of the book–an anniversary edition, or some special edition that had a nicer hardcover, nicer pages and just more of a decorative feel to it.
I have to admit, that is generally the  way I buy most of my books.  I love beautiful books, especially since I am going to be holding it for a significant amount of time.
Anyway, back to the shelves.  Once I have my book picked out and displayed, I add my sample of each of the major crafts we did to the shelves to make a really nice display.  My classroom crafts are always of a different quality than the typical classroom crafts.  For more details on this, check out this page of my website.
Unfortunately, I never took pictures of the display in my classroom.  And currently it is not in operation, so I will have to wait until everything is back in place to put an example picture here.
This particular shelf is not made of solid wood, but because it is in the corner and not really used by the students, it doesn't really need to be extremely durable.  And it comes in 5 different style colors, so you are sure to find the one that suits your class.
9.  Classroom Awning
A few of the reviews complained of the awnings being a thick cardstock and not real, but if you look at the price you are paying, you are definitely getting a cardstock decoration and not the real thing.
Another complaint was that they were small, but most teachers actually found this an advantage because you could add as many as you needed to make the right size without it being too overly large or small for the space.
This picture shows how all of this works out in the classroom: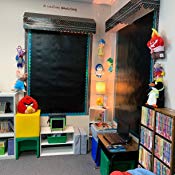 This picture shows how two were used per board and how they fit above the space.  Because this is not going to be an item that is displayed lower on the walls, there really is no fear of it not standing up to wear and tear.  It also comes in 12 different designs.  The one shown here is Chalkboard Brights.
Classroom Organization
Okay, back to some more practical items for your class.  The next set of unusual needs you'll love for your classroom will be organizational in nature.
10.  Seat Sack
This is the best of ideas if your classroom works with tables instead of desks.  I started with desks in my classroom and it was a constant struggle.  Disclaimer:  I was homeschooling, so I had unlimited flexibility to choose my classroom furniture.
Anyway, back to the story.  The desks were always a mess and it just added to the classroom clutter in general.  After a while, even though the kids had asked for their own separate desks initially, by the time I decided to go with tables, they were so grateful.  It really cut down on their maintenance time (if they had taken the time to keep their desks clean).  But it also was no longer a point of stress for them every time they went into their desk to find something.  It was a win-win for all of us.
So what to do with the extra "little stuff" that their desk was holding?  Seat sacks!
These will not draw the clutter that the desks did because the student has to purposefully put stuff into it.  It isn't quite as convenient as throwing it into their desk.  Also, it has organizational pockets that automatically lend to them keeping things more organized.
I found it a little tricky picking out the perfect design/color/functionality.  There honestly was not one out there that I considered perfect in every way.
Close Enough
But this one came the closest to perfect I could find.  It came in a couple different color selections:  red/blue and teal/lime.  The teal/lime one worked well for my classroom.
They all had options for name tags, so that the correct child's belongings were easily recognizable.  Some had no extra storage pockets, some had several, but were open and easy for someone to walk past an knock out onto the floor.  This design, though, had a zipper pocket, so all those little extra supplies could stay in place and not get lost.  And that is what drove it to the top of my list.
11.  Supply Caddies
The reason these made the list of unusual needs you'll love for your classroom out of all of the other options is because of three things.
First, there are 4 colors available, but they don't come in rainbow colors, which just makes the classroom look that much more crowded.  They also come in clear plastic, which is pretty awesome.  My personal preference was black.  Even though I loved the clear ones, I thought they would need much more constant cleaning because you can't hide the dust and scraps that collect at the bottom.  They also would show everything inside of them, which would also lead to the appearance of clutter.
Second, they come with one wide slot on one side and one half size slot, one quarter size slot, and eighth size slot, and two sixteenth size slots on the other side. That is so flexible!  I love the overall great design.
Third, you can buy them singly, in a pack of two, or a pack of 4.  Of course, the more you buy, the better the deal (at least at the time of writing this article).
Now if life could just slow down enough for them to stay organized by themselves indefinitely!
12.  Classroom Hanging Pocket Storage
These are one of the best unusual needs you'll love for your classroom because no matter which design you pick, they are all so gorgeous and sophisticated.
These are great for so many different things.  You can use them to keep your paperwork organized, use them for class assignments, for substitute teachers to be able to keep up with what is going on, and so much more.  I'm sure you all can come up with even more than I can.  They are just simply awesome.  And did I say they are gorgeous and so sophisticated?
13.  Magnetic Hooks
While these are designated as helpful for organizing kitchens, they are a hugely valuable tool in classrooms or virtually anywhere that there is a magnetic surface.  Your white board should be magnetic.  And this makes a perfect way to put things where you need them–prominently in sight–in addition to using your whiteboard for writing.
These come in silver or multi-color.  And while I'm generally not a fan of multi-color stuff, these are actually very attractive and nicely stated.
They also have a nice strong magnet.  They can hold 25 pounds if hung along a horizontal surface or 8 pounds for a vertical surface.
Magnetic Hooks
A Couple of Miscellaneous Items
14.  The Future of the World
What if this inexpensive wall decal was just enough to promote conversations and thoughts in your classroom that literally changed the course of the world? I know that we think one person can't change the whole world.  And that may be true on the surface.  But what one person is inspired to do that then changes and inspires countless other people DOES change the world!
Every child, no matter how disadvantaged they may be in background, has the ability to pick themselves up by the bootstraps and change the course of at least their life.  Some will and some won't.  Some very privileged kids will squander their opportunities.  We can't do everything for them.  But we can inspire them.  And this wall decal can be your tool to do that.
It sounds pretty crazy, but give it a try and see!
15.  Birthday Poster
The final item in this list of unusual needs you'll love for your classroom is a birthday poster.  This one may not be the most unusual, but there aren't a lot of classrooms that have it.  And it's nice to be able to celebrate all of the students (even the summer birthday kids) for their special days.  And it's also nice to encourage all of the students to be happy for one another.  It's a great life lesson in support and happiness for others.  Along with this chart, you can have the class assist you on planning the next birthday "surprise" or "not-so-surprise."
Unfortunately, this one is not laminated.  But if you take it to your local print shop and get it laminated, it will last for your whole teaching career (or however long it takes you to get tired of it and move on to something else).
Conclusion
So, there you have it.  15 unusual needs you'll love for your classroom.  I know there are tons more than 15, but this will get you on your way to the awesome classroom you dreamed about while you were dying to get out of college!
And now that you have the most comfortable and beautiful classroom in the school, check out this article about 10 of the most popular middle school books being read today. With the best decor, best functionality, and the best books, your class will be unstoppable!