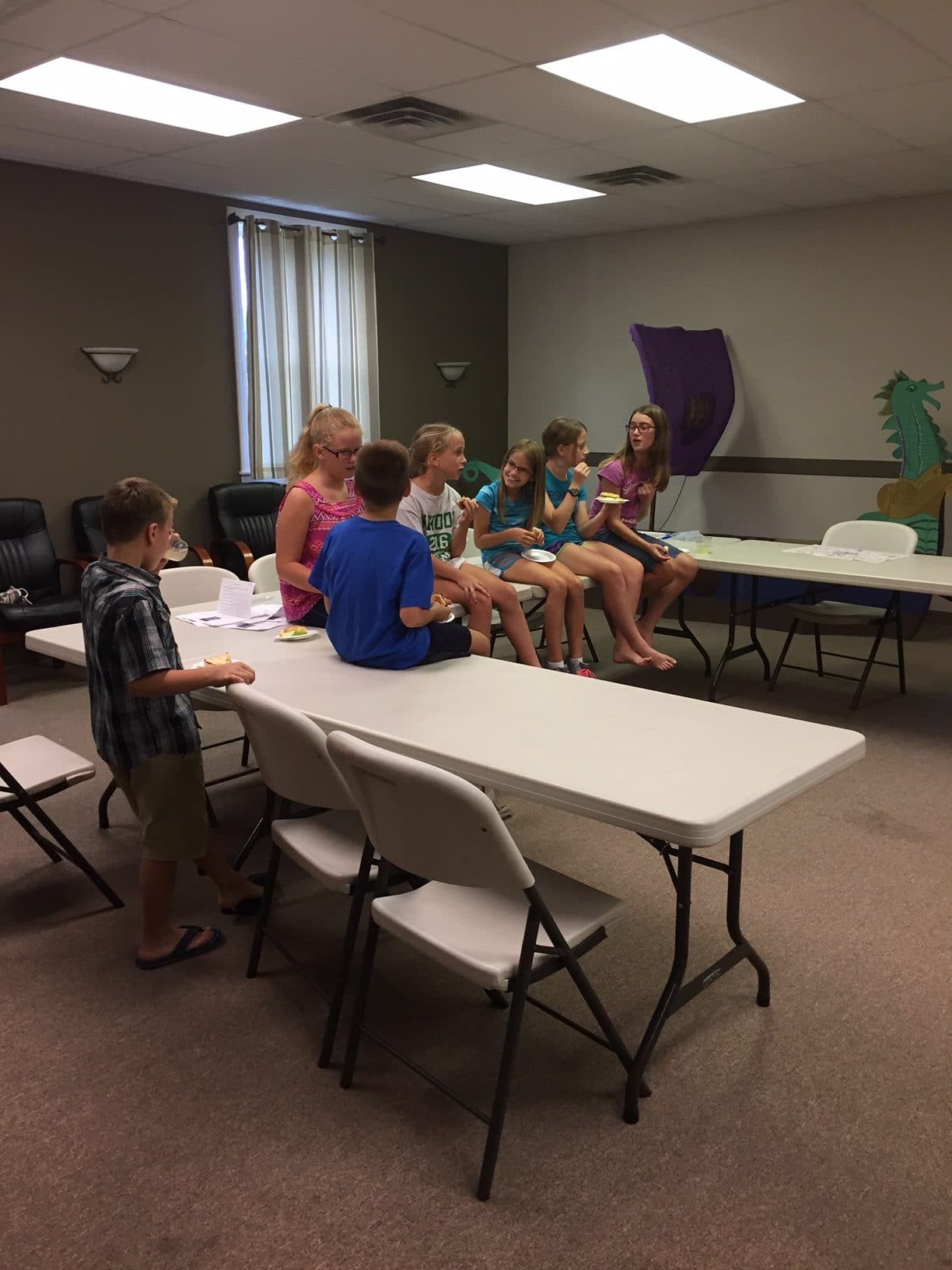 School is necessary.  Just about every child worldwide participates in school to prepare them for what they need to know and do as responsible citizens in society when they grow up.  But sometimes in the daily grind, school can become monotonous, boring, too routine.
But yet as teachers, we all want our students (and their parents) to perceive our work as creating a super fun classroom, albeit still educational.
In this post, I would like to give several examples of how to make your literature/reading weekly routine anything but routine.  Following this schedule of activities in whatever capacity you choose will improve morale, make the kids love coming back to see what's in store for them, and make you the hero of the classroom! So in this article, I will help you to create an amazingly fun classroom with minimal time and effort.  And your students will love coming too!
But first, I want to share something with you.
Ancient History
I always loved school.  And growing up, most of my schoolmates didn't mind it so much either.  It was just something we did because everybody did it. Nobody thought that much about it.  And fortunately, in the small town I grew up in the vast majority of teachers were pretty awesome.  Honestly, I think the vast majority of all teachers are probably pretty awesome.  They are willing to invest so much into their calling as teachers, making it much more than just a job.
But in all my school years there were a few teachers' activities that really stood out to me.  There were many activities that those teachers did to create an amazingly fun classroom in most of the years I attended school.  Those activities were performed by the teachers that went the extra mile to make classroom life special for us.
Recent History
Those things that stuck in my head were the inspiration later for the children's programs that I put together and taught for over 25 years.  Most of them were pictures that formed in my head that didn't exist in the real world.
The problem with this is that I would spend hours online weekly trying to find exactly what I needed to make the picture in my head reality.  Then once I finally had a plan, I would have to figure out and buy materials to make it all work.  Sometimes that involved going shopping.  Sometimes I could get it online.  And sometimes after shopping I would have to find it somewhere online. That sometimes took me a week to get my package.  That involved a lot of planning ahead and so. many. hours.
The Advantage of Time
Finally, over the course of about 15 years, I had done enough programming in my literature classes to not have to research nearly as much.  And I knew what I wanted/needed everything to function like.
Year over year, lesson planning became easier and not nearly so time-consuming.  And it was much easier to collect the materials that I needed.  I had shopped for them often enough that I generally knew immediately where to get them.  Except, of course, for the occasional "no longer in stock" issues. But those were usually resolved pretty painlessly.
The Solution
So now, here is my outline showing how I make my literature programs wow the students, their parents, and some of the other teachers.  It truly has helped me to create an amazingly fun classroom and I know it can for you too!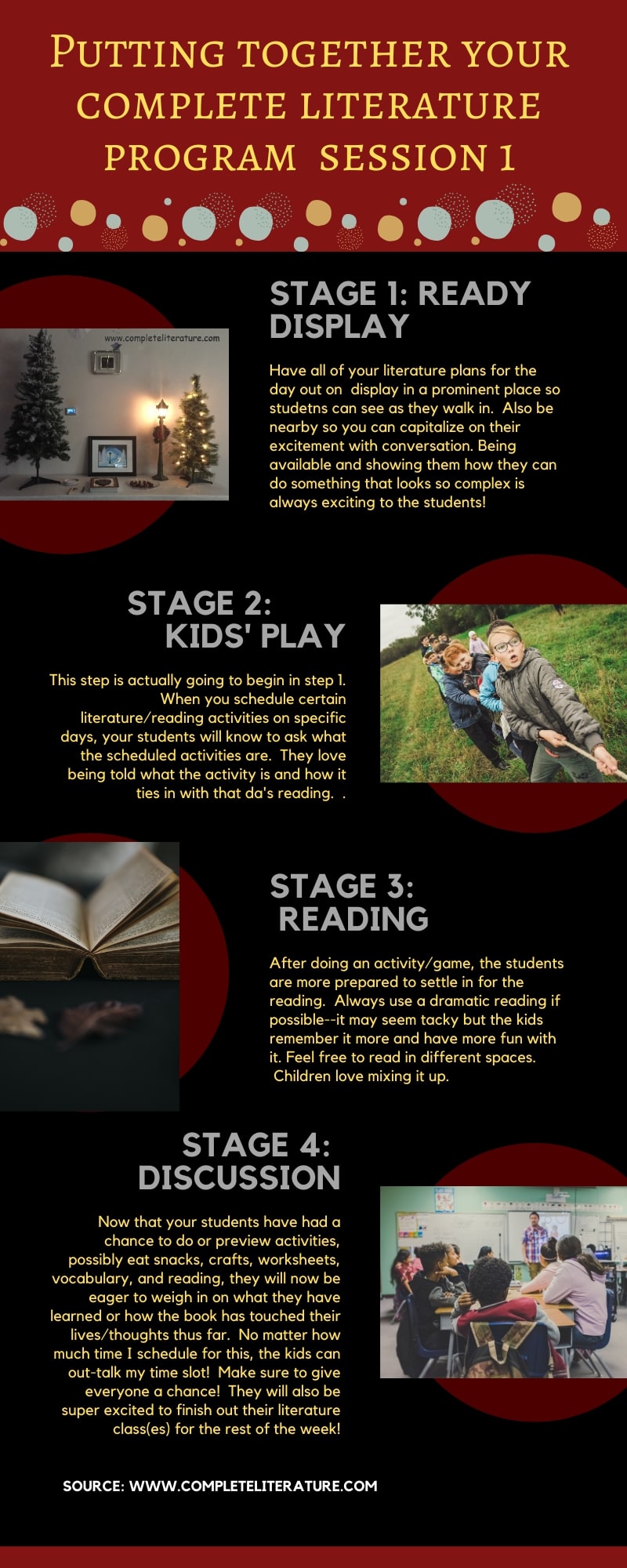 Stage 1:  Ready Display and Snack
This first stage is exciting for the kids on the first day they arrive because they don't know about it until they get there.  This is going to be the opening opportunity for how you can create your own amazingly fun classroom.
It is great to have what starts out as your mini-display near the classroom door. (It will get bigger and better very fast!) Or it can be in some other prominent place that they are sure to see it immediately upon arriving.
Discovering Themes
The students will probably have no idea what they are looking at initially.  So it is the perfect opportunity for you to begin discussion with them about this. You can touch on what they are anticipating and what they think of what they are seeing.  This is a great time to drive home the point of theming in your reading/literature classes.  The more they see the theming throughout the year, the better time they have with it.  Actually, it will very quickly become the focal point of your reading classes regardless of where the display ends up.  It won't need to be near the door for very long because they will very soon be seeking it out.  They will want to know what is in store for them!
Your display for the first day/week is simply going to consist of any snack/food idea that you have, props that you will be using for the book, and possibly the craft for the week, although they won't necessarily be doing the craft in the first session. That will be totally up to you and what time you have.  I found that putting the craft in the weekly art slots helped to give me more time for the literature/reading activities.
Then you can serve the snack immediately once all of the students have arrived.  That way the food is guaranteed to be fresh and it won't be sitting there tempting the students for too agonizingly long.  While they are eating is the perfect time to keep on talking about what is to come.
And this is the beginning of them seeing that you have created an amazingly fun classroom for them.
Putting it Together
You could also have a photo of something that gives away the game/activity that you are tying in with the chapter.  Then you can have them try to guess what in the world that has to do with the rest of the items in the display or what you will be reading.
And that makes a perfect transition into stage 2.
Stage 2:  Kids' Play
So, upon your students trying to guess what the picture or symbol of your game/activity is going to be, you can now let them know exactly what it is and what the significance is behind it. For example, a game of tag could be symbolizing a chase in your reading.  Or a treasure hunt can symbolize either treasure or a hunt for something in the book. Whatever the activity or game, your students will have to agree that it creates an atmosphere of an amazingly fun classroom.
They will love the game even more when they see a significance to how it relates to their studies.  And you will be able to reference back to the game/activity and parts that they had the best time with during your lesson/discussion time.  So much reinforcement!
Also, it will not take very long into your school year for them to start asking at the beginning of every class for a hint of what is to come.
Stage 3:  Reading
Now your students have been teased with what is to come.  Then they played a game or did an activity that gave them the idea of some part of the theme of the reading. Now they will actually be eager to participate in the reading of the book.  I always did one chapter for a two-hour session for my kids' club, but I realize school classes may have to pick up the pace a bit.  But the beauty of this program is that you can pick up the things you want to focus on and leave the rest.  It is still all in your control over what you want your class to look like.
For the actual reading, once in a while the kids would take turns reading, but they collectively all preferred to listen to a dramatic reading.  As tacky as some of those readings could get, they just had so much fun with them!
And more often than not, they were sad when the end of the chapter came and it was time to move on.  I loved how quiet the classroom got as they all settled in for those readings.  I think because of the previous activities, they were more than happy to settle down for the reading.
Just like most schools, everybody had a copy of the book so that they could follow along as the book was being read.  This allowed students that were more visual learners to keep up with ease.  And in this age of computers, any opportunity to handle a physical book is a plus!
Freedom!
I would let them go wherever they were comfortable in class. It could be the reading corner, their desk, a carpet, near a friend (as long as they were not disruptive), under tables, etc..  It was always fun to see where they would go and hunker down.  And as the year progressed, their choices became pretty varied.  I think they loved the independence.  And as long as they were willing to follow along with the reading, I was willing to give them that freedom.
And with that, we can head straight into stage 4.
Stage 4:  Discussion
I love going immediately from the reading into discussion. And so did the students.  They are usually so eager to share what they have learned, what they thought of it, and how they felt about it.  I have taught this to 3rd through 8th grade.  And I have found that it didn't matter the age, they were all just as eager to share their thoughts and feelings.  I loved this and loved listening to them! And that how this created such an amazingly fun classroom for them.  They loved the freedom in reading at their leisure and then the follow up discussion that allowed them to express their thoughts and feelings and be heard!
However, this did create one problem:  there was never enough time once discussion got started.  I was always forced to shut it down because the kids would always talk for as long as they knew they were being listened to and their words were taken to heart.  I can't tell you how good this was for building camaraderie and relationships throughout the year.  This worked both for me and the students and the students with each other.
So, while they were always disappointed with the end of discussion, I made sure to move on to something they could look forward to.  When I was doing 2-hour sessions in the weekly clubs, it would be the craft session.  All of the kids loved this, even the boys!  But for when the literature days needed to be split out into the week, it would have to be something fun for the next subject.  Just having a 5-minute ice-breaker kind of activity relating to the next subject is usually good to get their minds transitioned.
However, for the second reading session, whether it is same day or another day, will be just as exciting, regardless of when it resumes.
Conclusion
I hope that you have found plenty of inspiration here to help you create your own amazingly fun classroom.  Please share with me any thoughts or experiences you have had related to this!  How did you create your own amazingly fun classroom?
Make sure to catch part 2 of this article right here.
For more information on differentiating lesson planning, click here to read my article.
For some samples of the Complete Literature program in action, click here.