How to avoid experiencing teacher burnout is not an easy question to answer.  Teachers work super hard.  Constantly.  And because of that, burnout is practically a guarantee at some point, many times sooner than later.
We have all been there.  It doesn't matter what kind of teacher you are, how long you have been teaching, or even how many students you have.  Because teachers pour their lives into their students, classroom, and program, it is impossible not to feel at some point that you've had enough and can't keep going.  And generally, teachers are spending so much time pouring into others' lives without getting very much of that love in return.
In this article, I will address some of the reasons for burnout and give five solid solutions to get you and your class back on your feet and excited about being with your students in class every day again!
The Problems
But first, let's take a look at some of the biggest reasons that teachers get burned out to begin with:
Not getting enough rest.
Too much work, not enough hours in a day.
Not enough energy to keep up with a room full of kids day after day.
Too many students for one (or two) teachers.
Being overwhelmed with a new job/surroundings/students.
Been doing the same school programs for too many years.
The same old tired routine because there isn't enough time to create a new one from scratch or research.
There are many more than this, but this is a good start that hits a lot of us teachers where we live.
When looking at this list, there are some things in there that we can't do a lot about.  We can't make more than 24 hours in a day.  We can't necessarily change where we work (at least not in the short term).  And we definitely can't change the number of students we have in our class.   Finally, we can't always change up a whole curriculum, especially if the school we are working in requires certain books/programs for certain classes.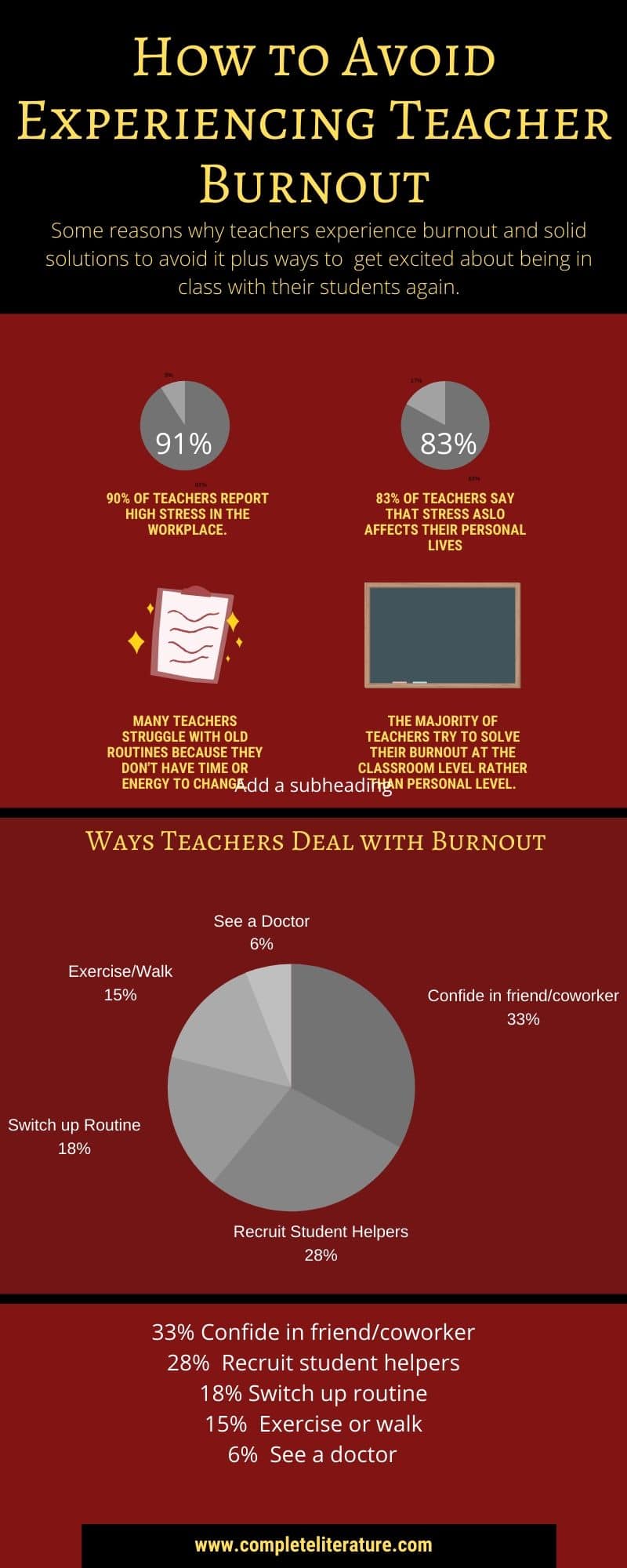 But there are some definitive things that us teachers can do, even when we feel like we are buried under the pressure of unending expectations with no end in sight.
So Where Do You Fall?
It is pretty much a guarantee that teachers are going to feel burnout at some point (and multiple times) in their career.  But before you try to figure out how to avoid experiencing teacher burnout, it would be good to find out where you fall on the burnout scale right now.
There is actually a really cool test that you can take.  It is on mindtools.net and you can access it by clicking here.
I took it and found it to be remarkably accurate to how I was feeling at the time.  Once you take the test, come back here to see what you can do about it!
Some Solutions
So while I am about to share a few great ways to figure out how to avoid experiencing teacher burnout in this article, keep in mind that there are so many more ways.  It would be impossible for me to cover more than a few.  But please share what has worked for you to avoid burnout in your own classroom life!
But also, even if you aren't a teacher working in a classroom, you can still use these same solutions.  Just change the terminology to match your own job situation.  Because honestly, there are tons of jobs out there that carry a high stress level.  And we can all use some help in avoiding experiencing those burnout symptoms.
See a Doctor
Although this is the first item on my list, it is just about the last thing that teachers will go to for help regarding how to avoid experiencing teacher burnout.  I think the main reason is because most teachers are so busy working on the everyday stuff that is causing the burnout.  They most likely don't even realize that some of their difficulty could be from being overtired, ill, or needing some other sort of medical or emotional help.
The Benefit
Taking an opportunity to evaluate your physical/emotional health before there is an issue is a huge step in the right direction.  It is ciritical that teachers do this step before burnout starts. Then they may be able to avoid the vast majority of burnout before it starts.
I think as women we just forget to take care of ourselves because we spend all of our time taking care of others.  To be fair, there are certainly men in the field who do an excellent job and can be very nurturing. But women form the majority of teachers and tend to be guilty of not taking the time for self-care.  (If you are a man that is suffering from burnout AND you spend more time taking care of others than yourself, this message is for you too!)
So, do  yourself (and your loved ones) a favor and get an annual checkup.  I am definitely talking to myself here too.  In the past, I have rarely gone to the doctor.  This is not because I don't have the money (checkups are generally free). It is actually because I don't have the time.  I am fortunate to be healthy. But that doesn't mean something couldn't happen with my health.  The sooner things are caught, the better they can be adequately fixed.  So let's pledge together to get that appointment!
One final note about the doctor.  Current physician training includes components of emotional as well as physical health.  Research has taught doctors that the two are inseparable. And both are critical to good health.  So that is good news for you as you find ways to avoid experiencing teacher burnout on a daily basis.
Recruit Student Helpers
Recruiting student helpers is a win-win in so many ways!  Especially in the younger grades, kids are begging to be helpers.  They want to pass out the papers or craft supplies.  Or they want to help set up the next class materials.  It doesn't matter what small job it is, they want to help.
So what about grading papers?  It does take a few more minutes of class time to have the students exchange papers and then go over the correct answers so they can grade them and then turn them in.  But it isn't wasted time.  It is actually sneaking in a little bit of extra review.  And they are getting reinforcement of what the right answers were!  The biggest benefit here:  you just saved at least an hour for that evening because you no longer have to grade 25 papers.
So:
extra review for the students
saving your evening for your family
allowing the students to feel like they are helping with a big job (tell them so!)
You just improved your classroom in several ways with just one small change.
Some Other Ideas
There are tons of other ways to do this.  You could have a student who got done early with their work organize a certain part of the room that has gotten out of control.  As a reward when they are done, have a small basket with "prizes" in it to reward the job they just did.  That basket can just have dollar store items or even less expensive little things you see while you are out.  Erasers, pencils, pens, note pads, any little gadgety thing, tiny toys, or anything else you happen to see that you can throw in the basket.
And this is also making your students' classroom experience richer in many ways.  Kids love prizes.  They love organization, even if they can't or don't do it automatically. They love recognition.  And they love the satisfaction of a job well done.
Take Back Some Time Every Day
It is so easy to go from day to day just doing the things you know you need to do. Before you know it, a week has gone by–or more.  And you haven't taken any time for yourself.
I fully realize that there aren't enough hours in a day.  There never will be!  And I also realize that it seems counter-intuitive when you have a bigger list of things than you can get done in a day.  Besides your school list, you have your other lists too:
things that need to get done at home
things that you need to buy
doctor/dentist appointments and whatever other appointments your family has
sports
church or other organizations
This list was definitely not exhaustive, but you get the point.  There doesn't seem to be any time left for self-care.
Taking Time to Get Time Back
But without it, all of the other things you need to do will suffer and take even longer to do in the long run.  By making sure you are taking care of yourself you will have more energy, clearer thinking, and a fresh perspective.  And those things will allow you to finish as much as you can in a day much more efficiently than if you hadn't been taking care of yourself.
You still won't get everything done.  But you will feel better about yourself.  And you will feel better about what you did accomplish on that list.
Switch Things Up
I have to admit, this was one of the hardest things for me to do.  When I had originally planned out my school schedule, I had front-loaded all of the critical subjects first so that I could get them out of the way while the kids were still fresh and energetic.
It was a strategy that worked well.  But over time, I realized that while we were getting things done, we were so enslaved to that schedule that we weren't thinking about the potential to do so much more during that time and still get everything done productively.
Surprise them with Change`
We still frontload the most important things first most of the time.  But once in a while, I will call a "backwards" day, where we go up the list from the bottom instead of down the list like normal.  The kids love the switch up!
What I realized soon after starting this was that the kids were getting refreshed by the newness as much as I was!
Another thing I would do, especially if some of the students were having a hard time getting a concept, was to stop everything and have a five minute "something else" party.  I would pick one fun thing to do that would be a pleasant distraction for a few minutes.
Yes, I lost a few minutes of very valuable class time, but I also gained back the kids' attention whose eyes had glazed over and I had already lost.  And when we got back to the subject a few minutes later, I had their attention again and they were ready to go.
One caveat to this is not to do an activity that is going to take more than about 5 minutes.  And make sure it is not something that will cause the kids to get hyper or unable to focus back quickly on the lesson when you call time.
Confide in Someone Who Understands
If you are teacher, there are 3.2 million other teachers who understand very well what you are gong through most of the time.  Talk about a few available listening ears!
If you aren't a teacher, but need someone to confide in, there are also tons of people in your own field that can also lend a listening ear.
Just keep in mind that venting is fine and usually welcome.  That is because it shows that you are human and have your limits.  But it can't be your entire focus.  Vent, breathe, and then move on in a positive way.  For all of the negative things that happen in a day, how many victories can you claim for other areas of your day?
On the Flip Side
At the end of the day, you are there to teach and inspire those kids to live the best life they can.  That is an amazing thing.  And the kids will love you for it when you take them seriously.
Does that mean they will treat you well all the time?  Nope, not even if they love you the most of all of their other teachers.  People fail, even when they mean well.  Kids will fail too.  But loving them through it and continuing on make for a wonderful classroom that leave them plenty of room to grow in to wonderful adults.
Keep in mind also, that for some kids, you may be a rare ray of sunshine that they don't get often.  Be super sensitive to those kids without making it an issue for them.  Those are the children that need to know that  you see them and are listening.
And somehow, my point of confiding in someone who understands turned into you being the understanding one.  Because that is what teachers do.  And that is just fine!  As long as you are getting some understanding and love coming back at you from time to time!
Bonus Tip!
So since most teachers are also avid readers in their "spare" time, I wanted to conclude this article with a great book by Elena Aguilar.  She is absolutely amazing!  The name of the book is Onward: Cultivating Emotional Resilience in Educators . (Click on the title to go to the Amazon description.)
Besides the amazing encouragement that Ms. Aguilar gives in this book, she also has a companion workbook that has gotten rave reviews among teachers that used it.  You can look at the Amazon description for that right here.  There were a few teachers who thought some of the exercises were overkill.  I did not actually feel that way.  But I also was not trying to meet any deadlines to finish it.  And other teachers recommended that you just do the exercises in the workbook that you felt pertained to you the most.
Conclusion
Hopefully, if you find yourself in burnout mode, you are able to get the help and encouragement you need to get back on track as soon as possible.  Just know that any teacher that has worked for any significant length of time has felt what you are feeling and you are not alone!  Being able to avoid experiencing teacher burnout is one of the biggest priorities for being an effective teacher.  And since so many teachers have been through it, you have a huge support network!
Teachers have a huge calling in life and it is one of the most difficult jobs you can do!  Congratulations for pushing through, even though the road is difficult and long.
For some more inspiration in the classroom, check out this article on how to accomplish more effective lesson planning. 
¹Sources: https://www.psychologytoday.com/us/blog/much-more-common-core/201611/the-teacher-burnout-epidemic-part-1-2
https://www2.deloitte.com/us/en/pages/about-deloitte/articles/burnout-survey.html