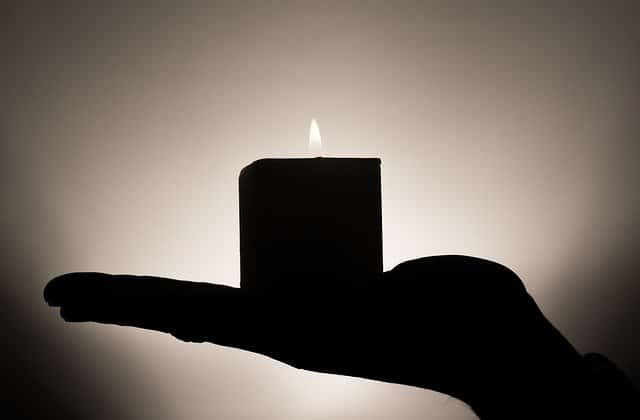 What if, after a super long week, you could transform your teacher's lounge (or a fellow teacher's living room) into a luxurious spa for the day?
And what if I told you that you could do it with very little expense involved?
So how do you organize a special Saturday teacher spa day that will relax and refresh you and your colleagues?  You pool talents and resources and share the food load, and you have a most perfect spa day for all!
Read on to find out how to put together all of the components of a well-deserved teacher spa day that can make you ready to tackle life again by Monday.
The Inspiration
There is an article here about a school in which the PTA actually brought in a spa.  They transformed their school library into a spa for the day.  They blacked out the windows, and transformed the room into a spa with candles and scented oils.  Then teachers came in throughout the day when they were able to.  They were treated with 10 minute mini-massages and made to feel amazing for the day.
Once they were done, they were then sent to another location to enjoy a lunch provided by the parents.
It would be awesome if there was a spa in every school district that was able to do this and a PTA that was able to hire them.  But unfortunately, that is usually not the case.
That's okay!  We can still have our spa day!  And it isn't even hard to put together.
Introducing the Concept
I can see it now.  You have this whole idea planned out in your head and tell a few of your fellow teachers about it.  And they laugh.  How are you going to turn the teachers' lounge into a spa?  It's so…functional.  Then when you tell them that it isn't going to cost thousands of dollars, they will ask you what in the world you are thinking.
And then you can show them.  And you will be the hero of the teachers–at least for the week.
Location, Location, Location
The teachers' lounge would be the perfect place to have it, especially if you have a couple of comfy chairs or a sofa that you could transform.  But sometimes school facilities are not available on the weekends.  A couple of other possibilities that won't break the bank would be a room at your local library, or possibly the living room of one or two teachers, depending on how many teachers are planning to attend the event.
One other possibility could be a clubhouse in a complex that any of your fellow teachers lives at.
Why Saturday?
Saturday makes a good day for a teacher spa day because it allows the majority of teachers to be available without trying to find someone to take over their class while they sneak out.  It also allows all of  you to be together at the same time to enjoy each other's company, where if you do it in snippets throughout the school day, it will not have nearly the same cohesive feel to it.
And finally, it allows you to block off just a few hours of the day rather than making it the whole day.  Teachers and all involved can spend a couple of hours and then get the rest of the things done that they needed to that day.
Of course, you can plan it on whatever day and time works best for your group.  A weekday evening may work better for your group.  And the teachers' room may be more available at that time. With this option, you will need to set up between school getting out and the time of your event. That could cause you to be more pressed for time.  And babysitting for your children may be more difficult to procure at this time rather than a Saturday event.
Invitations
You can easily print up some invitations that will let your fellow teachers know when and where (if you are unable to use the teachers' lounge) the teacher spa day will be held.
I made up an invitation here that you can print up and pass out.  Just click on it and print and you're good to go!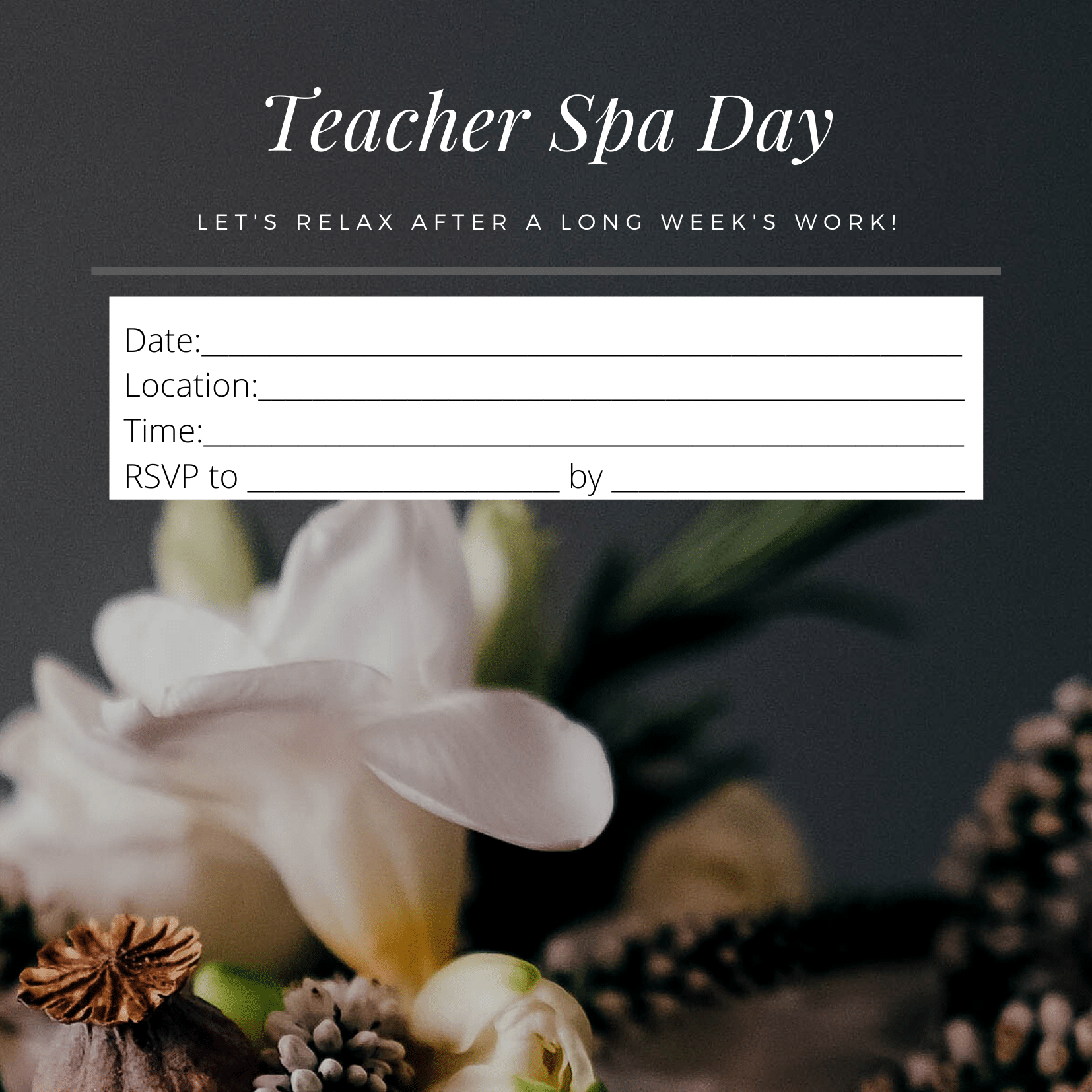 The one thing that will be critical for you to do is get timely RSVP's for this event.  I know how bad we all are at RSVP's.  But you may have to go get them to make sure that this event goes off without a hitch.
The Components
This is the fun part!  You get to put all of the components together to make your area look and feel like the real thing.  And you will have your fellow teachers join in on the fun so that the expense will be next to nothing!
The components you will want to think about are as follows:
Atmosphere
Treatments
Healthy food and drink
You want this to be a wonderful experience for everybody involved. But it also doesn't need to be exactly like the spa that costs thousands of dollars to walk through the door.
By following a few suggestions, you can have a unique and beautiful experience.  I will elaborate on how to make each of the above components work perfectly for your teacher spa day.
Atmosphere
Believe it or not, this will actually be just about the easiest part of putting together your perfect teacher spa day.
Depending on the size of your room, you will want to collect the following things:
Freshly scented candles
A few floor lamps and table lamps that have low light
Table lamps to sprinkle throughout the room for ambient light
A good selection of essential oils
Some comfortable, preferably super soft blankets and throws
A few throw pillows
Something to block out the majority of sunlight from any windows in the room
Some flowers and plants
Tablecloth or two
So why is this the easiest part of putting together your teacher spa day?  Because the vast majority of these items can be found in your home and all of the other teachers.  So it is not an expense and with everybody helping out, the decor and ambience will be a breeze.
Warning About Essential Oils
There is just one thing here that you would probably want to buy instead of use from people's homes, just for the sake of freshness of the product.  That is essential oils.
The essential oils will need to be fresh and they will need to be good quality so that there are no perfumes in them that could be sensitive to others' allergies.  No spa day is fun if you can't stop sneezing!
Anyway, here is an Amazon link to some really high quality but reasonably priced essential oils.  What makes these oils so amazing is that they are not really any more expensive than their non-organic counterparts and will not cause allergies among teachers that may be sensitive.  Also, if you are buying organic, you know exactly what it is going to smell like rather than whatever the creator thought it should smell like to them.
Oh, and while I am at it, here is a chart showing you how to use those essential oils in blends that will make your space smell like a real spa.  But feel free to experiment and find what will work for you and your group.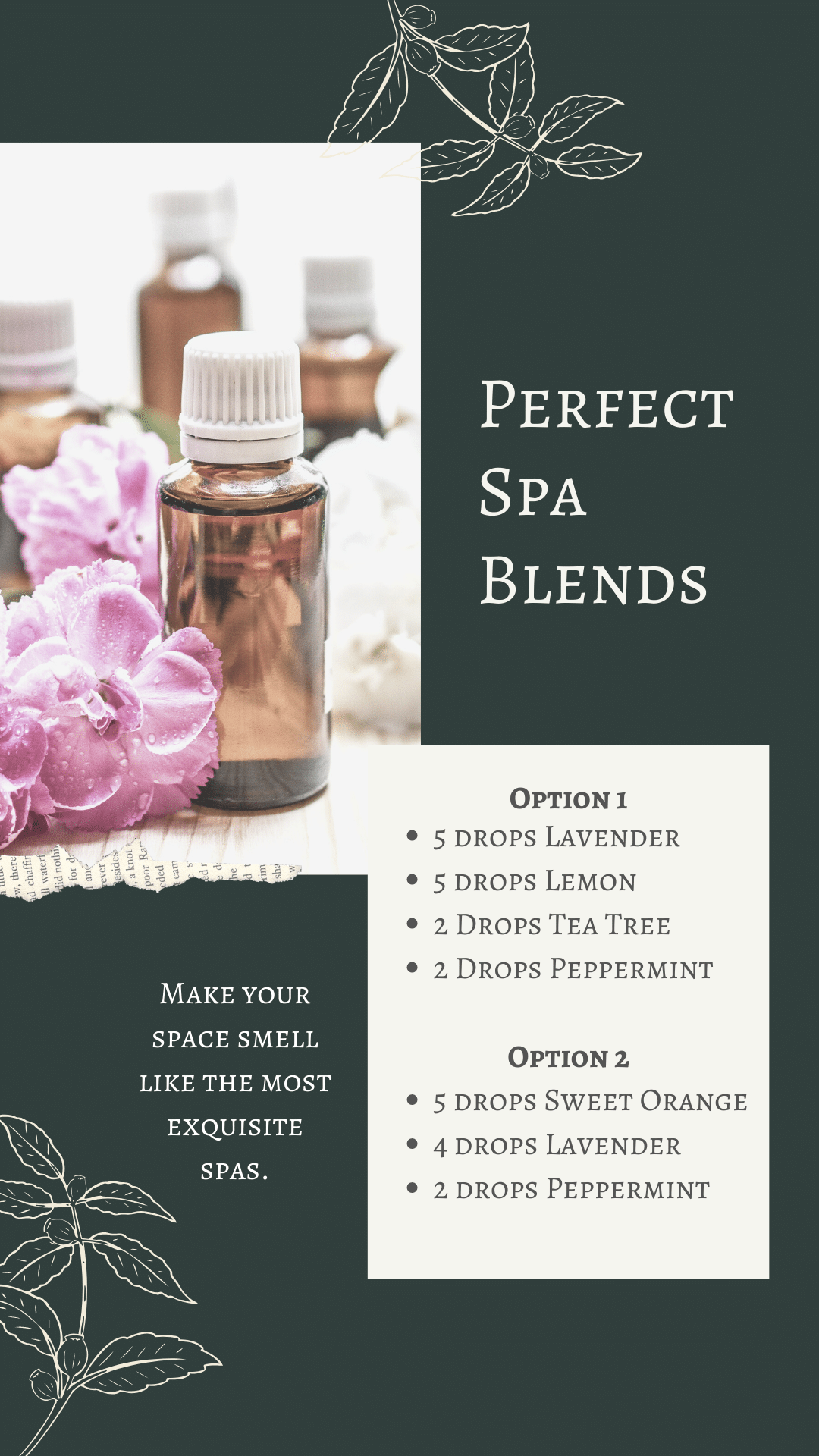 Putting It All Together
For the rest of the list above, I had a sign up list for each of the items that we could all bring in from home.  I had a large number of these items myself but I waited for everybody else to sign up so I could fill in all of the gaps.  Plus there are a couple of things on the list that don't go into the signup that you will need to provide.  You don't want to be moving your whole house to school for this event.  The more people you have bring in items, the easier the cleanup will be.  You will love having everybody take their items home and then seeing what little bit is left to clean up.
Here is a copy of the signup form I used.  Just leave it on the table in the teachers' room with some spa props and it will garner plenty of attention.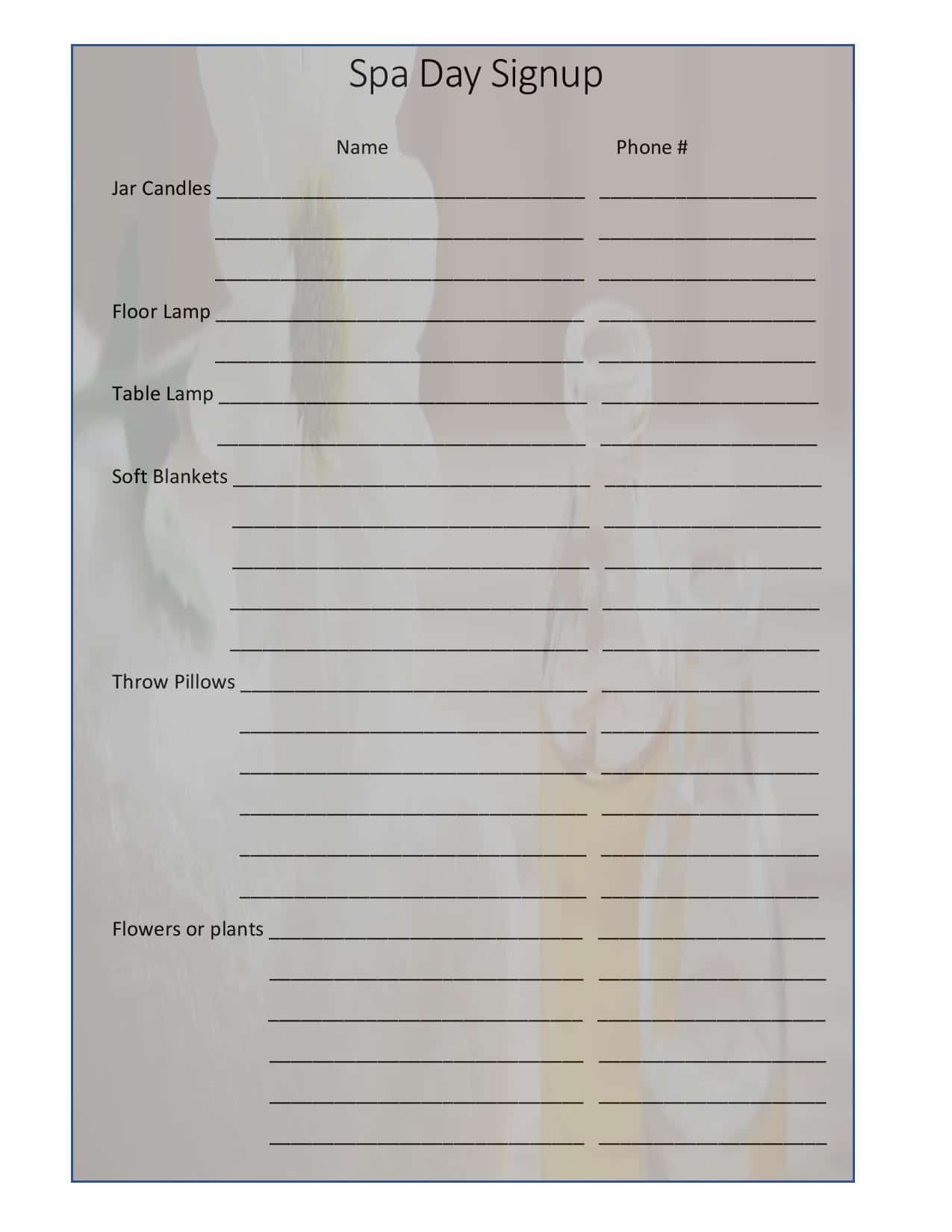 When you click on the signup sheet, it actually comes out much lighter than my article is showing it.  I have no idea why it is showing up so dark.  But anyway, once you click on it and print it up, it will look fine.
The Advantages of the Signup Sheet
Back to the sign up concept.  There are a few really good advantages to doing it this way, besides saving money.
Everybody gets excited about bringing in their own items that they feel are perfect for the occasion.
Cleanup is a snap because everybody takes their own stuff home.
No need to find a place to store the decorations.
You can have everybody bring in their items and place them in a designated safe area.  Then  you can set them up as you see fit.  Feel free to ask for the help of a fellow teacher that may be gifted in decorating concepts.
Items Not on the Signup Sheet
As for the items to block out the sunlight from the windows, I didn't put that in the signup.  Using black bulletin board paper works.  If you don't want the black to show and you have extra energy and time to exert, you can cover it with another color of bulletin board paper that more suits your ideas.
I also didn't put the tablecloths on the signup sheet.
Final Details
And finally, the blankets and throws are to dress up any chairs or sofas in the lounge so that it doesn't feel like the usual teachers' lounge that you visit daily.
You can add some other decorations as you see fit.  Please feel free to share what you did in the comments!
Treatments
While it would be most amazing if you could just pay thousands of dollars to bring in massage therapists to save the day, that is  not going to be practical in the majority of cases.  But that doesn't mean you can't have a great quality teacher spa day.
Options for Help
There are a few great possibilities here.  The first one is if you happen to have a couple of teachers that are or were at one time licensed massage therapists.  Then they could each take a component of massage therapy to give out mini massages to everybody who would like one.
Another option is if one or a few of the teachers who is attending has a friend or family member that would be willing to come and help make the day special for everyone.
The final option is probably the most viable one.  And that is to have a couple or few of the teachers focus on one aspect of massage and get some great pointers on Youtube.  I have found some really good ones that I put here so you don't have to hunt for them yourself.  I researched it and made sure that they were from people who knew what they were talking about and had great reviews.
Making It All Work
I put 4 different videos in so that you can choose which ones you prefer.   All are suitable for beginners to do after watching a couple of times, so if you have enough volunteers, then you are good to go on all of them!  It would be best if you had at least a couple of volunteers on each type of massage so that everybody has a chance to relax and enjoy their teacher spa day.
And for those of you that actually know or related to people who know massage therapy, if they are willing to give you a helping hand on your teacher spa day, then you are perfectly hooked up!
For however many of these you decide to incorporate, just have a designated area around the room.  No need to keep it hidden.  In plain view is better so people will see the opportunity.
Healthy Food and drink
Ok, since we are using the word spa, we sort of have to offer healthy food.  But there are a whole lot of foods that are healthy and delicious.  And they are easy to make or buy.  Here are some suggestions:
Fruit tray
Veggie tray
Mini cucumber sandwiches
Mini chicken salad sandwiches
Chocolate mini cupcakes with whipped cream and chocolate covered strawberry on top
Milano cookies or other specialty cookies
Fruit salad
Broccoli salad
Pasta salad
Fresh fruit tarts
Mini quiches
These are just a few ideas to run with.  I would once again do a sign-up sheet so that everybody can bring one thing.  I made one for you here that allows you to either put the food options in or let your guests decide what they want to bring.  You will have an amazing spread by doing it this way, yet nobody has had to do a whole lot of work.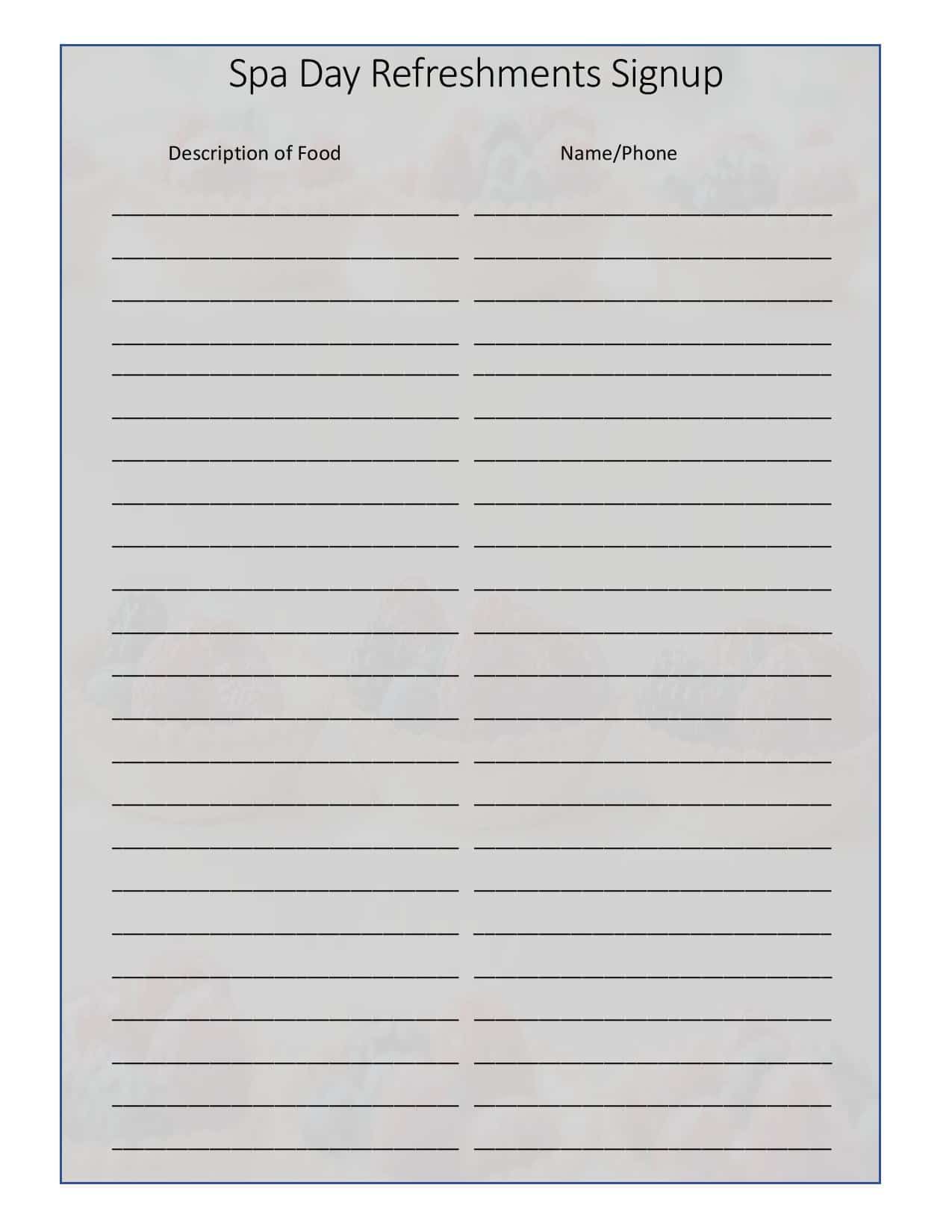 Once again, it looks super dark here, but when you click through, it shows up correctly.
Honestly, if you search for spa party snacks on Pinterest, you will have enough ideas to throw a spa party weekly for the rest of your life.  If you wanted to.
But seriously, turning this into an annual or biannual thing could be a wonderful thing for your school to look forward to.  This would especially be true for certain times of the year such as just before school starts or right as it ends.  Or the dead of winter, when everybody needs a pick-me-up.
Drinks
For your spa drinks, I found a wonderful Sparkling Cucumber Lemon Limeade (you can find the pin for it by clicking here) that my kids thought was the bomb!
Once again, there are so many perfect ideas out there.  You are sure to find the one that works perfectly for you with a simple google or pinterest search.
Tableware
You will need to get some plates, cups or glasses, napkins, and other items for your food table.  This will not be a huge expense if you go to your local dollar store.  If you check out both the party section, but especially the wedding section, you will find some really good things to make your table very elegant.  The kitchen area will also be very helpful.
If there is one person coming who would like to take charge of this, then that works well for you.  Just make sure they know what the color scheme is if you have one.
Putting It All Together
You will have a lot of excited teachers who are eager to help.  And that excitement will help you to put on a wonderful teacher spa day with very little work required on your part.
You will want to have most of the non food items on site the day before the event so that you won't be scrambling around trying to get everything set up and ready to go.  And actually, if you start setting things up while everybody is still at school to see it, you are just promoting excitement about your event.
You will most likely have several people that will be excited to help you set up as well.  In 25+ years of planning all sorts of different events, it was a very rare thing to not have a large number of eager helpers who were also excited to see it all take form.
Music
Make sure to bring a playlist of some great relaxing music to set the mood.  Although this is a small detail, it is actually a huge one.  It will change the feel of the room and help everybody to be able to relax much more easily.
A Few Final Ideas
There are more options for you to add to your teacher spa day than you will be able to do.  I guess that means you can have several!
Anyway, here are some other suggestions that are pretty easy to do.
Foot soak
Warm washcloths in a warming crockpot
Manicures
Pedicures
Coffee and or tea bar
Smoothie bar
Facials
Spa-related crafts (soaps, lotions, sugar scrubs, etc.)
Games with prizes
Movie
Seasonal/holiday decorations
Conclusion
So this is my idea for a teacher spa day to honor the hard-working teachers that don't always get a chance to do something special for themselves.
But guess what?  This doesn't have to be limited to teachers.  You can literally insert this plan into just about any industry that you are in.  Or you can even make this a Mom's spa day!  You could even do this as a special spa day for your significant other.  Neighbors, extended family, friends, girls day–there are no limits here!
We all work hard.  And we all need a break or a mini vacation sometimes.  I realize that finding the time to organize one can be hard.  So here it is for you–all ready to go!
Let me know how you planned your spa day and how it went!
For some other articles on teacher life, check out the following: