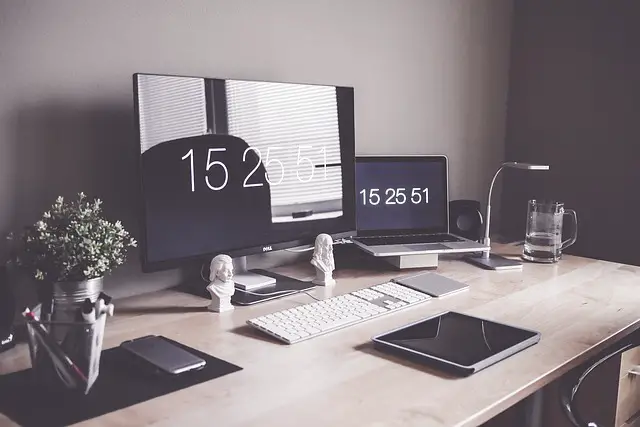 In this second article addressing how to take advantage of tech in the classroom, I would like to focus on what I have learned about technology that assists teachers in working in the classroom more efficiently.
The first article addressed eight specific items that teachers could use with students.  All of those devices were directed towards enriching the students' experience with what they were learning.  In this article, I will talk about eight more technological devices.  But this time, my focus will be on helping the teacher gain more productivity and efficiency in the classroom.
There are so many great products out there, from free to affordable to outrageous in price.  My  list of eight things will barely scratch the surface.  And I could have made each one of them into a stand-alone post had I chosen to elaborate further. So if you have something you are using in your classroom that has changed your world, please share with us!
But for now, let's get to this list.
1.  Youtube
There are actually so many more videos out there than Youtube, but this is a great start. It is especially good if you are looking for short videos that will beef up what you are already teaching.  It's the perfect switch-up for your students in the middle of a class.  It grabs their attention better than just listening to you talking for the whole class. And it saves you the time of having to come up with the extra research or materials on your own.
A Perfect Example
For instance, say you are teaching a class on The Adventures of Tom Sawyer. And you also included a short study on Mark Twain.  Now let's say you live in Connecticut and are lucky enough to reinforce that learning with a tour to his home.  (There are opportunities like this all over the country. You just need to know which authors are in your vicinity!)  You have the perfect opportunity to visit at the end of your book unit.  But first, you can show your students this amazingly fun AND educational video on Youtube.
After watching this video, they will be so excited to get there and see the things that they recognize from the video.  And you may want to figure out how to get your students some mustaches to wear as well!
One of the reasons this is such a great tool for the teacher is because of the sheer amount of time saved. Someone else did all of the research, production, and entertainment value already.  All the teacher had to do was get on Youtube, search "Mark Twain house," and see what popped up.  This particular video came from the Mark Twain house itself.  So teachers don't have to worry about the validity of the statements made throughout the video.
There are so many videos out there that are short but can enhance your classes in ways you could never imagine.
2. Your Students' Smartphones
If your school does not have rules against using smartphones, this is such a time-saver for the teacher.
And if you are going to have to deal with tech in the classroom on the students' part (and keeping them away from the distractions that come with it), you may as well use it to your advantage!
Once again, there are way too many ideas than I can fit into this post section.  But I can give you a couple of ideas for now.
Some Ideas
One great idea is to let the students produce videos on what they have learned.  Some students will take the thought and run with it.  Others may need some suggestions to get their creativity flowing.  Once you make a couple of those suggestions, I'm sure they will be off and running.  They could include:
an interview format featuring what they have learned.
a skit featuring what they have learned.  This could be in a news format or even a comedic routine that drives home a point.
A mini-tour
An informative monologue or discussion.
There are also tons of educational apps that they can use to reinforce what they are learning.  You could produce a reward program or extra credit for students that complete those extra things.
Organizational Aspects
These suggestions work even if the school has limits on cell phones in the classroom.
Teachers can also make use of their students' phones by being able to send reminders, whether for homework due, upcoming tests, forms that need to be filled out and returned, whatever the teacher needs the student to get done.  You can, in fact, deliver any message required to the students, and to their parents, for that matter.
3.  Use Slides for Lessons, Test Review
This is an example of tech in the classroom that pays you back multiple times with one job that you do to get it up and running.  You can use a computer program that features slides for specific things that you need your students to pick up on.  Power Point is probably the most famous.  And once those slides are produced, you now have a method of review that you don't have to reinvent.  You can send those slides home in the form of hard copies, or you can send them home in an email or through an app on the students' phones.  So many options, only one work session to get them all accomplished.
4.  Online Class Calendar
Most people already have a calendar on their phones, if not a physical calendar they carry around as well. So bringing this tech into the classroom is a perfect transition.  It is very easy to merge that with a school calendar for your students.  They won't be able to say that they didn't remember--unless they try to tell you the dog ate the phone AND the homework.  All joking aside, you will never be able to eliminate all of the excuses, but this will allow the majority of students in your class to keep up with what is going on.  They will be able to see what they have coming up.  Then they can come to class prepared!  They will also know what they need to bring with them to class on any given day.
5.  Surveys
This seems like an odd thing to put into this list.  But it is actually a perfect tool for the teacher to assess ways that she can improve how she is reaching her students.
There are tons of survey companies.  One of the most popular is Survey Monkey.  You can find an excellent link here that actually gives you suggestions of ways you can use this form of tech in your classroom.
What kinds of things would you want to survey your students about?  Here are some examples:
Which activities they prefer
What changes they would like to see in class
What new things you could add to their classes
Ways that they would like to see you teach differently
Ways that you teach that they like the way they are
You will need to base what information you would like to obtain on the student body you have and how they will react.  And remember when you evaluate the surveys to account for inaccurate answers based on sarcasm and kids' inability to correctly assess things at their stage of life.  It is still a great way to reach students based on what and how they think and to improve your work with them.
6.  Online Sign-up Forms
This could be one of the most important ways to implement tech into the classroom.  This is also one of the most time-saving things that a teacher can do.  She no longer has to figure out who needs to do what, who wants to volunteer for what or who is going to do what extra-curricular stuff.
You can use sign up forms for the following (and much more):
times to schedule student presentations
teacher assistance days with parents
snack or craft assistance with parents
conferences with parents
homework assignments that you want the students to sign off on
homework assignments that you need the students to sign off for stages that were completed
volunteers to chaperone for field trips
You can literally use this for any type of help or communication you need in the classroom.  The more you use it, the more you will see more needs for it.  Having this sort of tech in your classroom truly makes life easier.
I have experience with SignUpGenius and have had no issues with it.  I know a lot of people like JotForm as well.  Both are free platforms, so if you try one and don't care for it, you can always do the other or look online for more options.  The only thing you will lose is the time it took to set it up.
7. Physical Objects to Keep the Electronics Organized
Classroom organization has changed so much since my school days!  Things were a lot more basic as far as storage and keeping things organized in the class.  There were bookshelves for books and paper, desk organizers for the teacher to keep papers/homework organized, and some shelves for learning manipulatives and games.  Then there were a few spots for students' lunch boxes, coats, accessories, etc..
Today's class is a whole new ball game.  There are more things to keep organized, not the least of which is electronic equipment.  So when you add tech to the classroom, the organization needs a bit of tweaking as well.  When you  have several tablets, headphones, and other equipment to keep track of, you need a reliable place to keep those things.
Some Examples
I will just touch on a couple of important ones here.   First is a charging station/dock for tablets and/or phones.  This Amazon link shows a really nice one that I got to try to keep our infinite supply of household electronics in check.  It comes with 3 Apple lightning cables and 3 Micro USB cables.  Apparently some come with 2 of each of those and then 2 Type-C cables.  Just check the listing to make sure you are getting the ones you want.
Anyway, mine has worked like a charm.  It keeps things organized and let's you use it for whatever electronics you need to store.  One more thing--the cords can be changed out at any time with new ones should any of the provided ones die out.  That has not been the case for me, though.  It's still going strong.
This last one may not seem like such a big deal, but it sort of is.  It is a battery storage box.  The one featured in this Amazon link actually includes a battery tester.
The reason this is such a big deal is because storing batteries randomly in junk drawers, or even together in a pile in a drawer is actually dangerous.  I did it for years myself.  And never thought about the possibility of reactions between batteries.  And then one time I saw this really scary news report.  It featured a family whose car and house caught on fire because of batteries stored in the car's console.  It also has statistics and facts that every family should be aware of!
8.  Keep the Noise at Bay
I have to admit, I saved one of the best ones for last.  Depending on the time of year and what is coming around the corner (holidays, spring break, school's out for summer), it can be very difficult to keep the chaos to a minimum.  And the more kids you have the more noise you have.  Well, actually, maybe not.
In any event, noise is definitely a problem from time to time.  But there's an app for that!   There are actually a few but one seems to have a lot of the best features.
I am going to need to go on a little bit of a rabbit hole here for a minute.  But I promise I will get around to my point!
The Background Story
There is an 11th grade physics teacher who is also a web developer.  He combined the two skills in the most incredible way.  In order to help his students grasp physics better, he created a "video game" that allows them to learn better.  It also allows them to interact within the class better, socially and academically.  It's name is Classcraft.  You can see a short descriptive video of it from Youtube right here.  It is a fantasy role playing game (RPG to those who know what I'm talking about).  There are some really cool things built into this whole program.  Also, there is a reward/penalty feature, which admittedly, you will need to cater to work well with your class.  There is never a one-size-fits-all concept with this type of thing.
Teachers who are using it are reporting massive increases in classroom participation and productivity with the students.
The Point
But now--back to my point!  Classcraft also has a built-in noise level monitor that the students can see when they are getting close to the max volume.  Because it is involved with a game that rewards them for doing well, when they see that meter going up, they are more motivated to make sure it doesn't get too high.
This is something that the other classroom volume meters can't do.  The other programs allow them to see when the meter is getting too high, and there may be some penalty assigned by the teacher, but it doesn't really have the motivation to keep things going in the right way like keeping up with the program in Classcraft.  (Just to be clear, I am not a paid sponsor here.  I'm not getting anything at all to say nice things about them!  I'm just super excited to see such an innovative classroom idea).
The one caveat I would like to give is that teachers need to be careful with the penalty aspect of the game.  You don't want to frustrate students to the point they have no desire to continue.  And you will need to read your students' abilities and needs well when you implement this.
You can implement this program for free in your classroom or purchase a premium version.  Either one works well.
And finally, here is the most informative and detailed review I found online from a teacher that has used it for quite a while.
Conclusion
So that is my list of great tech in the classroom.  I would have needed to write a huge book to cover it all.  And then it would have been outdated by the time it was published.
Please share what tech you have added to your classroom that made things work better for you and your students (and parents).
If you haven't already, check out How to Take Advantage of Tech in the Classroom, Part 1.