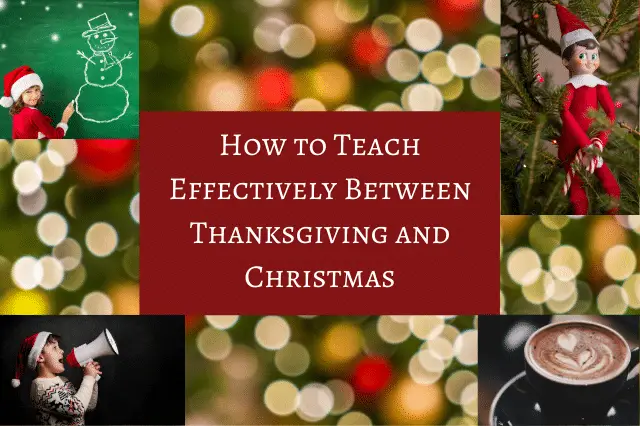 Teachers know it.  Parents know it.  Even the kids know it.
The few weeks of time between Thanksgiving and Christmas is the toughest time of the school year.  Except for maybe the last week of school.
Everybody is restless.  It is so hard to focus.  And nothing seems to get done in a timely manner.  So what can we do to make this time more productive and less frustrating?
How do you teach productively between Thanksgiving and Christmas?  The best thing we can do is realize that it just isn't going to be our MOST productive time of the year.  But also, we can't let everything slide away either.  Finding the perfect balance between work and excitement is the order of the day. And by implementing the 5 following ideas, you and your class will be able to float fairly painlessly through your holiday season.
1.  Make sure your students know you are sympathetic to how they are feeling during this time.
2.  Be more creative in the way that you deliver your instruction.
3.  Be more generous in rewarding good behavior.
4.  Make some extra time for direct dialoguing with the students (and not necessarily about the task at hand).
5.  Don't veer from your routine.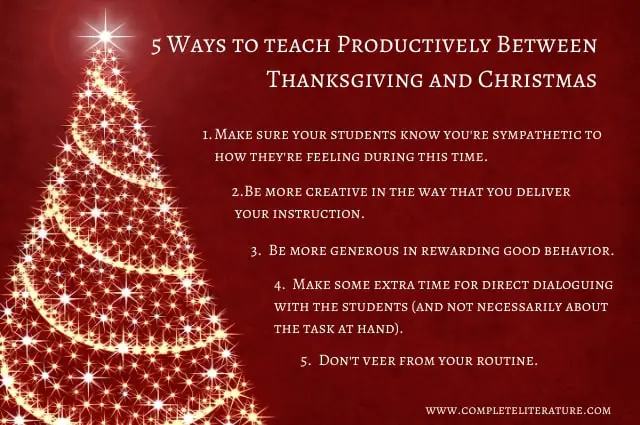 Let's take a look at some of the specifics of this list and see if it doesn't give you some inspiration in the classroom!  (Hint:  this works at home too!)
1.  Make sure your students know you're sympathetic to how they're feeling during this time.
Elementary and middle school students especially are probably already feeling off because their motivation and focus is off.  This alone will make them feel self conscious.
So letting them know that you are feeling the same way will instantly help them to feel more at ease.  It takes the "wrongness" out of the way they are feeling.  And it makes them realize that their current feelings are normal.
But letting them know that you are going to push through it with them also tells them that even though they feel that way it isn't okay to not do anything about it or not push through it.  There is still work to be done!
Helping them to focus more on pushing through and the sense of accomplishment on the other side will help them to be willing to push themselves just a little bit further.
The whole point of reaching out to them in this way is to work as a team to get things done that they wouldn't be able to do on their own at this tricky time.  If they know you are on their side, most of the battle is already won!
In order to teach productively anytime, let alone between Thanksgiving and Christmas, the mindset of your students has to be in a good place.
2.  Be More Creative in the Way That You Deliver Your Instruction
You aren't going to get away with a whole lot of lecture-style teaching here.  But generally speaking, lecturing is almost never the best way to go for elementary and middle school students, Christmas excitement or not!
I do realize that sometimes we think that the information we have to share is so important that surely we will be able to keep their attention by talking about it with them.  But think about it for a minute.  Right now, even I am having trouble focusing on things I'm actually interested in.  It isn't because I'm no longer interested.  It's because I have a billion other things going on.  And a billion more that need to be given my attention in the near future.
It isn't much different for them.  They have their thoughts too.  And right now, with everything going on, their attention spans are getting cluttered too.
Check Out Your Options
The good news is that there are tons of great options for us to change up the routine, catch our students' attention, and actually get some productive learning accomplished!
Just a warning:  some things will work perfectly for one class but not at all for another.  Take what works for you class and leave the rest behind, based on your personal  experience.
Here is a list of a few options:
Game based on the lesson (made up or an established game that you tweak to fit the subject).
Project based lesson.
Art based lesson.
Student-to-student teaching. (This is the perfect distraction tool! They barely realize they are learning.)
Projects that cover multiple subjects.
Field trip (virtual or physical)
Socratic Seminar
Scavenger hunt
Student interviews
Online guest speaker
Create a game with the students.
That should get you started.  There are literally hundreds of other things that can be done.  You are only limited by your imagination and what Google can give you!
Be More Generous in Rewarding Good Behavior
Rewarding good behavior is always a good idea, and many teachers already implemented it into their class programs.  But for this difficult month, any little bit of extra reinforcement is greatly helpful.
One of my favorite reward programs was a dollar system that at the end of a unit I would make a shopping spree for the students.  I still love and use that, even during this time.
But for this 4-week period between Thanksgiving and Christmas, I implement a more instant reward program.
Poke a Tree
I make a punch board.  To start, I use a large poster board and make a Christmas tree that goes from top to bottom.  For larger classes, you could tape together up to 4 pieces of poster board and have a huge Christmas tree punch board.
Next, I hot glue (preferably green) paper cups onto the tree.  They will be the "ornaments."  I put some small inexpensive treasure into each of the cups.  Then I cover the cup  with brightly colored tissue paper so that it looks like a decorated Christmas tree. I glue the tissue around the side of the cup once it is stretched over the top.  I have seen some instructions use rubber bands, but I fear that it would not survive a punch.
Because I already used mine, I can't take a picture now, but here is a similar one that was on Pinterest and links to full instructions on Oriental Trading Company's website: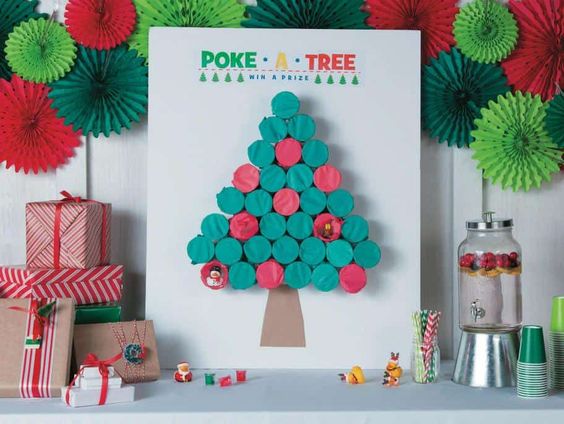 Click on the picture to see the whole pin!
The kids love seeing this in the class and are even more eager to get a chance to poke it and get a prize.  As the tree gets poked more and more, they will behave even better to get a turn!
Make sure you are careful to give everyone a chance.  Feeling defeated is the last thing we want to foster in our classes.
What to Fill it With
Some excellent prize suggestions are:
Erasers
Dice
Mini flashlight
Mini Christmas figures
Fun size candy bar
Coupons for special class privileges
A dollar bill
A small ornament.
Basically, anything that you can think of that fits in a small cup is perfect.  Even more perfect is finding a package of things at your local dollar store.  Oriental Trading company also has great options.  You just have to plan a little bit ahead.
4.  Make Some Extra Time for Direct Dialog With the Students (and Not Necessarily About the Task at Hand)
This kind of goes hand-in-hand with the first tip on the list of ways to teach productively between Thanksgiving and Christmas.
It feel counter-intuitive to take extra time talking to the students, especially about subjects not related to the one you are supposed to be working on at the moment.  Even better:  let them direct the conversation.  You just need to keep it within healthy boundaries.  And you need to be able to direct things back to the lessons at the right time.
You will find that the more satisfied your students are, the more agreeable they will be to do the work when you set it before them.
This also goes hand-in-hand with the second tip, to be more creative in your lesson delivery.
If they realize that they aren't being handed the normal stuff, they will be more eager to play along.
Honestly, most of these tips all relate to each other in the way you are functioning in your classroom.  It all kind of speaks to the fact that you are letting the students know that you are aware of things going on in the world around us, but especially them.  And while I am not advocating that you become overly permissive with them, it is critically important that they know you are in tune with their needs.
Conclusion
Another thing you must do is keep up your sense of humor.  Here is a link to some great memes created by other teachers specifically for this topic to help you do just that.  Just click here!
For more ideas on how to teach more effectively and productively between Thanksgiving and Christmas, check out my page on Unique Classroom Ideas.