For many years, technology in the classroom was taboo.  Teachers, parents, and administrators didn't want technology to interfere with students' learning.  They felt that integrating technology into the classroom would be too distracting for the students to learn effectively.
But times have changed.  Teachers, parents, and administrators now know that technology in the classroom is necessary.  Not only is it not distracting–it is an incredible enhancement to education.
So why is technology in the classroom necessary?  Because it is the way the world works and the main purpose of school is to teach students what they need to learn to be productive people once they get out of school and into the world.
I did some research into how this plays out in the classroom and came up with the following 12 ways that technology in the classroom has become necessary.
1.  Because it is the way the world functions.
2.  You're speaking your students' language.
3.  You're helping your students prepare for life outside of the classroom.
4.  Technology bridges the gap between generations.
5.  Technology reinforces what the students are learning.
6.  Because there is more information in  tablets than in the whole school.
7.  Technology helps keep students engaged with what they are learning.
8.  Technology makes the teacher's job easier and more relevant.
9.  Technology saves time in the classroom.
10.  Allows students to learn in their own best ways.
11.  Teaches students safe practices while online.
12.  Technology is more fun for the students.

What the Stats are Saying
Before I get into each of these points, I would like to share where our schools stand in terms of technology.  The following charts will give you that information.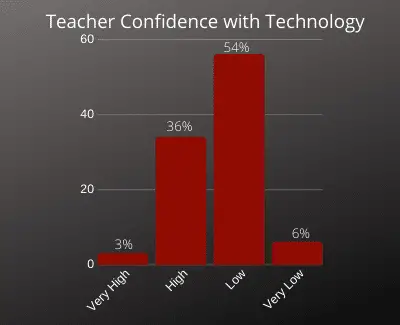 This first chart is based on a 2016 report on teachers' confidence that was conducted by edweek.org.  You can access that study here.
While it appears that confidence is low, the overall score—a comprehensive
indicator of teachers' confidence in
educational technology—is 49 out of 100.  I believe that is because the lack of confidence reported was more that teachers feared what they didn't know and might not keep up with more than that they did not feel confident about the technology that is currently implemented in the classroom.
With the right training and resources, these numbers would likely be very different.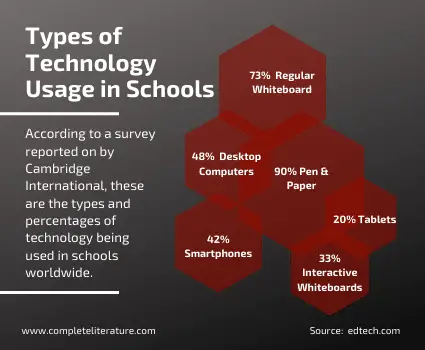 The above chart is based on a report from Cambridge International, that did a survey of nearly 20,000 teachers and students (age 12-19) in 100 countries.
I found it encouraging that the report said that the US leads the way in desktop computer use in the classroom at 75%. But the most encouraging thing to me was that worldwide, technology in the classroom continues to grow.
What struck me about this survey is that 90% of classrooms are using paper and pencil.  When it comes down to it, paper and pencil can't really fail.  You can sharpen a pencil.  You can get a new copy of a certain paper or a new piece of paper.  But when computers are down, you're out of luck.
1.  Because it is the Way the World Functions
There is just about no part of the world that has not been affected by technology.  With the exception of maybe isolated jungles, even the most primitive communities around the world have experienced technology, either directly or indirectly.  And that will not go away.  Technology is only increasing as we continue to find innovative new ways to use it.
Because of this fact, our students need to be able to hit the ground running when it is time for them to use technology.  And what better place to learn it than in school and in ways that apply technology to what they are already doing in their lives?
The reason that technology in the classroom is necessary is not because classrooms can't survive without it.  It is because students will have a very hard time in society functioning without it.  And for that reason, they need to be taught technology's place in all of society, whether in the classroom, at home, or anywhere they may go in public settings.
Having students prepared and comfortable with technology in any setting is one more way we can prepare them for life outside of the classroom.
And one final advantage is that teaching them responsible ways to use technology gives them the tools to function well with it for life.
2.  You're Speaking Your Students' Language
Sometimes for bad, and sometimes for good, our children are nearly always using some form of technology outside of the classroom.  Even when we try to limit it to a healthy amount, there is still significant technology influence because that is the world we live in.
While this does have its advantages and disadvantages, there is one really good aspect to this.  Kids know how to use technology very intuitively.
In fact, I think most of us have, at one time or another, gone to our teenage children to ask them for tech support on some issue we were having on our own computers.  And they were more than likely pretty quickly able to solve it for us!
This is actually a good thing because it means they are adjusting well to the world outside of their circle of influence.  Once they get past the training of their youth and school, they will be fully functioning in this area.  That will be a great advantage to them in their adult life.
So next time you want to throw their computer/tablet/gaming console out the window because they won't get their homework or chores done, first remind yourself that this will be helping them to be productive members of society!
And this leads perfectly into my next point.
3.  You're Helping Your Students Prepare for Life Outside of the Classroom
Because technology is so prevalent just about everywhere in the world, allowing your students to become comfortable with technology and learn how to use it responsibly is key.  Actually this is key both in the classroom and in the home.  And the more they learn to form good habits around their electronics, they better they will handle them as they get older.
This is not to say that safeguards and standards don't need to be in place.  Certainly like everything else, moderation is important.  And unfortunately, even as adults we realize how addictive electronics can be, even to us.  This is generally even more so for younger kids.
But the bottom line is that because technology is so prevalent throughout the world, your kids and students will not be able to live successfully without it.  They will need it to pay bills, set up services in their home as well as accounts around town, do their banking, schedule appointments, the list can go on forever.
The more we equip them to do this at an early age, the more they will glide into their real-world life with little difficulty.  Except for maybe the apocalypse, or the occasional power outage.  Although, even with a power outage we have a generator that keeps our electronics and some critical household items up and running.  But that is kind of beside the point, except to say that we can prepare our students for just about anything when we are demonstrating it to them in real life.
And one of the best parts of this:  the earlier you teach your students this, the more fun they have "playing adult."
4.  Technology Bridges the Gap Between Generations
This is one of my favorite reasons for loving technology in today's world.  We are all using it, why not use it to bring us all together?
Whether we are playing games, working on something around the house that requires technology, or helping them with their homework, we are bridging the generation gap in a way that both sides can understand the other.
I have loved when my kids came to me and asked me to play a certain game with them.  I wouldn't be so sure about it, but it ended up being so fun playing with them.  Would I have done it on my own?  Most likely not.  But the experience of hanging out with my kids, who actually asked me to hang out with them was golden.
And this equates just as well to the classroom.  Playing games that adds an electronic component to it can make it easier on teacher and kids to figure out or implement.  Working it out together teaches communication skills, teamwork, and understanding between different people.  These are truly great qualities to teach across generations.
And it shows them that humanity is basically very much the same in all of our differences.  We are all human.
What a great lesson in people skills!
5.  Technology Reinforces What the Students are Learning
There are some great ways to reinforce what your students are learning, both in non-tech as well as techie ways.  A mixture of both is perfect.  But for the technology side, here are some great ways to do it:
Playing a game in which they need to remember facts that they learned.  This can be as simple as a buzzer set.  Or it can be as complex as a full on electronic quiz game.
Gamification.  This is a wonderful way to immerse the students in a game world that enhances their whole school day.  And it such a great way to encourage the way they already think to make their school day fun.  A great way to do this is with Classcraft.  This is by far my favorite gamification app.  It is one of the most well thought out ones on the market.  And it was created by a teacher who knew what would work in the classroom.
Recording a video allowing the kids to demonstrate what they have learned.  This can be a quiz show format, a news story format, a narrative storytelling format, or even a drama format.  It can be anything the kids can dream up.
Showing educational videos that reinforce what they have learned.
There are so many other ways to do this.  You will find them as you work on technology in your own life.  Just try to keep an open mind about what can be done in the classroom, and they will pop up all the time in your own personal life experience!
6.  Because There is More Information in Their Tablets Than in the Whole School
In a large number of schools in America, students have to carry their books, instruments, and other materials around school all day.  It is daunting as well not physically advantageous for them.  In some cases, younger students are struggling with back and shoulder issues from carrying around more weight on a regular basis than is healthy for them.
One great way to change this is to have a lot of their learning material on a tablet or Chromebook rather than several textbooks.
Of course, as traditional reader myself, I realize that there is no great substitute for a physical book.  But in the case of the ability of technology to store huge amounts of information, technology earns its place in the school setting.
While I realize we can't practically remove all textbooks from the classroom, or even a large number of them, there are things that teachers can do to help alleviate the carrying books around problem.
Some Great Solutions
The first thing they can do is make their homework not dependent on bringing home their textbooks.  If they only need their binder or folder for paper homework, it helps a huge amount.  Carrying around six or seven folders is way less work and stress on their bodies than carrying around six or seven textbooks.
Another great option is to keep a place in the classroom for everybody's textbook.  Even if you have several classes that meet throughout the day, having a space for those books prevents students from having to carry them around all day for that one class.
A third option would be worksheets that they can fill out online.  Then they can do them at home without having to carry anything home.  There are lots of different computer apps that allow you, students, and parents to access the material online.  I am planning to do an article regarding this sometime in the near future.
7.  Technology Helps Keep the Students Engaged With What They are Learning
Technology can help teachers to reinforce what they are teaching their students because most methods of technology are simply more memorable.
Technology appeals to multiple senses at once, which is a great way to learn things.  So when the students are introduced to something in the classroom and it is followed up with activities that liven their senses, they can't help but learn.
Of course, some students will respond better to some methods than others.  But it is still universally true in the learning arena.  Studies have proven that the more variety there is in learning, the more students are reached.
To read more about this, check out my article about the different ways children learn, click here.
And the bottom line is that technology tends to hold our students' attention longer than classroom lectures or reading much of the time.  Once in a while we have a dynamic teaching session or read a book that keeps the kids on the edge of their seat.  And for teachers that are really engaged with their students, this happens more often than not.
But the reinforcement of material learned with technology is still one of the best ways to drive a lesson home.  Even after the dynamic lesson or amazing chapter of the book.
8.  Technology Makes the Teacher's Job Easier and More Relevant
Why is this the case?  Because since we know technology is the language that the whole world speaks, we know that it also has an almost unlimited amount of resources that teachers can use without having to reinvent the wheel.
Sometimes it takes a bit to think outside the box and come up with creative ideas for tying the technology to the classroom lessons.  But other times, it flies right out from their computer screen.  And honestly, the more teachers get used to implementing technology into their program, the easier and quicker it becomes for them to find the perfect ways to reinforce their lessons and keep the students engaged.
And many times when teachers feel they have exhausted every avenue of creativity, there are programs out there that do the thinking and planning for them.  All they need to do is look through those programs and choose what they want to do for that day, week, unit, or whatever it is they are planning.
Thinking back to before technology, teachers coming up with something new all the time would not have even been possible.  The advent of technology in the classroom has truly opened up a new world.  And it has allowed teachers to teach more effectively and relevantly than ever before.
9.  Technology Saves Time in the Classroom
Is there anything faster than the internet?  Maybe the speed of light?  Maybe even the speed of sound.  Actually, I'm not sure about that one.  Science buffs, help me out!
But seriously, the world is literally at our fingertips.  We can take a tour of a famous landmark with VR, watch an interview with the person that discovered that landmark on Youtube or any other media that supports that, read about their other discoveries in a book, and play a game of electronic Jeopardy ( or play it on the responsive whiteboard) all in one class period.  The level of productivity has significantly increased because we are simply able to do so many more things with the resources on the internet.  And we have barely scratched the surface.
Does anyone else ever get frustrated that there is too much to learn and too much to read and play and not enough time on Earth to do it?
Alas, as much time as the internet and technology saves us, the more information and activity and life it throws our way.  And we will never even get close to experiencing even a dent in it.
10.  Allows Students to Learn in Their Own Best Ways
This is one of my favorite things about using tech in the classroom.  All students have their strengths and their weaknesses.  And no two students are alike, although you will see similarities among them.
But bringing technology and lessons to life through various activities allows all of the students to shine at some points in the school day and struggle to learn and grow at other times.  What a perfect balance of life for a day in the classroom!
Without struggle to learn and grow through new things, the students will never learn to rise to the occasion.  And without chances to shine in their day, they will never feel victorious over their workload.
So allowing them a good balance of activities that technology can afford them allows them to become better people.  If that isn't a great fulfillment of school, nothing is!
11.  Teaches Students Safe Practices While Online
This is one of the most critical reasons why technology in the classroom is necessary.  We need students to learn safe habits with technology and computers specifically.  While we can teach them all the right things, we cannot assure they won't end up using it wrongly at some point in the future, but the more we encourage good internet habits early on, the better the consistency in how they handle the internet will be later on.
Teaching this in the classroom is a perfect opportunity because it is a perfect place and time to teach concepts that the students can practice while being well supervised.  And it allows them to learn to use tools to better their skills and talents.  There is so much advantage in this.
But one of the more critical reasons for this is that many kids may not be getting this kind of guidance at home.  This may be the only opportunity they have to be able to grow and learn about safely surfing the web.  And it may be the only time that they are able to be shown the potential of what the internet and all of technology can do for them throughout life.
We never really know how we are reaching some students and may never know.  But every once in a while we will hear back from a student years later that comes back and tells us how we shaped their life for the better.
And that makes all of those hard teaching days melt into the background.
12.  Technology is More Fun for The Students
Okay, I saved this one for last because it is probably the most obvious one of the twelve.
Technology in the classroom is necessary because kids naturally gravitate towards it.  They are more comfortable with it.  And they are adept at it, which makes it quicker and easier to learn.
But here is a method that we can use this in a way that encourages students to be innovative without realizing it.  Instead they think that they are getting to do something really cool.  Which they actually are doing as well.
What if you give the students turns at choosing which technology they would like to explain what they have learned in a certain class?  You can give them a 5 minute time limit and allow them to present what they have come up with over the course of several weeks.  You can give each student this assignment in whatever subjects they are strong in so they can shine.  Give them extra credit or a prize along with some constructive criticism.
And be prepared for what they will end up teaching you, either about technology, the lesson, or maybe even both!
And that won't be your only advantage.  You will also be inspired by their creativity that can change the course of your classroom for years to come.
Plus you are getting to know what makes each one of the students tick by watching the world through their perspective.  What an awesome thing!
Conclusion
So this is the story of why technology in the classroom is necessary.  But as long as it is, it barely scratches the surface of why technology is so beneficial in the classroom even more than throughout the world.
Hopefully it's enough to get us started.
Sources
https://edtechmagazine.com/k12/article/2019/02/new-global-survey-offers-snapshot-technology-classroom-2019
For More Information:
If you liked this article,  I think you will be interested in these articles as well:
How Students Feel About Educational Technology
What are Emerging Technologies in Education?