For some time now there has been a debate between block scheduling and shorter class periods.  And there are excellent teachers and administrators on both sides.  We all realize that there is no perfect decision to make.  There are advantages and disadvantages to both concepts. So then, in light of the conflicting views, are shorter class periods better for students?
After many years teaching in many different school types and grade levels, I  have some opinions and experience regarding this.  And honestly, regardless of the school policy, I have been able to make all kinds of different schedules work with whatever class I was working with.
Are shorter class periods better for students?  Yes, shorter class periods are better for students than large blocks of time.  But having a block schedule in your classroom does not mean that you have to rigidly teach only one style and one subject during that block of time.  There is great flexibility in any type of scheduling that your school requires in its policies.
But to add to my opinion and experience, I did some research and looked into what other teachers were saying and doing so that I could answer this question in the best way possible.  And this article is the result of putting all of these things together in one report.
Here is a chart that will give you a summary of what my research showed: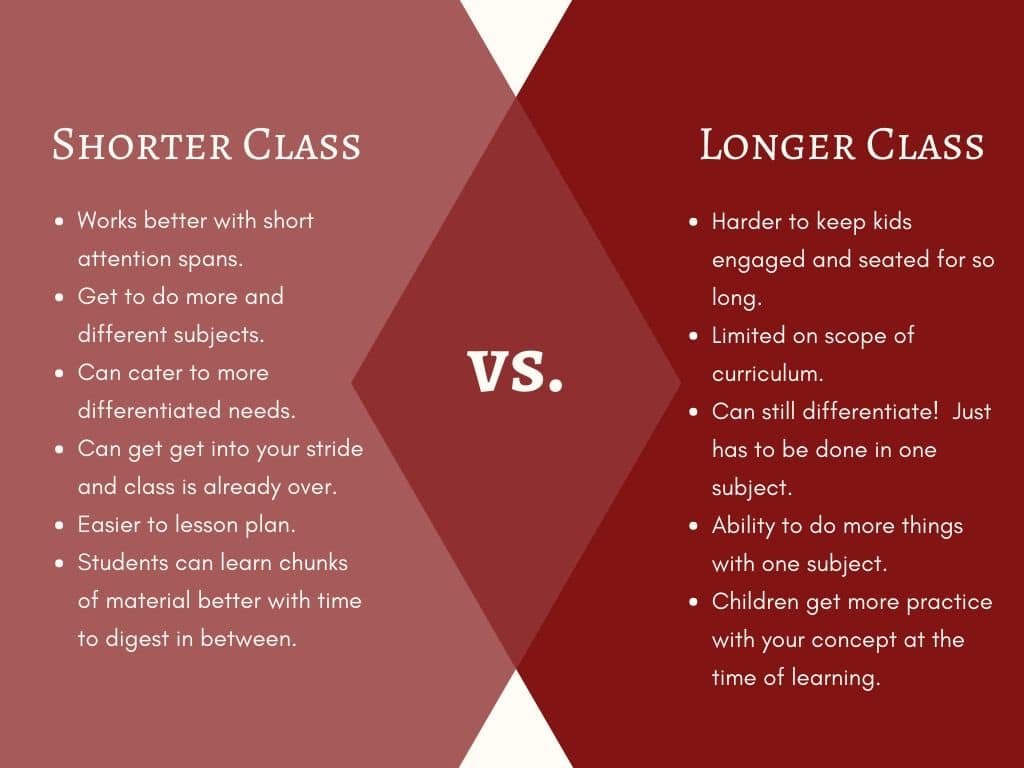 The Problems with Longer Class Periods
Most kids have short attention spans.  And with technology, they have gotten shorter instead of longer.  This may not necessarily be a great thing, but it's still a thing.  And somehow as teachers, we must reach our students in spite of it. Short class periods helps with that problem because the students aren't stuck in a chair for extended periods of time.
The vast majority of kids can wait 45-50 minutes between bathroom breaks and other classroom distractions.  But when you make that time frame 1-2 1/2 hours long, you start to get  a lot more distractions.  But you also get squirmy kids who can't really sit for that long, let alone give you their undivided attention.
Even my college age son admits that it is hard to sit through a lecture that lasts for 90 minutes or more.  And this is coming from someone who can sit and read a book for hours.
Actively learning takes energy and focus that is hard to keep going for such a long time.  Because of this, there comes a time in a class that students are just no longer taking in the information they need.  This is especially true in the younger grades (this is being implemented as young as 6th grade).
Why Shorter Class Periods are Better for Students
There are several reasons in addition to attention span issues that make shorter class periods better for students.  I will highlight just a few of them here.
Boredom
First,  the kids don't have time to get bored because they are always on the move.  Boredom will still be an issue, especially for the subjects that certain kids just don't get into.  That is something that the teacher's lesson planning has to work with.  But you are at least eliminating one way that boredom can take hold in the classroom.
Paying Attention
Students also tend to be more tuned in because they are eager to see what comes next.  Once again, this is where great lesson planning comes in in addition to shorter class times. Although it takes a little bit more thought and research initially, it is so worth being able to move smoothly from one subject to another without feeling like you have to drag your reluctant students along with you the whole day.
Physical Health
Next, the students have a chance to get up and stretch more often, which is so much better for their health.  Sitting for extended periods of time is extremely unhealthy, especially in growing kids.  This can still be done in a larger block, but if  you are trying to teach a concept straight through that block, it can become very disruptive.  And once one student asks to go the the restroom, guess how many follow after that?!
Absences
Another great reason for shorter class periods is that absences don't become such a huge deal when they aren't losing such a huge chunk of material.  For example, if you happen to be teaching a critical concept in math when a student (or students) can't make it, then they have lost their ability to move on with the class.  Any new concepts will be lost on them while they are trying to catch up on what they missed.  This snowball effect can be very hard to get over.
Productivity
The time spent in class is more productive because everybody feels the need to be more on point.  When larger blocks are being used, it tends to be much easier to take a more chill approach to learning, feeling like you have plenty of time left.  Until you don't.  And then you are scrambling to get the last details done.
On a shorter class schedule, there is more of a feeling of getting down to business.  Because of this, the students tend to have their minds more sharpened and ready to go.  They aren't walking in thinking that they have all the time in the world.  Well, usually.  Some students are going to be that way regardless.
Special Needs Friendly
For those students that have attention deficit disorder or the many other special needs that make sitting and learning difficult, block classes can be torture.  This is true for them AND the teacher!  You could spend more time trying to avert disaster than teaching your material.  And by the end of the day, everyone in the class is frazzled from the controlled chaos.
Shorter class periods definitely make special needs in the classroom more manageable.
Why Shorter Class Periods are Better for Teachers Too
Because the kids aren't getting bored as often, the teachers aren't constantly trying to come up with things to keep them occupied in a more satisfying way.
We get more bathroom breaks too!  Enough said!
Lesson planning is easier because you feel more like you are teaching to the material than teaching to the time.  This makes the work more productive in the long run.
You don't have to worry as much about bringing kids who have been absent up to par so they can continue the ongoing work with the rest of the class.
Solutions that Work Amazingly Well
The bottom line is that most teachers cannot decide which method they would like to use based on what works best for them.  The school administration will decide based on their research and advice from experts how they would like the school day to be scheduled.
But that does not mean that the teacher is unable to function the way they need to in the classroom and with the students.
The bottom-bottom line is that you have the same number of hours in a day regardless of which method you are required to use.
With a little bit of strategy, you can transform your block schedule back into a shorter class period schedule!
Making Your Block Schedule Look Like Smaller Class Periods
For those of you that are working in the block system, here are some suggestions to make it function more like a shorter class period day.
Here is an example of a block schedule that I got from the Newport News, Virginia school system:

The blocks of time are split into 80-minute increments.  This looks like a huge amount of time for the students to be sitting and listening to you lecture.  Because it is.  This is where differentiated lesson planning and some creativity comes into play.  You can read more about this in one of my articles here.
So here are some suggestions that will help you transform this block into more manageable time slots for you and your students.
Keeping Things Flexible
Just because that time slot is set apart for one subject doesn't mean that you can only teach to the class on that one subject for the whole time.  You can use that time to do activities that will reinforce what you taught.  They will retain these other activities many times better than you standing up there lecturing them.  And life is better for them because there is variety.
Kids, especially in the younger and middle school grades, love to see how things tie in.  So giving them the next activity and letting them tell you how they think it ties in is so much fun for them.  And it's good for them too, because it is making them think outside the box.
The key to making this work for you is to not have to be spending all of your time online trying to figure out how you are going to get this type of program organized and the lesson plans completed.
It helps to have a go-to source that will let you plan in just a few minutes because they have done all of the legwork for you.
An Example
In the reading/literature realm, my website has a well-rounded curriculum section that will allow you to decide exactly what  you want to do with your kids to expand your lesson.  Most of the chapters of the books I did were completed in two-hour blocks.  So you can expand to two days to complete all of the activities or just choose your favorite activities from  the choices provided.  There are several hours worth of options available.
You can see a sample of the activities that are provided if you click on this Sample Chapter link.  Here is a list of what most of the chapters do include for activities:
Teacher Assistance sheet with expanded instructions for the activities
Comprehension Questions (worksheet or discussion)
Vocabulary worksheet
Vocabulary Visuals
Crossword Puzzle
Bible Lesson worksheet
Character Questions Worksheet
Snack Ideas (from small snacks to full meals)
Craft Ideas
Game/Activity Ideas
Homework worksheets
Memory Verse Poster
Famous Quote Poster
Essay Starter worksheet
Picture Starter worksheet
There is more in each chapter than you can possibly do with your class, which gives you creative control of your own classroom program.
But the best part is there is tons of material for you to use.  And you will not have a problem filling your time slot, at least in the grammar/writing/reading realm.
Gaining Even More Time and Flexibility
One thing you can also do is add the craft project to the arts block in your day.  And the game/activity can be added to the P.E. block of your day.  You can even add it to your math program by using the story to make up a scenario for word problems or other concepts you are teaching your students.  The kids will enjoy seeing the theme play out through the day, and you will regain even more time to do more things in your block of time.  All of this is done without feeling like you have a huge block to fill because you have broken it down into manageable smaller time slots.
At the end of the day, it is your classroom program to do with as it works for you.  The only constant you have is when your students have to be in other classes for the other time slots.  Most schools give great flexibility, especially as they see your students  thriving with the program you are doing with them.