Do you need to restore new life to your classroom?
This new book shows several methods implemented over 25 years of classroom experience...
...to perfect your classroom routine and breathe new, wonderful life into ANY classroom!
So, how do you inspire your students to greatness—
when you already feel like you are doing all you can and don't have any more time to give?
There isn't a person who has ever lived that did not have a teacher that influenced them more than any other.  They look back fondly at this teacher and mention them when talking about the many things that made them successful in their life.
Jeff Bezos very publicly wished his 4th grade teacher a Happy 80th Birthday in 2018, telling her that she was one of his favorite teachers.
Elon Musk's most influential teacher was actually his elementary school principal.  For reasons unknown to Elon, his math teacher quit midyear.  Instead of hiring another math teacher, his principal decided to teach the class.  But instead of teaching status quo, this teacher did a couple of unusual things.  The first was that he accelerated the math program by a year.
In addition to the clearly challenging new program, he also promised to tell one of his very intriguing stories from his experiences as a WWII soldier.  Those stories were enough to get every single student to be able to finish their difficult assignments and be inspired by some real life stories of a hero.
Steve Jobs said that his 4th grade teacher bribed him to learn because he was so disinterested in school.  Her favorite choices for him:  candy bars and $5 bills at her own expense.  Her tactics were so successful that Jobs actually skipped 5th grade and went straight to 6th after completing 4th grade.
Throughout my school years, I was fortunate to have had several inspirational teachers.  They were inspirational to me because they took the time to listen to my dreams and aspirations and encourage me accordingly.  And they were also quick to help me as soon as they saw I was struggling in some area.
So, what did these teachers know that the rest of us struggle to figure out so that we can be those amazing teachers that are remembered throughout our students' lives?
 Many teachers today fear that the path their career is on is unsustainable at the rate that it demands of their time.
Teachers start with great hope:
We go to school to learn to be the best teacher we can be...
We start our internships, spending time with great teachers who show us how to have great experiences with our students in the classroom...
We follow and master all of the lesson planning instruction that we received in college and our internships...
And then, in our own classrooms, real life hits and we realize it wasn't as cut and dry as we thought.
Unfortunately, we realize that there is yet another element to successful lesson planning and classroom management that we still need to develop.
So, what is your story?  Do you have a good handle on your lesson planning and classroom management, but you just want to take it to the next level?
Are you looking for ways to inspire your students to be more excited about life in your classroom?
Are you frustrated and lost and just need to hear some encouragement so you can pick yourself up and start thriving?
Are you about ready to throw in the towel because you feel like you are so far over your head?
My name is Marie Phillips, and I'm the author of the book, Lesson Planning That Will Make Your Students Love School.  My lifelong passion has been working with children of all ages, but especially in elementary and middle school. 
My specialty is teaching literature in a variety of classroom settings.  And in this book I give you everything I learned about lesson planning and how I used it to make those literature classes spring to life for my students.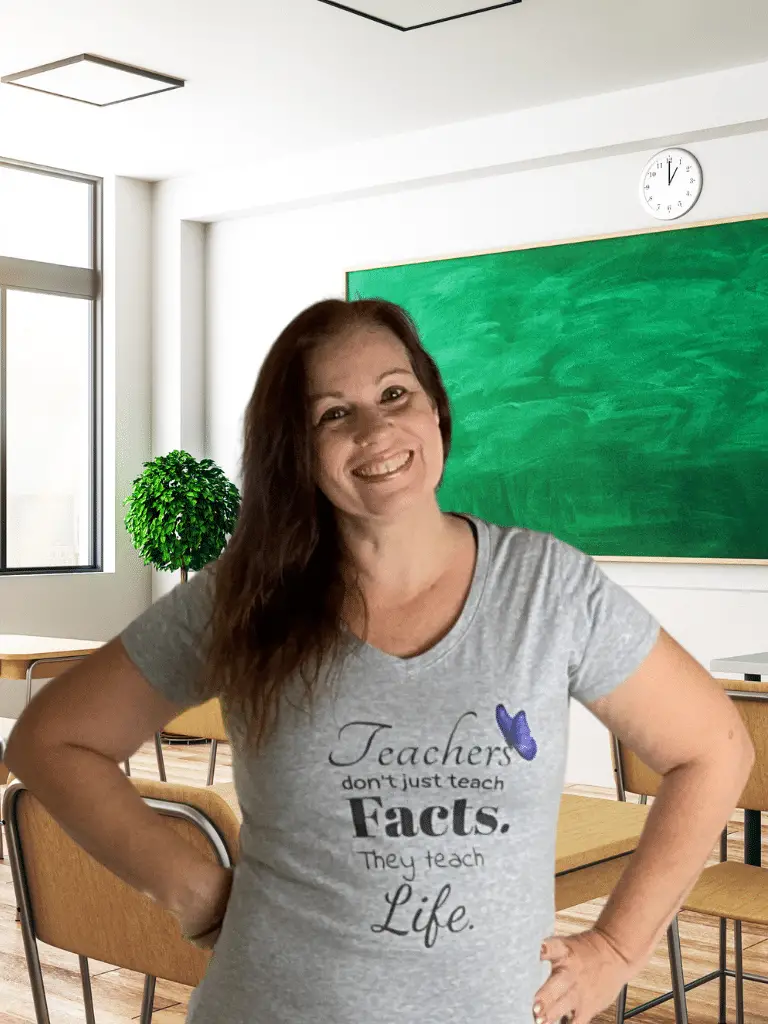 Over the years, fellow teachers and students' parents would say that I should share my curriculum and classroom activities with the world.  I would laugh it off and say, "maybe someday."
That day finally arrived, and Complete Literature was born.  Along with all of the help that Complete Literature offers to teachers (regardless of the subject they are teaching), I also wrote Lesson Planning That Will Make All Your Students Love School.  
This book is a "walk-along" that will allow you to "walk" with me through my journey of 25+ years of experience in teaching in many different styles and classrooms.
I wrote this book because I know it can help teachers everywhere to make their classroom thrive through my thousands of hours of thoughtfulness, planning, and activity.  Every teacher loves sharing their best secrets with their fellow teachers.  So I am thrilled to be able to share my teaching secrets to teachers everywhere,  no matter where they are in their teaching journey.
In Lesson Planning That Will Make ALL Your Students Love School, I share with you all that I learned along the way as well as a few blunders that I learned to eliminate from the school day.  Here are some of the things you will discover:
A peek at what I found makes the best foundation of lesson planning.

A quick review of some of the most popular lesson planning methods being used today.

How to make your school's class periods work best for your students, regardless of what your school's policy is.

The effects of technology on lesson planning, both good and bad.

How to make your own lesson planning shine for you and your students.

How to conquer the time crunch that every teacher battles against and still have time for all of the "fun stuff" mixed in with strong academics, which, in turn, enables your students to learn and retain the concepts you are teaching for life.

A step-by-step review of how my students fell in love with my literature programs--without sacrificing huge chunks of my life outside of the classroom or important academics throughout the school day.
Here is what people are saying about Complete Literature:
"...Not only did Marie capture the interest of her students, she provided joy for every one of their senses! Every week, I rushed to her room to see what was in store, and so did the students! With Marie's lessons, you come to the table and feast upon a book..."

Linda S., Teacher, Assistant Principal

"...Marie has developed a superb curriculum that can be utilized in the home, church, or school with the intention of creating memorable, fun experiences while delving deeply into great literature..."  Tracey F., Children's Ministry Coordinator

"...Everything about this curriculum – from the crafts to the snacks to the lesson itself – helped to bring the story and its meaning alive...."  Jeff F., Pastor
Lesson Planning That Will Make ALL Your Students Love School has charts, infographics, and printables with links to help you put into practice the concepts that inspire you throughout the book.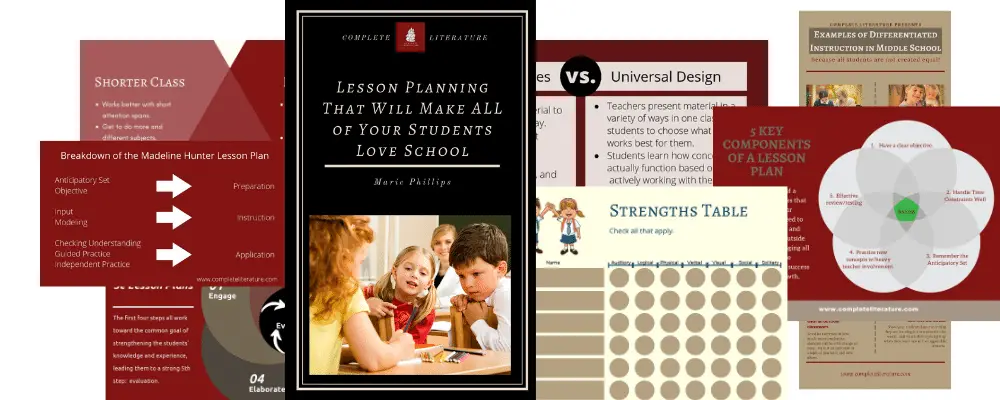 Now, let me help you turn your classrooms into centers of life and excitement while keeping your lesson planning time completely manageable--all for less than the price of fast food!
You can buy Lesson Planning That Will Make ALL Your Students Love School as a paperback for $14.99 or as an E-book for 8.99.  
Why do you need to buy this book now?
The answer is simple:  if you don't buy the book, you can't discover the methods I used to transform the classroom!  And the trial and error you will continue to work at will waste even more time when you could just read about the methods that worked well for me!
Obviously, this isn't a limited-time offer because the book will always be available.  But, the longer you wait to buy, the longer it will take to start transforming your classroom.
So, don't wait!  You can have a paperback copy of this book for less than the cost of lunch at Panera!
Click below to order!