My kids and I have been spending some significant time watching movies and reading the books that go with them this summer. So I started thinking about what the differences in value between the two are.  Then I wondered how reading books is different from watching movies.
Some people prefer to watch the movie first.  Others prefer to read the book first. Consequently, I see value and differences in both.  But regardless of one's preference, reading and watching movies are pretty different things.
So how is reading books different from watching movies and how can we take advantage of the benefits of both?  Reading books can give you many more details than watching a movie and also helps brain function among other things.  Watching movies is great for social life and a great form of entertainment among other things.  Both are great for stress relief, growth in knowledge and vocabulary and are great hobbies.  Read on to find out how each or both can be beneficial as well as fun for you!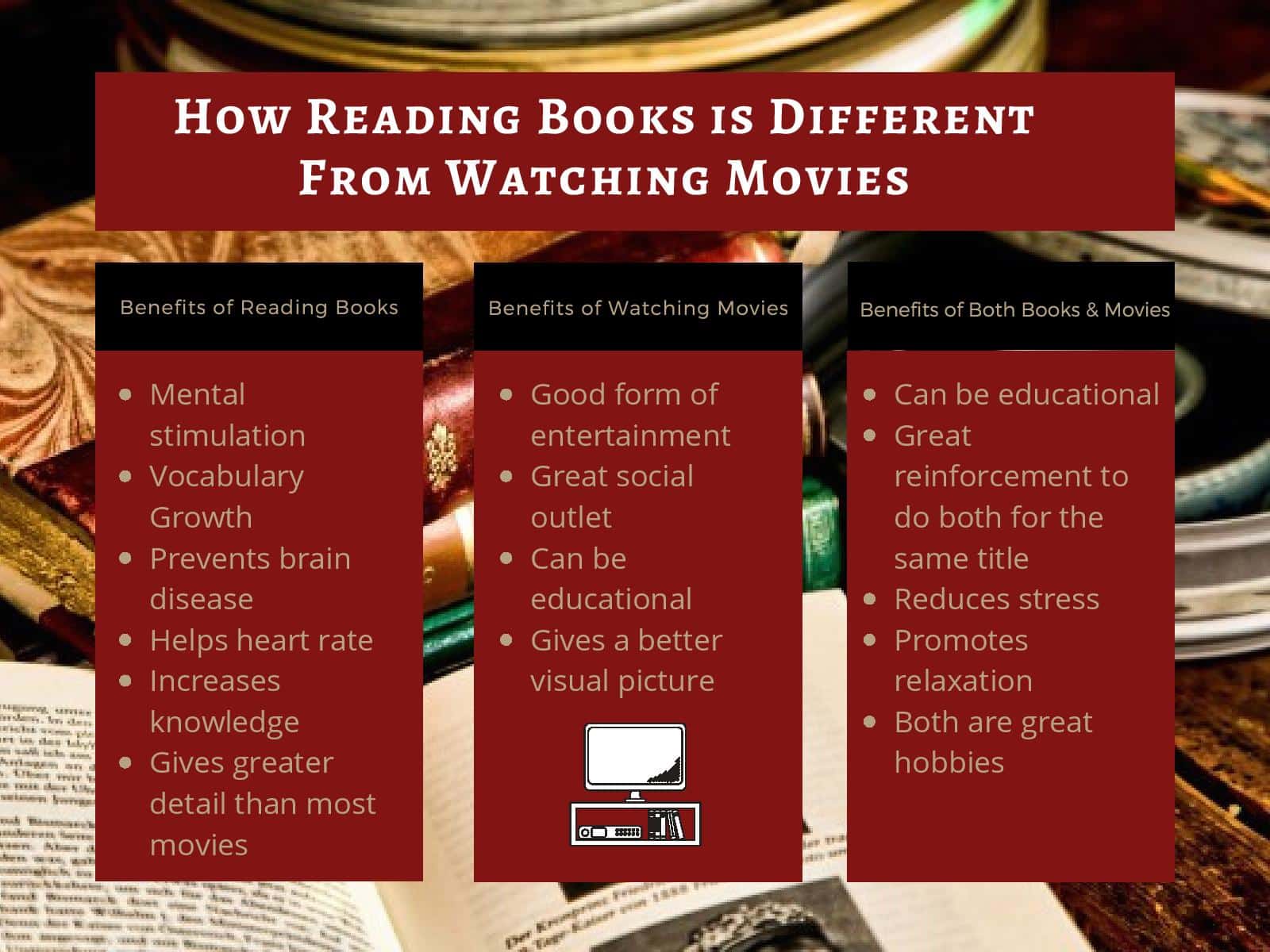 The Benefits of Reading a  Book
There are actually more benefits to reading than I can fit in this one paragraph of a blog post.  Maybe that will be a separate blog post of its own one day soon.  Let me just touch on a couple of the most beneficial reasons for reading a book.
The mental stimulation that occurs from reading a book is far reaching.  The reader learns words they have never heard before (or heard but never learned what they meant) by reading in context.
Totally separate from that form of mental stimulation is the scientific theory that reading to keep the brain engaged can slow down or even prevent Alzheimer's and Dementia.  I have actually heard that reading 15 pages a day can improve your memory and productivity.
Interestingly enough, the earlier and more children read and carry the habit into adulthood, the more it is believed to aid in preventing Alzheimer's and Dementia entirely.  For more on this, see this article by the Fisher Center for Alzheimer's Research Foundation.
Reading can reduce stress.  I know that there are times that I will start reading a book and get totally immersed in the characters and situations I'm reading about.  Before long I have totally forgotten what was going on before I started reading.  This could be good or bad!
But seriously, the studies I have read (here is one) indicate that reading has the ability to lower your heart rate and relax your muscles.  And it works faster than drinking a cup of tea or listening to music!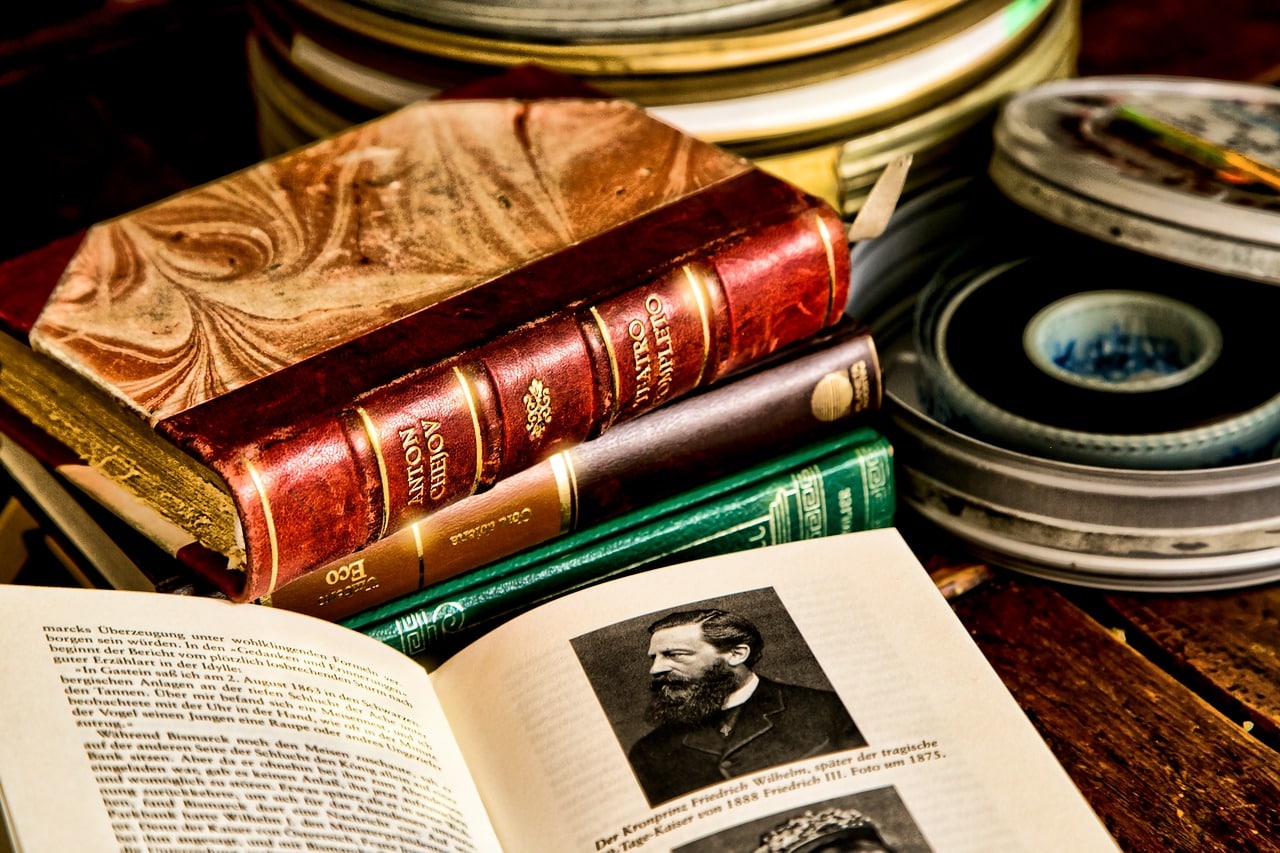 The Benefits of Watching a Movie
Okay, I'm going to go ahead and start with the obvious one:  movies are entertaining.  We enjoy them.  Generally it is an experience for us.  Sometimes we watch movies as a social event. Maybe it's when we meet friends at the movie theater or host a movie night at home.  But there is just as much value in settling in for the night for a movie by yourself.  Blankets, pillows, tea, your favorite movie, and you have the perfect recipe for a night in.
Surprisingly, watching a movie can also relieve stress, just like reading a great book.  Don't watch horror though, especially if you are already stressed out!
How Reading a Book and Watching a Movie are Similar
I already shared with you that whether you are reading a good book or watching a great movie, you have found a good stress-reliever.  But there are plenty of other similar benefits to reading and books.
Both are learning experiences.  They don't even have to be documentaries.  The best books and movies are produced with real-life facts throughout.  It makes the experience so much more enjoyable when the reader is able to relate what is going on in the plot to their life.  But actually, even if the plot is so far overboard that the reader/watcher can't imagine it in their life, they still tend to be able to relate on some level as they engage with whichever format they are using.
Both can also help us to evaluate our lives.  They can inspire us to change in ways that improve our quality of life.  They don't even have to be documentaries.  Some examples of books/movies that improved the way we perceive life and encourage us to change are The Pursuit of Happyness, Cast Away, and Pay it Forward.  All of these movies speak to the underlying spirit behind the actions we take in life.
How Reading a Book and Watching a Movie are Different
Reading a book puts ideas, pictures, people in your head that you have no context except for the description of the book.  By the end of a really good book, you have such a clear picture of what the characters looked like, what their movements looked like, what they were feeling at various points, and so much more.
Watching a movie gives you the images and you fill in with the plot lines.  There isn't a lot of imagination, but there can be tons of inspiration.
I love reading a book, having a picture in my head of how that book would play out if I were observing it, and then watching a movie and seeing how similar or different my picture was.  Most of the time it is so incredibly different than what the movie portrays.
On the flip side, watching a movie first, then reading the book opens a whole new world that the movie barely scratched the surface of.  It's like going on an extended adventure after you thought you had already experienced so much.
Honestly, I'm not sure I know which way I like better.  I think I just like both for the rich experience that they both give.
The Strengths vs. the Weaknesses
One for the Books
So, let's start with the strengths of books.  First of all, they have no limits on time constraints.  If it takes you a couple of weeks or even a month to finish a book, you can put a bookmark in it and keep it nearby until next time.  While a tv series certainly has the same ability, it's really not the same.  You can enjoy a book that is one hundred pages by reading it in a night.  You can also enjoy a 1,000 plus page book just as much, although you are only able to read a few of those pages at a time.  You can still pick up that book and instantly be thrown back into life with those characters.
While movies are certainly more visual in this department, they don't always have the same immersive effect that books tend to have.  This is especially true when the book spends a good amount of time building up the plot and characters.  You can definitely feel the character and plot development in a movie, but books have the ability to make you a part of them.
One for the Movies
Books, on the other hand, can have a very make-it-or-break-it lifespan.  If the first couple of chapters don't engage the reader, then they certainly aren't going to invest in hundreds more pages.  Movies can have the same effect.  But generally, the reader can make it all the way through a bad movie as well as a good movie.  This is true especially if they have forked out a significant amount of money to see it in the movie theater.  Another example of making it all the way through a bad movie is simple peer pressure.  A good friend tells you how inspiring a certain movie is.  So you hold out to the end, hoping to get a glimpse of what they saw.
Conclusion
So, which do I think is better–a great book or a great movie?  My answer is both!  You pretty much need both to get a well rounded experience.  They both have value that they bring to the table.  And doing both gives you much more than just one or the other–more inspiration, more entertainment, more imagination, more brain development.
There are so many ways to enrich your life by confirming how much you enjoyed a book by watching the movie and vice versa.
And for the record, I actually love to read the book AND watch the movie!
So for your "homework" this week, watch a movie based on a favorite book you have read sometime in the past.  Or read a book that you greatly enjoyed watching a movie about. While you do that, think about how reading books is different from watching movies.  But also think about how they are the same and how similarities and differences make for a better overall experience. Enjoy!
And for you literature teachers:  have a movie day for the books that you teach that have movies.  Your kids will love you for it.  And they may just tell their own kids what an awesome lit teacher they had back in the day!
To learn about more ways to reach your students in ways they will embrace (besides movies and reading), click here.