What are the seven styles of learning?  How do they apply to your students, regardless of the style of school you are teaching in?  I would like to talk about what those styles are, how you work with them as a teacher, capitalizing on your own style strengths, and how you bring along all of your students on their journey through education.
I grew up in a small town in an even smaller private school. The method of learning in the school was very one-size-fits-all.  Unfortunately, that fact bore out in the academic results of students who went through the program.  There were many middle-of-the-road students, a few that excelled, and more than a few that got very little out of the program.  
I was one of the lucky ones because my style of learning was very self driven.  It almost didn't matter where or how I got my education.  I would read just about any book I got my hands on.  I was always looking to learn about the next thing.
Unfortunately, that was not the case for the majority of the students.  And they suffered academically for it.
Identifying the Need
The truth is, there are a lot of schools that feel so trapped in their procedures that students are not able to find their preferred learning style and flourish academically.  Teachers find it difficult to address the learning needs of their students because of limitations in the classroom from many different angles.  It could be too many students in a class, too little time, or  trying to teach to upcoming tests.  There are countless other things that hinder progress in the classroom.
For a few students, it won't matter how good or poor their educational structure is.  They will find a way to thrive regardless.  But for the majority of students, there is a need for quality education.  They need a program that can teach them concepts, how to think, and how to continue to grow once the course(s) are over.  But maybe most importantly, the material they are learning needs to be delivered to them in ways that they relate to.
So What are the Seven Styles?
For now, let's focus on those styles of learning and how we can implement them in the classroom, even when the odds and clock are against us.
The seven styles are broken up into five actual learning styles and then two personal styles.
The five actual learning styles are:
Aural
Logical
Physical
Verbal
Visual
The two personal styles are:
Social
Solitary
This chart will help you see it in perspective: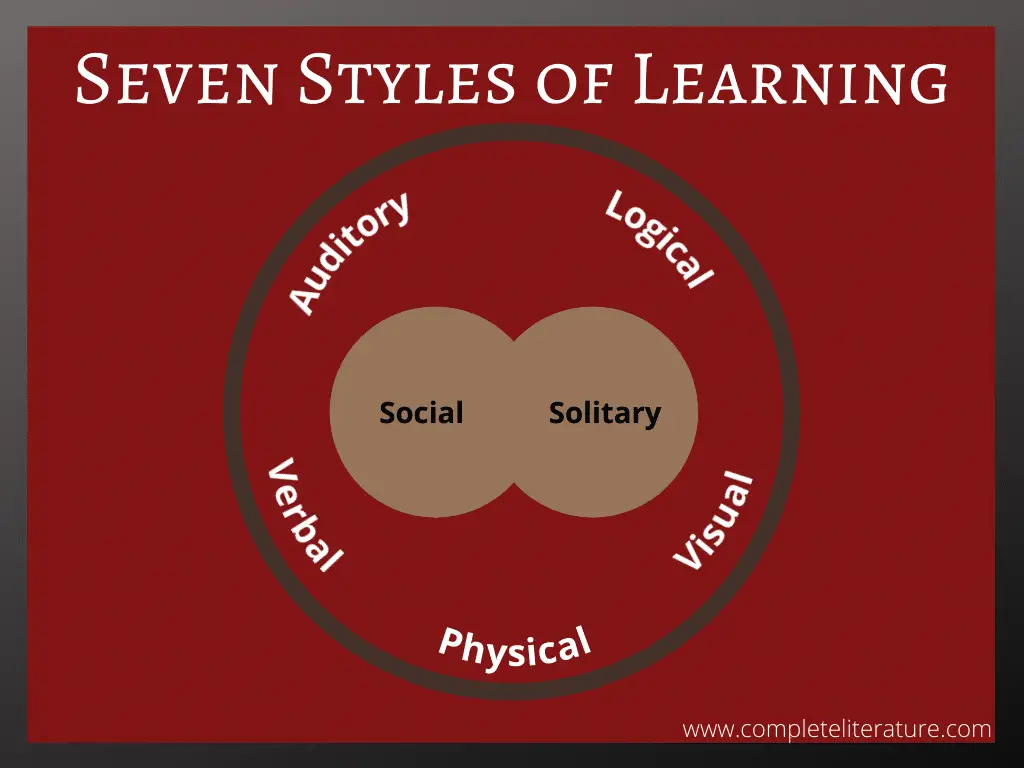 It is important to note that everybody has multiple strengths as well as multiple weaknesses in these styles.  That works to everybody's advantage, though, since many times it is not possible to choose the best or preferred style.
Here is another chart you can print up for your classroom to help you evaluate and organize your students in a way that allows you to reach them the best based on their strengths.  There are only 6 spaces for names on each chart to try to keep the groups of students who learn similarly manageably small.  You can print up the number you need to fit all of the students and then group them to suit your classroom.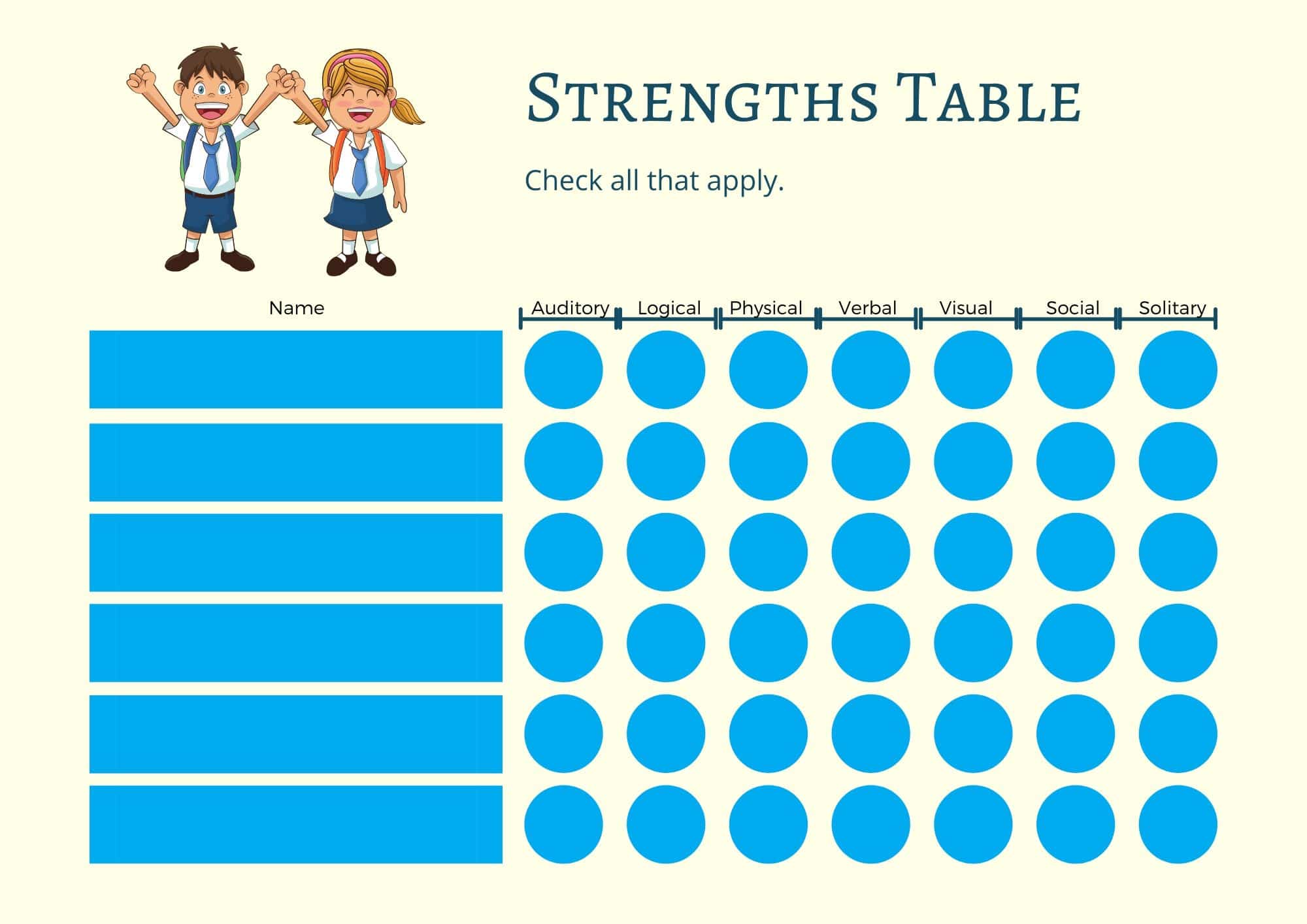 So for now, let's look at each style in depth as well as some examples to put to use in the classroom.  Note that they are in alphabetical order, not order of popularity or importance.
1. Aural Learning Style
This style is also known as auditory learning. The aural style is when the student learns by listening.  Then it is usually backed up by talking about the things that they listened to.  Interestingly, this is probably the least likely to be a strength for the majority of students because of its lack of tactile reinforcement.  Because there is not a physical component to it, it takes a pretty special skill of listening well to be a strength.  Many people are too busy thinking about processes, or working through the situation they are in to actively listen.  Because of this, it is hard to get the most out of auditory learning.
One of the main characteristics of auditory learners are that they are eager to listen. But they are generally even more eager to discuss what they are learning to cement it into their mind.
How we Apply it
There are ways we can help auditory learners to learn better in the classroom.  Those include keeping distractions and noise in the classroom to a minimum,  keep auditory students away from windows and doors that activity are constantly coming from, and use rhythm, music, or repetition in your lessons to help them retain what they have heard.
2. Logical Learning Style
The logical learning style is also known as the logical-mathematical learning style.  The logical learning style capitalizes on reasoning things out, solving problems, and thinking along the lines of if-then ("if I ______, then ______ will happen").
You will quickly identify the logical learning style students in your class.  They are the ones that are eager to help you solve a problem when they see it.  They will also argue frequently, exercising their great reasoning skills.  These qualities can be frustrating at times, especially with elementary/middle school aged students.  I like to think of them as ahead of their time.  Those skills will serve them well as adults if they learn to hone them well.  And what better time to help them do that then in their early and middle school years?   I learned pretty early on that rather than responding to their arguing by expecting them to stop, I got much better results by asking them questions and engaging in dialog that allowed them to work through the process and bring their mind around to what was happening in class.  This procedure allowed them to learn how to work things out in a healthy and not demanding way.  It is a great way to help middle school students learn how to work things out when they face difficulties in all of life.  What a great life lesson!
How we Apply it
What are some ways we can actively help logical learners in the classroom?  One would be to integrate problem solving discussions in the beginning of lessons.  See where they take their logic.  If they lead into your lesson, that is great confirmation for you as a teacher.  If not, you have the ability to gently guide their thinking into the lesson points.  Either way, your teaching skills are reinforced by helping your students proactively think through the lesson from the beginning.
They will be doing way more than just absorbing information.  They will be internalizing the concepts and applying them to life–in the classroom and out in the world.
3. Physical Learning Style
The physical learning style is also known as the bodily-kinesthetic learning style.  This style manifests in the student using touch to reinforce their learning experience.
This learning style will become obvious to you as you observe the students utilizing it.  You will see younger students constantly getting into things to experience them–picking them up, evaluating what makes them work, sometimes taking them apart to figure out all the components they are made of.
Older students will be more engaged in sports or classes that allow them to physically move around or manipulate objects that they are learning about.  They will also enjoy taking things apart to see what makes them tick.  They also tend to be really good at hand-eye coordination and, of course, video games.
This learning style shows up more in boys than in girls.  I grew up in a house full of girls.  We generally kept everything pristine and in its place.  What a shock when I had a slew of sons, all of which loved to tear things apart in order to see how they worked and if they could make them work better!  It took me a pretty long time to realize that they weren't just being destructive.  They were learning how things work.  And they were taking that knowledge to go out and make their own inventions.  It was a really cool life lesson for me!
How we Apply it
So how can we make this learning style work better in our classroom?  For younger students, the use of manipulatives to drive home the lesson.  This is also very helpful for visual learners! Props and activities that allow them to do activities and participate in the teaching of the lesson also help to reinforce the concepts that they are learning.  Actively participating in the lesson (for younger as well as older students) is also great encouragement for them. They are learning leadership skills that will prepare them for great things as adults! Incorporating games that reinforce the theme also help all of the students to internalize the lessons.  And they don't even realize they are learning because they are having a great time!  Even better, they will fondly remember those classes well into their adult years.  How's that for retention?
4. Verbal Learning Style
The verbal learning style sounds like it is a strength in spoken words, but it actually includes written words as well.  Reading and speaking are both critical parts of this learning style.  Those who favor this learning style tend to prefer to read or discuss things that they are learning to activities or more physical methods of learning.
You will easily recognize these students as the ones who can't put a book down.  It could be books they are reading, or journals that they are writing in.  You will also see them actively participating in class discussion.  You will probably also see them still discussing favorite things they have learned on the playground and also in various places after class.  This is great reinforcement for them.
How we Apply it
There are a couple of ways to apply this.  These concepts work equally well in younger students as well as older.  The first is to intentionally leave time for classroom discussion.  Even the less verbal learners will love this process too.  The reason students love this so much is because they feel like they are being listened to. They feel that their ideas and thoughts are valuable to others.  And getting the ear of the teacher is so incredibly encouraging to them.  This will develop confidence in students to share their ideals with others and is great training for their future!
If you have introverted students that you know will not be comfortable sharing with the whole class listening, you could bring it up to them in personal conversation sometime during the school day. Some good times would be while lining up for the next activity, or while packing up to go home.  There are lots of little snippets of time that you could encourage introverted students to share their thoughts without putting them on the spot.  Who knows–maybe by the end of the year you will have helped them to come out of their shell a little bit?
Another great way to implement this in the classroom is by dramatic readings, either by tape while the class follows along in their books, or by having the kids take turns doing the reading.  Guiding them into reading with feeling is a valuable life-long lesson.
5. Visual Learning Style
The visual learning style is probably the one that resonates with the most students.  Almost everybody learns well visually.  This includes anything that relates to seeing their lesson:  pictures, books, videos, props, colorful things, literally anything they see that is related to what they are learning.  Because of the nature of the classroom (being that it is a physical place), this is the easiest way to encourage learning.
You will recognize students with this strength in several ways.  They will actually have several of the previous learning styles mixed in as well.  You will see them inspecting things and handling them (physical/kinesthetic).  You will see them audibly taking in what they are looking at (videos and such).  Observe them categorizing what they are learning in ways that make it easier to remember (logical).  You will see them doing this when they are closing their eyes to cement what they have just seen in their minds.  A couple more distinctions  that they manifest would be that they tend to be very detail oriented as well as artistic.
How we Apply it
Fortunately, it is a good thing that most people learn the best with this learning style.  Schools are able to cater to this learning style the most.
Having great visual displays on tabletops is more than just decorative and aesthetically pleasing.  It is critical to visual learners.  Awesome bulletin boards fall into this category as well.  With a few tweaks in the process, bulletin boards can be amazing and look like they took more creativity and time than a teacher has.  But the teacher will know better.  Expect more on this in a future article!
Crafts that cater to details are an amazing way to reinforce learning in a way that makes the students forget they are in school or whatever learning environment they are in.
6. Social Learning Style
This is also called the Interpersonal learning style.  This category and the next are a bit of a departure from the previous styles in that they speak more to personality than learning style.  They are also quite a bit more obvious than the other styles, which you must learn after getting to know your students.  The social and solitary learning styles will be very obvious within your first day with your students.
The social learning style is a bit of a two-edged sword.  Social learners tend to be easy to reach emotionally and engaged.  They are eager to participate in classroom activities.  Speeches and presentations present little difficulty.  But they can also be easily distracted as well as distract others easily.  Like all things, striking a balance is key.  Helping them to harness their social skills in the best ways is a great lesson to impart.
How we Apply it
Social learning styles are super easy to implement in the classroom because they happen quite naturally.  An extended discussion that allows you to reinforce even more than what they learned in the lesson, a game or activity to drive home the points of the lesson, letting volunteer students come up to summarize certain points of the lesson (they get to play teacher for a few minutes), are a few of the nearly infinite ways you can encourage social interaction in learning.  Literally, the sky's the limit–maybe even further!
7. Solitary Learning Style
This final learning style is the counterpart to number 6, the social learning style.  And just like number 6, it is also a two-edged sword.  Solitary learners tend to stay away from busy social hubs and activity in the classroom.  It looks like they are unwilling to participate at times.  But generally speaking, what is really going on is that they are busy in their own learning process.  They are great observers, watching everything that is going on from a distance and taking it in.  Or they are busy reading a book or writing about what they are learning.
There are times that they may be hiding in a corner for the sake of hiding.  And sometimes that is okay.  We don't know exactly what is going on in their life that could be causing them to want to take a break of sorts.   But it does give us an opportunity to take a minute out of our day to ask how they are doing in a nonintrusive way.  Gaining trust over the school year in a way that they learn that they can confide in you is something that could influence them in a life-changing way.
How we Apply it
There are some great ways to apply this in a way that over the school year helps solitary students not only learn to come out of their shell but thoroughly enjoy it as well.  They could be thriving socially (at least at times) by the end of the year.  And to help them learn to be comfortable about it is such a huge step for their development!
On the flip side, maybe your solitary learners love their solitude because it is in their nature and not because there is a problem.  While we do want them to learn to enjoy making a presentation or be a bit more social with their peers, we also need to be sensitive to the fact that some people just simply prefer solitude.  Trying to change students' mannerisms can be more harmful than helpful in the long run.
Solitary learners are great independent learners.  So one way to capitalize on that is to give them a special project to do.  Extra credit or a reward at the end of a job well done are great incentives.
Another great idea for them is to split the class into small groups for activities or projects.  You will need to make sure that the class is sectioned off in groups that are likeminded but will also be productive together.  The tougher groups can be stationed near the teacher or assistant so that they can get the extra guidance needed to make their small group successful in its endeavors.
Conclusion
This article was a very brief summary of all of the styles of learning. Consequently, I plan to give each style of learning it's own in-depth article in the next couple of weeks.  Feel free to weigh in on your thoughts regarding your experience with particular learning styles in your own classroom situations.
For an article on implementing variety that encourages everybody's learning styles, click here.