After spending some time researching technology in the classroom and writing a couple of other posts on the subject, I started thinking specifically about the impact of technology on literature.
Certainly, technology has affected just about every aspect of our lives.  That especially rings true in educational circles.
But we can think of technology in literature in a different way.  Books have almost been perceived as the anti-technology tool.  They have been floating around nearly forever.  Okay, actually only a little over 600 years in the form we think of now.  But relatively speaking, that's a pretty long time.
What the "Experts" are Saying
With the advent of tablets, e-books, email, and computers in general, it may appear that books have lived out their usefulness.  In July, 1913, Thomas Edison said the following:
"Books will soon be obsolete in the public schools.  Scholars will be instructed through the eye.  It is possible to teach every branch of human knowledge with the motion picture.  Our school system will be completely changed inside of ten years."
To be fair, the quote was referencing movies, which were still quite new at the time.  And he was not entirely wrong. Motion pictures actually can teach us a vast number of different disciplines.  But fortunately for all of us, the rich experience of picking up a book and reading it did not get buried in the world of the motion picture.  Both the written word and film have managed to live a very rich life alongside of each other.
Mr. Edison was also largely responsible for implementing film in the classroom as early as 1910.  What a wonderful experience it would have been for the students at the time! There had really been nothing like it up to that point in history.  And he was absolutely right that film had the potential to communicate information in a better way than books could. People could actually watch things happen in real time.  It is that fact that caused him to believe that the written word would no longer be relevant in human life.
The Current Consensus
Recently, I was waiting for an appointment in a waiting room.  I was reading a book–the paper kind.  One of the men that worked in the office came out, turned towards me, and just stared for a bit before saying, "Wow, you are actually reading a physical book!  I didn't think people did that anymore."
That sentiment rings true for a lot of our society today.  Books have been replaced by tablets, phones, computers, and any other electronic device that you can put an app on.
But more than a few of us still exist that would rather hold a book than a tablet.  We would rather turn a page than scroll through.  And almost nothing beats the smell of a new book and the feeling of crisp, new, quality pages.
Sharing the Limelight
That being said, we can still find plenty of room to allow books and technology to share the stage.  Reading a book in a classroom full of kids makes all sorts of magic happen.  When you choose the books that kids love and tie in some of their favorite activities, you make history for them.  They will remember those lessons and what they read in those books for years to come.  And that is what makes technology in the literature world impactful and necessary.
So far, all of this has been written to say that there is an impact of technology on literature.  But what we have discussed so far is how technology has not impacted the popularity of books and literature in general.  What I would like to focus on now, is actually how technology has impacted and enhanced the world of books.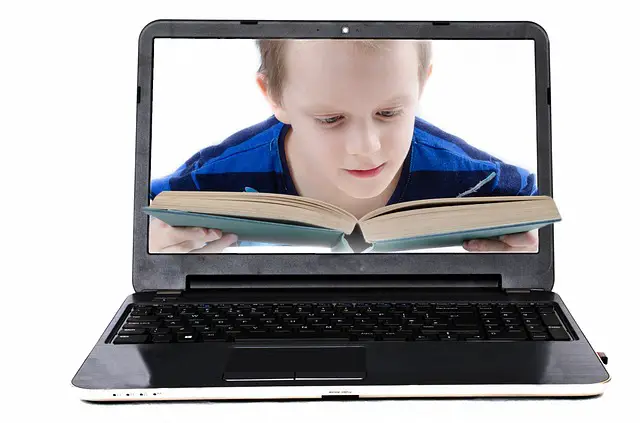 The Impact of Technology on Literature in the Movies
While I already alluded to this with the Thomas Edison quote, I didn't express how this technology has actually benefited the reading of books.  We know that countless young people traditionally don't love to read.  We also know that those same kids pretty much love to watch tv and play video games.  And that is where technology boosts those books.
I know that I have always loved to read.  But even with the constant book in my hand, there were times that I watched a movie and loved it so much that I just had to go buy and read the book.  And most of the time, I realized I loved the book even more.  There is so much more detail in most books over the movies that they represent.  And time is not a factor.  You can pick the book back up anytime.
The amount of immersion one feels when reading a book is not nearly as strong when watching the same title in movie form.  We are merely spectators, and when the 1 1/2 to 2 hours is over, so is that part of our world.  Once in a while, an incredible movie will be released that will break that stereotype.  But vastly more often, you become incredibly enmeshed with the characters of a book.  When you get to the end of the book, you can actually feel the loss of that relationship.  You can never get back that feeling of kinship you felt with certain characters or even the author, even upon re-reading the book. Thus in this way, watching the movie version can actually be an encouragement to go read the book, which has so much more material and life in it than a movie can produce.
The Impact of Technology on Literature in the Classroom
While movies can happen inside as well as outside of the classroom, there are so many other ways that technology impacts life in the classroom.  I will touch how it affects literature for now.
The impact of technology on literature has carried more benefits than drawbacks.  That is a good thing for teachers of all venues.
Research
Technology has opened up a whole new world of materials for teachers to draw from.  Thirty years ago, there was an excellent library system but you had to know where to look to find what you wanted.  Or you needed to know somebody who knew how to obtain what you were looking for.  Now, there is almost no limit to what resources you can find online.  You are merely limited by the time it takes to search for whatever it is you are looking for.  Sometimes the search is lightning fast, other times it eludes us.
Ordering materials used to consist of shopping in town.  Or maybe shopping from a catalog, in which case, you needed to make sure you planned at least a couple of weeks ahead.  There was no such thing as one- or two-day shipping.
An Example
I remember as a young teenager needing some art supplies for my upcoming art class.  My mother took me to the art store, which was two towns away from where I lived.  Once we got there, we expected to find everything we needed.  We had no other options except for that store.  But, they did not have everything I needed.  And class was about to start.
So we explained to the man running the cash register (he was the owner/operator of the store) what we needed.  He got on the phone and started calling around to other stores outside of the area.  And he found what we needed.  But it took nearly a week to get the supplies in.  And then I had to wait for him to be ready for me to go pick it up.
Now we have Amazon.  And one- or two-day shipping.  And we feel like we just aren't going to make it without our stuff if we have to wait much longer than that.
As teachers, we still have to prepare, sometimes weeks in advance.  Research still takes time, even though the world is at our fingertips.  And planning also takes time.  So does creating and experimenting until we get the result we desire.  But it is so. much. easier.
Contact with the Masters
We possess the ability to hear some of the greatest literary masters of all time.  We had access to much of that thirty years ago as well.  But we had to go to the library.  We searched the card catalog.  We looked for the right microfiche.  And when none of that helped us out, we asked the librarian, who somehow knew where everything was.  Now, it is generally a matter of pulling our phone out of our pocket and googling the person we want to hear from.
Online, we can find interviews in written, audio, and video form. Plus, the internet is already pretty organized for us.  As much as we sometimes hate on Google, they have truly done an amazing job of cataloging all of the information that is the internet.
We can work on a great literary work, such as The Hobbit.  And somewhere in that unit, we can actually pull up interviews that J.R.R. Tolkein did regarding his work.   It is as easy as pulling it up on Youtube, less than a minute.  This addition to classroom activities would be impossible thirty years ago, even though the interviews were done in the 1960's.  It would have been too hard and too time consuming to find them, if possible at all.
Get Everyone Involved
There are several venues online for active communication and planning throughout your literature units.  Some great choices are making a blog and having your students each contribute posts, forums that you can share information, answer questions, read and see ideas from students, even play games.  You could use a forum to send students on a treasure hunt, or solve a mystery related to what they are reading.  So many options abound!
The main idea here is getting the kids involved in a way that makes them excited to be a part of the class.  Kids who are too shy to speak out in class often will like the idea of being able to post something in a group or forum.  They will be more comfortable because they know they will be able to think before they write (type), as opposed to feeling put on the spot to answer in the classroom.
And who knows?  Maybe by the end of the year, they WILL feel more comfortable sharing in class because they know their thoughts were appreciated and cultivated as they progressed through the year.
Conclusion
I could have talked about so many more things that technology contributes to the classroom.  And we didn't even start the conversation about drawbacks to technology.  Although I think they are few and far between compared to the advantages.  But the points brought up make a pretty good start.
As always, I would love to hear how technology has improved (or hindered) your classroom.
In the meantime, to catch up on some of the other technology posts, click on the links below:
How to Take Advantage of Tech in the Classroom