Most teachers agree that social emotional skills are extremely important to teach on a regular basis in the classroom.  But sometimes, with the pressures of everything else that needs to be taught, these "extras" fall by the wayside.
So how can you find more ways to implement social emotional learning in and get all the other required work done?  One excellent way is to use writing prompts that reinforce social emotional skills.  Using these ideas in conjunction with your ELA program allows you to promote social emotional learning without feeling the pain of finding more time in your day.
And it makes a perfect way to have a discussion with your students about these very important concepts.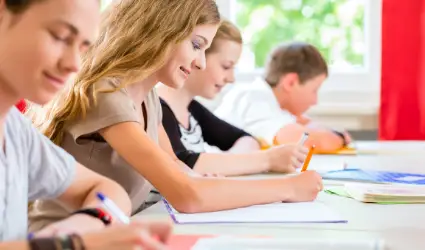 For a quick refresher, let's look at the 5 components of social emotional learning:
Self Awareness
Self Management
Social Awareness
Relationship Skills
Responsible Decision-making
If you need more information about each of these components, you can check out my article regarding social emotional skills here.
And if you are looking for more than an article, I found this book to be by far the best help for me:
The Details
I am going to categorize each of the writing prompts according to the components of social emotional learning.  That should make it easy for you to choose what to work on.  It will give you at least 5 different writing sessions with your students.
I do have a couple of recommendations.  First, make sure you give your students a choice.  It will make them much more eager to write if they can write about what they want to.
And second, make sure that if you tweak these that you are careful not to make the topics too vulnerable for the students.  We don't want them to write something they will regret later.  It has to be their choice as to how vulnerable they want to be in their writing.
And finally, I have included printable sheets for you to use in your classroom.  In order to save money on printing such rich images, feel free to print and laminate them for long-term use!  Enjoy!
Writing Prompts for Self Awareness
Are you a self-confident person?  If so, what do you think makes you that way?  And if not, what do you think you could do to be more confident in yourself?
 What do you think is your best character strength?  Why do you think it is your best?  Give a couple of examples of how you use this strength.
When things get tough, do you persevere through them?  How do you do that?  How would you like to grow in your perseverance skills?
When you feel like you've been "knocked down," how do you get up again?  How do you wish you handled situations that set you back emotionally or physically?
Do you find it easy or hard to believe in yourself and your abilities?  Why do you feel that way?  What can you do to feel better about yourself?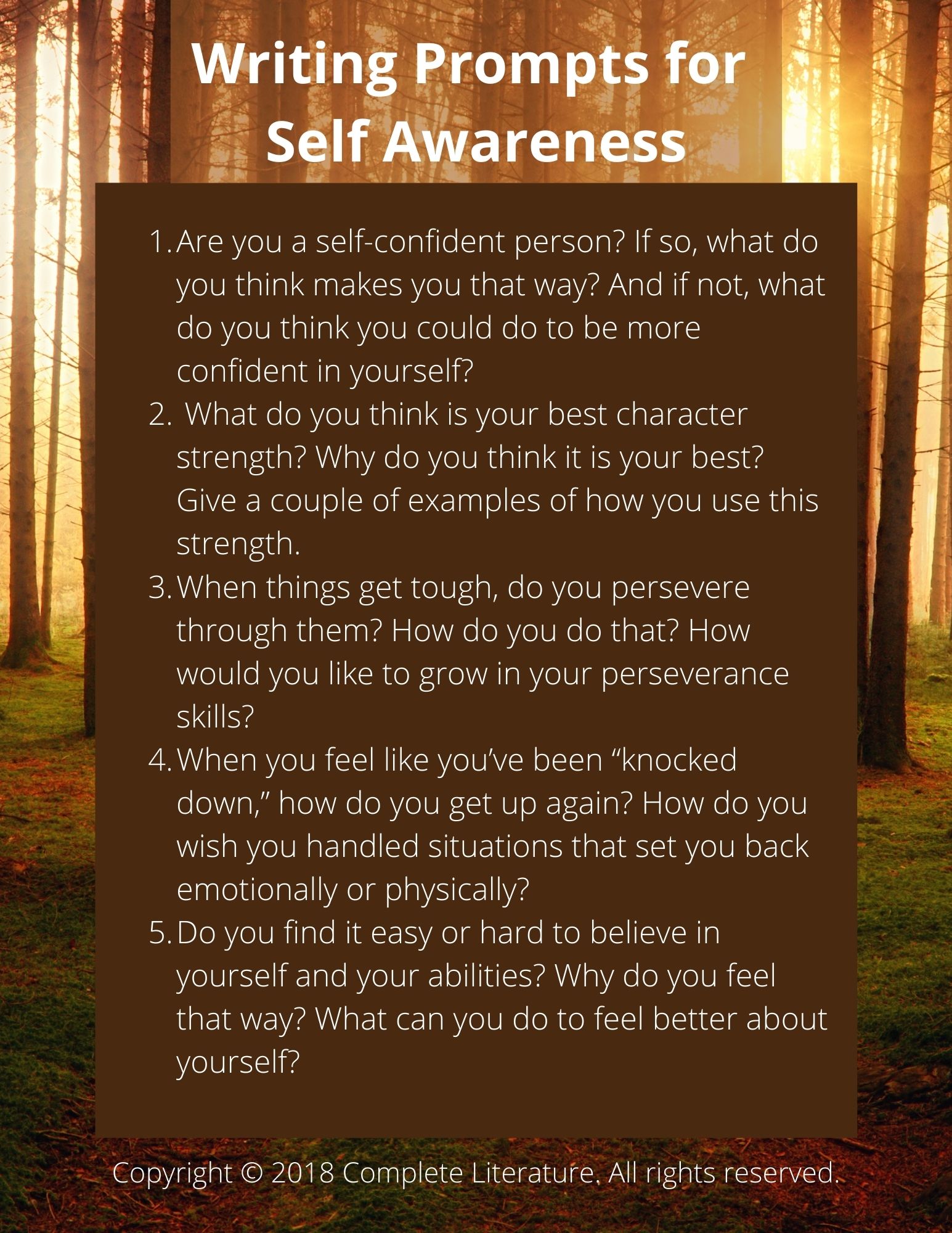 Writing Prompts for Self Management
What do you do when you feel like you really need something and can't wait for it?  What would be the best way to handle that situation?
What do you think are the best three things you can do when you are angry?
Talk about one time in the past week that you had to make a difficult decision and you were strong enough to make the right choice.
When you feel yourself getting stressed out, what can you do to start feeling at peace again?
Describe a time that you were really afraid of something.  How did you work through it?  Who did you have help you through it?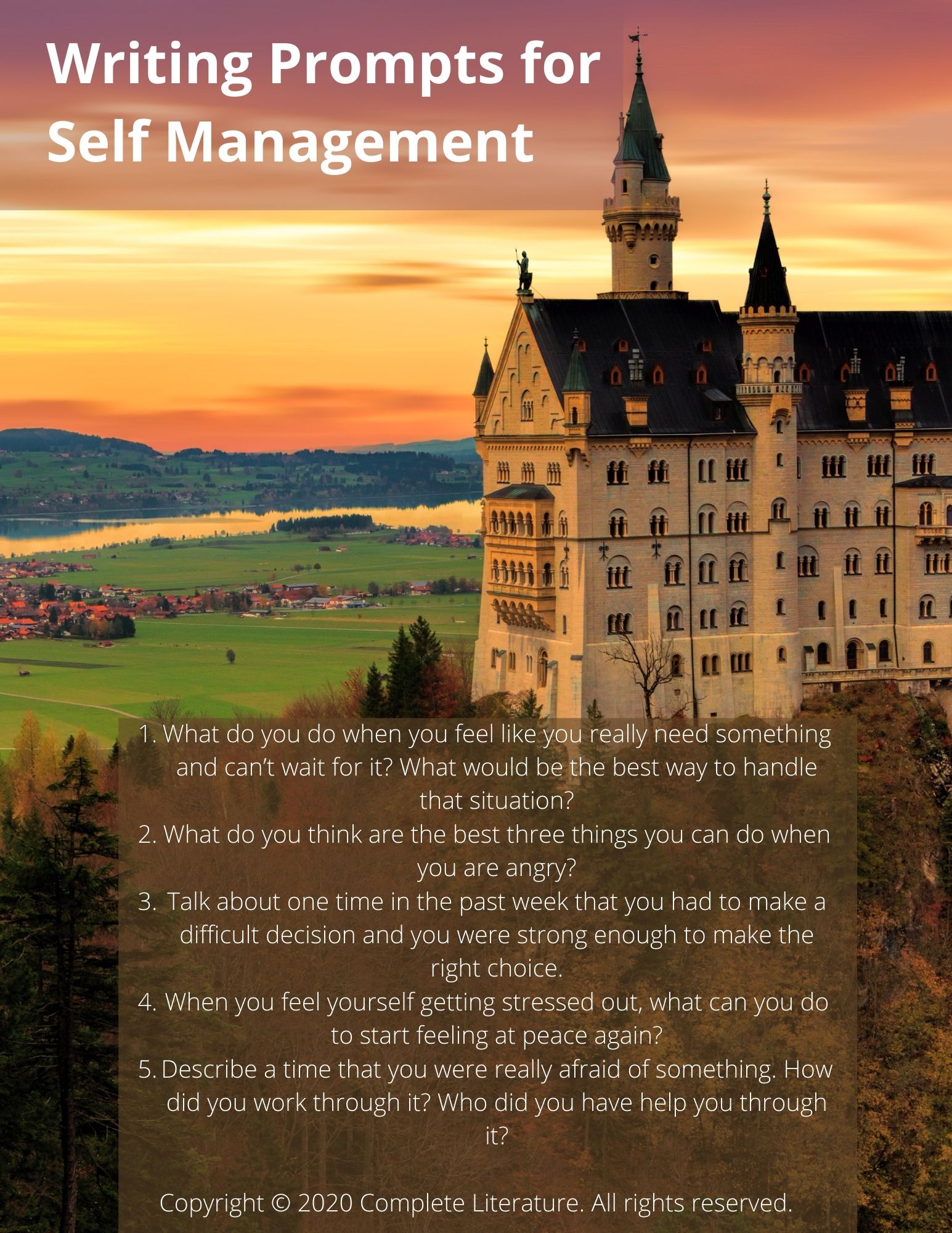 Writing Prompts for Social Awareness
 How can you show respect for someone even if you don't personally agree with something they are doing?
You see a student you don't know very well off to the side of the playground.  You are having a good time with your friends and don't really want to stop, but you know that something is wrong with that student.  What do you do?  Write a story about this.   Include what you said when you approached that student, how you worked through their difficulty, and how the story ended.
You are at your favorite store with a few friends.  But then out of the corner of your eye, you see someone steal something and stuff it in their backpack.  What do you do?  How does the whole story play out?
You have been asked to help feed the homeless this Saturday at your local homeless shelter.  How do you feel about this?  Afraid?  Uninterested?  Excited?  Nervous?  Explain how you feel it would go and how it would work out if you actually did this.
Talk about an experience you had that you needed a super amount of courage.  Make sure to talk about the before, during and after circumstances.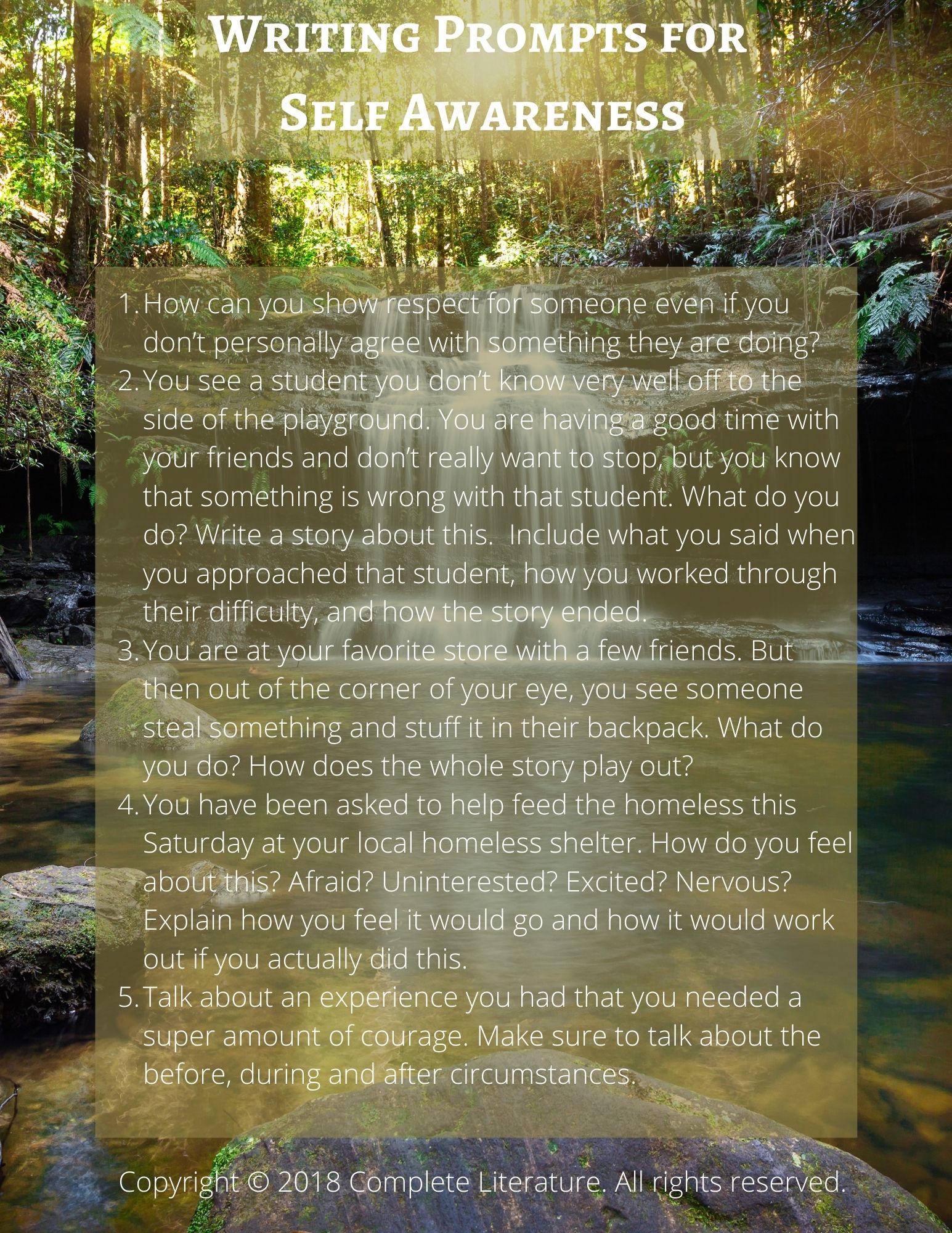 Writing Prompts for  Relationship Skills
 What do you do when a friend wants to borrow your prized possession and you don't really feel like sharing.  Write a story based on what your favorite item is, how you got it, when your friend asked for it, and how you worked it out.  This doesn't have to be a real story.  Feel free to invent a story.
What would you do if there was a new person at school?  Would you work past the fear to introduce yourself and get to know them?  Write a story about how you could meet a new person that would eventually become your best friend.
How do you feel about working in teams or groups at school? Write a story about what your favorite group project would look like, and how each member of the group would interact throughout the project.
Tell a story about how you could show empathy to a fellow student that is really sad.
Write a story about how you could show empathy to another student that has been disruptive and angry in class and on the playground.
You have a friend that you don't know very well, but you would really like to become better friends with them.  What things could you do to get to know them better?
How could you share yourself in a way that is genuine and relational?
When you are not getting along with a friend, what things can you do and say to help get things back on track for you?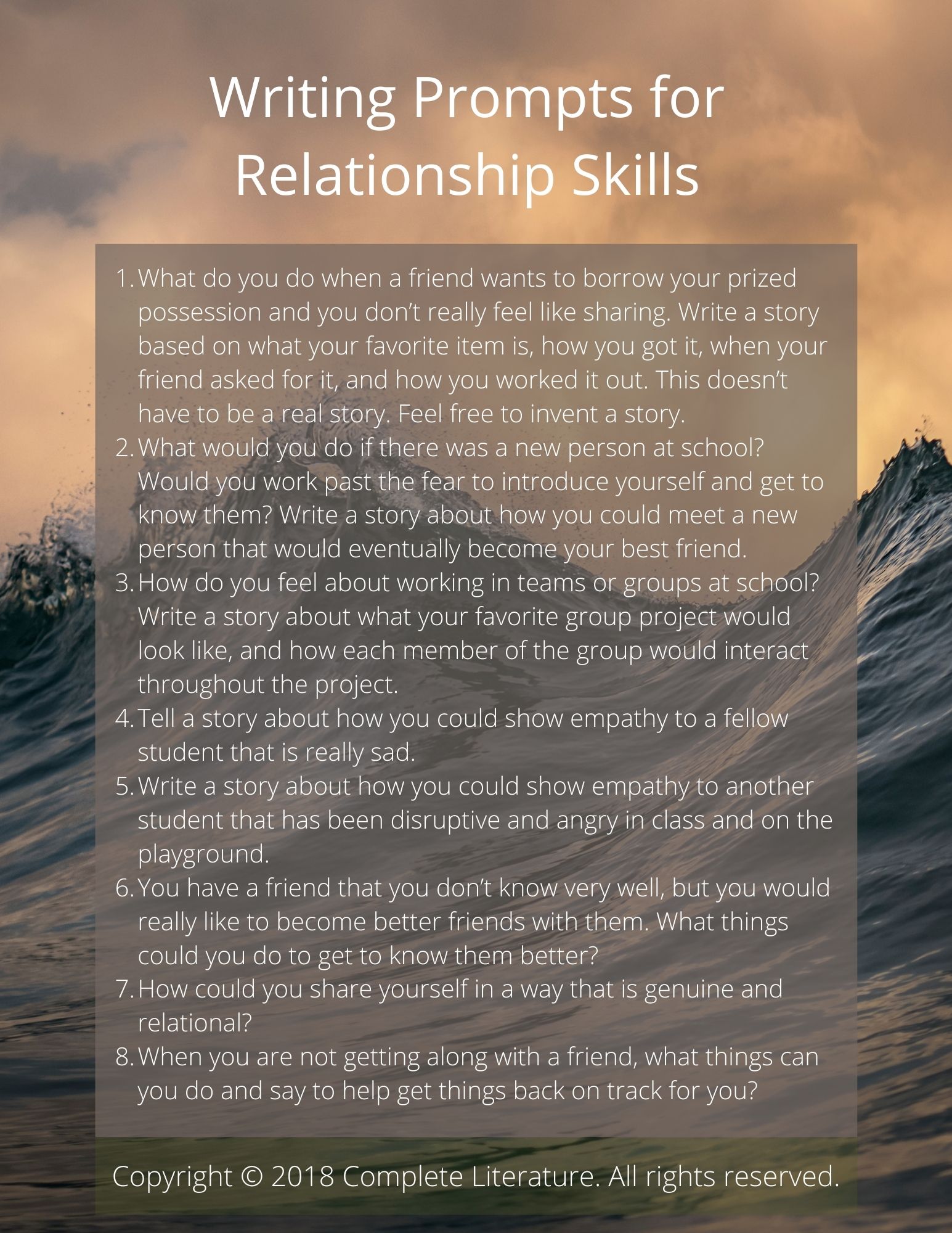 Writing Prompts for Responsible Decision-making
 Recount a story about a time that you were proud of yourself for making a good decision when it was a really difficult decision to make.
 Talk about what kinds of decisions are really hard for you to make.  How do you get help to make them?  Whose help do you enlist to do this?
Are you an organized person?  If not, write about what steps you would take to get more organized in your "perfect world."  If you are organized, talk about the steps you took that got you there.
When you see a problem that someone else is having, do you step in to help, or do you stay back and wait to be asked to help?  Talk about the pros and cons of both of these options.  And if you have an experience to share regarding this, talk about what you did and if it was the right decision.  And also talk about how you would do it next time.
Sometimes it is very difficult to ask for help because we want to be seen as independent.  Talk about good ways to ask for help and why we really need to at times.  And talk about the benefits of giving and receiving help.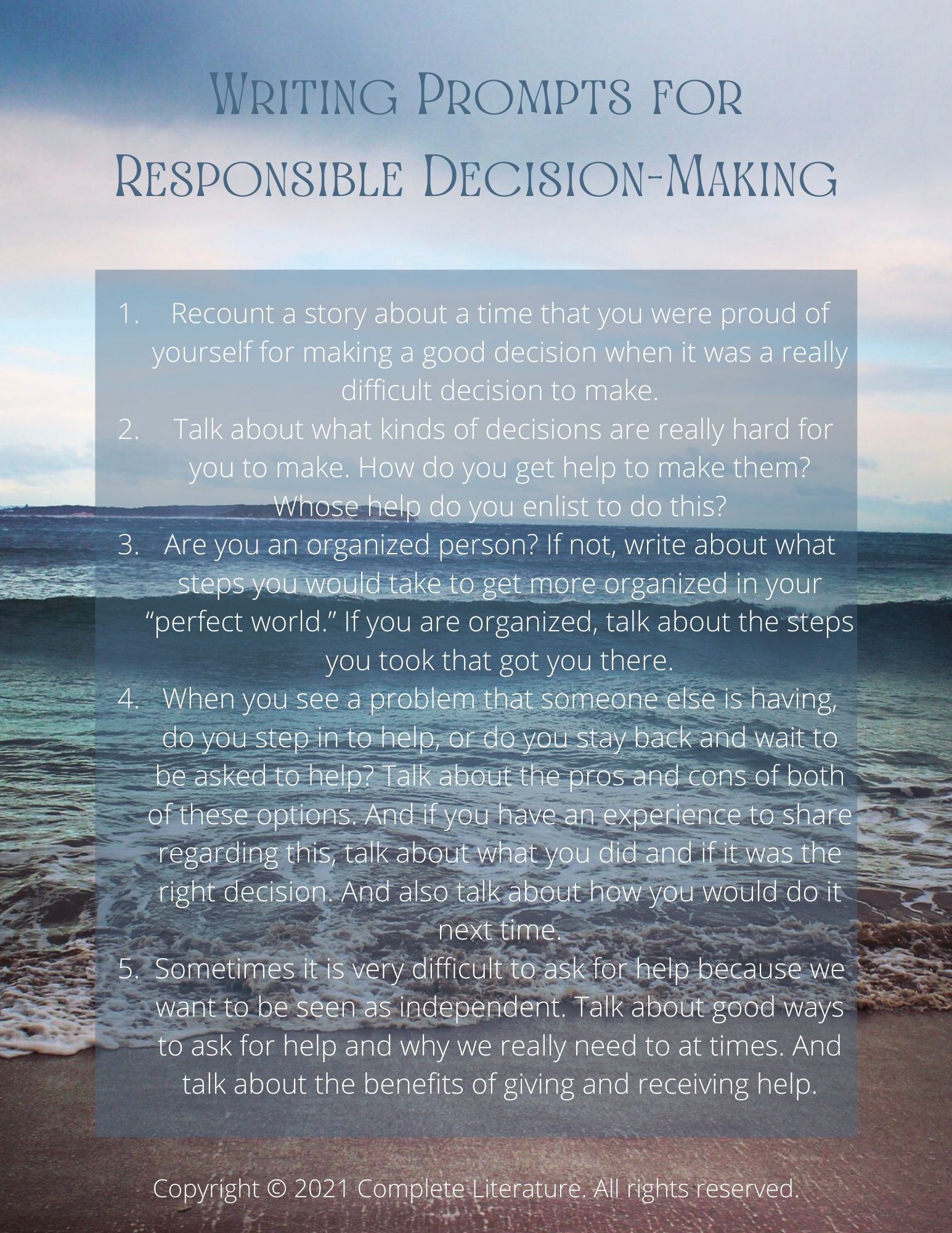 Bonus
There are tons of great writing prompts listed already, but this video is one of the best I have seen and so short that you can add it at the beginning of your writing/journaling class or when assigning homework.  It is only a little over a minute long.  But it is packed full of social emotional wisdom for your students!  You can watch it with them and then assign any one of the concepts it shows you.  I wish I had this resource a long time ago!  Just click on the video to watch:
Although the video specifically states that it is for teens, the concepts are actually still perfect for middle schoolers or even upper elementary.  I would love to hear how it worked in your classroom.  let me know in the comments!
Conclusion
This is what I have for writing prompts for social emotional learning for now.  Honestly, I probably could have come up with about a hundred more.  Once I got started there were so many more thoughts I had.  I will be expanding this list over time, so make sure to bookmark this article for future reference!  In the meantime, don't forget to check out my other writing prompts posts, Writing Prompts that Combat Bullying and Most Creative Middle School Writing Prompts.
If you liked this article, I think you will also like the following related articles:
Writing Prompts That Combat Bullying
Most Creative Middle School Writing Prompts
How to Teach Students to Summarize the Right Way
Why Social Emotional Skills are so Important in Middle School
10 Perfect Picture Books to Teach Middle Schoolers
Social Emotional Intellingence:  Some are Free!
Self-Care Books for Middle  Schoolers