Why do teachers hate lesson planning so much?  And is it possible to grow to love it?
Let's start with why teachers hate lesson planning so much.  Many teachers hate lesson planning because it is so time consuming for something that they generally already know the direction they are going in.  This is especially true of teachers that have been in the classroom for several years.  
Let's take a look at this infographic on teachers views on lesson planning and administrative work: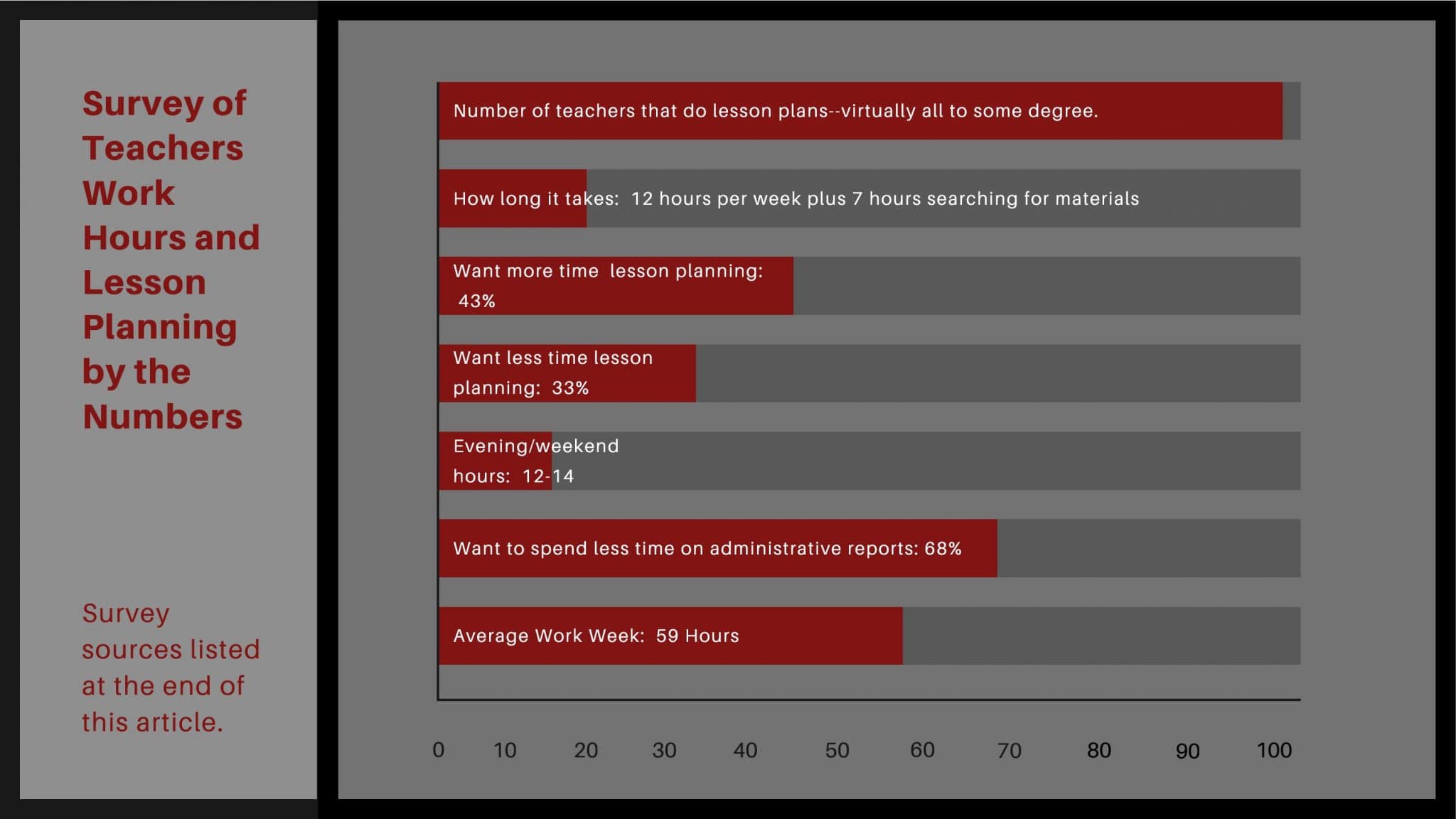 With numbers like this, it is clear why teachers hate lesson planning and all of the other details of their job that cause them to work so many more hours than most other jobs.
I would like to look at some direct reasons why teachers hate lesson planning so much.  Then we can look at ways to make lesson planning become a teachers best friend instead of enemy!
The Outline
I.  Why Teachers Hate Lesson Planning
    A.  It doesn't fit into their school day.
     B.  Administrators keep increasing the lesson plan requirements.
     C.  It takes so much longer for newer teachers to complete them.
II.  Ways to make lesson planning more enjoyable.
     A.  Don't get bogged down in the details.
     B.  Take advantage of other teachers' experience.
     C.  Once you have a year (or three) of lesson plans done, you already have an outline done.  
Now let's take a look at them in detail.
Why Teachers Hate Lesson Planning
It Doesn't Fit into Their School Day
It doesn't take very long into the school year before teachers are just exhausted.  They spend all day with a large number of students who are full of energy at most ages, especially in elementary and middle school.  They need to navigate all of the issues of working with kids.
But then, they also have the grading, cleaning up, and planning that didn't get done because they spent all of their time with their students.  And that means they have to take it home and get it done.  No matter how exhausted they already are.
Whatever they are simply unable to do ends up getting saved for the weekend.  And the snowball continues from there.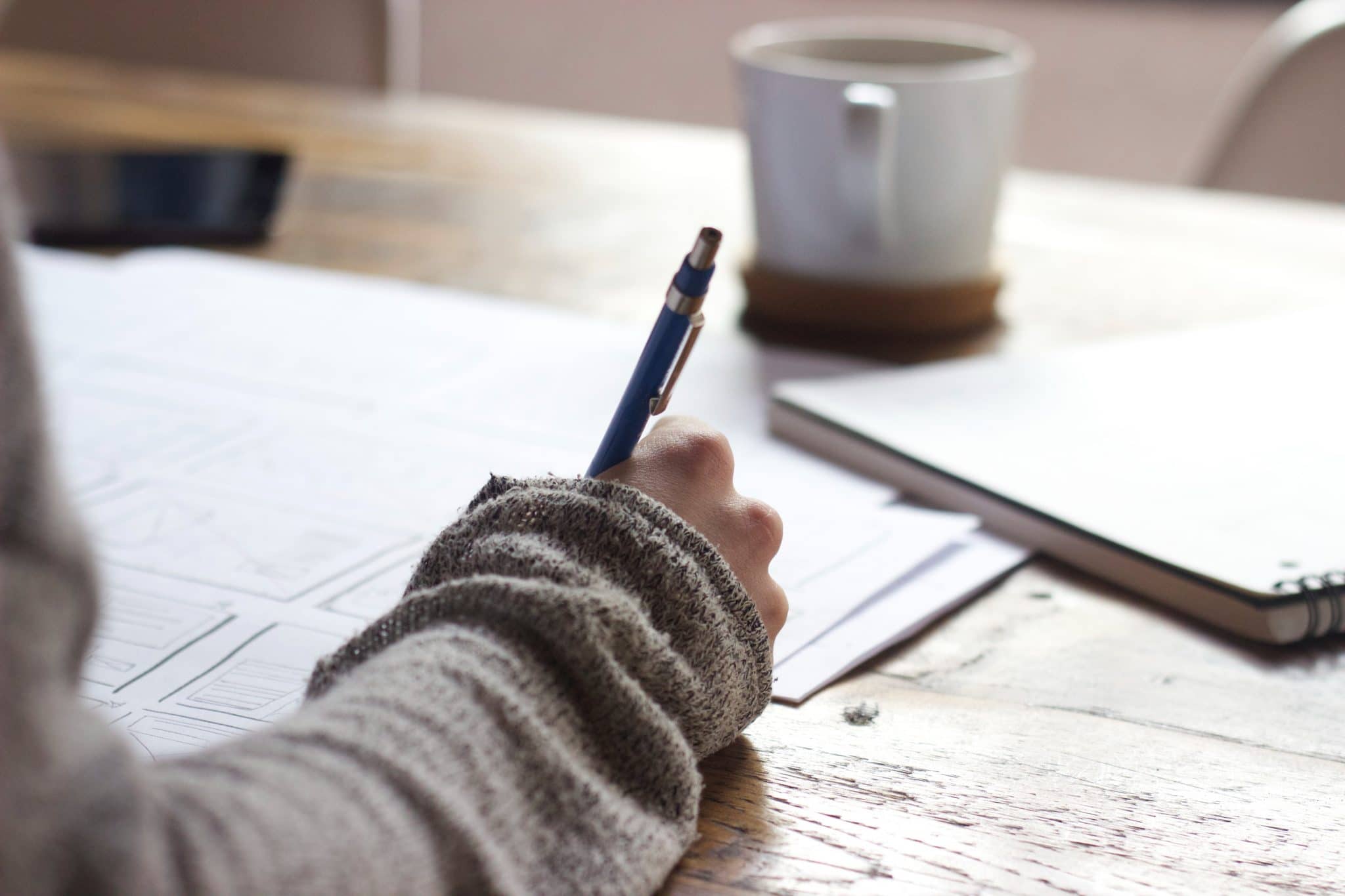 The Fix
One way to fix this is to grade papers in class with all of the students helping.  Many of my classes had us exchanging papers to grade so that the teacher only had to put the final marks on the papers.  To prevent funny business from happening, they would strategically seat us so that certain students sat not-so-close to other students that could cause trouble.
Once the papers were graded, they were handed back to the owners to check to make sure it was done well.  Any issues with grading were brought up to the teacher.  It did take longer in the class but it was instrumental for the teacher being able to go home without a huge pile of papers.  And the teacher has gained at least a couple of hours back for his/her evening.
Administrators Keep Increasing the Lesson Plan Requirements
The concern here is that as school administrators feel the pressure of their authorities to produce better schools, they pass that pressure down to the teachers in the form of more accountability.  While it sounds good in theory, it ends up being incredibly distracting at the classroom level.
There is a way to work around this in a way that will save a huge amount of time with a little bit of front-loaded work.
The Fix
Make a form that covers all of the requirements that the administrators are asking for you to report to them.  Then you can just fill in the blanks they need to know.  And that allows you to concentrate on what you really want to plan.  Talking to some more experienced teachers about they handle the extra reporting will also be super helpful.  More on this on a later point, though!
It Takes so Much Longer for Newer Teachers to Complete Them
There are a couple of things at play here.  First, the detailed lesson plans that teachers are taught to construct in university are overkill in ways that they find out pretty quickly in the real-world classroom.  But because they are still new at it, they aren't sure how to streamline them.  And they are in such a rush to get it done and get to the next thing that they don't take the time to evaluate where they should go with it.
Another problem is that they just don't know all of the resources available to them, so searching for what they need takes longer.  It can take longer for an experienced teacher to find something out of the ordinary, but for a new teacher, almost everything is a new discovery.
The Fixes
For the first problem, as counterintuitive as it feels, they really just need to suck it up and take the time they need to research how to lesson plan effectively for what they are trying to accomplish in their classroom(s).  After a weekend, they should be on the right track.  And for whatever didn't work out smoothly, they can tweak it in a fraction of the time that they initially spent researching.
The second fix is just making a well-organized index of all the resources that work well for them.  It may even be good to make a list of the ones that didn't, so that it won't be so hard to figure out which ones are which hundreds of sites down the lesson planning road.
I have to admit that I tend to have tons of tabs open on my computer because once I find a great resource, I'm afraid to get rid of it.  But the fear of one of the kids walking by and hitting a button that gets rid of everything forever always looms over me.  Keeping a list, digital or print, would be great even though it takes a bit of extra time.  Plus my older kids will stop hassling me about my "billions of tabs."
Ways to Make Lesson Planning More Enjoyable
Don't Get Bogged Down in the Details
Especially when teachers are starting out, they want to make their lesson plans as detailed as possible.  There are a few reasons for this.  First, they are afraid that they won't plan enough material and there will be empty space in the school day.  The more teachers work, the more they realize that there is actually a serious shortage of time.
Second, they are afraid if they don't write down every detail, they will forget what they should do and be standing in class feeling lost.  That doesn't take too long to work out of either.  If you have planned your lesson well enough it should flow pretty smoothly.  There is no need to plan out every word or point.  Over time, new teachers' comfort level of being up in the front of the class gets better.  And without the stage fright they realize they don't have to lean on the lesson plans as heavily as they originally thought.
And that brings us perfectly to the next point.
Take Advantage of Other Teachers' Experience
I was very fortunate to have another teacher hand me all of his lesson plans when I was just starting out on my own.  For the first few weeks, I went step by step exactly by what he had written down.  Then within a few weeks I got my sea legs and started being able to comfortably tweak it to fit the direction I wanted my class to go with the students I had.
I think most teachers are eager to help newer teachers in this way.  We all remember how it was when we were new.  And making life better for a fellow teacher is such a great way to lend a hand.
Once You Have a Year (or Three) of Lesson Plans Done, You Already Have an Outline Done
So I know that this point sounds so long and tedious, but looking back you will not believe how fast that first year went.  And if you keep a record of all of your lesson plans you will have a perfect foundation for next year's lesson plans.
You will definitely want to tweak them, sometimes quite drastically.  And that is okay. You will also want to add more features/discoveries into them as you find new things or another teacher inspires you.
Most studies say that it takes 3 years for a teacher to feel comfortable in her class.  And that is if she kept the same grade/program for all of those years.  Switching up classes, courses or other major things  will take even longer.  And that is okay.  Don't rush or force it, even though that is what you feel like doing.  Even if you don't feel totally comfortable for a few years, every year will be easier.  It will never be like starting over again.
Conclusion
The bottom line here is that at the end of the day, week, year, or whatever time frame, the things we really need to be thinking about are what our students are learning and how well they are learning it.  Is your lesson planning helping or hindering that?  And how can you tweak it to accomplish the learning that is the purpose of the classroom and life?
One final thought is how can you make your own lesson planning take less time but yet produce more in the classroom?  Hopefully the suggestions above will help in those areas.  Please comment below to let me know what things worked well in your own classroom!
Sources:
2018 Voices From the Classroom Teacher Survey
responsiblehomeschooling.com — Homeschooling by the Numbers
educationworld.com — Survey Finds Teachers Spend 7 Hours a Week Searching for Instructional Materials
tdtrust.org — 10 Things You Need to Know About the Teacher Workload Survey
For more information on lesson planning, check out the following articles:
What are Key Components of a Lesson Plan
How to Accomplish More Effective Lesson Planning
Lesson Plans and Curriculum:  The Story of Complete Literature