Problem-based learning may be one of the best techniques to teach your students how to live and thrive once they get out of the classroom and into the real world.
So what is problem-based learning and how does it boost your students' success in the real world?  Problem-based learning is introducing your class to a real-life problem and then working through it to a valid solution (or solutions if there is more than one).  It does a great job boosting your students success in the real world because it is teaching them actual real world situations–before they are in the real world and making these sometimes critical decisions.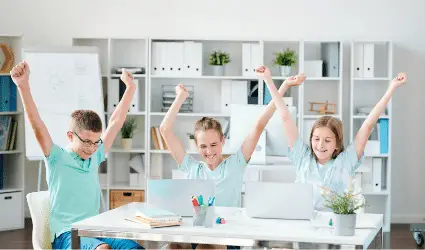 I researched the concept of problem-based learning and its advantages and disadvantages in the classroom.  In this article I will show you what I learned and how this has worked in my own experience as well as today's classroom as related to the world we find ourselves in today.
But first I would like to talk about the differences between traditional learning and problem based learning.  Here is a chart to summarize the differences:
Traditional learning certainly has its place in education and we all use it every day.  But problem-based learning allows the students to directly apply what they are learning to real life.  And it's kind of exciting when you see them work through it and realize that they just solved a real-world problem, mostly on their own.  This is what school should be teaching its students.  Schools are supposed to be preparing students for the world they are about to enter.
Ok, so now let's take a look at the components of problem-based learning, what the advantages and disadvantages are in our classrooms.
What are the Components of Problem-Based Learning?
Here are the seven components of problem-based learning:
Identify the problem.
Students collectively gather the knowledge they already have regarding the problem.
Discuss what the issues are and what they need to find out to solve the problem.
Research the issues and possible solutions to the problem.
Formulate and test any and all possible solutions.
Present the valid solution(s) they came up with.
Evaluate the process and their performance throughout.
Who is Doing Problem-based Learning?
I would like to note that problem-based learning is predominantly being done at the university level.  And so far it has great reviews, both among students and teachers.  But what if we were using this at the middle school level?  While the existing knowledge base of middle school students would be significantly less than the students at the university level, they would be able to pick up significant knowledge in the research stage.
The huge benefit of implementing this in the early stages of education is that students will not be as fearful of working through the process and making a critically wrong decision.  They are still very much in the discovery phase.  And this will allow them to proceed with the new process without nearly as much hesitation of an adult student.
As a result of this, many middle schools are now starting to catch on to problem-based learning and teachers and students alike are loving it.
What are the Advantages of Problem-based Learning?
The biggest and most obvious advantage to using problem based learning in the classroom is that it is directly teaching students how to problem solve using real world research and circumstances.  And one of the most rewarding things for teachers and parents is when the kids actually do use these concepts in their life outside of school–and succeed with it!
But this isn't the only advantage.  There are several more.  I will talk about a few of them.
Students Learn to Work With Others
This is such a good skill to teach students because very few of them will go on to work at their job all by themselves.  We are always working with other people, whether it is other family members, friends, social or church groups, or work groups.  Learning the ins and outs of working with others is a critical skill.  And it needs to be learned earlier than later.
Students Are Taught How to Conduct Research
This is a great way for them to learn to conduct research because the stakes aren't as high as in real life.  And if they become comfortable with the process at an early age, how much more prepared will they be when they do have to make some high stakes decisions in life?
Also, because they are seeing the way other students are solving problems, they will have inspiration on how others do things that they had not thought of.
Students Learn to Combine Seemingly Different Parts of Life or Subjects Together
When we are younger we tend to think of things in very linear terms. So doing exercises like this in the classroom is a great way to expand your students' world.  They will see how history, geography, math, grammar, and all of the other subjects intertwine in life.  And they will see how things they are learning in the classroom can easily translate to life outside of the classroom.  There is a video at the end of this article that shows just how students used problem-based learning in their classrooms to help out their community.
This is prime education!
Students are Taught Leadership Skills
Giving students enough control in the classroom to talk about what they know and what direction they want to take their learning in is a great way for students to not feel like they need to be spoon fed their education.  While they may be a little nervous about it at first, when they see abilities they never realized they had, it will inspire them to keep on going and grow in their knowledge and experiences.
This will enable them to slip into leadership positions that they would not have even thought about before.  It will make them into thinking people.
They Will Retain What They Have Learned Much Longer
Just about everybody learns better experientially than they do just listening to another person talking to them.  The more senses that are involved in learning, the better people are able to remember what they have heard/experienced.
In addition to this fact, the various steps involved in problem-based learning actually build on the knowledge base with each exercise enhancing the previous one.
By the time students are done with each concept they have learned in the process, they have truly cemented what they have learned through that unit.  And they will be able to repeat that knowledge for years to come.
What are the Disadvantages of Problem-based Learning?
Many of the perceived disadvantages of problem-based learning actually disappear once the process is fully evaluated.  But here are a few of the ones that I found voiced most often.
It Could Take More Planning Time Initially
This is true if your school or classroom is newly implementing this learning strategy.  It would take more time to research and prepare lessons based on this new model.
But once that initial work is done, you will actually be saving time in the long run because you aren't preparing and looking for material to present to the students.  Instead, you are guiding them to do that research on their own.  And that, in turn, will teach them to go find out any information they will ever need!
Sometimes Having Students Work in Groups Can Get Tricky
This one may be the one disadvantage that I agree with the most.  I used to hate working in groups because the more advanced students always did all of the work while the less motivated students sat back and collected the good grades.
Group study has come a long way since those days.  Most teachers are watching what is going on and by the time they are assigning groups and evaluating the work being done, they can pretty easily identify the trademarks of their students' work.  And for anything they are unsure of, a few questions will quickly show the teacher who is doing what work.
Just make sure that you are assigning groups well and that you are open to your students reasonable concerns regarding them.
Lack of Prior Learning Can Leave Some Students at a Disadvantage
You are definitely going to have some students that have a much larger knowledge base than others.  But the point here isn't who has the most knowledge.  It is how they can evaluate their level of knowledge, recognize what knowledge they will need to pursue, and formulate their research based on that.
Working in groups will actually help them see how others work through this process.  And all of the students will be inspired by other students' methods and thought processes.
This actually expands their experience even more.
Harder to Grade With an Exact Score
This one is very true if you are looking to evaluate your students with written tests and percentages.  But generally speaking, that is not the way the real world works.  Once you graduate from school, except for a few disciplines that require ongoing knowledge, you are not going to be tested in this way.
So if the goal of school is to prepare students for life, this isn't really a disadvantage.
This does not mean that I believe we should throw out standardized testing, written tests based on information they have learned, or math tests!  Sorry, Kids!
The only other possible disadvantage I ran across was that different teachers would evaluate the same work in different ways.  That is actually true, but also true as you get into the older grades and university-level education.   As long as you have different people with different brains, that will always be an issue.  So I guess my answer to this is that students should always do the best that they can and that will carry them a long way through the process.  Which actually sounds a lot like real life too.
Conclusion
So this is problem-based learning in a very small nutshell.  There are some excellent books that have been written that go into way better detail than I have.  Here are a couple that really worked for me:
Problem-Based Learning: An Inquiry Approach 
Everyday Problem-Based Learning: Quick Projects to Build Problem-Solving Fluency
Problem-Based Learning in the Physical Science Classroom, K-12
And finally, here is an excellent (and very short) video that the Two Rivers Public Charter School did explaining how they implemented this concept from grades K-8 and the incredible results it produced in their school and community.  Please take just a couple of minutes to watch it.
So what has been your experience with problem-based learning?  Have your kids done it at their school?  Or are you a teacher that has some experience with it?  Or did you have this form of learning when you were in school yourself?  I would love to hear what you thought of your experiences.
Also, if you liked this article, I think you will also like these related articles:
Helpful Examples of Differentiated Instruction
Seven Styles of Learning and How They Apply to Your Students