Everybody loves a good scavenger hunt!  The minute I told my students that we were doing a scavenger hunt to review their material, they were visibly excited.  When you create a scavenger hunt for your classroom, your students will be over the moon excited.  They will love that this is the form of review you are using instead of just reciting answers to questions you ask them.
So how do you create the perfect scavenger hunt for your classroom?  Creating a classroom scavenger hunt that allows you to reiterate what they have been learning is a great way to help students to remember concepts that they may not have been catching onto.  They will remember what they have learned much longer than if they were just taking notes and moving on.  Read on to find out exactly how to implement some really good scavenger hunts into your own classroom (or even homeschool).
I am going to give you instructions for three different types of review scavenger hunts and three different types of fun scavenger hunts.  And I will give you all the forms you need in printable format so you can just fill in the information that you want to review or just play with your class.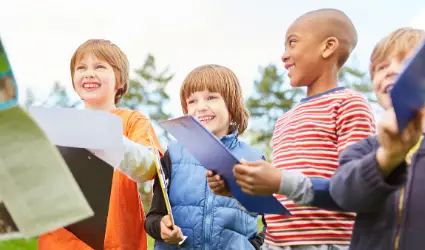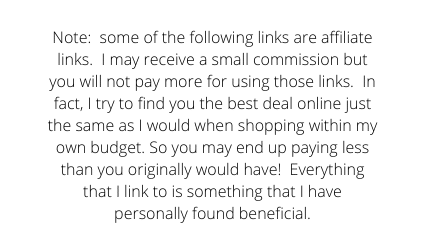 Some Helpful Tips Before You Begin
Before I get into the details of each of the classroom scavenger hunts, I wanted to talk about some tips that will help you to pull your scavenger hunt off without a hitch.
Don't limit yourself to the classroom.
The more creative you get, the more your students will love it.  You can even combine the locations and give them multiple places to go.
You can separate your students into pairs, trios, quads, or even groups of 5.
Or you could split the whole class into two teams.  You could split the two teams randomly (I wouldn't necessarily recommend this, though, since it would probably be better to let friends hang out), boys vs. girls, or let them "choose teams based on picking a couple of captains.  Regardless of how you do it, feel free to let friends be together as they wish.  This is supposed to be fun!
Make sure you are available to give them extra clues if necessary.
We definitely don't want to frustrate the students if they get a clue that they just can't crack.  Making your scavenger hunt challenging is awesome and they will like it, but not if they can't figure it out.  It is a great way to challenge them just a little bit beyond their knowledge as long as you are giving them good clues to fill in the rest of the info they need.  This is a great way to stretch their level of knowledge without them feeling the pain.
Also, giving them help in the form of questions that they must answer will help them to feel like they figured it out on their own without you spoon feeding them any answers.
Make Sure to Go on a Trial Run
Once you have everything in place, go through it yourself to make sure everything is lined up correctly.  You would be surprised how many times I have done this and realized I didn't set everything up exactly as it needed to be.  Or something didn't exactly make sense so I could tweak it to work better.  You will most likely have to do this after the first run or two anyway, just to improve it after seeing it in action.
Make All Clues and Lists in Card Stock
This way you can keep it for the next time.  You could even laminate to make it last forever.  You will be so glad you did it when next year you want to do it again and it's ready to go for you.
Don't Let Them Collect the Items
Make sure they all understand that they are not to collect the items.  They only need to find them and identify them with their partners or team.  And you (along with any other assistant, teacher, or parent) will observe them finding everything.  For those things that you don't catch, you can just ask them what they saw and where they saw it.  This way, you aren't spending tons of time trying to put everything back and you don't have to worry about having 25 of each thing for the kids to pick up.
Types of Review Scavenger Hunts
The two best classroom scavenger hunts for review are the list one and the follow the clues one.  They both allow you to put certain phrases or facts in front of the students that they will have to remember long enough to work out or find.
I will go into more detail for you.
The List Scavenger Hunt
This one is the easiest and most common classroom scavenger hunt, both for fun and for review of classroom material.  The reason is because it is so much easier to implement.  You don't have to worry about coordinating clues or making sure the students are going in the right order.  They can just do it all and be done.  You can also provide prizes, either for everyone who finishes or the top few.  What I usually did was have a bigger prize for the first 3 or 5 that finished, then a smaller prize for everyone else.  That way there was an element of satisfaction for everyone involved.  And honestly, it was just a perfect way to finish something the students already had such a good time doing.
Here is a printable form for you (one has a "fun" list of things for your students to find, the other is blank for you to fill in as it works for you.  Just click on them to download and print.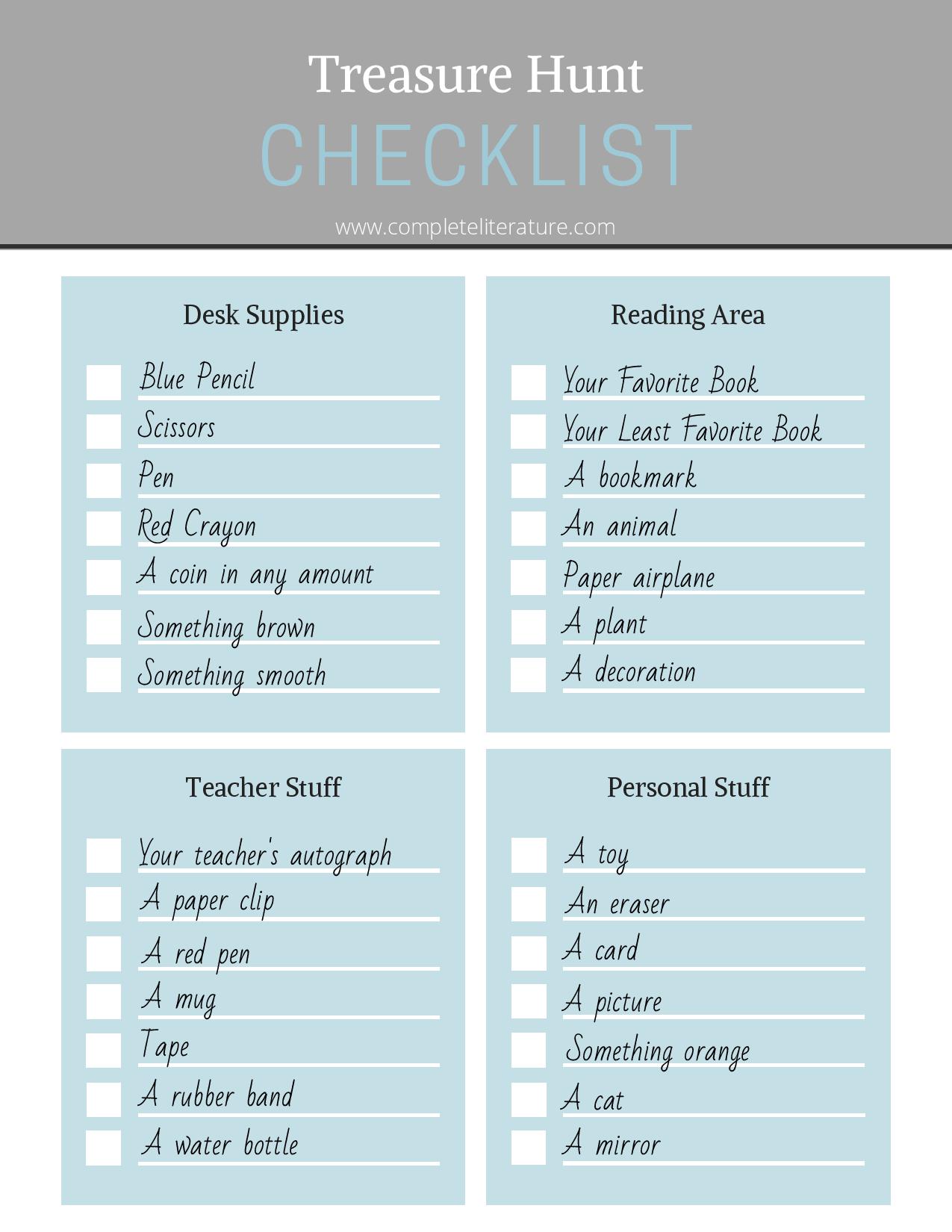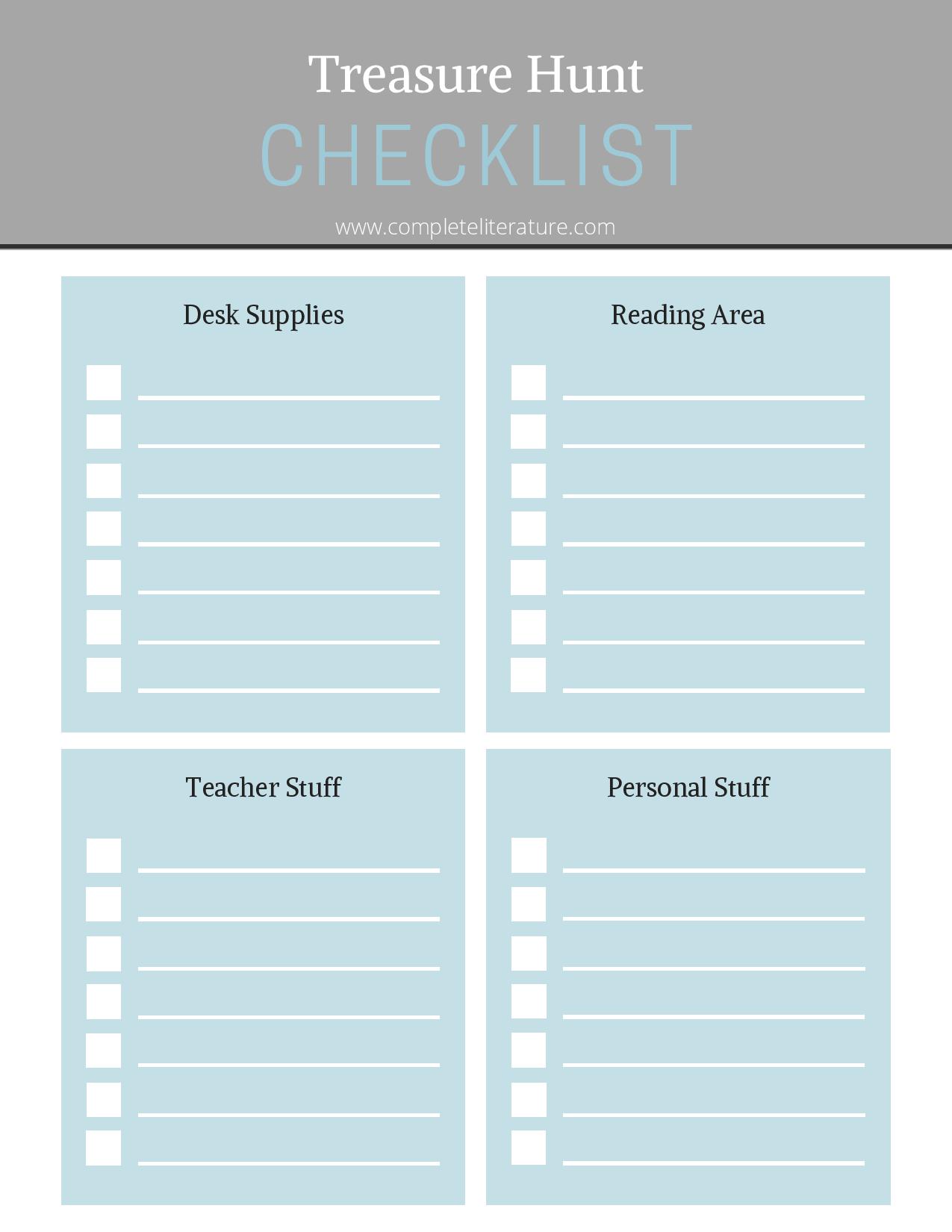 Follow the Clues Scavenger Hunt
So the follow the clues classroom scavenger hunt is exactly what it sounds like.  The students will need to figure out clues and then follow them to where they are led.  Once they get to that place, they find out if their answer was correct.  They either return to the previous clue to rework it if they were wrong, or they move on if they were right.
I will give you a form to fill out the cards.  But it won't make sense for me to give you the ones I have already done because my review material is probably going to be quite different from everyone else's.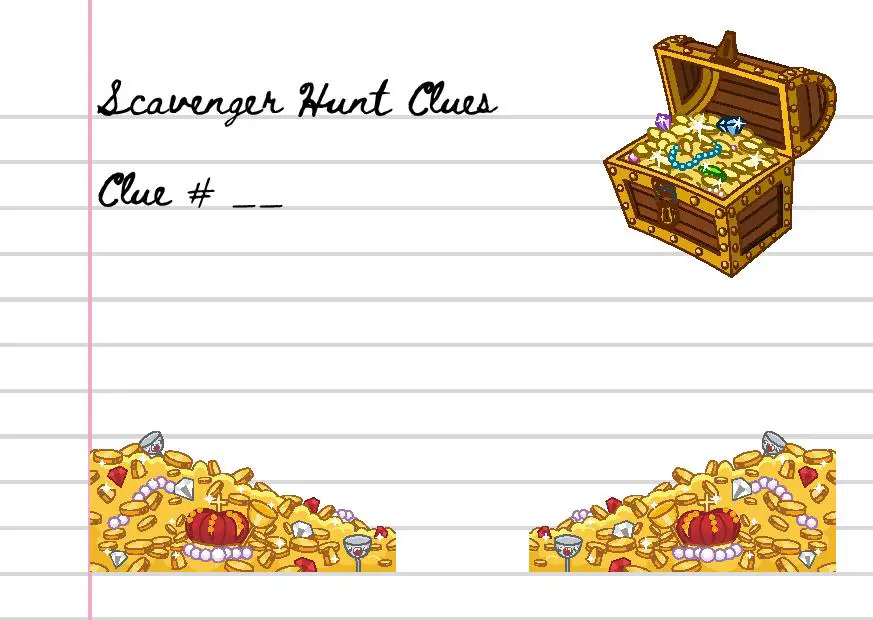 Photo Scavenger Hunt
So for the photo classroom scavenger hunt, the only thing you need is the list of what you want your students to do and then take a picture of themselves (their teams) doing or finishing those items.  Once they have all the pictures, they are all set!  Just like the other classroom scavenger hunts, you can give out prizes after for the first team or first few teams.  Or you can just give out a prize to all.  Hint:  kids love food prizes.  Even if it's some homemade chocolate chip cookies.  And if you don't bake, but one of your students' parents does, then you can still get that job done!
Here is a printable form for you to make your list of instructions for the pictures: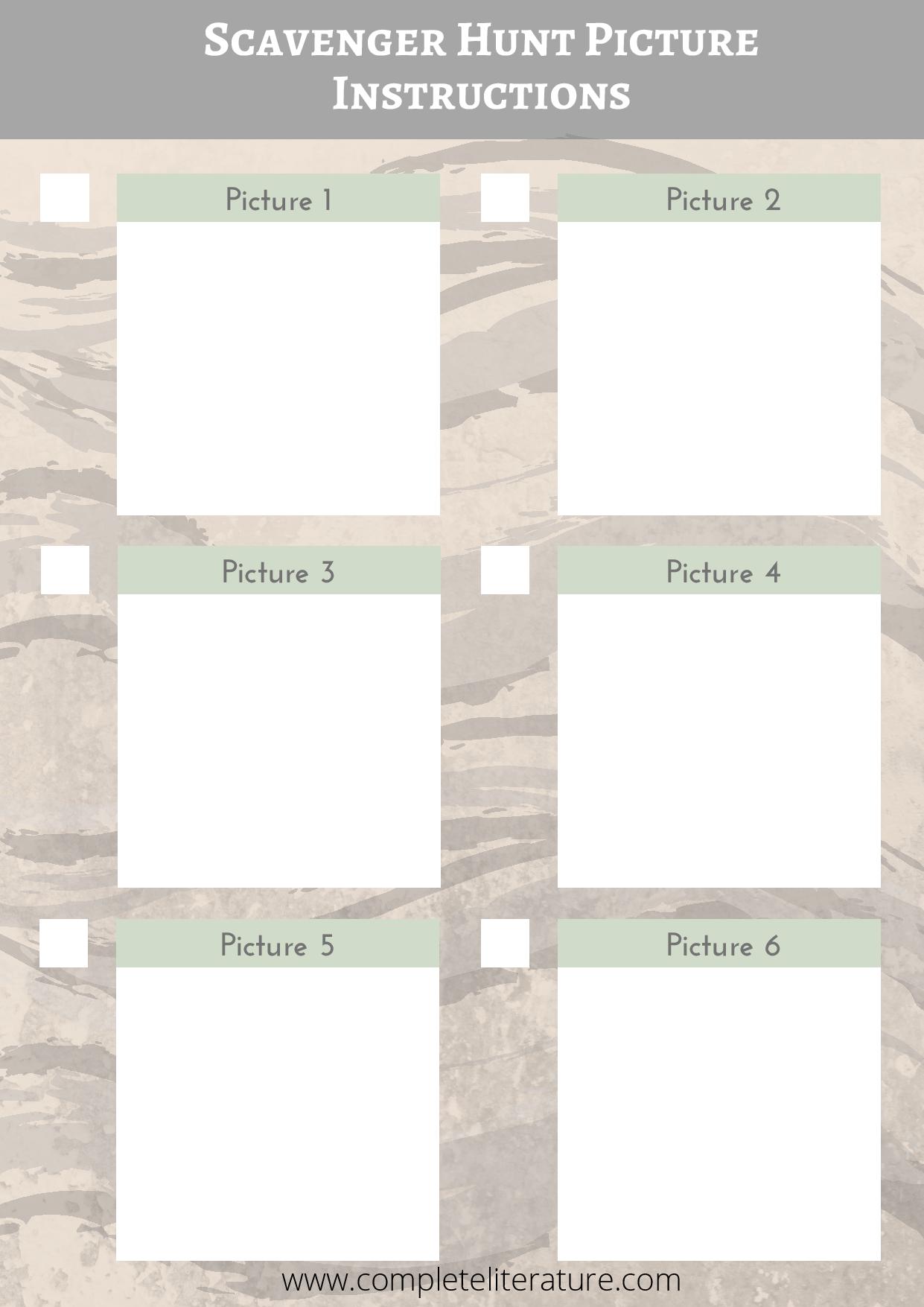 Types of Fun Scavenger Hunts
Identify the Picture
This was one of our classes' all time fun scavenger hunts to do.  It does take some prep work on your part because you have to take the pictures and print them up.  But once you have done that, you will never have to do it again!  And you will have an instant game option for whenever you need it.
This is literally a perfect activity to do when you have lost your students' attention and you all need a pick-me-up.
So what you do is take pictures of random things around your classroom (or wherever you are planning to do the hunt).  Make sure the pictures are zoomed in close enough that your students don't figure out where it's at by looking at what is surrounding it.  The best picture is the one showing only a portion of the thing you want them to find.
Some suggestions to make it more challenging are:
a portion of a picture hanging on the wall
a distinct portion of a piece of furniture
one of the corners of a window that has a certain view they will be able to distinguish
Hopefully that will be enough get you started.
Since your material for this is the pictures that you take, I don't have a printable form for you.
Treasure Hunt
This one is a series of clues that leads your students to a final treasure chest filled with their prizes.
If you have the ability to make this one a multi-location one, that would make it much better for the kids, especially as they get closer to finding the treasure.  It won't be as much fun if everyone sees where the first person or team went to find it.
This is actually the one treasure hunt that I would recommend you do as a single or teams of two just so it doesn't turn into a mad dash to the treasure chest.
The prizes would be really simple small things.  Or it could even be cookies, fruit snacks, or some other fun food that is packaged up for them to reach in and take.
Here are a couple of things I found on Amazon that my son saw over my shoulder and made me buy, lol.  Just click on them for more information.
You could use any of the above forms for this one, depending on how exactly you want to do it.
I generally would use the little Clue cards with the treasure on them.  I would just do about 5 or 6 clues, with the last one leading them straight to the treasure chest.
Actual Treasure Scavenger Hunt
In this classroom scavenger hunt, there are no specific clues.  The students are just looking around for little treasures.
The best example I can give for this is an Easter egg hunt.  In fact, I use Easter eggs, regardless of the time of year.  That is because they are so versatile to use in the context that we do our scavenger hunts.
You are going to have packs of Easter eggs (you can always find them online if it is not Easter season at the stores).  As many colors of eggs that you have is how many teams you will have.  So you will have a pink team, blue team, yellow team, orange team, green team, and whatever other colors.
Then you need to tell your student teams what colors they are looking for.  This will help to keep numbers consistent throughout the class, rather than a couple of students taking all of them ancd many students getting none.
You also want to establish a sense of camaraderie with the students so the better ones can help the ones having a more difficult time.  This is such an empathy building exercise, even though without any guidance it tends to have the opposite effect.
The treasures inside the eggs don't have to be extravagant at all.  Just whatever items you can fit in the already small spaces.
Conclusion
So these are my ideas and printables for hosting your own classroom scavenger hunts.  Even if you end up doing all of them throughout the course of the school year, your students will not get bored!  In fact, they would probably love it if you did it once a week.  I never let my students talk me into that one, though, haha.
So please let me know how this worked for you!  And for those homeschoolers reading my blog (because of Coronavirus, that's just about the whole world right now), let me know how it's working for you as well!  I have done these with my boys and they loved it.
If you liked this article, I think you will like the following ones as well:
How to Organize a Saturday Teacher Spa Day
How to Choose Perfect Middle School Art Projects
Best Indoor Recess Ideas:  Unique Classroom Ideas