What if you started the New Year off with a New Year party in the classroom?  In the first period of the first day back in your middle school classroom?
What if your students walked into a classroom that was ready to celebrate instead of getting down to business?  At least by appearances.
Is it possible that you may actually end up getting more productive work done in the long run?
Is it possible that you may enable your middle school students to be able to evaluate where they are at that moment in time? And be able to plan out where they would like to go over the rest of the school year?
So the final question is why have a New Year Party in the middle school classroom?   I spent some time planning for our return to school as well as researching the best ways to help students function well in the classroom after a long break. And I found that using a party atmosphere to help the students focus on where they are now and where they want to go in the coming months of school was a great way to help them prepare intellectually as well as emotionally to get down to business.  
Read on to find out exactly how I did this and how it has helped the students in years past.
Setting it Up
So you want the atmosphere to hit the kids in the face as soon as they enter the classroom.
Let's think about how they are probably feeling about coming back to class.  They are probably as tired as we are.  Who gets that much rest over Christmas break?  And after being out of routine for a couple of weeks, sometimes it's hard to get back into the swing of things.  It certainly isn't an automatic process.
So the best way to counter that feeling as kids are coming into your class is to give them a sight that things are not necessarily "no more talking, no more fun."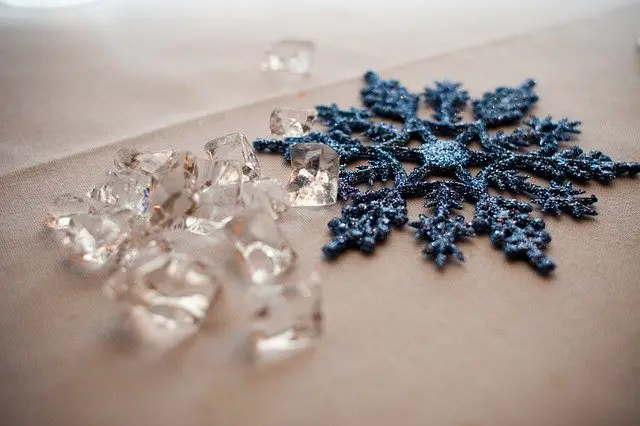 The Decorations
You don't have to break the bank to set up a great New Year party in the classroom.  Your local dollar store will be the perfect place to go.  They have all kinds of sparkly decorations you can hang from your ceiling and/or tabletops.  Or you can even do an online search of some great decorations and print them up yourself.  If you are super crafty and have enough time, you have no limits on what you can dream up for your class.
Some strategically placed balloons would also go a long way in decorating.  You can get helium balloons at the dollar store for super cheap.  Mylar are $1 each but the regular ones are even cheaper!  A mixture would make great balloon bouquets!
Although there is some cleanup involved, glitter confetti will make your kids glow for weeks on end.  They (and your classroom) may sparkle with leftover pieces for weeks too!  But it will be a great reminder of their celebratory return to school!  Brownie points for you!
The Grand Entrance
You must have noisemakers and hats or it isn't a party!  As the first student arrives, blow your noisemaker and wish them a Happy New Year.  They will probably be taken off guard!  Just don't do it in their face.  You don't want to set the wrong mood!  Then hand them a noisemaker and let them do the same for the rest of the students.  Keep this up until everybody has a noisemaker.
You may want to take some of your favorite headache treatment just before class starts!
The Food and Drink
Depending on your school policy on snacks in the classroom, you can also make/buy some cupcakes decorated for the new year.  If school policy does not allow, there are tons of healthy options too.  Fruit cups or skewers are great.  Fruit snacks of any variety also work.  And even veggies and ranch dressing are popular with the kids.
Here is a list of 30 party snack ideas that I found on a site called ourthreepeas.com.
Some of her suggestions have great winter themes, like penguins made with bananas and chocolate, confetti pancake cupcakes (can resemble fireworks–for the students to make the connection without you explaining, just display a fireworks New Year sign next to them!).  Check it out for even more suggestions!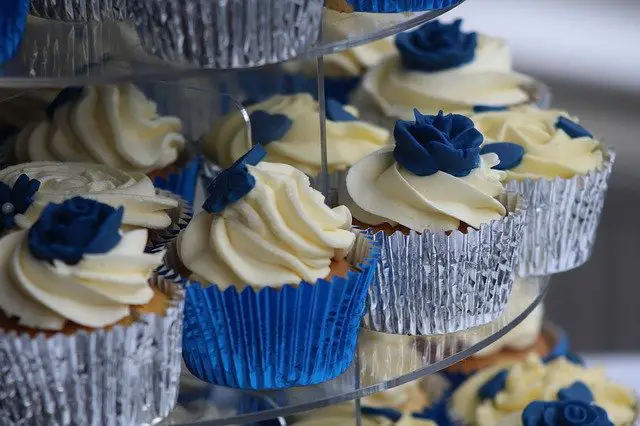 Also, getting some sparkling cider or grape juice (I recommend sparkling WHITE grape juice for obvious middle school reasons) is perfect for toasting.  You can either get 4 or 6 packs of mini bottles at the dollar store, or you can get full size bottles and get packs of disposable goblets from the dollar store.  All of my students preferred the goblets.  It was fun watching them trying to be fancy with them!
You may want to save the snack and drink for last so that you can complete your party with a toast.  It really makes a really nice ending and the kids will love it!  Or you could start with the snack and water but save the sparkling drink for last.
The Activities
In order to set this up in a productive way, you need to think about the purpose of this party.  It is not to start the year off partying instead of working.  This New Year party in the classroom is for the purpose of guiding the students into being excited about how far they have come so far and where they are going to go through the rest of the year.
So while you want to decorate it like a party, you want your activities to be very guided.  Here are a few ideas for you that have worked great in the past.
Create a New Year's Photo Booth
This will ramp up the party atmosphere and the kids will have the best time being silly and making memories that you will actually be taking pictures of!
If your school has a policy that limits cell phone usage, I would get special permission if needed to break that rule in this instance so that the kids can use their phones for this.  Just supervise well so it doesn't get out of hand.
Play New Year's Charades
This is a perfect game to help expel some energy and get them thinking.
I have this printable list of charades ideas that you are welcome to use.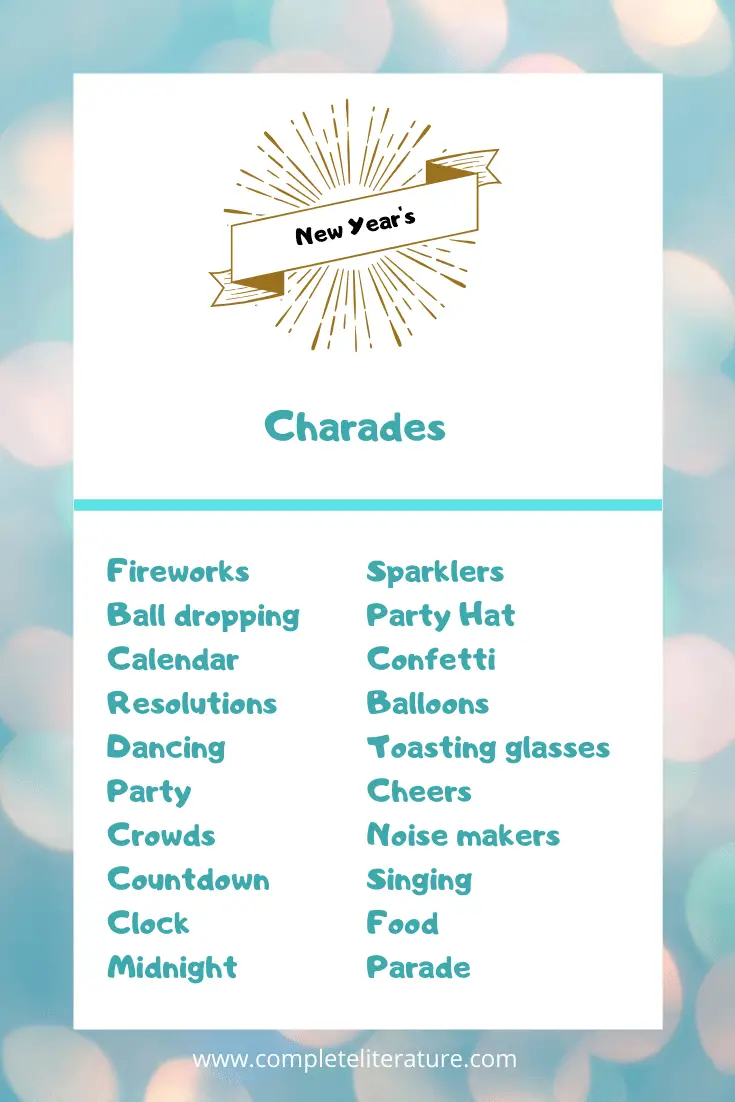 If your class prefers, you could actually play this as Pictionary instead of Charades.  Or Hangman for that matter.  Lots of flexibility here!
New Years Resolution Tree
You can't have a New Year's Party in the classroom without New Year's resolutions!  My idea for this in the past (sorry, I never took pictures–I am notoriously bad at remembering to take pictures) is to get several dead tree branches.  Rub off any loose bark and debris.  Then spray paint it in silver.
If you have a blue vase to put it in, then it will be perfect to tie into the silver/blue New Year's theme.  If you don't, you can always fill a clear vase with blue tissue paper, blue stones, or blue glass beads.  The glass beads or stones (or a mixture) will help the branches stay nicely in the vase anyway!
Next, use some silver and/or blue paper from your local dollar store to make circle or leaf shapes for the resolutions that you and the students will be writing down.  And you can use gel pens, markers, or just about anything to write with.
You can just use ornament hooks to hang them on the tree, or you can allow the students to decorate them even further if time allows.  All the usual middle school media can be used:  glitter glue, sequins or the little plastic jewels.  Just use what you have around the classroom.
Make sure that the kids are in open discussion during this time.  Most will love to share what they are thinking, and it is yet another opportunity for them to be heard!
That's all you need to do!  Find a good corner in the classroom to keep it so it will be a great reminder of the things that were discussed/written that day.
Bonus Resolution Idea
You may want to add in an activity worksheet that allows the students to focus on how they plan to implement the resolutions that they placed on the tree.
Here is a sample worksheet I made that you are free to use.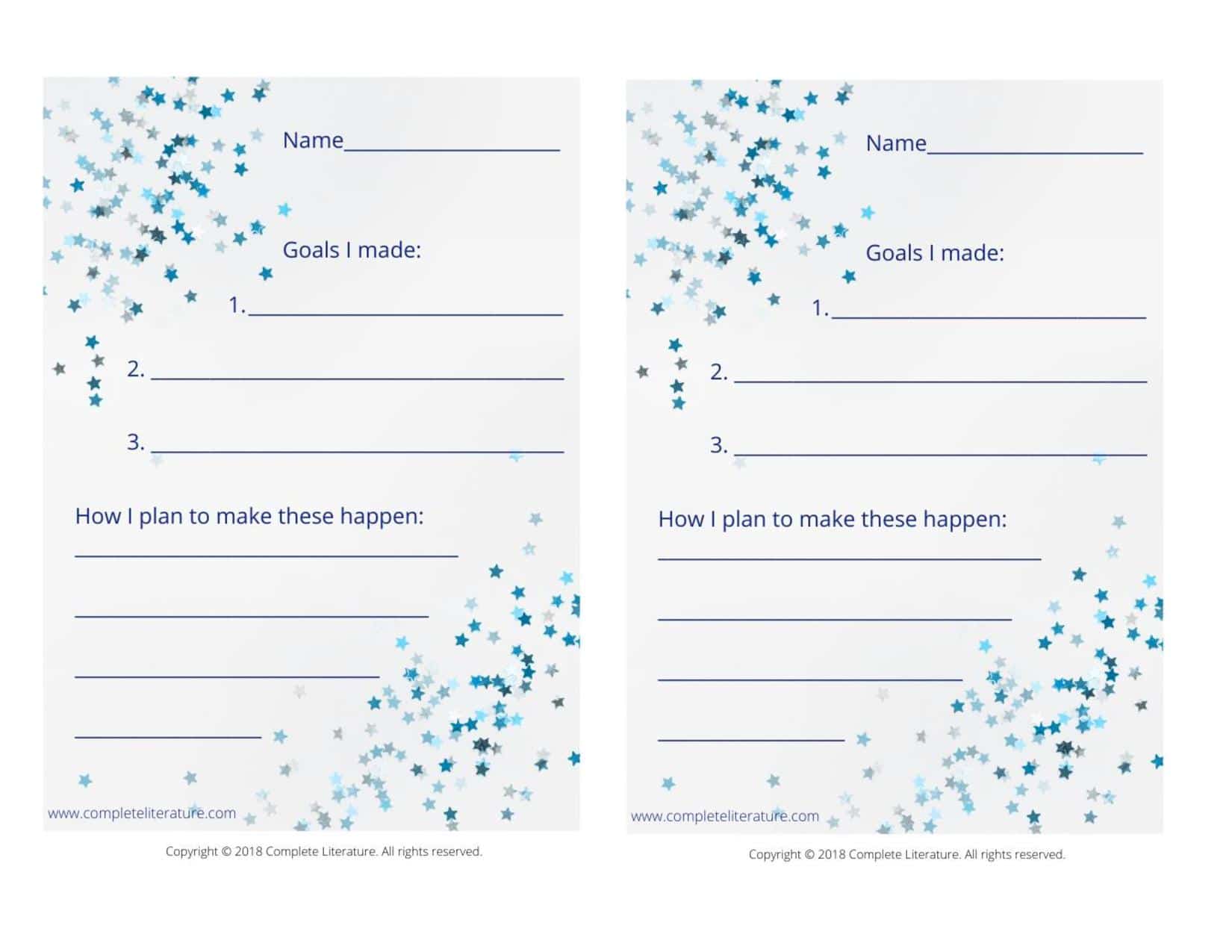 Conclusion
Most of this only takes about an hour to plan (actually about 5 minutes if you use this article as a guide), about 10 minutes for setup time, and the shopping time is also minimal–just a trip to your local dollar store and the grocery store, which you probably already need to do anyway!
The takeaway for the kids will be huge for such a small investment of time!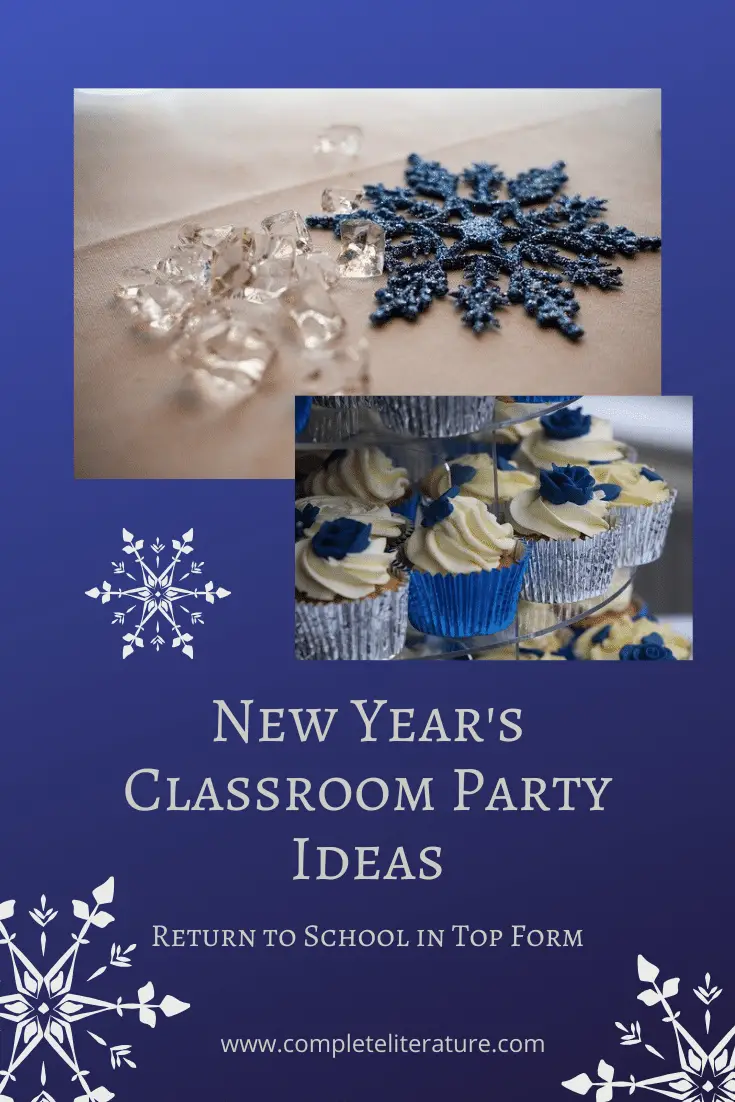 I do want to stress that this is not a huge party that is supposed to suck up a huge amount of time.  But it makes a great short party that still allows you to ease back into the academics without frying everybody's brain.
Upon enjoying some social time, focusing on positive things in their lives, and making plans for the rest of their school year, they will be ready to get on to the learning!
I would love to hear how your New Year party in the classroom went!  Or what  you are planning to do this year!  Just leave a comment below!
For other great unique classroom ideas, visit my page here.