Every teacher has experienced introducing a writing assignment to the class and being met with eyerolls groans.  Except for maybe the 3 or 4 students that are actually excited to hear about a writing assignment.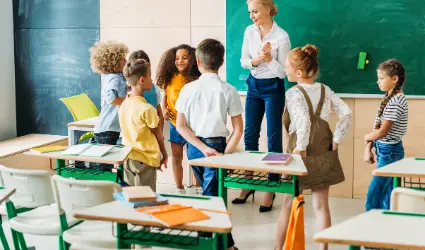 So then, how do you create a middle school writer's workshop that your students will actually love?  Students will learn to love writing when they are able to use is as an outlet to express themselves, their dreams, thoughts, complaints, aspirations, or anything else that middle schoolers want the world to know.
What is Writer's Workshop?
According to Wikipedia, Writer's Workshop was created by Donald Graves, Donald Murray, and several other teachers, and then later popularized by Lucy Calkins (more on Lucy later).
They believed that if professional writers' workshops are so effective for professional writers, then how much more successful would writer's workshops for students be than traditional teaching methods?
Another great strength to the middle school writer's workshop model is that students are writing from the start.  So there isn't a lot of dead time where they are trying to figure out some elusive lesson without putting it into practice immediately.
Many students fear writing because they don't know how to get started.  We have all seen those students, sitting there, staring blankly into space.  But if we let them write what they want how they want, then help them to master their craft, they are already way into the process and much less intimidated by it.
What Lucy Calkins Brought to the Middle School Writer's Workshop
Lucy Calkins began her work in 1981 when she became the founding director of Teachers College Reading and Writing Project.  Her philosophy of student writing was that writing is a process consisting of definitive steps and  all students can become excellent writers, not just certain gifted students.
And fortunately for classrooms since then, her point has been proven correct nationwide.  Her work was particularly concentrated in New York City schools.  Ms. Calkins and her team went into the schools and trained thousands of teachers in her techniques.  The result was a dramatically improved writing program throughout New York City schools.
She has written over 20 books on the subject, the most popular one being the best-selling The Art of Teaching Writing.
What makes Ms. Calkins even more amazing is that this book is not just a revision of the old copy.  It is the result of years of tweaking and updating her material to work with classrooms of today.   And in cases where her methods could be transformed to make them even better, she didn't shy away from denouncing the old and bringing in the new.
So this book is the product of an excellent methodology that was put into practice in thousands of schools, then improved upon to pass the test of real life.  That is an impressive book and author that are willing to go to such lengths to keep the material fresh and relevant.
From Writing to Reading
As a side note, Ms. Calkins' work extended into the reading realm as well.  She maintained that it is imperative to allow children to read the things that are important to them.  And the end result will be children that develop a passion for reading that follows them into adulthood.
It makes perfect sense when I think about all the times I was forced to read something I had no interest in.  It was pure torture at times.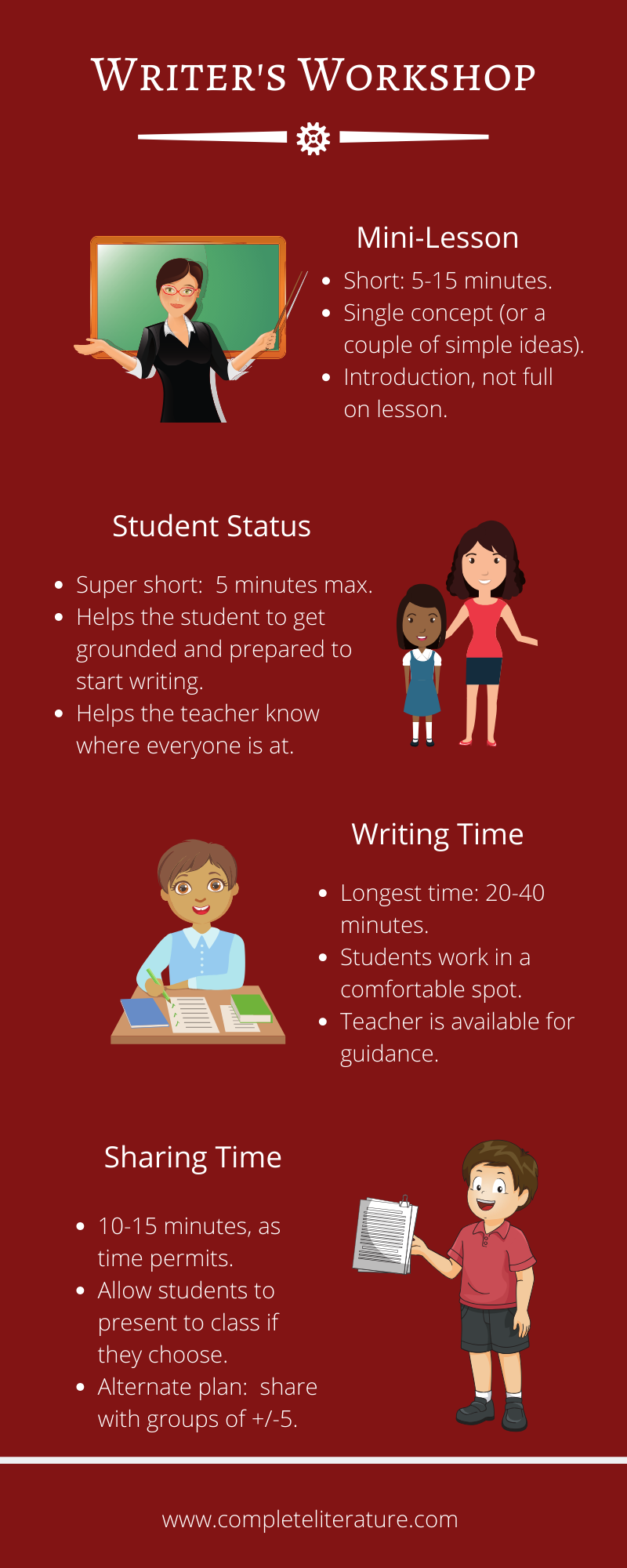 What are the Four Components of Writer's Workshop?
There are four basic components to the middle school writer's workshop.  Some teachers will add or tweak a bit, but these four are pretty much the gold standard:  mini-lesson, student status, writing time, and sharing time.
I know that sometimes it's easier to cut out one or more of these steps for the sake of lack of time and just focus on the writing without all the "extra" steps.  But it's really important to fight through that temptation.  Each one of these steps is critically important for your students to develop their thinking and writing process and skills.  And if you can get that time in (even if you have to split it over a couple of days), it will be more than worth it in the long run.
I do understand that the clock is fighting against us when we only have a 45 minute period to do this in.  But we have to be careful that the students don't feel our battle with the clock.  They don't need the stress of trying to finish before that bell rings or else…
In these instances, it is so  much better to continue to the next day.  Everybody is more relaxed, and their brains are concentrating on what they are writing instead of the pressure.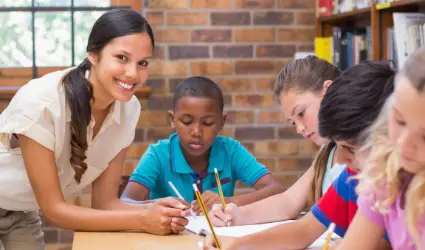 Mini-Lesson
So the mini-lesson is exactly that:  a mini lesson that gives the students one or maybe two straightforward concepts.  They will then take those concepts and immediately put them into practice instead of listening to the teacher continue to give details about that lesson.
The mini-lesson is designed to be only 5-15 minutes long.  I have seen plenty of complaints from teachers that this is not nearly enough time to explain a concept well enough for the students to grasp it and then put it into practice.
And in the traditional teaching method, they are absolutely right.  But in this case, the real learning is in the students' writing.  Keep in mind that when you get to the writing process, you will just reach out to the students that need help the most while the rest of the students are already on their way.
Over half of your class is going to recognize the writing concept already, especially if they are readers.  We will get to that part more in depth in a little bit.
A Ready Example
What is important here is having an example that they can look at immediately.  Then, rather than continuing on with the lesson, you will be turning it over to the kids to put into practice while it is still fresh in their minds.
So basically, if you are going to teach a lesson on capital letters, you would concentrate on one or two usages of capital letters.  For example, you would teach them how names are always capitalized.  And you may want to add in the concept of the first word of every sentence being capitalized because there is nothing they have to figure out regarding that rule.  Of course, this is over-simplified for middle school age, but you get the point.
Once they start writing, be careful to only correct the work relating to that lesson or previous lessons you have already taught.  That allows them to concentrate on the concept you are teaching.  And they don't get overwhelmed trying to remember ALL of the capitalization rules.
And that is how you are able to keep the lesson short and sweet!
Also, it helps to realize that you aren't trying to cement the lesson at this point, just introduce it.
Student Status
Because your students' work is generated by them, they are going to end up at all different levels of progress in their writing.  Some students may be writing a short story, others may be writing a much longer piece.  There can be as many different options as you have students in your class.
The main point here is that the students are choosing what they want to write about (within reason ) and what they want to do with it.
Because of this fact, you will not have all of your students in the same spot at the same time.  And your primary goal is to guide them through the lesson itself rather than writing style or any aspect not related to the specific lesson.  So this period of time is for you to get updates from your students on where they're at and where they're planning to with their projects.
This will actually be one of your students' favorite times.  They will enjoy showing you what they're up to and seeing a smile on your face when you see how they are progressing.
Working Out the Details
You can choose to do this every day, or you can do it a little bit less often, especially as the year progresses and they start to get their own bearings.
Also, as the year goes on, you can have older student helpers come in to do this step with them, or even pair up or group your class to that they can do this step with each other.  If you choose this method, you will still need to be able to check in with all the students periodically.   But it won't be as much as if you are doing all of the status checks yourself.
Some teachers will put a chart with pockets up on the wall so the students can put what stage of writing they are in.  Those would be such things as brainstorming for ideas, forming an outline, drafting, proofreading, and publishing.  Feel free to add or subtract as you work with your class.
And some teachers will allow the students to be writing more than one project at a time, which would make the chart-with-pocket idea more necessary.  I did not do this because I thought it would get too chaotic for me.  But other teachers do it well.
This step can be done at the beginning of writing time, while the students are settling in to start writing.  It shouldn't take any more than 5 minutes.  You aren't helping yet.  But you can certainly take note of help you will be giving during writing time.  This is just for you to evaluate where everyone is at and where they need to get to.
Writing Time
This is going to the longest time period of the class.  Which is really the point–students should be writing as much as possible during writing class.  It will be around 20 minutes long for the standard 50-minute class.  Those in block scheduling will have a bit more liberty in their schedule for this part.
The writing time part of the middle school writer's workshop is, of course, the most important part.  That is because the more students actually write, the better they will become.  And the more motivated they will be to continue writing right into adulthood.
What the Writing Process Looks Like
This step is actually a two-step process.  While the students are writing, you will be conferencing with students around the room.  In the middle school years, the majority of students will be quick to let you know they need help.  But with every class, there are some that won't.  Be aware of those students and make sure to get to them and peek in on their work.
Over the course of a couple of days, you need to get to each student at least once.  I kept a checklist to make sure I got to everyone.  My brain isn't as young as it used to be!
As for the students' writing, my students worked so much better when I let them move around the room at will.  They could work anywhere as long as they were working diligently, and as long as they were not being a distraction to other students around them.
Just a reminder:  you are only correcting/guiding their work based on the current lesson and past lessons that they should have down by now.  If you try to correct everything, especially at the middle school level, you will get defeated students that no longer want to write.  Unfortunately, I know this from experience.
When Writer's Block Threatens to Derail You
Writer's block is real.  We've all been there many times in our life.  And I guarantee just about all of your students will face it head on.
But there are some great ways to combat it.  You can just converse with your student for a few minutes.  Casual conversation can help them think about what they've been up to, what they've been thinking about, what they've been watching, where they've been, or who they've been with.  There's a whole lot of inspiration in that.
It also helps to have a chart up somewhere in your classroom with inspirational pictures and ideas.  Then they can always just look quickly at the list and pick something.  Just make sure you are changing that list often enough to keep it fresh.
For some instant inspiration, check out my post on Timely Middle School Writing Prompts.
Sharing Time
Sharing time will be the other favorite part for your students–at least the extroverted ones.  But even for the introverted students, they will generally be happy to be sharing their work.  They will be grateful that this isn't speech class!
Seriously, though, this is the point in time that they have learned a concept, put it to work on a project that was initiated by their own thoughts and made use of their own creativity.  You guided them through the process as they did all of the work.
And now,  they get to share that piece of themselves with the class, or small group, whichever you prefer.  Or you could even ask how many students would like to present to the class.
At this age, you will have a good many that want to share with the whole class.  And honestly, I found it as fun as the other students.
Many students will enjoy hearing each other's work.  And they will be inspired as they continue on to the next project.
Another huge benefit to this:  you are not taking all of those papers home to read through and grade all night.  You can make some notes as they are reading.  And with that, the majority of your work is done!  This alone is worth its weight in gold.
While the students are presenting and you are evaluating from a distance, it also feels like a chill time for you and your students.  Although if you try to do this right after lunch you may find yourself and some students nodding off!
Why Each Step is So Important
The biggest reason each step in the middle school writer's workshop process is so important is because you are helping the students to develop a comfort with writing.  And really, just like anything else, the way to become comfortable with something is to practice it regularly.
The four steps help them to keep on track with their thoughts, goals, and how they plan to get there.  And the process helps you to be able to efficiently help a large classroom as they work in their own time and at their own pace.  This is a win-win for everybody!
The biggest takeaway here is that the students are in control of their writing.  That makes them authors!  When you share this information with them, they will take even more pride in their work.
Check out this short video on how middle school writer's workshop helps the students to take ownership of their work:
Conclusion
So this is middle school writer's workshop in a nutshell.  Yours will look different than mine.  But they will all have basically the same components.
One of the most exciting things you will see come out of this is how much your students' writing improves throughout the year.  You will be amazed and proud of them for a job well done.  And you will see how much quicker your students catch on to the writing process.  Seeing their confidence grow is such a rewarding thing.
Source:
Education Next:  The Lucy Calkins Project
If you liked this article, I think you will like some of these other articles:
Timely Middle School Writing Prompts 
12 Significant Ways to Improve Student Writing
12 Ways to Improve Reading Skills
Seven Styles of Learning and How They Apply to Your Students