Most students in middle school love art projects.  They love discovering artistic techniques and trying their hand at it.  Sometimes it's great.  Other times it is pretty bad.   But they all have fun.
They also love art projects because it doesn't usually involve sitting at their desk listening to a teacher.  An instant win in the world of academics.
So how do you choose the perfect middle school art projects?  The biggest factors involved actually have nothing to do with the art projects themselves, but by limitations of the classroom.  Cost, time, teacher's expertise, creativity and space to create all factor into lesson planning for middle school art projects.
I would like to share how I worked through each of these factors with my classes, but first I would like to share some background information.
My Story
Most of my middle school art projects have long since gone in the trash.  I do have one drawing book left from a high school art course that I took in 7th grade.  Because I went to a small school, age wasn't a huge consideration if students wanted to do extra courses and could handle the extra course load.
And for whatever reason, that was my absolute favorite art course.  It was really just a basic course–observation, perspective, shading, pencils, pen and ink, acrylics, chalk pastels.
So what made it so special?  My teacher was engaged with all two of us that took the class.  Did I mention I went to a small school?  I got personal tutelage in a course that I never would have taken if she had not come to me and offered it.
And out of it, I went on to enter and win regional art contests and pass on my limited but okay painting ability to many classes and my own kids to the present day.
What Do I Mean by Art Projects?
So before I get into the details, I would like to share what I mean by middle school art projects.  I am not talking about their normal art curriculum, although the concepts they are learning there will definitely help with their ability to craft these projects.
What I am talking about is heirloom quality looking things that they will bring home and their parents will say, "Wow, we never did art like that when we were in school!"
So why would we do these kinds of middle school art projects?  Because it puts to real life practice what your students are learning in the classroom and lets them see a much bigger picture.  It may inspire them to use these things in some way in their future lives.
It will inspire them.  And it may inspire a whole lot more people around them.  It may even inspire people for generations to come.  Because that is what it did for me.
So now let's take a look at some of the difficult parts of planning great middle school art projects and how to pretty easily overcome them.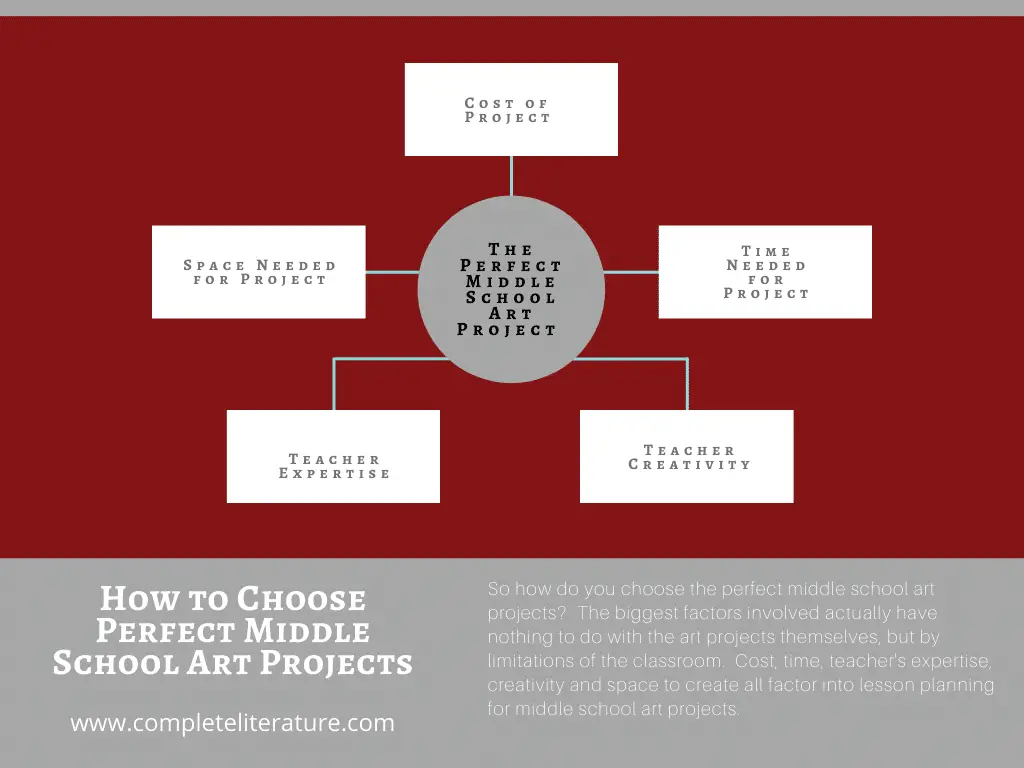 Cost to Make the Crafts
Whenever we are talking about money for schools, it can be a problem.  There is generally not a lot of funding for extra things at most schools.  And teachers are already shelling out a good amount of money for various other expenses in the classroom.
So how do we find enough money for the best quality crafts?  Maybe the better question is how do we find the best ways to cut the cost of crafts down to a comfortable amount?
There are several ways that we can cut that cost down.  I have actually written an article about 5 great ways to save money on classroom crafts that you can find here.
To summarize some of those ways, though, here are some great ways you can save money:
Use supplies that are generally common household items and have the parents send them in ahead of the crafting day.
Buy your supplies at your local dollar store, or better yet, a thrift store.
Shop Amazon ahead of time to find the best sale prices.
See what stores offer discounts or grants to schools.
For book crafts, ask the library or a used book store if they have books they are going to throw away that you can have.
There are tons more ways to save money.  Most of them include thinking quite a ways ahead of the day of the project.
Finding Adequate Time to Make the Crafts
Because of class structure, there is generally not a lot of time to do great quality crafts.  So it takes a couple of things to make it work.  The first is for you to maybe prepare certain aspects of the class before the day of the class.
I kind of cringe a little bit when I say that you need to come up with more time outside of school hours.  But there are ways that you can even cut down on that time.
One of them is to have parents who are willing to volunteer help out.  There are most certainly going to be at least a couple of parents that love crafting and will be happy to share their talents with you.
Another would be to have an advanced student or two do some of the prep cutting, folding, organizing, or whatever is needed to be done.  They can do this when they have finished their class work and are looking for something to do while everyone else is finishing.
The final obstacle that I found was great quality crafts take significant amounts of time.  So for the projects that would take more than 30 minutes worth of class time (not counting the setting up, maintenance, and cleaning up of the classroom), I just spent more than one class period to do it.  If a certain art project takes a couple or three days to get finished nicely, it's okay.  The kids won't mind and the parents will be thrilled at the quality product that you are sending their kids home with.
Teachers' Crafting Expertise
This one is almost not even a valid excuse because we now have the internet.  And in particular, we have Pinterest, Youtube, and Google.  Your need for creativity has now been reduced to choosing the pictures and ideas that you like the most and watching how they do it on a video!
There is actually a little bit more to it than this.  But it is a great start.  And usually just coming up with the idea is the biggest obstacle to overcome.
And there is now so much step by step information online that you won't have to worry about a lack of expertise.  You can take whatever vision you have and someone has already done it in some form with some theme.  You just need to tweak it to work with your class.
Teachers' Creativity
This is also much less of an issue with the advent of the internet and the above mentioned websites. You no longer have to invent all of your projects from the ground up.  It is as easy as being inspired by something that you are teaching and then using general keywords to find what you are looking for.
What you will need to exercise creativity for is customizing your craft ideas to what you are doing in your class.
An Example
For instance, when I did my project on the Voyage of the Dawn Treader painting that had the Dawn Treader coming out it, I couldn't just google that and come up with it.
What I ended up having to do was research how to make a stormy sea painting. I found that on Youtube by a young man from Russia–it was amazing!  Then I found the Dawn Treader folding paper project from a website out of Japan.  And finally, I had to get creative and experiment with the "water" coming out of the picture.  By the time I had all of the research done, I had a great quality craft without having to come up with all of it myself.
Fortunately, I did most of the planning for this book during summer break, so I had extra time to sit online for longer than normal.
You may have a harder time coming up with these kinds of things.  If so, talk to someone who is more creative about what you are trying to do.  I bet they will be happy to put something wonderful together in their head on the spot for you.  Then you just need to do the research to make it a reality.
One of the goals I have for Complete Literature is to have all of the crafts for the featured books laid out.  Then busy teachers don't have to do all the background planning, organizing, and preparing.  You will just need to check out which crafts I featured in the book you are working on and choose your favorites.
Space to Create
Sometimes your classroom just doesn't have enough space for everybody to spread out with your craft ideas.  It isn't always practical to have them work at their desks, especially when things are being shared.
Most of my craft projects happened at a few long tables.  That way they could share and move around as they needed to.  And for the times that I needed more space for the kids to move around, or if the project was especially messy, I would move the tables outside.  That was so much easier to set up.
The only problem with this solution is that you can't do that sort of thing in Alaska in the middle of January.  You may just have to schedule the types of crafts you are doing and your space needs with the time of year that you are working with them.
Another way you could get through the lack of space issue is to possibly use the auditorium or gym space.  You just need to make sure it is available when you need it.
Conclusion
So this is how I choose the best quality middle school art projects that students, parents and I will all love to have and enjoy for longer than the time it took to make the projects.
If you are short on your own middle school art project ideas, here is a kick start from Scholastic.  You can always look at the ideas they have posted and soup them up or adapt them to what particular theme you are currently working on.
To see these art project concepts in action, check out my article on The Voyage of the Dawn Treader.