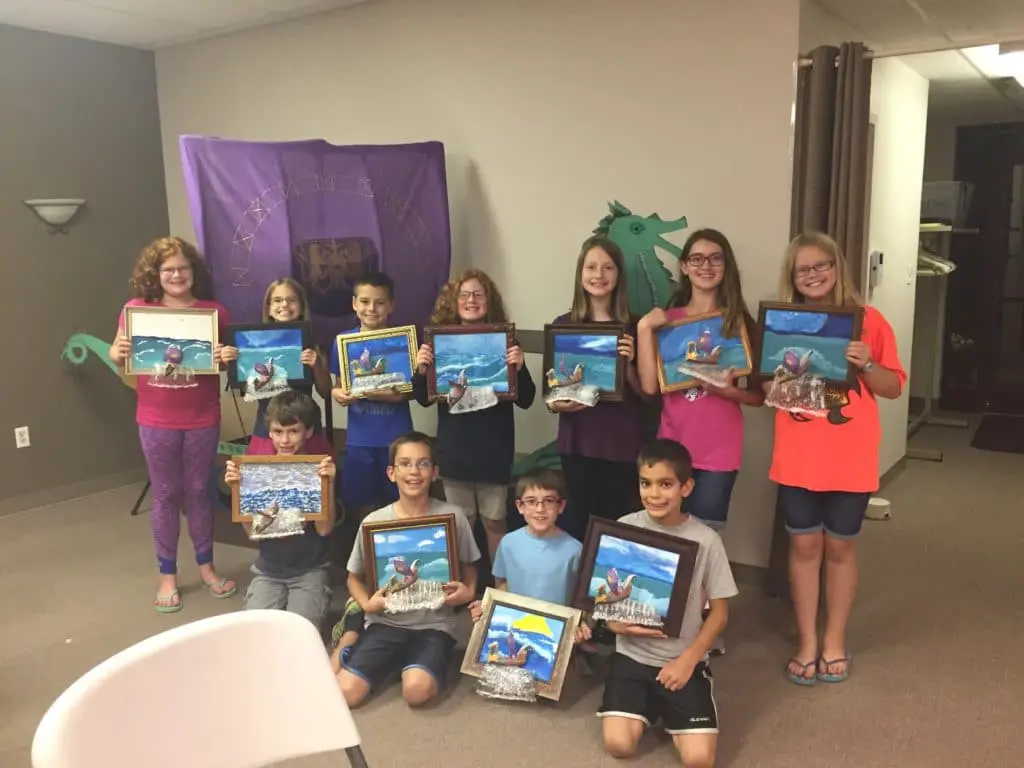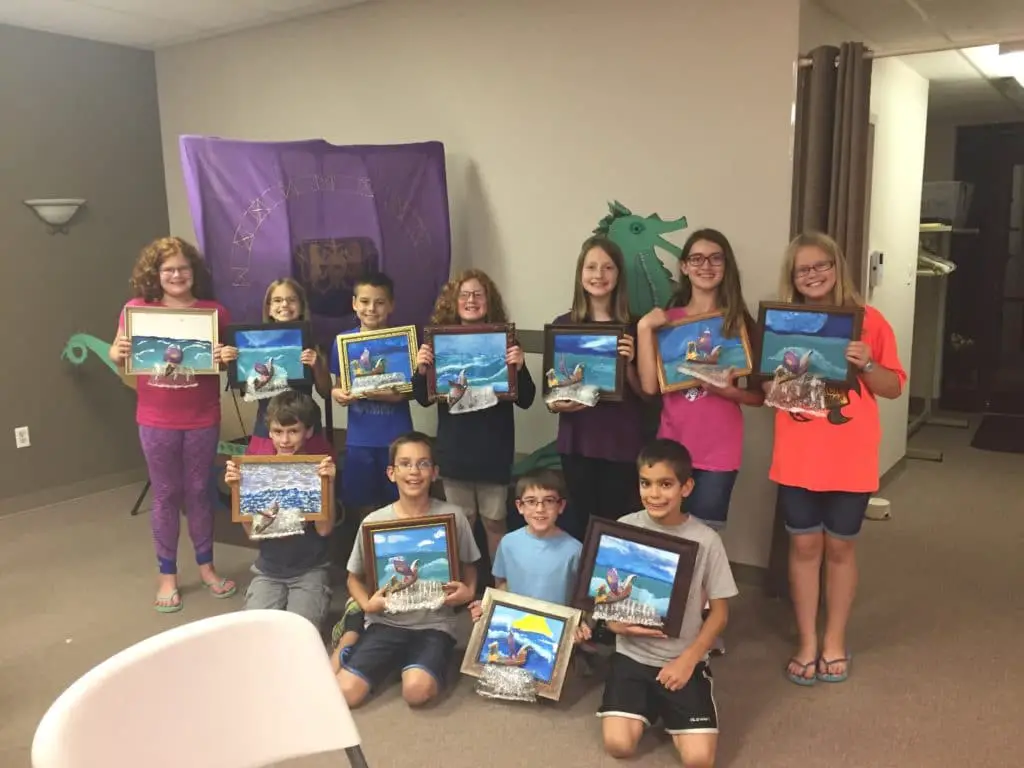 The Voyage of the Dawn Treader became by far my students' favorite book study.  It took a whole lot of work, but we all had tons of fun.  And seeing how our classroom was transformed by the end of the unit was so much fun!
If I had had to do everything up front instead of as the study went on, I never would have thought I would be able to do it all.  I wanted to do several things with this class that I ended up not being able to do.  My plans always start out so grandiose.  And then reality sets in and I don't get it all done.  But generally nobody knows that.  And in the end, plenty of special things do get done and everybody is happy!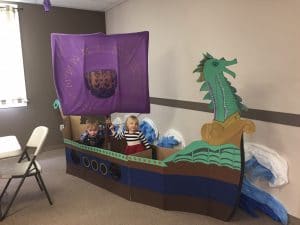 The Centerpiece:  The Dawn Treader
This Dawn Treader ship was the first thing I did for my class.  I actually have no idea how I ended up implementing this into the class, other than to say I was googling ships and saw a model ship and ran with it.
I got the pattern from a company called Mr. McGroovy's Build Magical Memories.  The pattern was actually made for a pirate ship, but I just tweaked it from pictures based on the Voyage of the Dawn Treader movie.
The Cost
The best part of this is that at the time, the plans were only $4.95!  And I ended up buying cardboard boxes rather than hunting for them around town.  But those only cost around $1.50 each.
Everything was so affordable.  I actually even had the sail material from an old box of fabric that was given to our family.  The paints were purchased at Walmart for less than a dollar a bottle.  The waves in the background are just plastic tablecloths from the dollar store.
So in the end, the final cost including the waves was right around $20!
The Time
The time factor, however, was pretty crazy.  Fortunately, it was August, so school hadn't started yet and I had some extra time to make it happen.  It was done in about 10 days of working on it a couple of hours at a time.  And honestly, seeing the finished product made it all worth it.  But seeing the looks on the kids' faces when they came to that first class and saw it there–priceless!  They were hooked from then on.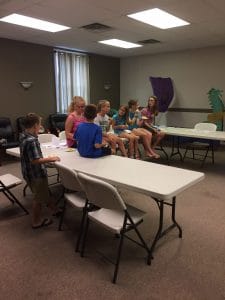 The Class Schedule
My class blocks were 2 hours long.  But we were not getting bored and class time was not dragging on!  In fact, I found myself often feeling like I needed to rush through some of the material in order to get to everything.  And none of the kids were complaining either!
Here is what the schedule of the class looked like:
Welcome to class, settle in:  5 minutes
Snack:  15 minutes
Game or activity:  20 minutes
Reading:  15 minutes
Discussion/worksheets:  20 minutes
Craft:  30 minutes
Alternate game or activity:  10 minutes
Cleanup, homework, dismissal:  5 minutes
The Breakdown
Welcome to Class
This was the most magical time of the day.  The kids always ran in to see what the plan was for that day's class.  (Many times the other teachers peeked their heads in to see what was up as well!)
Here they would find the decorations that themed the class and a large display table.  On that table would be a snack, my sample of the craft they would be doing, and whatever decorations fit in with the theme.  Over the course of the book, all of the class crafts would be on the table.  It made for an impressive display!
The Table
What made this table so significant was that the kids would try to figure out the theme of the class based on the food and craft for the day.  And they would ask what the game was and how it tied in.  Everything that was done in that 2-hour block was based on something in their reading for the day.
What they loved most was trying to guess based on what they were looking at.  It was incredible fun for all of us.
Snack
Sometimes this was super easy, other times I had to wrack my brain to figure out the perfect snack theme to fit with the lesson.  Pinterest and Google didn't always come through for me.  Sometimes I just had to figure it out.
The obvious first place to get ideas would be the chapter of the book itself.  If there was food mentioned in that chapter, then that was what we were having.
Manipulating a Difficult Theme
But often I had to get more creative.  Sometimes I could just jump on Pinterest and search for Voyage of the Dawn Treader Party.  But after the first couple of classes, we burned through those options pretty quickly.
My next source of inspiration was to search for more general terms that still fit with the story.  So I would search for ship themed party food, or medieval food served on journeys, or pirate food.  Sometimes it was something lion themed if Aslan was in the picture.  Or mice to symbolize Reepicheep.
And dragons and fire made great options.  We had a candy bowl with hot cinnamon candy for a while.  The kids would turn it into a challenge.  The point was always to keep it fun for them while tying back to the book at every opportunity.
Game or Activity
Of course, this was themed as well.  The game could have been Red Rover except it was the Dragon coming over.  Or Voyage of the Dawn Treader Bingo.  One of their favorites was always Sardines.  It would be Dawn Treader Sardines for this book.  Another one they did was Lamp Post Sardines for The Lion, the Witch, and the Wardrobe.  You see the pattern here.
It was just whatever game I could think of that we could change the theme.  Many times the kids would come up with a game idea and I would plan it out for the next class.
Whether it was an inside or outside game depended on the weather.
Reading
Believe it or not, this was one of the class' favorite parts of the class.  They were allowed to hunker down anywhere in the class that they were comfortable and follow along with the reading in their own books.
The vast majority of the time we used a dramatic reading.  It was usually pretty easy to find one because most of our reading classes focused on popular classics.
But when there wasn't one available, the kids were so used to the dramatic readings, that they actually had fun reproducing it themselves in the ones that we had to read as a class.
Sometimes I would read a few pages.  Then anybody that wanted to could read for a bit before passing it on to another student.  I always had more volunteers than book time.  And I never called out on anyone to read if they didn't want to.  There would be opportunity to draw them out in ways they wanted to be later.
Discussion/Worksheets
This was also another surprising favorite for the kids.  I was thrilled that they responded as well to the academic portions of the class as they did to the fun parts.
I made the discussion worksheets comprehension-based as well as character-based for the sake of making sure they knew well what they were reading, but they were also taking to heart the life lessons.
Their conversations amazed me at times.  They could be so perceptive even at middle school age.  And as the year went on, they became more and more open with their knowledge, thoughts, and feelings.
One of the problems we had in this section of time was that we frequently ran out of time because the kids were so open to discussion.  That is a pretty fabulous problem to have in a middle school classroom!
If you would like to see a sample of the worksheets and materials that we used, you can click to this page.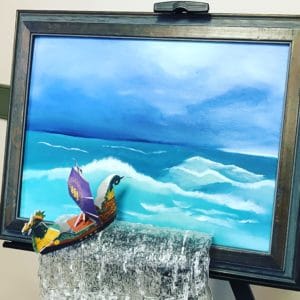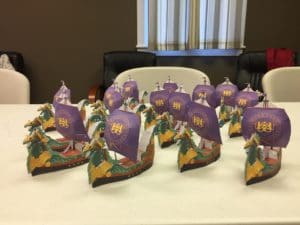 Craft
This turned out to be a really fun craft that we made during our Voyage of the Dawn Treader classes. The project took about an hour of painting total spread over two different days/class periods.  And I got the frames for them from thrift stores, most of which were $1 or less.
The Supplies
I got the paints and paint brushes from Michaels.  And I used actual acrylic paints rather than the tempera paints that middle school students usually use.  It was worth the extra expense for the finished result!
If you have credits that you can use at Michael's or your school has a fund, it works even better.  What I ended up doing was buying several weeks ahead and buying a couple things at a time based on coupons.  And because I started early enough, I hit a sale that all acrylic paints were 40-50% off.  It worked super well.  And I had tons of leftover paints for another project later!
How We Made it Work
I had already made the painting above as a sample for the class.  But I also painted a picture myself along with the kids for those that wanted a step-by-step guide.  I allowed the kids to decide if they wanted to follow me or branch out on their own. It was amazing to see all the different paintings in the end.  They all did an awesome job!
I also cut and assembled the Dawn Treader ships so that they would be ready once the pictures were done.  I found the pattern online from a company in Japan.
As for the waterfall, I used clear silicone calk from my local hardware store.  It dried quickly.  I formed it beforehand, then the students painted white paint on for the waves themselves.
The one thing about using the clear silicone calk for the waterfall is that over time it does turn yellow (a couple of years).  A better option would be to use the water material used in model train sets.  But at $20 a jar, it would have cost $40 just for the waterfall for my whole class to use it.
The Cleanup
Because our block of time was so tightly scheduled, sometimes the majority of the cleanup fell on me after class was over, at least for the larger craft projects.  (The smaller craft projects were just fine for the kids to clean up.) This will not work if you have back to back classes or no break right after this particular block of time.
Sometimes, when some of the students finished before the others, I could have them pick up some of the mess.  This did help greatly.  I also had some parents that came in to help out with the more advanced crafts.  So cleanup was way easier for those classes because the parents generally know how to help clean up intuitively.
This will work well for you on two levels:  you will have hands-on help throughout the craft time and you will have quick clean-up help.
Alternate Game or Activity
For the days that the craft was not so heavily involved, we could spend the last few minutes of the class doing one more fun activity or game.
The one thing that I did here that was a departure from the program was that it was rarely themed to the book.  The only times that I stuck to the theme were when the kids loved the first game so much that we continued it or played another round at the end.
The Motivation Behind the Game
This game time was a great way to get the kids to finish up their crafts and clean up without feeling like I was beating them over the head to get it done.  They were pretty self motivated because they knew there was still more fun to be had.  Usually while we were working on the craft, the final game/activity would come up in conversation.  There were always a couple of kids who made sure to ask what was next every week.
How we Decided
Since the game served the purpose of making the time work, there were a couple of ways we decided how to do it.  First, the block of time for it is only 10 minutes.  So there wasn't a lot of time to figure out and explain the game.  It had to be something we could get right to.
Generally I let the kids call out what game they wanted to play.  As the year went on, they came up with ideas more quickly.  They usually picked a favorite standard.
Another option I did was to get the impromptu game idea box out.  You can read more about that in this article.  To get right to what I am talking about, just skip to point 10.
With the game idea box, the kids or I could pick out a quick game and be playing in about a minute.  There is no prep or cleanup so it fits perfectly in the 10 minute time slot.
One of the best benefits of it is that it gives the kids a little bit of time to decompress after a whirlwind 2 hour block of crazy learning.
Casual Conversation Encouraged!
In the vast majority of my class time, the students are encouraged to interact.  It has rarely been too chaotic to be productive.  And when those times happen, it was pretty easy to rein things back in.
I can't even tell you the value of allowing this.  I know that it can't be done in all academic sessions.  But in this case it works out so amazingly well.  The students give you an exact blueprint of how they are understanding the material.  And you get a glimpse of how they are feeling and what they are thinking.
The icing on the cake is that they feel appreciated for who they are and what they do and think in class.  And that makes them become confident in who they are as people outside of the classroom.  You can't teach that kind of emotional health in a book!
Cleanup/Homework/Dismissal
Most of the cleanup has already been done at this point.  So now all you really need to do is have the kids get their stuff together that they are taking home with them.  You can pass their homework out at this time as well (more on the homework in a minute).  The biggest focus here is probably on straightening out desks, tables, chairs, and cleaning up extra trash on the floor.
Homework
For homework, I generally had about 5-6 different worksheets planned out per chapter of the book we were working on (see a sample of this here). There made worksheets with puzzles, or various worksheets for them to answer questions about the text.  Or some worksheets focused on how they felt about a certain part of the chapter.  Every chapter had a worksheet to focus on drawing a picture based on how they thought things were playing out in the book.  And every chapter had a worksheet with an essay starter to get them thinking creatively.  Finally, there was always a Bible Study worksheet, allowing people who wanted to focus on religious issues to do so.
The Reward
With all of these options, I would circulate the homework assignment so it was always something new and different (and fun).  And I did the whole homework thing a bit differently.  It was not required for the program.  I gave them extra credit for doing the homework if they brought it back to me.  The reward was Narnia dollars for Voyage of the Dawn Treader.  And the amount of homework that was returned to me was phenomenal!
For more on my dollar reward program and end of book party, click here.  It is in point 8 if you would like to skip right to the relevant material.
I will admit that this dollar program and the reward program that it culminates with is pretty labor intensive.  But spread over the time of the whole book it isn't too hard.  It does take mindfulness and planning.  But once you have done it, it is so much easier the next time around and following.  And I can't tell you how much the kids appreciate it!
Conclusion
So this is the format of my Voyage of the Dawn Treader class in a nutshell.  One of my favorite things about making my classes work out this way is that even my hate-to-read students are loving the class and the reading time by the end of the first quarter.
And that pretty much makes my job with them the best that it can be.
I would love to hear what you have done to make your class wonderful for you and your students together!  Feel free to comment!