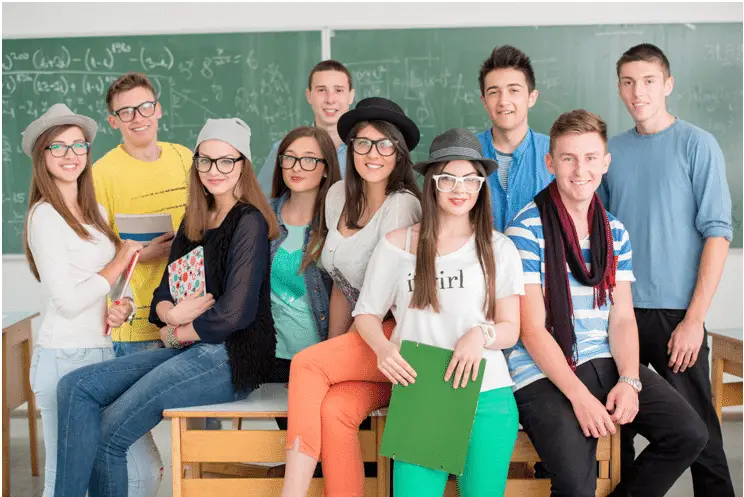 The Reality
Every teacher starts out their new career hoping and praying that on their first day they will have the perfectly planned class, the students will arrive, connections will be instantly made, and the classroom culture will be one of peace, productive learning, and emotional and social growth.
Then reality sets in.  The absolute best plans can't compete against life's interruptions.  Some students will have issues that you have the hardest time adjusting to, even though you know you need to.  And classroom culture will constantly be thwarted by unforeseen events popping up.
So how to you create a positive, and even enjoyable, classroom culture in your world of teaching?  Or for that matter, how do parents, employers, and other social leaders create a positive culture in their space?  We are all dealing with people, and the concepts don't really change much across life's platforms.
The Solution
To create a positive classroom culture, you need to have reasonably set expectations–not too high or low–and show them that you love what you are doing in your class and love that they are involved.  While I understand that this sounds way short of what your goals should be, I will show you why if you set these goals first, most of the other ones will fall into place.  
While the purpose of school is to learn, we can't get to that until we can build rapport and trust with our students.  And that is where this article will take you so that you can get down to those academics and social skills that you really need to be teaching.
So what does that look like?  Here is a list of ten items that I put together based on experience and discussions between several teacher associates and myself.
Ten Ways To Create a Positive Classroom Culture
1.  Show them that you love your job.
2.  Give your students enough control over their work that they can feel accomplished.
3.  Allow students to master their work.
4.  Celebrate successes.
5.  Be quick to encourage them when they fail.
6.  Be open to their suggestions.
7.  Survey your students.
8.  Teach students vocabulary that allows them to accurately evaluate and express themselves.
9.  Watch your students' body language.
10.  Be aware of your own emotional condition at any given moment.
Before I start elaborating on the points in this list, though, I would like to talk a little bit about what students, parents, teachers, and administrators are talking about regarding school satisfaction and how they compare to each other.
What the Surveys Said
I researched several surveys of students to see how they felt about various aspects of their classroom culture.  And honestly, most of the surveys came back with pretty good reports from the students.  I believe that is because teachers are not teaching because the pay is great or the job is easy.  They are teaching because they have a passion for what they do and desire to inspire students to grow and learn and become responsible adults.  Even on a bad day, those goals and aspirations don't change.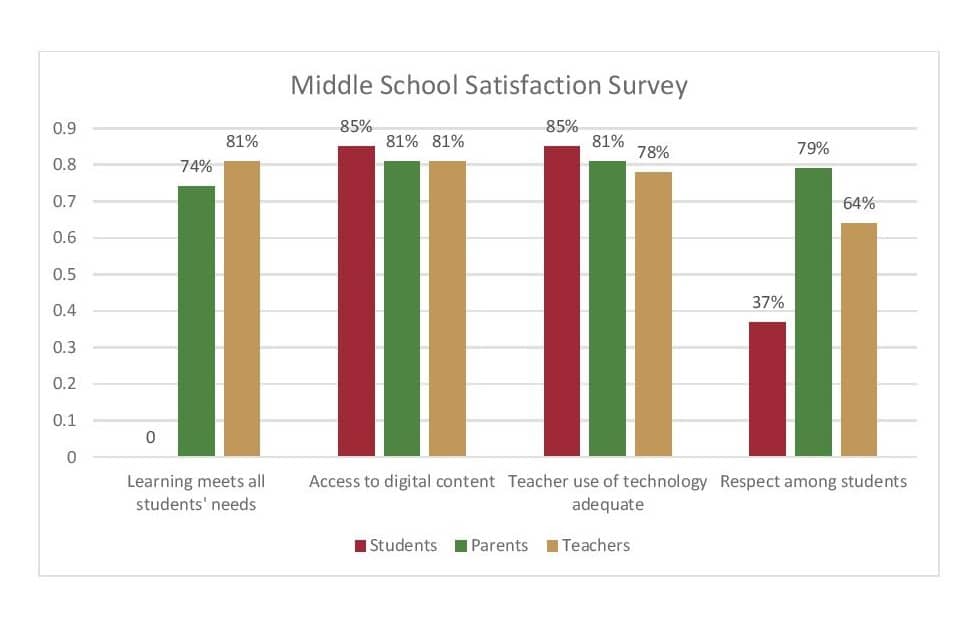 The one disparity that I saw in the above chart is that the students had a very different view of how respected they were among their fellow students compared to both teachers and parents.  That would most likely be explained by the fact that students tend to do things that teachers and parents don't approve of when teachers and parents aren't around to witness it.
Having a culture of openness in the classroom can help bridge this gap.  Students will be more comfortable expressing their fears and concerns when they know their teacher is their advocate.  And parents will know more of what is going on when the kids are comfortable enough to be open around the teacher.
Concerning Bullying
There was one aspect of one of the surveys I researched that was concerning.  It was regarding bullying at school and how students, parents, and teachers perceive it differently.  Here is how that part of the survey played out: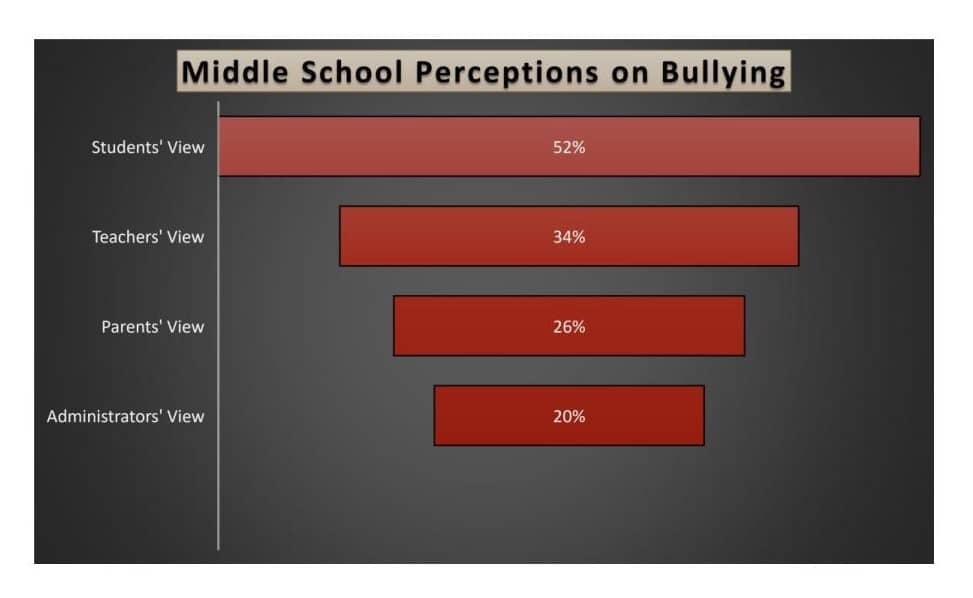 Very similar to how the students vs. the parents felt about respect among peers, clearly there is some stuff going on that the adults are not aware of.  My answer to this is that if we build trust and respond to bullying appropriately, this as a whole will improve.
While I realize this is easier said than done, it is definitely something that is possible to do and do well.
Back to That List!
Okay, so now that we have the opinions of all of the players in the school world, let's look at some ways that we can make the classroom culture better especially for students and teachers, and also help parents and administrators to see things in a better light.
1.  Show them that you love your job.
Since we know that the vast majority of teachers are not teachers because of the huge pay or easy hours, a reasonable conclusion is that you do it because you love the kids and the job overall.  And you have a passion to help them learn lifelong skills in your classroom for the year that you have them.
And while I know that we all have our bad days, I also know that most of the time we love what we are doing in spite of a lot of the difficulties.
So let your students see it!  Have a huge smile on your face and welcome when they arrive.  Tell them that you love teaching your class.
If you have an overall pleasant attitude towards your students the vast majority of the time, then they will clearly see that you love being there, and specifically, being with them.
And when you are having a rough day, you can nicely let them know that too.  Don't take it out on them by being irritated by everything they do, even though it IS all irritating you.  But maybe let them know you are having a hard time today and "we are going to get through this together."  They will appreciate the teamwork aspect.  And they will respect you for being human.
2.  Give your students enough control over their work that they can feel accomplished.
It would be super easy spending class time teaching about everything and passing along information.  But your students will retain very little of that, even if they are taking notes.
Allowing people to take ownership of what they are doing promotes pride of ownership.  And that includes kids.  Everybody likes the feeling of having something that can be their project.  They get to work out the logistics.  And then they get to see the results of their planning and effort.
With a little bit of guidance along the way, they can have the satisfaction of a job well done and growth in their knowledge set.  And you were able to fill in the lesson plans with productivity that they learned that will be of value for the rest of their lives.
3.  Allow students to master their work.
Sometimes it is really hard when we have a book that we are supposed to get through by the end of the year.  But the concepts aren't getting learned fast enough.  The teacher's frustration level rises as they feel the pressure to get things done that aren't getting done.
At the same time you are feeling that pressure, the students that are having a hard time are feeling the pressure of lessons that are mounting as they are struggling to keep up with the concepts and move on to new ones.
While this is painful for everyone involved, the quickest way forward is to take a pause from progressing with the lesson plans and concentrate on the difficult concepts.
There will be some students that already knew it and some that picked it up quickly.  And for those, you will need to alternate activities that can help them concentrate on other projects or readings that they can be doing.  Or even some well-deserved free time.
Why We Need to Help Them Catch up Now
Taking the time to get the rest of the kids up to par on those difficult subjects will not only put their minds at rest.  But they will have the excitement of having got the difficult concept.  It is not  unusual for those kids to be jumping and dancing around upon getting it.
The icing on the cake:  they are ready and willing to move on to the next concept.
The long term benefits of this is that you are teaching them to stick with a job until it is done satisfactorily.  And you are teaching them that there are rewards for getting to that point.
On the other hand, trying to push through has pretty detrimental effects.  The students feel rushed and then cannot concentrate on the lesson at hand.  And moving on before they understand what is already being done just makes them fall further behind.  That is a recipe for disaster.  They will be defeated and give up.
4.  Celebrate successes.
Everybody who has read my blog for any length of time knows I like to party with the kids.  It can be a day long party or a 5 minute party.
But the bottom line is that my students all knew that I loved to party too.  And they figured it out very quickly.
So did that turn my class into a class that didn't get anything done because we were just fooling around all day?  Nope!  It turned us into a super productive class because they knew at the end of every accomplishment was a celebration.
I know that it seems counterproductive at first, but I promise you will get so much more done when they have something awesome to look forward to rather than the next academic thing.
Where the Parties Came From
The way I found this out was during my homeschool years.  Homeschooling schedules are a lot more flexible.  We can catch up when we need and we can tutor up to where we belong quite quickly in a pinch.  But once we had fallen behind because I had a baby and moved from New York to Virginia all at the same time.
My kids were frustrated once they got behind.  So in order to get them going again, I said we would have a party at the end of the week if they did what they needed to.  And they did it.  They also reminded me about that party every step of the way.
After that week, my kids started bargaining more parties and trips to Busch Gardens if they got their work done.  And I was super happy to oblige, because I was partying too.
Not only did we catch up that semester, the kids ended up finishing ahead of schedule.
I later learned that the motivation that worked so well with my kids works really well with everybody else's kids too.  And that is how parties in my class became a regular thing.
But Wait, There's More!
It doesn't have to be a party.  Use what speaks to your kids.  Time outside, an extra field trip to a favorite place in town, free time at the end of the day, an impromptu dance party.  This can literally be just about any fun event you can think of.
And you can even get suggestions from your students.  I am sure they would love to help you come up with some ideas.
5.  Be quick to encourage them when they fail.
Everybody fails.  And as teachers we know it.  We have failed so many times.  But we have gotten through it and our successes have been sweeter for it.
Abraham Lincoln ran for various offices 8 times and lost before finally winning a race to the Legislature.  He went on to win his only race for the Presidency, and then won the race for re-election.
Thomas Edison's teachers told him he was too stupid to learn anything.  Then he was fired from his first couple of jobs because he wasn't "productive enough."  He made over 1,000 unsuccessful attempts at making the light bulb before finally succeeding.  His take on this was that it took 1,00 steps to get there.
Dr. Seuss was rejected by 27 publishers before finally getting his first book published in 1937.
There are infinite examples of other people who were what we would consider to be wildly successful.  We don't tend to focus much on that, but on the success itself.
These are great things to share with our middle schoolers.  How inspirational it could be to talk about these things with them and then engage them in conversation about how we can turn their current failure around and make it a success!
6.  Be open to their suggestions.
Middle schoolers are full of ideas.  And they are quick to share them.
And granted, some of those ideas can be pretty cringy!  But some of them are really good ideas.
And as far as the cringy ideas go, most of them probably wouldn't be so bad with a few tweaks.
Learning to guide your students' thinking in ways that they find encouraging and not like you are just discounting everything is a powerful tool.  And it is something that will excite them and help them to make better decision-making skills down the road and for life.
That is a better lesson than any school book lesson they can learn!
When you take their suggestions and help them run with them, you are actually giving them great confidence that they will need as adults.  Great decision making with the confidence to stand by your decision is a pretty important concept throughout all of life.
7.  Survey your students.
Surveying your students a few times a year is a great tool.  It is good for you to get the specific answers to questions you have about them.  When you do it anonymously, the kids will have the confidence to answer honestly.  And you are able to understand the ins and outs of your class so much better.
There are tons of survey options online.  Survey monkey is a great option if you have specific questions that you want answered.  There are also a lot of surveys online that are ready for you to just print and hand out if you don't want to start from scratch.  Just google the topic of your survey and see what pops up.  If nothing quite works for you, then you can use Survey Monkey.  Btw, this is not af affiliate link.  I am not getting paid to mention their name and I won't get compensated for any business you do with them.
Of course, you can also just print up the survey yourself if you know what you want to ask and already have a specific goal in mind.  Sorting out 25 or so surveys is not terribly difficult to do by hand.
As a side note,  your students will have a good time with the survey because it allows them to speak and be heard.  And they will have fun feeling like they have contributed to something important.  Middle school is a huge time of starting to test your relevance in the world.  And the earlier we start helping to do that with them, the better footing they will have as they grow.  This has the potential to totally turn around a bad classroom culture and turn it into a wonderful one.
8.  Teach students vocabulary that allows them to accurately evaluate and express themselves.
This is actually one of my most fun activities with the students.  It is pretty easy to do.  I had a bulletin board that would have a small poster (a decorated 8 1/2 by 11 sheet of paper with the vocabulary word and definition on it).  I put that mini-poster in the center of a fairly small bulletin board and then let the students write  notes about the word around it.  It could literally be anything related to the word.  They could write about an experience they had with whatever that word is about.  For instance, if the word is confidence, they could write a note about an experience that they had that gave them a boost in confidence.  Or they could even share when their confidence was shaken.  Just make sure to follow up with them on how they would adjust that shaken confidence moving forward.
As you get through the words throughout the year, you will give your kids so many little mini-lessons on great character and how to use it to become a strong adult.  But you will be doing it through their eyes and their experience.  There is no better teacher than experience and putting it into the correct perspective.
The benefits to this are numerous.  The kids get to share parts of themselves and you get to know them so much more.  You get material to teach without having to research and prepare more lesson plans around it.  And it makes for great conversation between classes or other activities or while waiting for the next thing, whatever that may be.  It is also a great end of the day reflection as the kids are packing up and preparing to go home.  What a great way to end the day–thinking about growth in character!  This is the heart of classroom culture.
9.  Watch your students' body language.
This may be one of the most important ways to improve your classroom culture.  Even though middle schoolers tend to wear their hearts on their sleeves, there may be some things they aren't so eager to share with anybody.
And even if you have made every attempt to make your classroom a safe place for them to talk about their lives and issues, there may be some things that are just to painful or hard to bring up.
And finally, there are always going to be a couple of students who are just so closed off that you are never going to get them to open up to you easily.
For those times that it is difficult for your students to come to you, reading their body language is key.  You will be able to see it in their eyes, their posture, them fiddling with their pencil or other objects.  They could be fidgeting or unable to sit still when normally it is not a problem.  There are actually many different ways that their unease can manifest.  As you get to know your students, as long as you are paying attention, you will pick it up pretty quickly.
Don't let those moments pass by.  Find a spare minute in the day and ask them how they are doing and if everything is okay.  But don't force them.  Just make sure they know you are there and you are available.  That is the best–that they know that you are there and engaged.
10.  Be aware of your own emotional condition at any given moment.
This is one of the best ways to affect your classroom culture for good.  But it may also be the hardest way.
I am generally too busy with my list of a million things to do.   How am I supposed to have time to evaluate how my emotions are affecting life in the classroom when there is barely enough to get everything done that we need to?
There are some great workarounds to this.  There certainly isn't enough time to sit down and evaluate where my emotions are.  But upon periodically visiting my mood swings and how they generally affect life  around me, I can definitely adjust how I react in certain situations based on how I am feeling at the moment and how I should be feeling and handling those things.
What I realized is that the more I do this, the more I can nearly instantly catalog how I am feeling and what I need to do to adjust if at all.
And keeping a conscious effort to be positive in the classroom helps.  I would keep lots of little posters with good sayings around them room, more for me than my students.  But they definitely benefited the students as well!  I also kept inspirational Bible verses that were helpful in many strategic locations–on my desk, on my phone, on decorations that I bought.  There are literally a ton of things to do this with.
One of my favorite ideas was to put a larger inspirational poster on the door so that we would see it on our way out of the classroom.  Inspiration to go!
Being emotionally healthy will make this very hard step way easier, though.  There are tons of ways to do that.  Self care is probably the biggest thing you can do because it is preventive rather than reactive.
Conclusion
So this is my list of ten ways that you can improve and enjoy your classroom culture.  You all live with each other all day 5 days a week–make it fun and full of life!  And make sure your students know that you care way beyond what they learn in the next lesson.
Sources:
Richardson Independent School District, 2013-2014 Elementary Student Satisfaction and Engagement Survey
Baltimore County Public Schools, Stakeholders Satisfaction Survey Results
Related Articles:
For more articles related to creating a positive classroom culture, check out the following:
How to Choose Perfect Middle School Art Projects
Best Indoor Recess Ideas:  Unique Classroom Ideas
How to Hook Your Students Instantly:  The Anticipatory Set