More often than not, curriculum plans that teachers get are very academic, and for good reason.  But middle school teachers know that if their daily routine only includes academics, it will take about one hour on the very first day of school to lose most of the students' attention.
So based on this knowledge, what have I learned through research and many years of working with children regarding classroom reading and the creative activities that go with it?  Creative reading activities ALWAYS trump learning by only reading and doing work and/or homework.  But your class should still be reading together! I believe that it is necessary to read together to develop lifelong readers. Together these two things form a perfect learning environment for your students.
So how do you figure out what special creative reading activities to do that reinforce learning and don't just feel like random time-wasters in your day?  There are several different ways, but I will just talk about six of them here.
1.  What is the Book Talking About?
The absolute first thing you can do is what actually makes your book come alive.  You simply draw from what the characters are doing or saying in the portion of the book you are reading at the time.  So if they are talking about a certain game, you play it.  If they are talking about a certain food, you make it and eat it.  If there is a battle, middle schoolers especially would love to recreate that battle scene.  Whether you are doing that battle scene with your students, a computer game, or even a giant army man regiment, the point will be driven home.  And the kids will love what seems like a rabbit trail, even though you realize it plays an important part of the day's lesson.  As a bonus thought, this battle idea actually works even better with history lessons!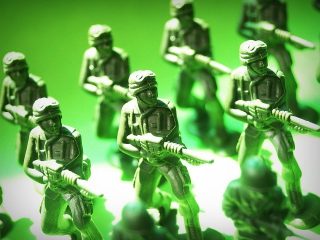 Your options in this point are only as limited as the books you are reading with your class.  You will have a whole world (or multiple worlds actually) at your fingertips!
Before we move to the next point, here is a printable chart to help you organize and balance your own reading activities.  It also gives you two additional spaces to add your own favorite activities.  Feel free to print and use as it benefits your classroom.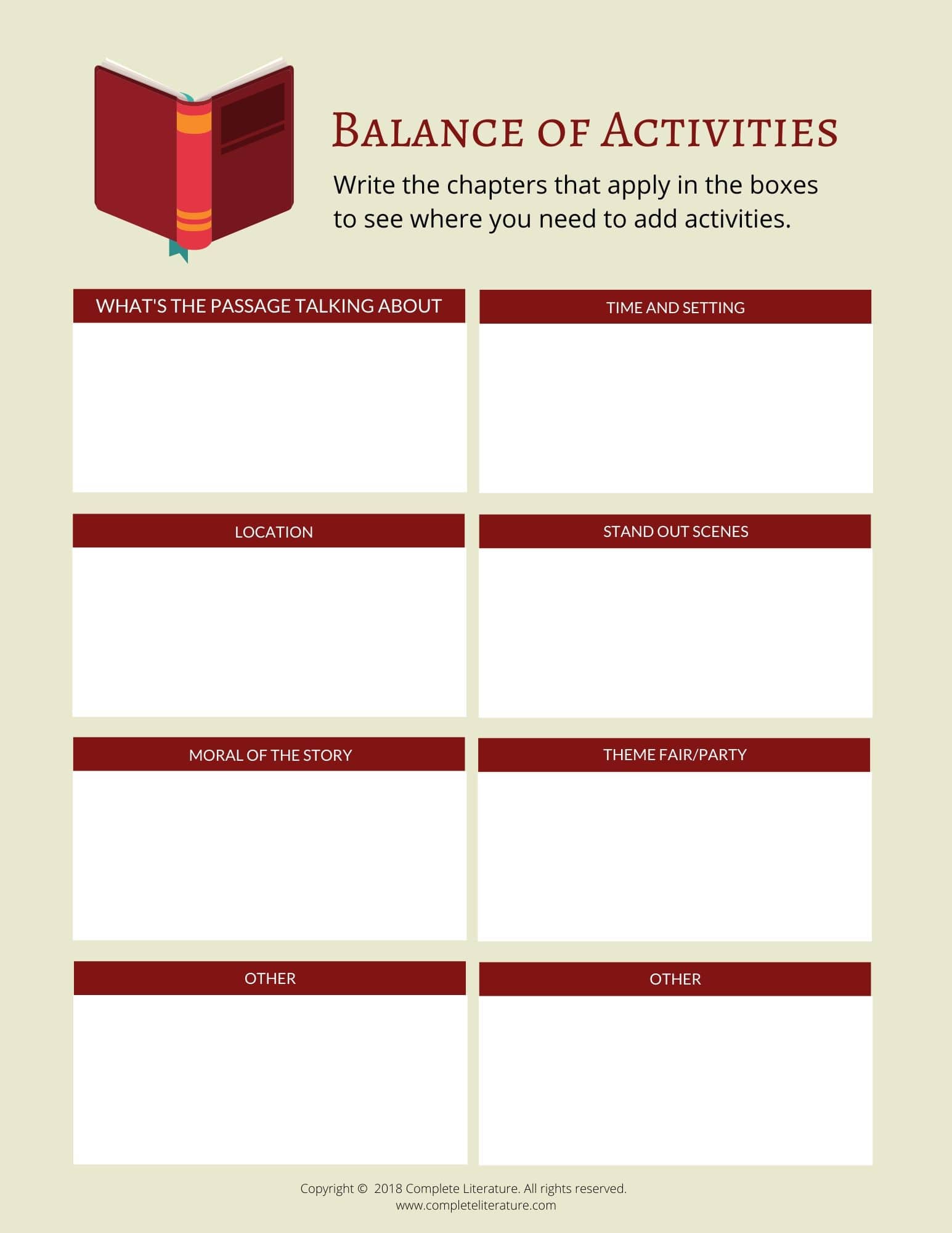 2.  What was Important or Popular in the Time and Setting of the Book?
This is a perfect time to focus on what life is like in different cultures and time periods.  And you are doing it in a way that is not boring your students to tears!
An example of this could be decor for your classroom in the style of what you find in your reading. You could draw from the cultural themes of the book's setting. Or you could use specific items that you find described in the book.   This activity could be done as a crafting time or just as something that you own or buy and incorporate into the classroom.  And when you do that, it opens the door for discussion with a physical prop that allows the students to take in what you and the book are talking about.
It could also be an activity that the book recounted that you are able to reproduce in the classroom.  A party in a different country or time period will look very different from a modern day classroom party.
Also, games that children have played throughout history are very similar yet incredibly different than many games being played today.  For instance, P.E. class on different methods of playing ball throughout history would be fun and immensely educational for the kids.
These ideas can get you started, but your possibilities are pretty huge.
Again, this also incorporates very nicely into history lessons.  If you had a book that was writing about a time period or location that you are also working on in your history lessons, the tie in is amazing and the retention of the students increases exponentially!  Admittedly, this does take some planning, but it is well worth it.
3.  Building Learning with Location
Where did the events in the book take place?  I know I am stating the obvious a bit here, but if there is a local place that the book or author comes from or talks about, then surely add that to the list of things to do.  But what if it is on the other side of the world?  Is there a local museum or other educational venue that features that book's location?  It could be a perfect time for that field trip.
Or maybe it is a place that you can reproduce in miniature in your classroom.  Miniatures fascinate just about everyone.  What a great way to give the students a very visual example of what a place looked like in almost real life!  An added benefit to miniatures is that the students can see a whole lot more of the big picture without it being as overwhelming as being "on location."
4.  Emphasizing  Scenes that Stand Out
Most books have specific events in them that stand out in the readers' minds more so than others.  So capitalize on not just the event, but also the lesson that can be learned from that event.
You can re-enact that event with your students.  Let students that want to directly participate take on roles from the book.  Have the rest of the students participate from the sidelines.  That could look like them evaluating the event as either individuals or groups.  You could make some of the students journalists interviewing spectators.  And you could also have a student play a newscaster, who then summarizes the details of the event after you are done re-enacting it and interviewing.  This is such great review for everyone to do it this way!
This only touched on a couple of suggestions.  There really are nearly infinite ways you can do this step.
Regardless of the activity you structure for your class, to take a scene in a book that already stands out and then capitalize on it in this way will make lifelong memories for those students.
5. Reflecting on the Moral of the Story
Most books, fiction or non-fiction, have some sort of moral or lesson tied to them.  Some are overt and some are very subtle.  But since all books pretty much reflect life, this allows for the reader to draw some great life lessons from just about any book.
There are some great things you could do with these "life lessons."  You can make classroom posters for the students to decorate.  Or you could make and decorate a poster yourself for inspiration and then let them make their own posters to take home.  Middle schoolers are generally not short on creativity, so this is a perfect time for this sort of activity.  And while they are doing this project, you can discuss how the moral of the story played out in the lives of the book characters and how it applies to them.
6.  Create a Theme Fair
At the end of the book you are working on, you could have a mini-fair with several "booths" (desks lined  up around the room work perfectly for this).  You can have students work individually or in pairs or teams.  They take a theme from the book that stood out to them and then can demonstrate it in some tangible way for their booth display.
You can add as much or as little structure to this as you want.  Let students pick what they want to do (especially good for the more creative students) but also have a list of ideas for the less creative.  You can also have a display table of one that you do so that the students have a good example to draw from.
Give them a designated amount of time to work on it and then have a fair day.  Make sure to add some special snacks to the fair at a food table–you can't go to a fair without food!
Conclusion
I know that for a lot of you who have been reading my blog, coming up with creative reading activities is not a new concept here.  Most of my planning articles are about how to maintain variety while saving as much time as possible and reaching all of the kids all of the time.  (Or as much as is humanly possible!)
That is a super tall order, and where things can get pretty tricky.  And it is a concept that can never be successful all the time.  But it is something that develops over the course of the year you have with your students.  And it really does reinvent the traditional classroom in some pretty awesome ways.  It takes seemingly non-academic activities and uses those activities to reinforce the academics.   And that huge difference will stay with them long after they graduate from your class and move on.
For another great article that will hopefully answer any questions you still have and give you more information on some of the best ways to add variety and life to your classroom, click here. 
Related Questions
What are some good independent reading activities?  Some good independent reading activities are crossword puzzles which help with vocabulary and spelling,  writing a small paragraph reiterating or related to the passage they just read, or drawing a picture of the vision that came to them as they read the passage.
What are some good reading activities for struggling readers?  Some reading activities for struggling readers are frequent review of a particular sound until they can remember it easily; and reading with them slightly below their level so they can continue to pick up patterns they have learned and get comfortable with them, and with moving on to new sounds.