When you look online to see how students feel about educational technology, you will find all kinds of articles and information about whether or not it is effective, ways to implement it, and what the newest trends are.
What seems to be missing is what the students are feeling and saying about this thing that has literally changed the face of education for several years now.
So how do students feel about educational technology?  They love it!  The vast majority of students have been using technology almost since birth and cannot imagine life, let alone education, without it.  But they also talk about some drawbacks they have experienced with educational technology.  
In this article, I will talk about what students love about educational technology as well as what they don't love about it.  And then I will finish by talking about what trends they think are on the horizon with educational technology and how they think it will affect their education personally.
I would like to emphasize before we begin, however, that this article is not going to cover the strengths and weaknesses of educational technology.  (For some articles covering these topics, I have left some links at the bottom of this article.) It will just be covering how students feel about it and how they feel it affects their education.
What Students Love About Educational Technology
Let me begin by sharing this graphic with you explaining what students believe educational technology can do for them.  It is based on a survey done by McGraw Hill.  You can access the whole survey article on their website by clicking here.
Also note:  It was college students that were surveyed, so this material is a bit different than what I generally cover on Complete Literature.  But I am pretty confident that the answers would be very similar with younger school-age students.
In addition to this survey, I also personally interviewed several college students.  The purpose of those interviews was to get their opinion on the information I had gathered from the survey.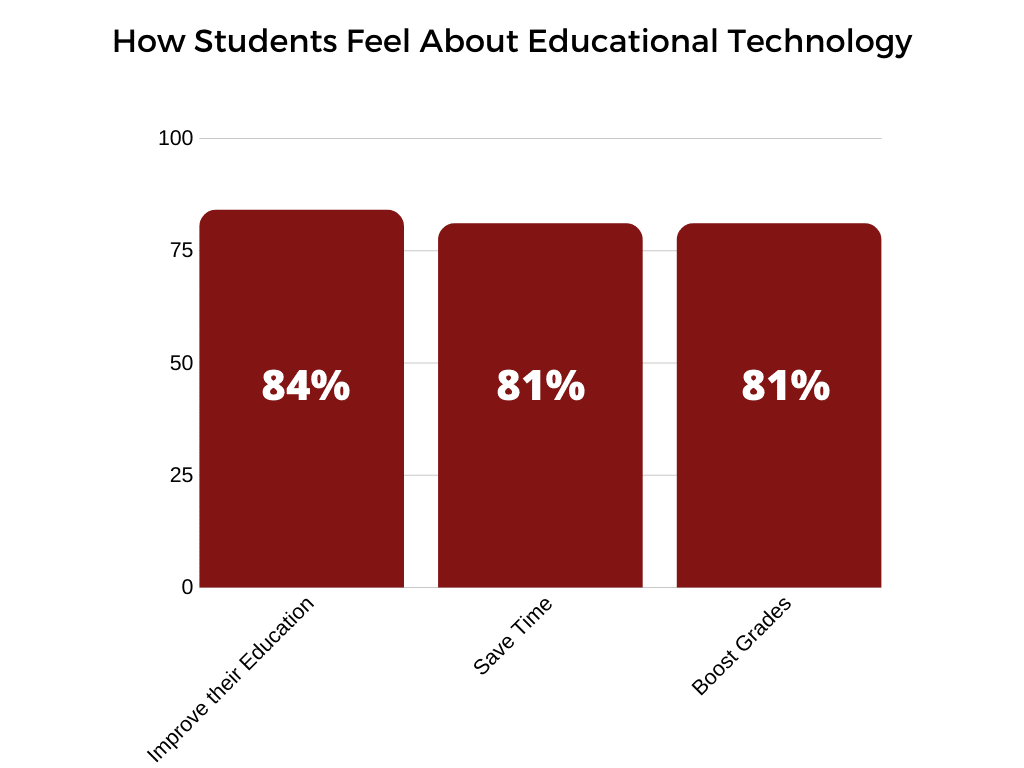 These results are not surprising, especially considering the fact that most students today have been exposed to and using technology almost since birth.  They really can't imagine any part of their life without it.  And certainly they can see the benefits of using technology in every part of their life.
Students Believe it Improves Their Education
The reason so many believe it improves their education?  Because they believe that they literally have the world at their fingertips.  There is almost no information that they can't get online, usually with just a Google search.
They also love that they are not restricted to the classroom during their scheduled class to learn.  Students can learn at any time that it is convenient for them This allows them much more available time to study.
They love that they can study across multiple digital platforms.  Doing so allows for flexibility in materials as well as more material available.
The students surveyed also expressed that they loved that they could learn on the platforms that worked well with their learning style.  They believed that this helped them to learn more material faster. And because of this they were able to learn according to their educational strengths.
And finally, they loved that most of the time digital learning over time was more affordable than buying physical books.  Many books at the university level are very cost prohibitive.
What Students Don't Love About Educational Technology
When asked what the drawbacks to educational technology were, students were quick to answer with several great points.
The number one drawback that students talked about was distraction.  Almost universally, they said that they would visit at least 2-3 other websites before finally going to the one that they were using to study.  While they all recognized that as a top issue, very few said they planned to do anything to stop it.
Another disadvantage that students talked about was power outages or other occurrences that caused them to lose internet connectivity.  Many expressed concern that it caused them to not get assignments turned in on time.  (Personal note:  there was not any info in the report that talked about how long they procrastinated.)  Most said it was not a big problem.  They could go get a snack or do something else until they could get back to their online studies.
Many talked about the lack of social interaction when they were getting most of their education with technology.  Most of the students said that they made intentional movements toward more social activities to make up for this.
How Students Believe Educational Technology Will Affect Their Future Education
We all know that educational technology is not going anywhere.  There are new things being created every day that will blow all of our minds.  But what do students see as the future of their education accompanied by technology?
Many talked about the desire to have online classes similar to what already exists, but where all of the students could interact on-screen instead of in forum-type media.
Similar to that, some students talked about the ability to tune into a live class. Then if they had to miss because of illness or other reasons that they could not physically show up they wouldn't miss the class.  And they wouldn't have to worry about finding the time to make it up later.
There was one top benefit that students mentioned regarding educational technology in their future. It was their ability to continue to learn after they finish school.  There will always be resources to find and more resources coming available.  They basically considered it education for life.
And they expressed that this newer way of keeping up with information in their field of study was more economical than attending seminars and courses to further their education post-degree.  While they still expressed the value of attending those types of events, they said they would not need to do it as much if they could find the same or similar content online.  They also talked about the ability to get reports after seminars that they had not attended.
Conclusion
At then end of the day, we know that technology is going to remain a strong presence in classrooms worldwide.  And that is a good thing.  It is preparing our students to be productive adults in a world filled with technology.
It is a good thing that the students of today have embraced it so naturally, in spite of many drawbacks to technology.
So maybe a good focus going forward can be on how to make technology work best for all of us.  It is a great dialog to have!  And it's a great way to bridge the "communication gap" between generations.  Who knows, maybe the thing that has been blamed for removing personal life and interaction from our students today can actually be used to bring us all back together again!
I have one final thought.  The most interesting (in a humorous way) fact that came out is this:  100% of the students still use paper and pencil.  And 100% plan to continue to that throughout the rest of their education.  There is no substitute for some things in the classroom!
A Couple of Post-Conclusion Final Thoughts!
I also have to say that I love how candid they were when talking about this. They were great about what they loved as well as what they struggled with in dealing with educational technology.  With that kind of openness they will make even greater strides as they continue to work on their education and life of technology.
What are your thoughts regarding educational technology?  Do you think things are going in the right direction?  If not, what direction would you like to see?  Feel free to comment below!
To read more of my information on Technology in the classroom, click to read this two-part series:
How to Take Advantage of Tech in the Classroom