School systems have come a long way from "reading, writing, and 'rithmetic" over the years.  The days of teachers standing in front of the classroom writing facts on the board for students to copy and then study for the next test are over.  Not that teachers aren't writing on the board and kids taking notes is over--sorry kids!  But that is no longer the primary means of learning in the classroom.
In fact, the classrooms of today have more resources and variety than any classroom in history.  We have such an amazing opportunity today.  The world is literally at our fingertips.  Ongoing technological advances and research on classroom behavior and skills has forever changed  education.
And this is good news.  Because the truth is that no matter how good the material the teacher is teaching, if (s)he isn't delivering it in a way that engages the students, then they aren't going to learn it well enough to apply it to their life.
So how does inquiry-based learning fit into this fact?  Better yet, what is inquiry-based learning and why will your students love it?  Inquiry-based learning is the process whereby the teacher presents the students with material.  The students then take that material and evaluate it, ask questions about it, and learn and share what they have learned after sorting out what is right and what is wrong based on their research.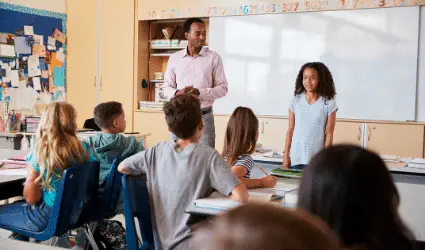 What Makes Students Love This Method So Much?
And why will your students love this?  Because they are in control of their learning and knowledge base.  And they will love that they are being given the tools to get out there and learn in their own style and experience.  And that is why their engagement level will skyrocket when using inquiry based learning.
I have used inquiry based learning for many years--long before I even knew there was a name for it.  So doing research on this subject was actually fun for me to do while comparing notes on how I had implemented it in the past.
Based on what I have learned and experienced, I would like to share with you the benefits of inquiry-based learning, some drawbacks, and some reports on the effectiveness of it in the classroom experience.
What Inquiry-based Learning Is
Inquiry-based learning is introducing a subject to your students, who then enter a dialog with you about what they may or may not already know about the subject matter.  They can also express what they have wondered or wanted to know about it as well.
Allowing this class-wide dialog helps the students to hear from each other what their experience is regarding the subject.  This is learning in relationship, which is so much more productive than just reading or hearing facts.
This discussion then can end with the students deciding what direction they plan to take their research and hunt for answers in.  Note taking would be a great idea in this stage.
Next they will do the research necessary and put it together before finally reporting what they have learned.
Inquiry-based learning allows the student to feel like they are an expert.  And that is the most wonderful feeling, especially for younger students.  It is the feeling that gives them the power to reproduce that feeling in future studies, whether in school or in life.
What Inquiry-Based Learning is Not
Inquiry-based learning is not the teacher asking pointed questions to get a particular answer.  The point of this type of education is the student being guided to find the correct answer on his/her own, not for the teacher to guide them toward the answer itself.
But it is also not an open-ended research program, where the students are on their own and have to figure it all out without any support.  Students will definitely need help on being pointed to the right resources.  But once they find those resources and know how to use them well, they will be ready to run.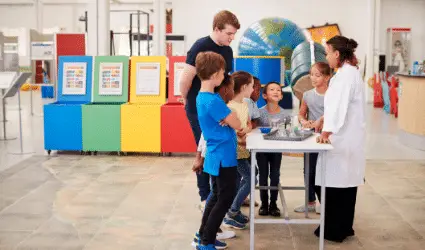 The Four Steps of Inquiry-based Learning
First, let me note that before the four steps are implemented, the teacher does introduce the subject.  There are some great ways to do that.  (S)he can briefly talk about what the subject is and a couple of notable things about it.
Then (s)he will turn the session over to the students as a whole to discuss what any of the students already know about it.  The students will actually enjoy this part of the process because it allows them to be a part of the conversation and feel relevant.  And it is at this point that the 4 steps of inquiry-based learning take over.  They are as follows:
Formulate questions
Gather information and resources
Organize relevant information into a complete report
Report on completed research/answered questions
Let's go ahead and take a closer look at each of these steps.
Formulate Questions
This could be the hardest part for the students because it is a foundation point without having a specific direction forward.  But once they start brainstorming the ideas will start flowing nicely.
That's actually one of the advantages of classroom discussion.  Some of the students will already have pictures and thoughts in their heads.  And when they communicate those, it allows other students to take it and run.
The types of questions the students can produce can be literally just about anything.  But here are some of the best ones:
What do I already know?
What do I want to know?
What do I want this information/project to do?
What resources am I going to us to find out what I need to know?
What other students/team members already have the answers to some of these questions?
You could have these questions displayed somewhere or easily available for your smart board so the students will have a guide without you controlling exactly what they need to be doing.
Gather Information and Resources
Once they have their preliminary questions figured out, it is time to start looking into the resources they planned to use.
This is yet another aspect to this method that will allow students to help each other out based on their past experiences.  Students can talk about what their favorite forms of research are.  And many times you will find some incredibly creative ideas here.
Another thing you can do is introduce new resources to the students.  That can be done at the introduction of the class or it could be done at any time and in any other class that the resource would fit into.  Allowing them to learn one new resource on a regular basis would have them so incredibly well-equipped by the end of the school year.
The key here is helping them to find which resources are valid for their issue/problem/project.  While you don't want to tell them directly which resources to use, it is good to enter into the dialog with them to help pick out the best ones.
Having a growing list of resources visible somewhere in the classroom will be a super awesome helper to the students.
Organize Relevant Information into a Complete Report
This part could be difficult for some students no matter how much they have been through the process.  Organizing random material into a cohesive whole is hard for younger students to do.  And for this reason, the middle school teacher may have to be more involved in this process than in older grades.
It is still an incredibly valuable exercise for your students to be doing.  As they get older and process this information more often, they will catch on sooner than later.
Some questions they may want to look at regarding this section are as follows:
Which resources answer the question I sought out to answer?
Is there a process here that the resources describe?  Do they have to be in a certain order?
Which resources did not answer the question and need to be left out of the report?
Feel free to encourage any other questions or reflections the students come up with as they evaluate and put their information together for their report.
Report on Completed Research/Answered Questions
This step is the least work intensive of the whole process.  That is because all of the research and discovery has already been done. Now they are just maybe making a couple of practice runs before actually giving their report of what they have learned.
You can allow them to use their notes if they haven't had a lot of time to prepare or are early in this process of learning.  Or you could have them give the report from memory.  You can always ask questions based on their knowledge to help the process along.
At this stage, the job is more about sharing what they have researched, discovered, and learned than how perfectly they can give a presentation.
Also, the report can take many different forms.  It can be simply an oral report, an experiment, a case study, a project, a display...anything that allows the student to demonstrate what they have learned.
This step will be some students' favorite and other students' nemesis.  Of course, this part depends on how introverted/extroverted your students are.
It may be better to have the students that want to report before the whole class go ahead.  But for the students that aren't so eager, they can either do it in groups of three or five, or whatever number works comfortably for your class.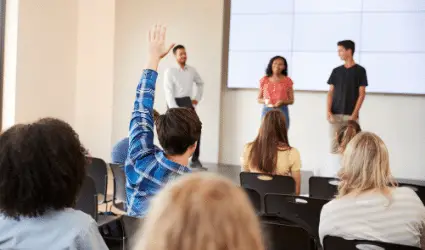 Advantages of Inquiry-based Learning
There are actually so many more benefits than I can touch on in this limited article.  The best advantages you will hear will be the students who return years later to tell you what it did for them in the years following their time with you.  Here are a few advantages to get you started though.
Reinforces What Students are Learning
We know from studies that everybody learns better when more of the senses are utilized.  And in this case, there is so much additional activity going on.  Students are hearing questions and existing knowledge from other students in discussion time.  They are seeing materials in different forms:  books, videos, experiments, field trips, interviews, etc.. Then they are seeing the work completed through various activities:  oral reports, more videos produced by fellow students, art projects, science experiments, displays, and just about anything the students can dream up.
This elevates learning so much farther beyond the exchange of facts.
Deeper Thinking Skills That Will Be Useful Inside and Outside of the Classroom
By assisting students in taking ownership of their own learning process, you teach them to take command of anything that they will learn from here on.  They are learning what resources to use, how to find information, how to organize it, and how to communicate it to others once they have learned it.  There are a lot of adults walking around that have not learned these skills yet!  You are preparing your students to have an incredible advantage in life!
Eliminates Boredom as Students are Able to Exercise More Control Over Their Own Learning
Students aren't checking out of the process mentally because it's their baby.  Instead, they are excited to see where it's going to go and what they are going to do with it.  And the excitement continues as they see it take form and they see success in their thought processes and activities.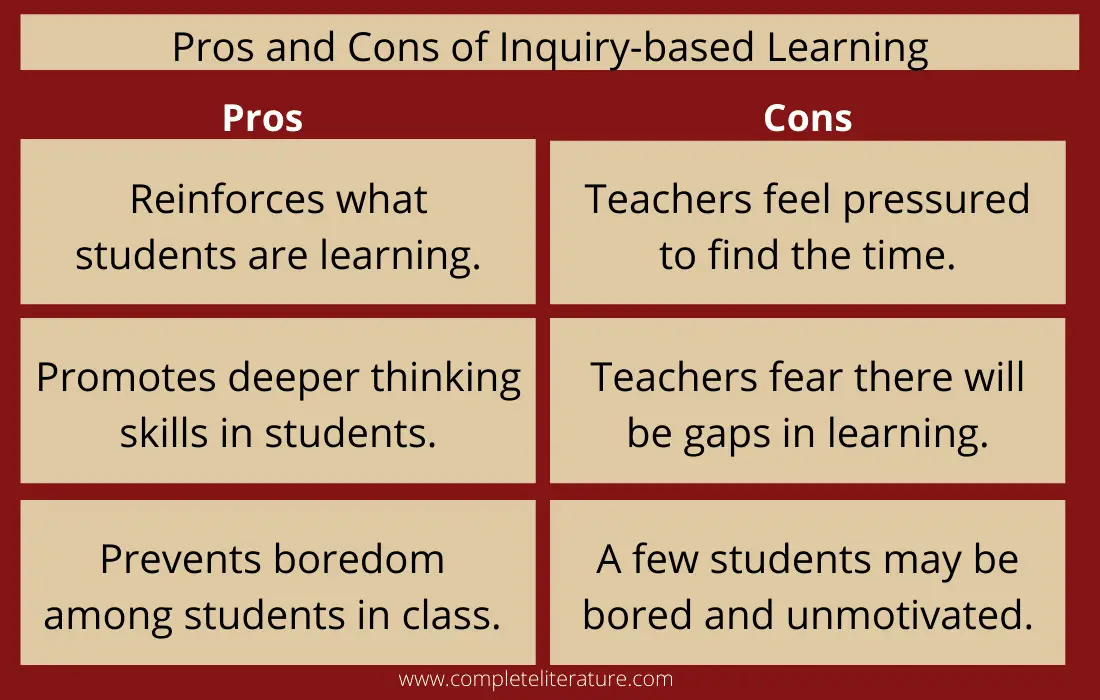 Disadvantages of Inquiry-based Learning
Just like anything under the sun, everything has its pros and cons.  And there are a few disadvantages here, although certainly not as many as you will see in the advantage column.  I listed the most major ones.
It Can Take More Time Than Just Communicating Facts
It will take a significant amount of time to move through all the steps, especially if the concept is a larger one.  But if you were teaching a larger concept on the board, you would still be spending significant time reviewing and reiterating things that the class doesn't yet understand.
This process can take more time, but you will be spending way less time reviewing the concepts with your students.  And they will be learning the material and remembering it long after the "test" is over.
Teachers Can Be Fearful That the "Right Facts" Aren't Going to be Learned
Sometimes it is hard to give up control of exactly what is going into the minds of the children.  You want them to learn things well and learn the right facts.  And sometimes students will veer off the path as they are trying to get to the goal of adequate knowledge in the field you are working in.
But as long as the research materials are acceptable and during discussion time you are able to eliminate the wrong information (a good part of the process is sorting through the information), then it really isn't going to happen that way.  And in the even that things somehow fall through the cracks, it makes excellent discussion in the reporting phase.
It's all covered, but it's covered as living life more than taking in facts.
Some Students Won't Embrace the Process
This is true.  Some students will drag their feet.  And there will be a few students that just will not be motivated no matter what you do.  But this is something that you cannot do a thing about.  And I guarantee you will have a significantly larger number of those students that are choosing not to learn while you are standing at the board teaching while they are taking notes.
Here is a really cute (and short) video talking about what inquiry-based learning looks like:
Conclusion
So this is what inquiry-based learning looks like in the classroom.  And honestly, the middle school classroom is probably the perfect age to introduce it.  Your students will be pleasantly surprised that they get to take charge of something.  This is especially true because they are still so used to being told everything to do and don't get to make many of their own decisions.
One Final Thought
I do want to make one thing clear.  I have mentioned teachers teaching from the board while students take notes several times in a less than perfect light in this article.  But that does not mean that I don't see the value in it.  There is great value in it and teachers will still be exercising this method every single day.
But allowing the students to be involved in the process and including them in other aspects of their learning will grab their attention overall in the classroom--even when you are standing at the board and they are taking notes.
Resource:
Usually I have a hard time finding the resources I need to look into a particular topic.  But in this case, there were so many excellent go-to books on inquiry-based learning.  I ended up settling on this one and I am so glad I did!  I may have judged the book by its cover, but the rest of the book did not disappoint either!  It also was very affordable.  So anyway,  here it is:
It's a super quick read but packed with lots of great information that will help you implement the strategies into your class immediately.  I hope to do a review of it soon.
Let me know how this inquiry-based learning has worked out in your classroom, or any other thoughts you have regarding inquiry-based education in the comment section below!
If you liked this article, I think you will also like these other articles:
What is Universal Design for Learning?
The Madeline Hunter Lesson Plan:  Should We Still Be Using It?
Problem-based Learning:  Boosting Your Students' Success in the Real World