We've all been there.  No matter how hard we are trying to rein in an unruly classroom, nothing seems to work.  And then, the principal, another teacher, or someone just as important, walks by your classroom.  And hears everything.   You feel like a total failure.  And you just want to fall into a hole in the earth.
While this scenario is a nightmare in every teacher's life, there are strategies to prevent this.  But those strategies happen long before the nightmare scenario happens.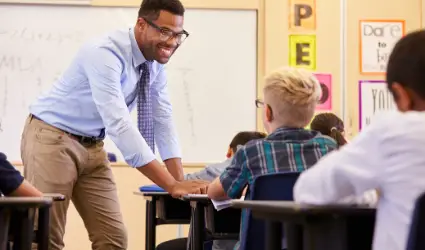 So, what are the best classroom management strategies for middle school?  I thought about the things that worked well in my own classes and did some research to back up what other teachers found effective in their classrooms.  With that research, I came up with these 8 classroom management strategies for middle school that will help you make your classroom a place to look forward to spending time in rather than a difficult job that nobody wants to do.
Let's take a look at each one of the best classroom management strategies more closely.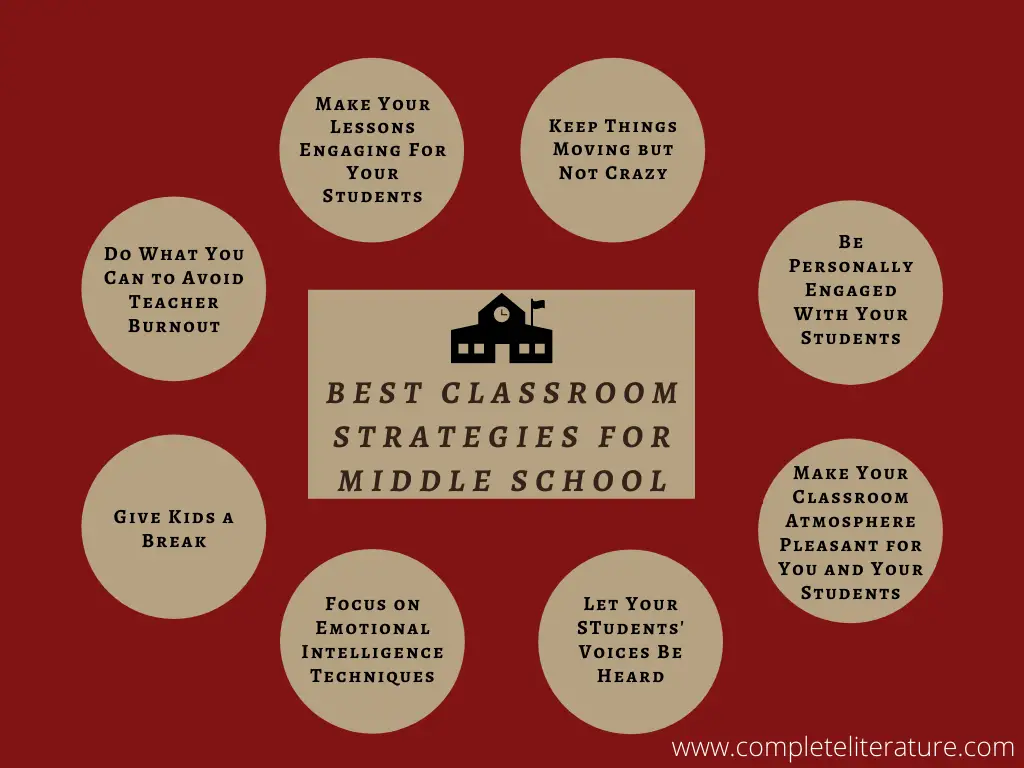 Make Your Lessons Engaging for Your Students
I know this one sounds really obvious on the surface, but I'm thinking that we go a little deeper.  Rather than we think about what we THINK are engaging activities, we think about what we know our students love.  And then we try to figure out how to fit those things practically into our lessons.
This will take some extra time in brainstorming when we first try to do it.  And it will also take a bit more time at the beginning of the school year when you are still trying to get to know your students.  But as you get further along, you will be surprised at how quickly you are able to implement this into your lesson planning.
And your students will recognize what you are doing–and appreciate it–almost every time.  As middle schoolers, many of them will be quick to let them know that "they see what you did there."  And not only will you feel good about what you did, but also that you made their day a little bit brighter too.
Keep Things Moving But Not Crazy
From the time kids are in preschool, teachers are told to keep things moving.  If you stop for a second, you will lose control of your classroom.  And the understanding is that with each year that the students age, they will need just a little bit less of "keeping things moving."
While this is true to a degree, it isn't completely true.  In the same vein of work smarter, not harder, we can keep things moving without keeping them at a breakneck pace.
This is sort of an extension of the last point, because what it really comes down to is engaging your students with activities that they love to do.  If you are doing something they love and including it in your academics, not only will they be learning more, they will also be enjoying the projects they are doing.  And instead of being eager to move to the next activity, they will instead be eager to keep working on what they are doing.
One of the best parts of this point is that as a teacher, you won't have to plan as much activity if you are planning activities that your students are enjoying.
On the flip side, keeping all of your students deeply engaged with one particular activity isn't going to happen.  Girls may love to spend hours coloring an elaborate page, but boys would rather be doing more hands on activities.
This is easily solved with differentiation.  The key is to plan a couple or few activities that reach the vast majority if not all of your class.  And then personally engage with the students that my not have the same level of attention span as the rest of the class.
Be Personally Engaged with Your Students
It always pays off to plan engaging lessons for your students.  But even more importantly, your students need to see you personally engaging with them.  Make sure to spend at least a couple of minutes daily with each student.  Ask them pointed questions that show them you care about their day to day life, dreams, aspirations, thoughts.  Ask them questions like:
What was your most and least favorite part of (some activity you just did)?
What would you have done with this if you were the teacher?
If you did this activity at home, how would it have been different?
If you were the main character in this book, what  would you be like/do/think?
Even bigger than being able to start a conversation with your students, be available to hear them when they speak to you.  I get that this can be difficult sometimes when you have ten middle schoolers trying to talk to you at the same time.  But take note of who is trying to speak.  Then do your best to go back to them sooner than later.  This takes a huge amount of attention for you.  And it is very hard.  But it is also very rewarding.
Be THAT Person
Finally, make yourself approachable.  Use language that is encouraging and invites them to engage freely with you.  And when you are having a rough day, be honest with your students about it.  We are all human.  And we all have rough days.
But you don't want your students to think that they are the reason for your bad day (even if they are).  The more transparent you are with them about your humanity, the more they will feel comfortable being human around you.
This will ultimately allow your students to see you as someone that they can share things in confidence with.  Your students need more of that in their lives.  You don't know how many or how few of them have someone that they can speak to freely, even at home.  So being that person for them is a huge deal.
Make Your Classroom Atmosphere Pleasant for You and Your Students
School classrooms tend to be so busy, both in activity and decor.  While we have generally thought that kids like that busy and brightly colored atmosphere, I am not sure they prefer it to a more pleasing to-the-eye atmosphere.
A study  released in 2013 says that 76% of students perceived that classroom physical environment needs to be improved.
So what if we decorated classrooms more along the line of home or even sophisticated office decor?  So many studies have been done as to the best ways to decorate our home to exude peace and comfort.  If we could do that with our classrooms, what do you think the emotional benefit of the teachers AND students would be?
There are already a lot of classrooms doing this.  You can see tons of them on Pinterest.  Here are a few inspiring ones:
Also, you want to have at least one or two quiet places that your students can go to in your classroom so they can unwind if necessary.  Or a place they can go to as a reward.  Reading or activity corners are amazing.
One of the hardest things for teachers to do is declutter.  There are papers and teaching tools everywhere.  So huge kudos to the teachers that have done such an amazing job making their classroom look and feel like a haven!
Let Your Students' Voices be Heard
One of the best classroom management strategies to let your students know that you are listening to them and eager to hear what they have to say is through surveys with follow up discussion.
There is an awesome series of surveys that was put together by a group of students.  The name of the website is What Kids Can Do and the group that put together a large number of surveys was called Students as Allies.
You can take a look at the surveys here and use them as they are or tweak them to fit your specific needs.
What I love about these surveys is that the very specific questions lead students as well as teachers to reflect on the culture of their classroom and how well students and teachers are coexisting with each other as a whole.  There are questions regarding students getting along with each other as well as with faculty, with satisfaction and perceived needs of students, and satisfaction and perceived needs of teachers.
One thing that always comes out in these types of surveys is how far apart the perceptions of students and faculty is.  And these are great things to spend some time on so that those perceptions can become more accurate on both sides.
The Benefits
The students will enjoy doing these surveys because they realize that someone is interested in what they think.  But what makes this exercise infinitely more valuable is the dialog that happens afterward.
Spending time with your students discussing these results proves that you actually do care about what they have to say.  And you being able to focus on specific questions from the surveys allows students to focus on techniques that will help them to grow as responsible citizens.  You will see immediate improvement in the classroom as they test out these new waters.  And what a great way to help them with life skills that will forever help them to function well in society!
Focus on Emotional Intelligence Techniques
Of all of the classroom management strategies I have listed so far, this is the one that has the most importance and biggest place in life as a whole.  What students learn about emotional intelligence in and out of the classroom will easily follow them throughout their life.  And since we don't always know what is being taught in the home, it is even more important that we model and teach it to our students whenever we can.
We may be just about the only emotionally healthy role model some of those students see.  So what if we could inspire them to come out into the world in a powerful and healthy way?
There are countless opportunities to do this with your class on a daily basis.  Here are some examples:
When your students are explaining a difficult situation to you, you can help them work it out using emotionally healthy methods.
When you are teaching them a history or literature lesson that has a story relating a healthy/unhealthy situation, you can have a class discussion on how that could have been handled or was handled well.
You can introduce vocabulary words defining emotionally healthy principles.
You can have a unit on emotionally healthy lifestyle in your health classes.
Infinite Possibilities
There are almost infinite possibilities here.  And these conversations don't have to only happen in the classroom with you teaching.  They can be in the lunch line, in the dismissal line, on the playground,  literally anywhere that you are interacting with students.
I wrote an article a while ago regarding literature books that help teach emotionally healthy principles to your students.  You can access that article here. (Also note that some of the books I feature in that article are free!)
The bottom line here is that emotional health affects every aspect of life and every relationship.  So it is a good thing to teach it in the same way that we experience it–throughout all of life and circumstances.
Give Kids a Break
Many kids have a reason to be acting out (not generally a valid excuse, but still a reason).  They may or may not know what that reason is themselves.  It could be due to tiredness, hunger, overwhelm, boredom, difficulties at home, or a myriad of other underlying issues that could go even deeper.
For the sake of this article, I will only be addressing routine forms of difficulties in the classroom, and not issues that would require the help of a professional.
Some Good Options
So the short of this point is that if your students have some issues that are causing them to lose focus, sometimes the easiest way to diffuse it is just to give them a break.  That can take many forms.  Here are a few:
Free reading
Coloring
Crafting from a crafting station that you keep in some designated place
Writing
Playing a game with another student or two
Playing a video game
Taking the whole class out for an unscheduled recess
Doing an impromptu classroom game (check out this article for some ideas)
Sometimes it actually saves time to take time to remove students from their academics to take a breath and refocus.  And honestly, if you've already lost their attention, no amount of teaching is going to get them back to instantly learning again.
If you've already lost their attention, get it back in a way that they will appreciate and be ready to get back to the task at hand.  They will respond better to you in the long term when they know you aren't just trying to get work done in a tunnel-vision sort of way (something we are all guilty of when we see how little time we have to get so much done!).
Do What You Can to Avoid Teacher Burnout
All teachers experience burnout.  It's a fight to keep it from happening.  And it's always a fight to get through it.
If we are burned out (and sometimes it seems unavoidable) our students pick up on it very quickly.  And honestly, toward the end of the school year some of them are burned out too.
Here is a list of some of the things we can do to prevent and/or combat it:
See a doctor
Recruit a student helper
Take back some time every day
Switch things up
Confide in someone who understands
I have an article that addresses all of these things.  You can access it here.
Here are some of the best resources available to help you deal with teacher burnout:
Conclusion
So these are the best classroom management strategies for middle school.  But at the end of the day, we are working with other people.  We don't always know what other struggles they are having in life that can affect their behavior in negative ways.
And for this reason, we can't guarantee that you can follow a formula that will  magically make all of your students perfectly well behaved.  We have off days ourselves.  So our students will too.  And being an engaged and understanding teacher can go along way to mitigate this.
So while these classroom management strategies will  not guarantee you a problem free classroom 100% of the time, they will make your classroom and students much easier to work with the vast majority of the time.
Here is a super short but awesome video that gives a few more ideas that are perfect for finding the best classroom management strategies for middle school:

What classroom management strategies have you used that worked well for your classroom?  Please feel free to share in the comments below!
If you liked this article, I think you will like these articles as well:
10 Perfect Picture Books That Teach Middle Schoolers Emotional Intelligence:  Some are Free!
Conflict Resolution in the Middle School Classroom