The 5e lesson plan is a very student-centric learning program. that was developed by the Biological Sciences Curriculum Study in 1987.  The philosophy behind it maintains that students learn much better when adding experience to their knowledge.
For those of you that have read my blog, you know that I am all about experiential learning and using the senses to maximize learning.  So the 5e lesson plan goes hand in hand with a lot of the lesson planning material that you will find on Complete Literature.
So what is the 5e lesson plan and how can you use it to improve the quality of life in your classroom?  In this article, we will break down the 5 e's of lesson planning (engage, explore, explain, elaborate, and evaluate).  Then we'll see how they relate to one another through the process of lesson planning.  Finally, you will be able to use these methods to improve the quality of life of your classroom.
While the 5e lesson plan model was originally formulated to cover science lesson plans, I found that it easily translates to every other subject as well.
Click here for a study that was done to show the effectiveness of the program.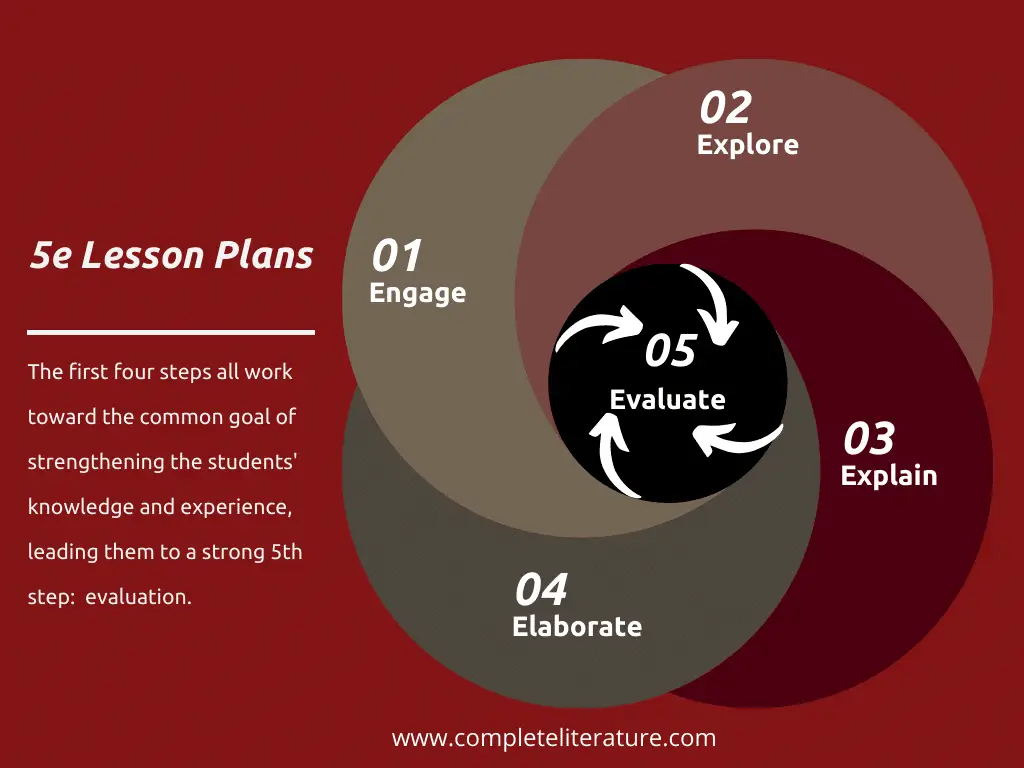 Engage

The purpose of the engagement stage of the 5e lesson plan is to conduct a quick activity that will immediately cause the students to draw them into the learning process.  We want them to be exciting about what they are learning.  Yep, even the "boring" stuff can become fun when we present it in creative ways.
What you want to think of here is the anticipatory set.  You can read more about this by clicking here to access my article about anticipatory sets.
The activities that you choose to do to grab your students' attention need to be pretty short, no longer than 5-10 minutes.  Some great examples are:
Video introducing the subject
Short Game
Display with items relevant to the subject
Short story related to the subject
Quiz game
KWL chart
Role playing
Short interview with someone in the field
Related food
Remember the goal of this is to introduce the day's or week's lesson in a way that excites your students.  As long as it fits into a short period of time, you can do just about anything that is fun and related to the subject at the same time.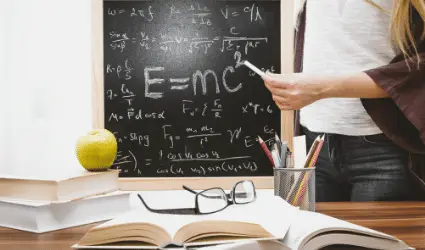 Explore

Now that your students are excited about what you have for them to learn about today, the next step in the 5e lesson plan is for them to explore the subject and learn new things about it.
Once again, the more hands on you make this, the better the students will retain the information.  Having an open class discussion is one of my favorite ways to do this.  First, I capitalize on what the students already know by asking pointed questions.  Then we start taking that knowledge and building on it.  That can take many forms:
Experiments
Art Projects
Shared readings
Videos
Extended interviews or visits with relevant people
It is important that the projects are done before class discussion so that during the discussion time you can fill in any gaps that were not covered.  It also allows them to process the information better when there are tactile aspects to their lesson.
Explain

This is one of my favorite parts of the 5e lesson plan.  I love seeing the students start to recognize what they have learned based on the projects and instruction they have already received.
One of my favorite ways to do this is to have all of the students pick an index card that has a question or action item on it.  Then I divide them into several groups.  Each group helps all of the other members to process what is on their card.  Then I have them present what they have learned in their groups up front.  The owners of the cards do the presenting after the small groups have worked through them all.
Students, especially in middle school, love the freedom of presenting what they have learned in their own style.  And this activity makes them comfortable with getting up in front of the class and making presentations.  Having their small group up there with them while they present also makes them feel less on the spot.  This will be helpful for your more introverted students and help them to come out of their shell just a little bit more.
Elaborate

The elaborate phase of the 5e lesson plan uses the information that the students have already showed mastery of to now build even further on their knowledge.  This would be an even more in-depth activity.  So it could start with some lecture but build quickly into a more hands-on approach.  Once again, classroom discussion works well here because it allows the students to draw from what they have learned. Now they start making conclusions based on what they are learning and how they are able to put all the pieces together.
The strength that the students learn from this activity is so valuable in helping them to see the power of lifelong learning.  And it takes the pressure of the teacher to teach facts to a test.  It also allows the students to take pride in their ability to stretch themselves academically.
You could also add case studies here for students to be able to see how what they have learned is applied.  This can be in any form you can come up with.  Some suggestions are:
Video
Craft
Experiment
Game
You will want this project to be different than what you have already done.  So if you have already done a video or experiment, go with a craft or game.  Not only does the variety keep your students engaged, it also reaches more students' favorite activities.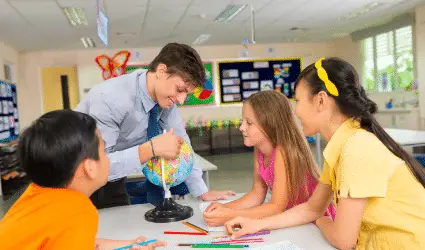 Evaluate

There is a lot of freedom in the evaluation stage of the 5e lesson plan.  You can do a formal written test if that is what your school requires.  Or you can do evaluations based on the knowledge displayed by the students during their presentations and other activities.  Both methods have advantages.  Formal testing helps them in academia because they will be taking tests as long as they are in any school setting.  But evaluations based on performance in the classroom is more of a real-life scenario.
Making your testing a combination of the two makes this the best of two worlds.  And that is only beneficial for your students.  While it is training them in both academic and real world settings, it is also allowing their grades to be better based on whichever method of testing they are stronger in.
Conclusion

So this is the 5e lesson plan in a nutshell.  It works well in nearly any school setting.  And it helps your students learn to function in the classroom as well as in the real world.
How has the 5e lesson plan worked for you?  I would love to hear your experiences with it.  Feel free to comment below.
If you enjoyed this article, I think you will also be interested in the following articles:

Problem-based Learning:  Boost Your Students' Success in the Real World
Why Teachers Hate Lesson Planning and How to Grow to Love It
Eleven Proven Ways to Prevent Boredom in the Classroom, Part 1
Eleven Proven Ways to Prevent Boredom in the Classroom, Part 2