The Madeline Hunter lesson plan has been functioning in schools since the 1970's.  It was very heavily used nationwide throughout the 70's, 80's,  and 90's.
So what made the Madeline Hunter lesson plan so popular and should we still be using it?  Also, what aspects of it caused a lot of controversy?  And finally, what makes it such a popular method to this day?
I did a good amount of research on all of these issues. I learned that because the Madeline Hunter lesson plan was so widely varied in method that it was able to reach far more students than traditional learning methods.  Further, the reinforcement techniques allowed her program to cement concepts in the students' minds much better than other methods. And we should absolutely be using variations of it that work well with our classroom!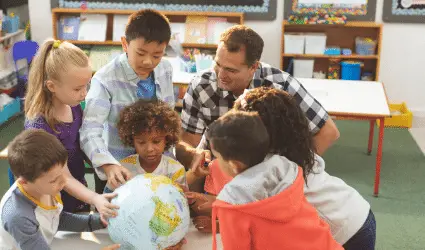 So let's take a look at the Madeline Hunter Lesson plan in depth and find out why it has changed the face of education in America for several decades.  Here is the table of contents:
About Madeline Hunter
Madeline Hunter was a pretty amazing woman and it has been inspirational to follow her life's journey and see what it has done for the education world.  Because of this, she was known as the teachers' teacher.  She was able to inspire teachers to breathe life into their classrooms.  And this, in turn, allowed the students to become excited about the things they were learning.  This process brought about greater engagement, greater retention, and better test scores among the schools that learned and implemented her methods.
Early Life and Education
Madeline Hunter was raised in Canada by two parents that didn't have a fair chance at life but still found great success. Her father was orphaned at the age of 8 and was forced to drop out of school and work.  He became a barber and became so successful that he had several barber shops across Canada.  Her mother was the daughter of a Bohemian nobleman and peasant woman. She had just one sister.
Madeline was an excellent student in her growing up years.  But because she was a sickly child, her family moved from Saskatchewan, Canada to California.
She actually went to UCLA at the age of 16, where she went on to earn 4 degrees in psychology and education.  To say she was highly motivated would be a huge understatement.
Work
Upon graduating from UCLA, she became a psychologist at Children's Hospital and Juvenile Hall.  She became extremely disillusioned with these jobs because she felt there was not enough she could do to help the kids at this stage in their lives.
So she started trying to work at a more grassroots level with the kids.  She took her psychology and education expertise and put it to work as a school psychologist.
In the 1960's she became the principal at University Elementary School, a branch of the education program at UCLA.
After that, she became director of research and then assistant superintendent.  She later worked at the University Elementary School, a branch of the education program at UCLA.  And finally, she became a professor in the College of Education at UCLA.
It was this wide experience with children and school procedure that allowed Madeline to be able to formulate the lesson plan model that has come to help so many other teachers for the next several decades and even heavily influences education today.
There is so much more to her story than I have written here.  If you would like to read more about her remarkable life and story,  this article was absolutely amazing.  So if you get a chance, check it out!
About the Madeline Hunter Lesson Plan
The Madeline Hunter lesson plan is also known as the Instructional Theory Into Practice (ITIP) teaching model or the Hunter Method.  It consists of 7 steps that move the teacher and student through the process of learning, practicing, and evaluating the material to confirm mastery.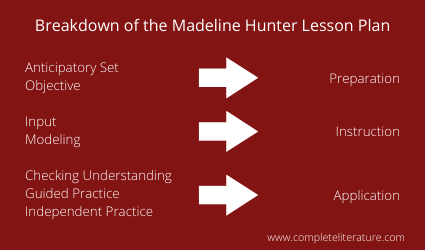 I will briefly explain each of the steps.
Anticipatory Set
This is the first thing that the teacher does to grab the attention of her students.  Thus it must be highly engaging.  But it also needs to be directly related to the material they are about to learn.  It is the first way that they will be able to relate the material they are learning to a memorable experience.
I have an article that I wrote some time ago about the anticipatory set that goes into much more detail than I can here.  You can access it by clicking here.
Lesson Objective
This is where you state to the students the objectives that you are planning to teach them.  You are also welcome to get feedback from the students:  what they already know, what any concerns are, what they want to further learn, etc.
When I say you are stating the objective to the students, think more outside of the box.  There are so many more ways to communicate the lesson objective to your students besides just stating the words.  And most of those alternate methods will be more memorable to your students than just telling them.
For some quick examples, I would suggest role play, short videos (made by you or found elsewhere), or even a presentation by a fellow class member that already has knowledge and experience with your lesson and can clearly communicate the objective.  Your students will enjoy hearing this from someone that is less conventional than the norm.  There are tons of other options, but this list should get you started.
This is also a chance to you to capitalize on what you have learned about your students' academic needs and what will help them to be more prepared to learn.  Explain this to them in terms and background that they understand.  Sometimes we don't think about where our students' minds and knowledge are at.  This makes it harder for them to comprehend what you are saying.
And always leave room for questions, even though it feels like there just isn't enough time.  In the long run, addressing issues now will save you way more time than missing issues now and having to backtrack later.
Input
This is where you are giving the students most of the information they are going to learn in this lesson.  Generally speaking, you don't want this to be a lecture.  You want it to be a discussion, allowing the kids to let the light bulb come one.
Feel free to use videos, games, class-wide research, small group research, or virtually any project you want to introduce these concepts.
You have so many options here.  But what you really want to do is the activities that speak the loudest to the students you have in your classroom right now.
That will help you to deliver this message much more quickly, again saving more time in the long run.  And keep in mind that this is the material that you want to expand the most.  It is okay to have lengthy discussions or resources here.  And whatever you are building in this step will be reinforced even more in the next step, modeling.
Modeling
This step capitalizes on the fact that now that you have taught the lesson, you want to show the students how the concept actually works.  So the modeling step will be using the concept that you have taught in action.  If possible, show it in more than one light.  That way students who may not have understood one way can catch it with the second way.  Plus they will love the variety!
You will probably want to spend more time on this step than the others. It is the practical knowledge that they will remember and retain the most.
One of the things Madeline taught regarding this step is to watch for signals that your students are understanding/not understanding the material.  Some good ways to do this are to watch your students body language, expression, and especially their eyes.  You will pick up what they are thinking very quickly!
Checking Understanding
One of the things Madeline taught regarding this step is to watch for signals that your students are understanding/not understanding the material.  One way is to ask some basic questions and ask for a thumbs up or down answer from the whole class.  Add a thumbs sideways for students who aren't sure of their answer.
You can also have all students answer at the same time so that nobody feels called out or on the spot.  And you can quickly scan the room to make sure everybody understands enough to move on.
Ms. Hunter had so many other suggestions on ways to make this step easily functional for teachers to be able to gauge a large class.  And this was one of my favorite steps because it was cool to be able to see the students visibly making connections in such easy-to-implement ways.  This step will be life-changing for your classroom!
Guided Practice
This is the step where students start making this their own work.  They are now putting their knowledge to work and learning to master the material in a practical way.
This is done in the classroom so the teacher can guide the students back to the right way if they start veering.  Gentleness in the guidance is the way to go.  And it is this gentleness that Ms. Hunter elaborates on.  This is where her psychology education and personal history meet in order to meet the social emotional needs of all of the students.  And it is poetry in motion when done well!
The key here is that as the teacher, you are now taking a back seat role so the students can start working on their own and discovering their ownership of their new knowledge.
When the students have mastered this step, they will be eager to get to the last step because it shows that they are now ready to fly on their own.
Independent Practice
You can perform this step in many ways.  It can be an assigned project for each student to do or for pairs or small groups to do.
Or it can take the form of a classroom competition–just split the class in two or more teams (whatever works best for your specific students) and let them duke it out in whatever way you want to organize.  Some suggestions are:
Class game show
Commercial contest (film it!)
Flow chart contest
News report contest
Poetry contest (this will be incredibly hard to judge, so maybe not a competition)
Power Point presentation contest
Show and tell
Socratic conversation
Word wall competition
Of course, you will have to base the project on the material you taught and how it fits with the project.
And you will need to do projects that fit the skill set and interests of your students.
The Good
So what has made the Madeline Hunter lesson plan so popular for nearly 50 years?  Let's go ahead and take a look at both the strengths and the weaknesses so we can see exactly what makes it work so well.
The Strengths
One of the biggest reasons that this method has endured the test of time is that it doesn't matter what grade, teaching style, level of knowledge of the students, socio-economic status, or anything really.  It works for everybody because it draws from each teacher's and student's existing world of knowledge and experience.
Because most of life–no matter where you live it–is a form of education, it doesn't matter where you are coming from.  You are still learning about the world around you as well as the world at large.
And almost any activity you do can be educational as well as fun.  The more the teacher knows his/her students, the easier this will be to implement well into their classroom.
The Freedom
The reason why freedom is considered such a good thing is because the teacher has the freedom to make the experience work for the subjects she is teaching as well as her students.  It is a skeleton outline that lets the teacher fill in the rest to make the body of learning that works the best for her and her students' needs.
Is it time consuming?  It can be, especially the better the activities and topics that they are teaching.  But unfortunately, that is kind of the law of nature.  Anything that is better to do is going to take more of an investment of time.
I think that lack of time is the biggest reason that teachers don't do more than they are already doing.  No teacher wants to do less than they are doing.  And most teachers wish they could have more time and energy to do more with their students.
This lesson plan does help them in this respect because it gives them some specific action steps to take.  And if they already have a list of activities to draw from to put into the lesson plan then it is even easier to plan out and implement.
One other thing that helps to streamline this process is to do the things that the students love to do on a somewhat regular basis.  Just don't do it too much or they will get tired of it and you will have to recreate new activities.  Keep a good rotation going of the things you know they love.  And when you do come across new ideas, feel free to implement them.
The Bad
Although the Madeline Hunter Lesson Plan model has been widely loved and used, there are some teachers and administrators that have come out against it.  I will touch on a few of the biggest concerns that were raised.
The Perceived Problems
Some very vocal critics of the Madeline Hunter lesson plan have claimed that the method was too teacher-centered. They said that because there was a list of items for the teacher to check off that it didn't allow for the creativity of the students to shine through.
Ms. Hunter vigorously denied that this was the case and actually asserted that those who thought this didn't understand her model.  While the Madeline Hunter lesson plan does have 7 steps for teachers to use, it is merely an outline.
Teachers hold responsibility to decide what activities will fill in those 7 steps and how they will work cooperatively with students to have a balanced lesson.  The balanced lesson should have a pretty even mix of teacher instruction and student involvement. That allows the best amount of learning with experience that will cement the lesson in the students' minds.
Also, several schools used the Madeline Hunter method to evaluate teachers' performance.  This became a huge problem because it was never meant to be a form of evaluation for teachers.  It was meant to be inspiration for the classroom.  Ms. Hunter expressed displeasure about this teacher evaluation trend and spoke out against it.
The Bottom Line
While many people claimed that there is no proof that the Madeline Hunter Lesson Plan has improved classroom learning and test scores, Madeline disagrees.  She says that when teachers across the country trained for it and implemented it in their classrooms, they knew what worked and what didn't on a ground level basis.
Experientially, they could see what methods were working better or worse for their students.  And Madeline says that four decades worth of teachers embracing it and tweaking it to their particular classrooms is pretty good proof that it does indeed work amazingly well.
And finally, many times people claimed that the teacher was not effectively teaching the right material based on the Madeline Hunter lesson plan.  In those cases it seemed to be the fault of the teacher for not using the lesson plan activities to drive home the relevant points that needed to be learned.
This model is not about communicating certain facts.  It is about getting the students' attention, teaching them through different methods, and evaluating their level of knowledge before being able to move on to the next lesson.
Ms. Hunter left it in the teachers' control to determine what that looked like in their own classrooms.  That is not a deficiency–it is a strength!  It is actually very unfortunate that this fact has caused so much controversy in such a good lesson planning model.
Conclusion
Madeline Hunter's experience in the psychology and education fields together equipped her to be able to formulate what has become one of the best educational models in the modern school system.
Her accomplishments in education earned her the title of the "teacher's teacher" because of the inspiration she gave to teachers to be able to reach all the students in their classrooms.
And today, classrooms across America champion lesson plans that are heavily influenced by the Madeline Hunter method.  In fact, I would guess that the vast majority of classrooms across America are still using at least a couple of tenets of this method.
But at the end of the day, nothing is perfect.  Everything, no matter how good it is, has flaws.  As teachers, we hold responsibility to do the research and find what works best for our own classrooms.
After researching Madeline Hunter lesson plan model, I feel confident to continue using her program in my classroom settings.  These concepts work well in any school setting–one-on-one tutoring, homeschool, private school, public school, or even clubs with an academic component.
In this article I tried to give you a complete overview of the Madeline Hunter lesson plan model. But it is far from a complete treatment of the subject.  The following book is the best resource I found on the subject that will help you to best implement it in your classroom.
Source:
https://education.stateuniversity.com/pages/2074/Hunter-Madeline-Cheek-1916-1994.html,  Madeline Cheek Hunter (1916-1994)
__________________________________________________
If you liked this article, I think you will like these other related articles:
The 5e Lesson Plan:  Everything You Need to Know About It
How to Hook Your Students Instantly:  The Anticipatory Set
Problem-based Learning:  Boost Your Students' Success in the Real World
How Complete Literature Can Help You to Create an Amazingly Fun Classroom Part 1
How Complete Literature Can Help You to Create an Amazingly Fun Classroom Part 2