I bet just about all of us can think back to a time in school when we were bullied in some way by someone.  As it turns out I was very fortunate in this regard.  I was bullied by one particular person two or three times (while she did behave in bullying ways, I would not consider her to be a bully in general).  But every single time, other people quickly shut her down.
We lived in a small town.  I was a gawky kid with glasses and too poor to wear name brand clothes.  But the majority of other kids at school did not give me a hard time about it.  Life at school was almost like one big huge extended family.
I have since learned that this experience is not necessarily what life in school looks like for many other students.  The bullies do their work, and many times there is nobody around to defend the victim.  Or the people who do see it turn the other way because they don't have the courage to do anything about it.
So what do we do to combat bullying at school?  We can use literature to combat bullying in our schools.  There are countless books for all ages that speak directly to both bullying and the victims of bullying.  
And there are even more books that can teach our students what bullying looks like and how to deal with it, as a bully, a victim, or a bystander.  I would like to talk about some of these books and how you can use them in your classrooms and homes.  I will be focusing mostly on the middle school level, although there is great flexibility in which ages you can work through these books with.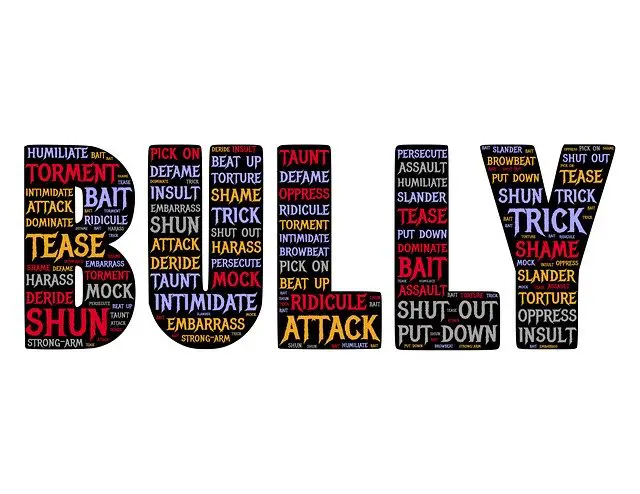 What are the Benefits to Using Literature to Combat Bullying?
Using literature to combat bullying in the classroom as well as outside of the classroom is a great way to help students learn to cope with the issue.
Books that talk directly to the issue of bullying teach them how to work in ways that prevent them from displaying bullying behavior.  And it also helps them learn to defend themselves and others that are being bullied.
On the other hand, reading works of fiction that talk about characters being bullied is also a great tool to help teach kids about bullying, the harm it does, and how to prevent and correct it.
It shows students what bullying looks like in real life, which in turn helps them to recognize and properly deal with it in their own lives.
How to Navigate This Article
I set up this article to first allow the teacher to learn about the problem and gain some insight into solutions with what I have found to be one of the best books available to address this issue.  Then I will give you some suggestions for books that speak directly to the issue of bullying.  Finally, I will give you some great books that contain bullying in them as worked out through the characters.  That will help your students learn to apply what they have learned to real life situations.
So with all that, let's begin!
Just for Teachers (or Any Adults Who Want to Combat Bullying)
Before I begin with some of the best literature choices for students to combat bullying, let me start with what I think has been the best book for adults to clearly understand the ins and outs of bullying among children.  This book was the inspiration for this article.  I hope to do a full review of it soon.
So Confronting Bullying starts out by outlining the problem of bullying.  Roxanne Henkin makes these points regarding bullying:
Over 160,000 American students stay home from school because of fear of bullying.
30 percent of students can be drawn into the cycle of bullying, either as aggressor, victim, or both.
60 percent of former bullies in school have a criminal record by the time  they are 24 years old.
While male bullying is more often outwardly seen, female bullying is just as strong if not stronger (think Mean Girls here).
The bystanders who witness bullying are often very deeply affected as well.
The Solution
She then goes on to offer the following help for teachers and parents:
Tips and suggestions to help you implement anti-bullying lessons in your daily lesson planning.
Several web links that will help give you all the resources you need.
Specific lessons to help get you started.
Finally, Ms. Henkin has compiled a list of 200 books that you can use in your classroom to help you use literature to combat bullying.  She sorts them by topic and theme.  And they are appropriate for all different ages and reading levels.
That list of 200 books alone is more than I can do in this post and makes the purchase of Confronting Bullying very much worth its price and worth your time to read.
One more thing I would like to point out is that even though this book is written with teachers in mind, the information is incredibly valuable for parents as well.  It is a wonderful way to teach your kids emotional maturity and social skills.  And many of the problems at school move to the neighborhood after school hours.
Plus, if you are willing to address this issue with your children in a kind and loving way, they will be willing to reach out to you for help if they find themselves caught up in a bullying situation.
Books That Address Bullying Directly
This book is from American Girl, so you definitely won't want to do this one with your whole class.  You will need to split up the girls and the boys.  But that isn't necessarily a bad thing because bullying behaves differently in boys versus girls.  Therefore, we should feel comfortable treating it differently at times.
Anyway, the reason I love this book so much is because it doesn't just deal with bullying.  It also deals with backstabbing, triangles, mean girl antics, and just social injustices that may or may not be intentional.
The good part of that is not only are girls learning how to combat bullying and bad behavior.  They are also learning how to identify it in themselves and correct it.
One of the best things we can do for our students (boys and girls) is to give them enough social awareness to show them that grace and kindness are so much better qualities to life in the real world.
The Weird Series
This is a series of  books that has been written by two best friends who grew up experiencing bullying and wanted to do something about it for the current generation of children.
The 4 books in the series are:  Nobody, Weird, Tough, and Dare.  They all deal with a different aspect of bullying.
These books are actually targeted at K-4th grade, but the reason I am wholeheartedly recommending them for middle school is because the issues are virtually the same and the illustrations support middle schoolers relating to the material.  In fact, the illustrations are actually MORE appropriate for middle schoolers than elementary school students.  And the length of the reading in each book is perfect for the teacher to address the situation accurately and completely.
The best feature of these books, besides the amazingly good storylines, is that in the back of the book there is a guide for students, teachers and parents.  And there is even a discussion guide included in the back of the book.  These are pretty much the perfect books for combating bullying.
This book makes the list because it is an excellent choice for having a discussion about bullying directly with your students.  It is part of the #movement series.
Also, it's a great choice because it deals specifically with issues of bullying as well as cyberbullying, which could be a bigger issue than physical bullying at this point in time.  It also deals with the fallout of bullying such as school shootings and suicide.
I love that it also talks about efforts from governmental agencies to combat bullying such as Melania Trump's Be Best campaign and The Megan Meier and Tyler Clementi foundations.
And finally, this book is aligned with state standards so it can be easier to implement it into your already established routine.
Novels That Touch on Bullying
Just like Jackie is a touching novel that will allow your students to journey through her difficult life and learn empathy for her situation.  They will come to appreciate how Robbie fights to make things  right in her world.
Boys and girls alike will appreciate this book and you will have tons of material to discuss with your students what doing difficult things looks like.
This is a very different book because it is written in poetic form rather than standard prose.
It is the story of Sam, who is forced to be friends with Davey, and he really doesn't want to disrupt his school social life.
But then he starts spending time with Davey and realizes they have a lot in common and he enjoys spending time with him.
Now he must reconcile his choices with his current social status.  And he soon realizes that sometimes the difficult choice is the better and more rewarding choice.
This book is perfect for middle schoolers.  They are just starting to feel the pressure of popularity and social standing.  And this book will help them put it into proper perspective in light of real world life.
This is one of my favorite books for using literature combat bullying because it has just the right amount of silliness mixed in for middle schoolers.  And it has great truth.
When middle schoolers are in the middle of trying to figure out how the whole social world works, this book empathizes with how big of a deal this feels like when you are in those difficult grades.
Benjie and Ezzie have figured out how to conquer all of the dangers in the world:  getting bitten by a tarantula, shark attacks, and quicksand.  But nothing has prepared them to protect themselves form Marv Hammerman, the biggest and meanest boy  in school.
Your kids will love using humor to talk about a very scary issue for some of them.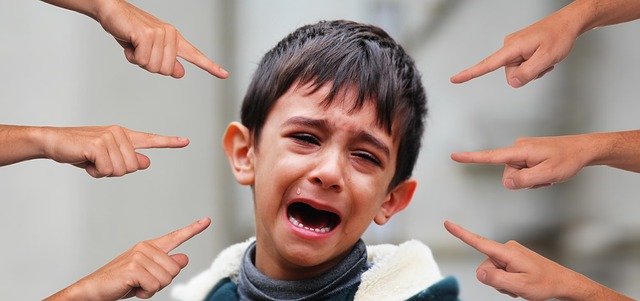 So What Happened?  The Rest of the Story
So what happened with my middle school experience with a bully?  The last time she tried to bully me, we were in homeroom in 6th grade.  The teacher had to leave for a few minutes, and then this girl randomly started saying random things about me to embarrass me in front of the whole class.  I don't remember saying anything at the time because the things she said were all true.  But they were all also out of my control.  That is because I was raised in an abusive house growing up.  And although I hid most of it very well (there were no school counselors back then), some things still came out.
So anyway, she told the class a couple of really embarrassing things, and then my one of my neighbors who was also in the same homeroom as me, spoke up.  He didn't have to.  But he did.  He told her to shut up because I could not help what my mother made me do.  He was my hero that day.  But I don't even remember if I ever thanked him.
A Missed Opportunity
A little over 20 years later, I was back in my hometown and on visit to  my parents house.  I asked about him, and they said he was still at the house across the street.  I thought about going to see him and see how he was doing.  But I got busy and didn't make it over there.
The next day, I was headed back home–a 12-hour drive.  When I got home there was a message on my answering machine.  It was my father telling me that my neighbor friend had died the night before.  He was only 36 years old.
I missed my opportunity to tell him how much I appreciated what he did for me that day.  And he probably never really thought anything of what he did.  But I did.  And I should have told him.
The Moral
So while this post is actually about helping middle schoolers to combat bullying, it could also be about us making sure that when others help us out in bullying situations, we let them know how much we appreciate that they went that extra mile for us.
And as for the bully, she never really bothered me after that.  I would like to think his words allowed her to think about what she was doing and she moved on in healthier relationships with her fellow students.
Here is a video from Dr. Liz Laugeson that speaks about how to help our students or kids handle bullying:
Conclusion
So these are the ways that I have found work really well to use literature to combat bullying in the classroom.
Have you had some experience in this area and found some great ideas that worked for you?  Or is there an experience in your own middle school years that you can share with your students or kids to help them see that they are not alone in their struggle?
I would love to hear about those things–just leave a comment below!
To read more about how to be more encouraging in your classroom or home, check out these other articles:
Conflict Resolution in the Middle School Classroom
10 Perfect Picture Books to Teach Students Emotional Intelligence–Some Are Free!
Classroom Culture:  How Do Your Students Feel?
How to Be Encouraging in the Classroom
How to Identify and Help Students With Eating Disorders:  A Guest Post