Some kids love to do homework.  But most do not.  They spend the whole day in school.  They get home hungry, tired of sitting, studying, and being quiet, and ready to go play with the neighbors or chill and hang out around the house.  Unfortunately, though, homework has become an essential part of life for most students in America, even in elementary school.
So then, if homework is so universal, the next question becomes, how much homework should a 4th grader have?  According to research from multiple sources, the National Education Association and the National PTA both say that the appropriate amount of work for students is 10 minutes for each grade level.  That would mean 40 minutes for a 4th grader.  But what does that look like in reality?  Some parents complain that their students are coming home with hours of homework.  And what studies have been done to corroborate these recommendations?  We are going to take a look at all of this and more.
First, I do want to note that the information regarding these recommendations from both the NEA and National PTA is no longer available and I was not able to find updated guidelines from either site.  Very curious!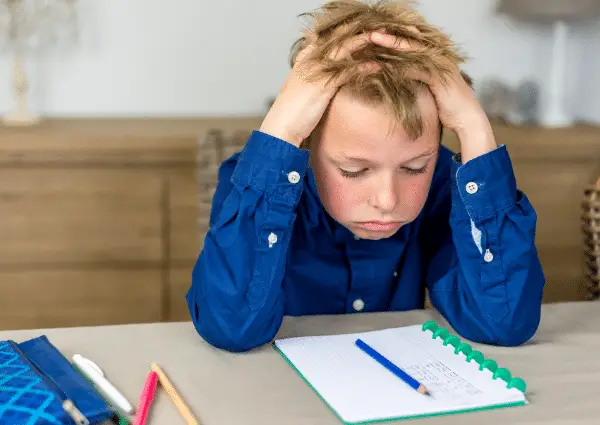 What Do the Experts Say About How Much Homework for 4th Graders?
As I mentioned above, both the NEA and NPTA recommend 10 minutes per grade, which makes a 4th grade homework load around 40 minutes per night.
A survey was conducted in March and April of 2017 by University of Phoenix that sought to find out exactly how much homework teachers were assigning their students.  1,001 full-time teachers were asked how much homework they assign on a weekly basis.  For K-12 teachers, 62 percent said they assigned less than three hours a week.
The survey also reported that 27 percent of the teachers surveyed said they assign one hour or less per week.  All of these figures are in line with parents' expectations that their children should not have more than one hour a day for elementary school.
From Kindergarten to 5th grade specifically, teachers averaged assigning less than 3 hours weekly.
But What Does This Really Mean Regarding Homework Amounts for 4th Graders?
The problem with these figures is that students and parents don't necessarily agree that those figures represent the actual time it takes to do the assigned homework.
First of all, this is an average.  That means that some teachers assign much less homework while others assign much more.  The actual amounts of assigned homework can swing wildly from none to 18 hours a week.
Second, while the teachers may think that the assignment they are giving for homework will only take a certain amount of time, that could be very different for the students.
Some reasons for this would be that a student is having difficulty understanding it–either the concept or the directions for the assignment.  Or the student could just take longer than other students.  One more reason could be that the teacher's estimate of completion was different than it actually took most of the students to complete it.
Third, each student works at their own pace.  Some students will finish a half hour assignment in 10 or 15 minutes, while others may take upwards of an hour.  It is virtually impossible for a teacher to assign a 30-minute assignment that takes exactly 30 minutes for everyone.
Working Through the Differences in Homework Ability for 4th Graders?
So how do we work through those discrepancies?
The first answer is to keep communication open between the teacher and the parents.
Teachers could be assigning homework that a previous class was easily able to finish in the allotted time.  But maybe the current class is not able to do that.  There really is no way for the teacher to know that unless the parents let them know.
These are great things to bring up in teacher parent conferences.  But sometimes, that is too far into the school year.
A better solution would be to send home a quick survey to the parents a couple of weeks after school starts.  Not only does this help the teacher to know which students are doing well with their homework; it also lets them know WHICH students are struggling and HOW they are struggling.  And the sooner the teacher knows that, the sooner these problems can be worked out to make the student more successful sooner.
Having surveys sent home allows the teacher to individualize what each student needs.  This is critical to class-wide success.
Also, keep in mind that homework assignments are likely going to take longer at the beginning of the school year, when students are learning what the expectations of the teacher are.  As the school year progresses and students and teachers get to know each other better, shorter homework times will naturally follow suit.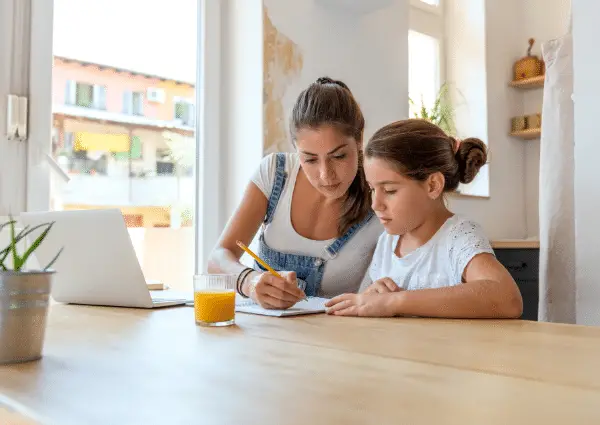 How Much Homework is Too Much for a 4th Grader?
It is very hard to put a specific number on it, but I would say that the 40 minute rule for 4th graders is actually a great standard.  It allows them to get their feet wet in preparing for independent work and deadlines.  But it isn't so long that it is daunting or overly difficult for them to get through.
Much research has been done regarding the amount of homework to give students of all ages.  And while it has proven to be very beneficial in the high school years, the opposite has proven true in the elementary/middle school years.
The reason for this is because of the need in high school to put complex concepts to practice longer in order for the student to actually master the concepts they are learning.  In the younger grades, two other things come to play that make this step in learning not as necessary.
First, younger children's brains have an immense ability to memorize and absorb the information they receive whereas high school students' brains tend more towards analyzing and testing the information they receive.
Second, the concepts they are learning aren't as complicated as the older grades.  So, as a whole they are able to master them much more quickly and easily.
The Effects of Too Much Homework for Younger Students
Interestingly enough, studies showed that younger students who had 90 minutes or more of homework nightly on a regular basis actually started scoring lower on tests–likely because they were simply burned out.
Reasonably speaking, there will be times that a 40-minute homework load will turn into a couple of hours.  Maybe your student is having a hard time focusing (check out my article on whether listening to music while studying can help students focus or distract them!) for whatever reason.  Maybe they aren't feeling well or are feeling too tired to be productive.  It could be any number of reasons.  Parents can help their children to focus better in times that they are having difficulty.  Here is a chart  you can send home that can help out with that: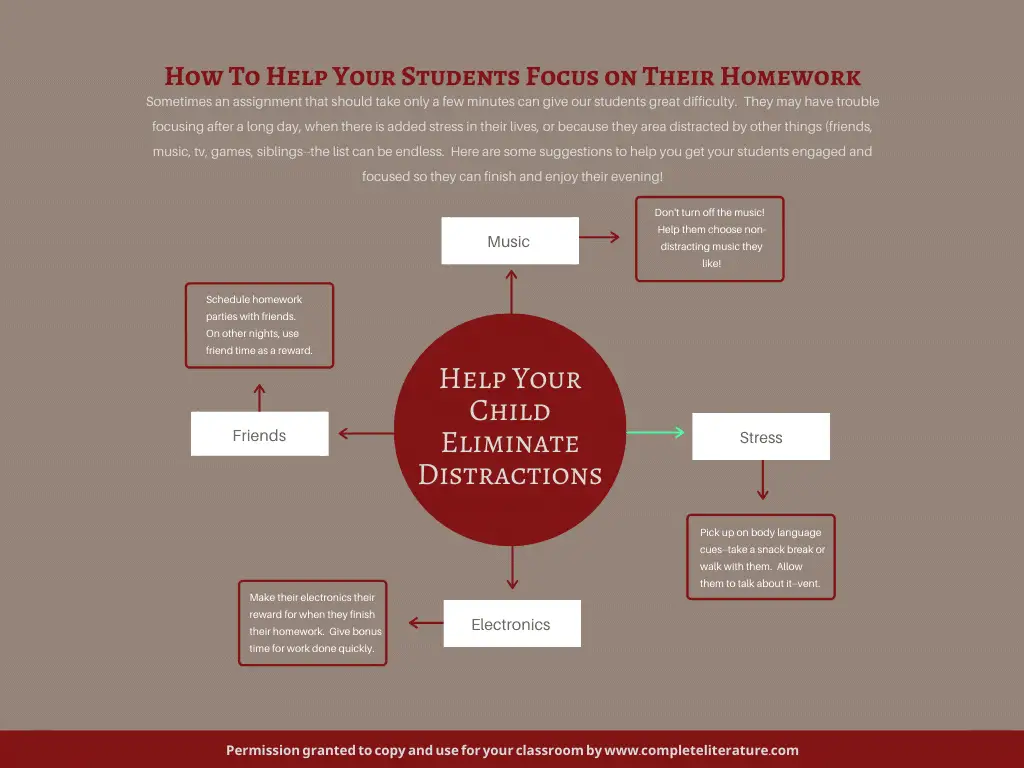 As long as homework isn't taking longer than normal on a regular basis, then your child will be fine with it.
Probably the best test as to whether students are getting too much homework is if they are frustrated by it on a nightly basis.  And if that is the case, more harm is definitely being done than benefit.
What are the Benefits of Giving a 4th Grader Homework?
In figuring out how much homework a 4th grader should have, we should consider what the benefits of doing homework at that age are.
So then, why should we assign homework at all?  Shouldn't teachers try to complete the day's learning during the school day?  Is the reason for homework just to finish what didn't get done during the school day?
While sometimes homework is a matter of finishing what the teacher didn't get done during the day, there are many reasons that it is beneficial to do homework as opposed to work exclusively in the classroom.
Some of the benefits of bringing home some assignments are:
It teaches students independence.
The space in time between the lesson and homework allow the child to absorb what they have learned and then try to put it into practice later.
It can help students learn problem-solving to get through unfamiliar work independently.
Students will gain self confidence as they are able to do their work outside of a classroom setting.
Students can gain a sense of accomplishment for doing something on their own.
There are many more benefits, but these are the most notable ones that benefit students that are in the 4th grade range.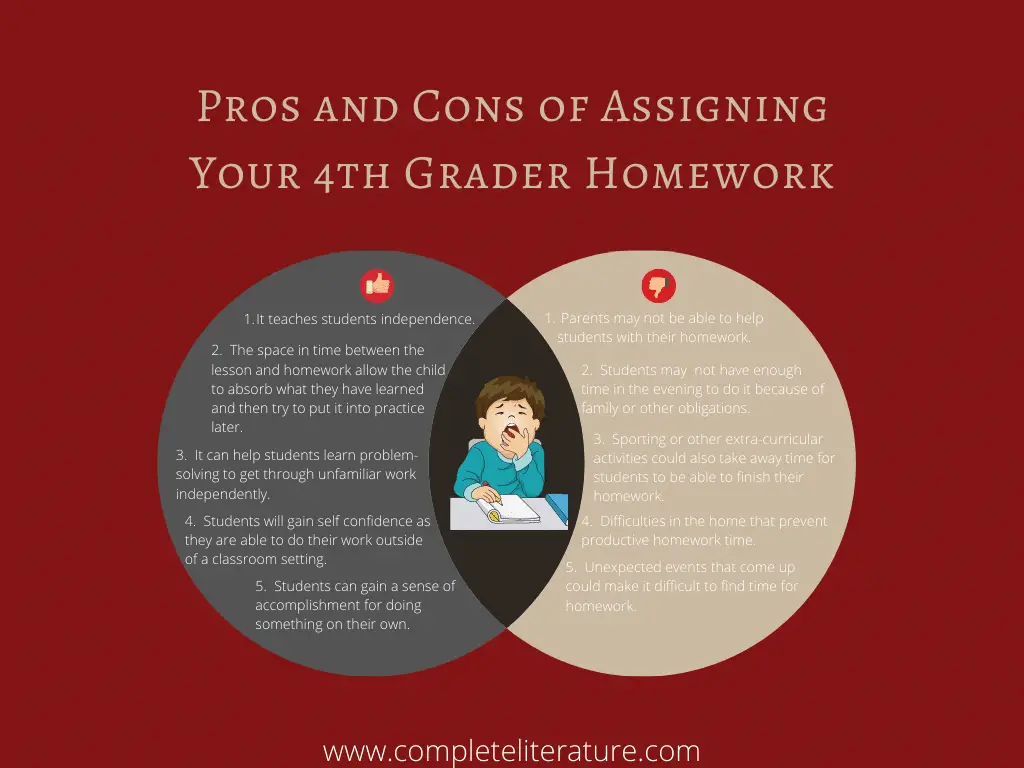 What are the Drawbacks of Giving a 4th Grader Homework?
For as good as the advantages of giving a 4th grader homework are, there are also some disadvantages.  Every yin has its yang, doesn't it?
Here is a brief list of a few of the disadvantages of giving a 4th grader homework:
Parents may not be able to help students with their homework (could be their knowledge level or a time constraint).
Students may  not have enough time in the evening to do it because of family or other obligations.
Sporting or other extra-curricular activities could also take away time for students to be able to finish their homework.
Difficulties in the home that prevent productive homework time.
Unexpected events that come up could make it difficult to find time for homework.
 Honestly, I don't feel they are as numerous or outweigh the advantages, but it is necessary to at least think about them for a moment.  And it is equally necessary to help students that are having difficulty getting their homework done find ways to be able to get to it and be more efficient with it.   That could take some creative ways to accomplish.
Regardless of how this works out, it is important for teachers to help students that are sincerely trying to find better ways to make sure it is accomplished.
What if There was no Homework for 4th Graders?
There are a number of teachers who have decided that their elementary students would have no homework.  Of course, the vast majority of students were happy about this.  And I expect a large number of parents were as well, since it meant one less thing for them to see to on weeknights that are already over-scheduled with life.  But what did the teachers think of it once they implemented it?
Many teachers said that it actually increased the work that their students did at night.  Because they weren't being forced to do specific homework assignments, they were then able to find the time to study and do things that interested them.  And because they were interested in those subjects, they tended to be more eager about spending time on those things.
The biggest key here to things working out that way is for parents to limit screen time to a moderate amount of time.  We as adults realize how easy it is to get sucked down the rabbit hole of the internet and/or games.  It is no different for kids, especially when they have been at school all day and really just want to chill.  Until they are capable of forming their own good habits, as parents we need to be able to help them develop those habits.  And that will take some steadfast work!
Conclusion
So, after looking into how much homework a 4th grader should have, it is pretty clear that there is great value in 4th graders having some homework, but not too much.  Some amount of homework will allow students to learn lifelong study skills that will help them succeed well beyond their school years.  But on the other hand, too much homework can cause students to get burned out, and eventually even cause their grades to fall.
What has your experience been in the classroom and with kids at home?  Did you have difficulties and, if so, what were they?  Spill the tea in the comments below!
If you loved this article, I think you will also love the following articles:
10 Great Tips to Make Homework Fun for 4th Graders
Did My Student Copy and Paste? Here's How to Find Out
How to Teach Students to Summarize the Right Way
Does Listening to Music Help Students Focus?