Most of us don't really think too much about what the specific key components of a lesson plan are in our daily planning.  But for newer teachers, it can be a daunting process.  And for those of us that have done this countless times before, it is always good to have a bit of a refresher.
So I looked online for what different teachers/professionals considered to be the key components of lesson planning.  I found the lists to be remarkably similar, which is a really good thing.
So what are the key components of a lesson plan?  The key components are the ones that allow you to teach your students what they need to learn in the classroom and how it applies to life outside of the classroom.
Lesson planning is done with a goal in mind:  making sure the students learn what they need to.  The results are often drastically different, but the planning process is comfortingly similar.
So let's take a look at 5 of the most significant components of a lesson plan that will help your classroom run more smoothly and your students more fully understand what and why they are learning.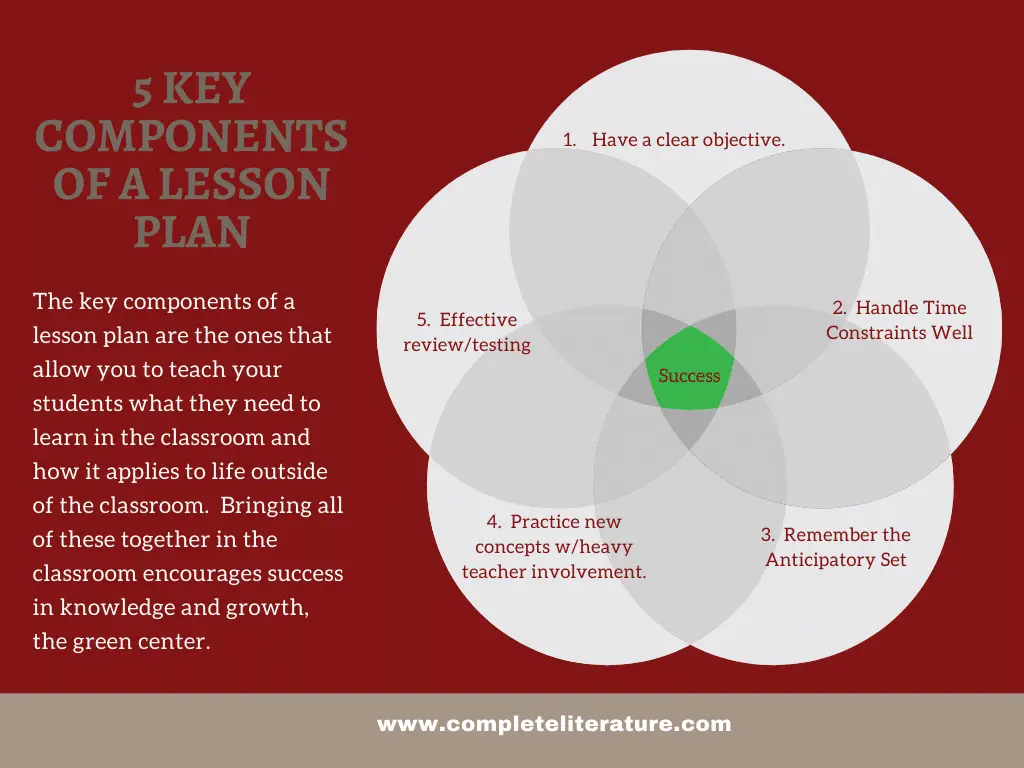 1.  Have A Clear Objective
The first thing you really need to do is to think of the desired end result.  You need to figure out what you need your goal to be.  Then work through to that goal.  Figuring out the number of classes, time in each class, academic vs. extra-curricular activity, and many more factors will affect how you reach your goal.  But unless you know exactly what you want your students to get out of the lessons and activities, you will  not be able to formulate how to get there efficiently.
2.  Learn to Handle Time Constraints Well
This is a huge factor in working out lesson planning, no matter what kind of school you are planning for.
Frequently, you are going to have way too much planned and not nearly enough time to do it in.  Once in a while, you will blaze through the material and have time left over.  For most teachers, that is not a problem because there are always extra activities to do.  And its also not a problem to have too much planned and not enough time to do it in.  It is actually a pretty rare thing to have the timing of the plans work out perfectly.  Just make sure that you front load the things that you really want to get done.
3.  Remember the Anticipatory Set
This gem is not going to be included in all of your lesson plans.  But you should include it almost daily in the item that you would like to most drive home.  It could be a character quality, critical life-lesson, or math concept that they will need later in life.  Literally, it can be whatever you want it to be.  But you want it to be included in lessons for the day that you want to emphasize the most.
So, what is an anticipatory set?  It is an object lesson that points to a concept that you want to teach.  It places emphasis on that concept because it grabs your students' attention.  In fact, the activity that kicks off the anticipatory set is called the "hook" for that reason.
One of the best things about the anticipatory set is that it is an incredibly broad instrument.  And that gives you a liberal brush to work with your class.
An Example of the Anticipatory Set
A great example of how I used anticipatory sets would be to start the class off with a small snack/taste of food that relates to the topic.  As they eat, discuss with the class the aspects of the snack that you want to draw their attention to.  But don't give away the lesson yet!  Keep them in suspense.
The next thing I did was either a physical activity or short game. Those also drove home points for the upcoming lesson.  But still don't give away too much info.  Give them just a bit more than they got during the snack time.
Putting it All Together
I do want to take a minute to discuss the number of activities versus the availability of time.  I was able to do two to three anticipatory sets for my Kids' Club lessons because those were two-hour classes.  For my school classroom, I did not often have the luxury of multiple sets, unless I really felt that they were important enough to take time from another activity during that day that wasn't necessarily as important to do.
You will need to figure out which items will need to take priority based on the goals you are trying to achieve and the time you have to do them in.
Once you have finished the anticipatory set(s), then you are ready to start the lesson.  The students' interest is piqued.  And because you have their attention, you can now draw all of the connections from your previous activities.  As you teach through the lesson, remember to refer back to the anticipatory sets that you used.  It will not only engage your students, it will help them to remember what they learned for a long time.
For more information about this and some information from the Madeline Hunter, who developed and named this concept, click on this  link to her manual.  She has some amazing thoughts regarding work in the classroom and working with your students. 
4.  Practice New Concepts with Heavy Teacher Involvement
This key component of lesson planning actually has two parts.  The first is, of course, having the student put into practice what they learned in the lesson.  That can take almost infinite forms.  Some ideas are:
Classroom discussion with note-taking, either in a journal or a worksheet.
Another small game, maybe even a round of the previous game used in the anticipatory set.  The advantage to this is that it drives home the purpose of the anticipatory set as well as the lesson even more.
A craft that emphasizes the points you learned or theme you are studying.
A science experiment that physically illustrates a point.
A video that reinforces what they just learned.
Once again, the idea here is to link back to everything they have already done.  Theming is king.
The second part of this is direct teacher involvement with the kids.  Rather than being at the front of the classroom with the students listening to you, be among them. Engage them on what they just learned in a cooperative way.  Choose activities that allow them to give feedback to you as you all work through it.  Mutual involvement as you work through the practice of what they have learned helps them to feel more confident in trying out the new concepts.  And as always, it makes them feel like they are acknowledged and cared about.
5.   Effective Review/testing
This step is universally the way most lesson plans end the work of the class.  Classroom discussion is a great way to accomplish this.  The teacher can guide the discussion and allow the students to fill in the gaps with what was covered through the lesson.  Completing with an oral mini-quiz also reinforces exactly what the teacher wanted the students to learn.  It gives the students an idea of what they need to remember.  And it helps the students to feel confident that they learned what they needed to in the class.  It also helps assure the teacher that the students actually did learn what she set out to teach them.
Conclusion
While I only included 5 of the most basic key components of a lesson plan, there are several more components that could be added.
This is merely a guide.  As teachers see their plans forming, inspiration will take over.  And they will know which aspects they want to concentrate on.
The biggest thing they need to remember is to keep it simple.  The more complex it becomes, the harder it will be to implement and keep track of.
What are some key components of a lesson plan that you have found worked well in your classroom?  I would love to hear what specific things helped you to develop your current lesson planning strategies.  Feel free to leave a comment!
For more information on lesson planning, click on the links below:
How to Accomplish More Effective Lesson Planning
How Long Should Lesson Planning Take