Even though it is still the within the first month of summer vacation at the time I am  writing this, my mind has already started drifting toward planning for the next year, and with it thoughts about how long lesson planning should take.  Of course, we all know that how much things SHOULD take versus how long they actually WILL take are usually quite different.
In actuality, I can't give you a direct answer to this because the exact time depends on what material you are researching, how much time you need to fill, and how difficult the projects and activities around it will be.  It also depends on how much material regarding your subject material is on the internet.  Of course, the more coverage of your subject, the quicker and easier it will be.  Sometimes it's super quick and easy.  Everything you are looking for pops up easily and you're good to go.
More often, though, it takes a lot more time, especially when it is an activity/class you are planning for the first time.
What I can give you is a range.  The following chart should give you a good idea of how much time it should be taking based on where you find yourself in the teaching journey.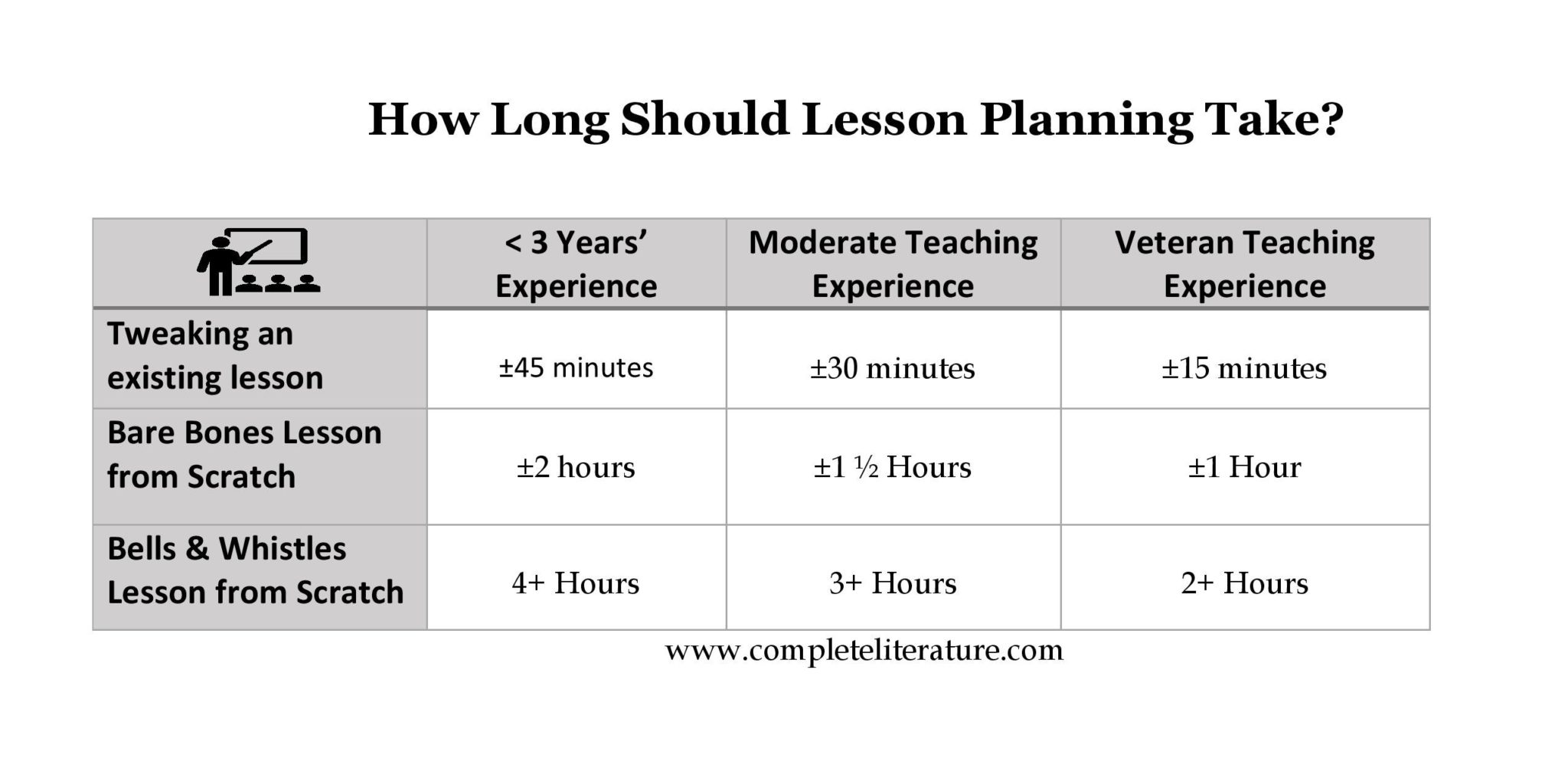 I do know that once I have my resources planned out, the rest does come pretty quickly. Because I have been doing this for 25+ years, it does actually pare down quite nicely now.  But more often than not, for that one thing that I decide I want to change up, inevitably, I think I'm just going to jump online real quick and find it.  But before I know it, hours have passed. I've done about three other things, and I still don't have the thing I went there to find in the first place.  Sounds like a trip to the store to get milk and then forgetting it, doesn't it?
So, in the interest of helping others spend less time than I have in the past, I have a few ideas to share from what I have learned over the years by trial and error.  I also scoured the internet to find a couple bonus creative ideas to share.  Maybe your lesson planning for the coming year will be faster and more productive than ever before!
Lesson Planning with a Time Limit
The first thing I learned to do was set time limits for myself.  If I didn't do this, then I would inevitably end up surfing the web for hours on end.  And usually, I was no longer even working on my initial project.  One thing had led to another which led to another, etc..  By the end of an hours-long session online I realized that I hadn't even come close to finishing the task I had set out to do.
So one Saturday morning, I set the stove timer for the kids to get their rooms cleaned up and I was instantly inspired to do the same thing for myself.  So I set my phone timer for one hour and laid it right next to my computer and lesson planner.  It worked like a charm!  In fact, it worked better than just keeping myself focused because I found myself trying to beat the timer.
Making a Lesson Planning Form to Fill Out
This may have been one of the best ideas I ever had.  I jumped on Microsoft Word and in about 5 minutes made a very general form to fill out with any lesson planning ideas I had.  That included anything online, at the library, in a book at home, on tv. It was just something simple so I had to fill in the spaces in order to feel like I had plenty of good material for the upcoming class.  I made it suitable for any subject.  Then I placed a small line to the left of each of the writing lines.  Those were so that I could number them in the order that I wanted to prioritize them in the lesson.
Once I filled the form out, my class was pretty much ready to go.  This combined with the timer actually cut my lesson planning time to about a quarter of what it was.  And I didn't even miss all of the online puttering that I had been doing.
The To-Do Pile
Okay, we all keep piles around our houses of things that we need to take care of.  And then those piles just kind of sit there.  And sit there.  Well, at least I want to believe that I'm not the only one that finds it hard to get all of those piles done.  Just humor me here.
Those piles became the inspiration for my next streamlining idea.  I put all of the subjects that I still needed to do for that week in a pile in the center of my desk.  I did not allow myself to move that pile until it was done.  If it was out of sight, it was out of mind.  Having that pile in the middle of my desk drove me crazy.  So it was a great motivator to get it done so I could have my desk space.
The couple of times that I did move the pile, the work did not get done.  That was pretty good motivation after a couple of eleventh-hour planning jobs. I learned that the only way to move the pile was to get the planning done.
Get Advice from Other Teachers
There is nothing new under the sun.  Even though we would like to think that we created some new thing that has never been done before, it has probably been done before somewhere at some time.  That certainly doesn't mean we shouldn't try to think outside of the box.  But it does mean that another teacher might have a really good idea that you would never have thought have.  Ask around.  Most teachers are eager to share their best ideas with you.
At the end of the day, the majority of teachers want to see happy kids that have productively learned something.  And if something they shared accomplished that, then everybody is satisfied–students, teachers, and parents.
Invest in a Really Good Planner
When I first started lesson planning, I just bought a very basic planner that had the grading charts, schedule, and attendance sheets.  It looked kind of like this: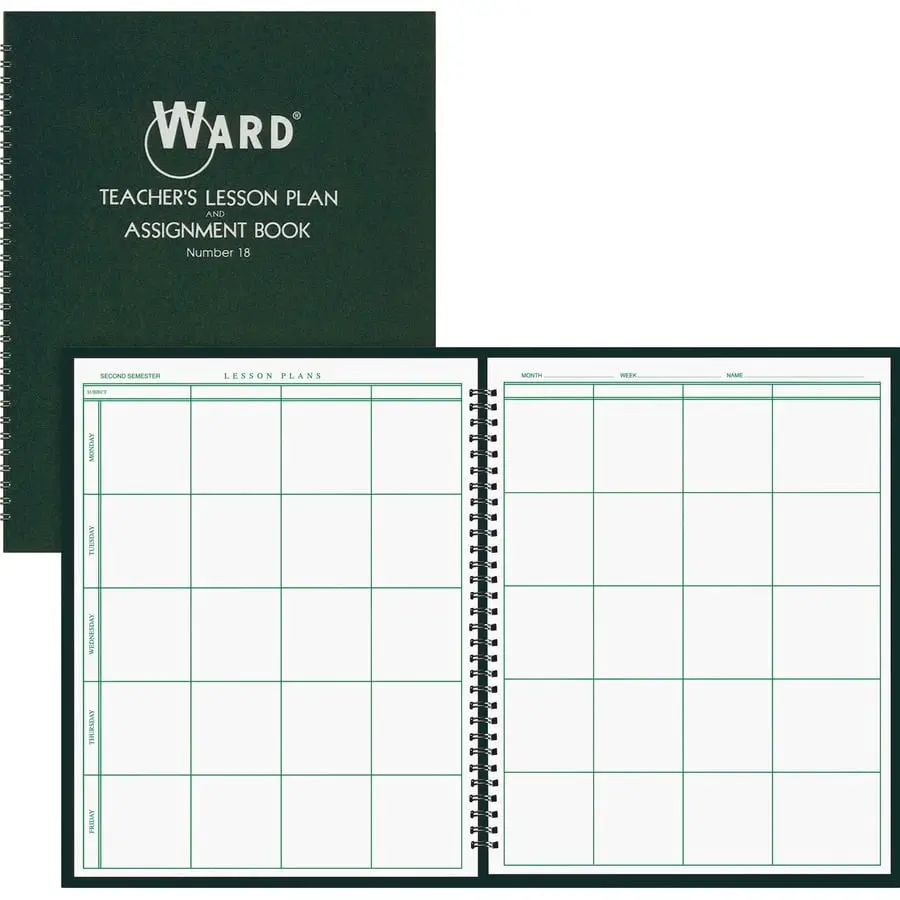 It fulfilled its purpose well at the beginning of my teaching years.  As time went on and my plans became more complex, I collected so many papers and extra things and crammed them into that book.  It was a mess.  And I was no longer organized.
I will preface the rest of this category by saying that there are tons of planners out there and teachers with myriads of different styles.  What was a dream planner for  me will not work for everybody.  And I can guarantee that there are some amazing teachers out there that are still rocking the Ward planner and have no need for more.
But I want to share with you what changed the game in my lesson planning because it put almost everything together for me in a way that my mind could keep up with.  I tried out  the bloom daily planner (this links to Amazon) and it was amazing.  There are currently four different choices for cover.  I chose the marble one.   The extra features that it provided were a page for substitute teacher instructions; a page for web addresses, phone numbers, and other important information; pages for important dates and birthdays; a page for contacts that you made through the year; and a page for field trips.
The only thing that I really missed that this planner didn't include was attached pocket pages.  No  matter how complete a lesson planner is, it can't have everything.  Hmmm.  Maybe publishing my idea of a perfect lesson planner is in my future!
Bonus #1: Backward Lesson Planning
Here is the first suggestion I got from checking out what teachers were suggesting online:  backward planning.  The concept is that you think first about the learning objective you are trying to accomplish.  Then you think of activities/projects that will accentuate that in the best ways for the students that you have.
You can find an excellent web page explaining this concept in detail here.
They even include templates for lesson planning using this method for your own class.
Download Existing Lesson Plans
This is the last bonus suggestion that I got from online.   While I definitely recommend doing this if you find yourself in a time crunch, it is not a perfect solution. While I say that, I realize that sometimes as teachers, "we've gotta do what we've gotta do."
Teachers teach with a personal style that is as individual as their fingerprints.  And for that reason, the best classes are ones in which they had enough time to plan according to their style and the abilities/interests/learning abilities of their students.  But when we find ourselves in a pinch, this is a very good idea.  And oftentimes, we can tweak those plans just enough to put our personal touch on it, either in discussion with the students while working on it, talking with them about it in casual conversation, or maybe even in tying that lesson in with the next lesson that you are able to design on your own.
At the end of the day, teachers do so much behind the scenes that nobody realizes–lesson planning, field trip planning, party planning, grading papers, building relationships with students and oftentimes their parents, and much more.  It is arguably one of the most time consuming vocations in the world.  And they certainly don't get paid for the hours/weeks/years that they put into it.
To take a peek at a very detailed lesson plan/guide (the teacher assistance sheet) along with the supporting documents, check out this link.