Middle school block scheduling has become a popular alternative to traditional school schedules in many schools across America.
Block scheduling is a method that schools use, generally in middle and high school.  The purpose is to have fewer large blocks of time to concentrate more on their subjects so that learning can progress better.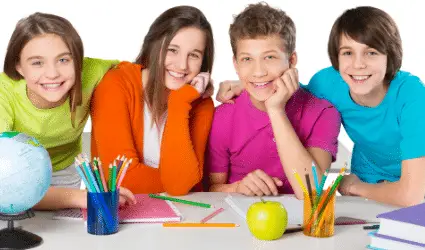 Block scheduling was first implemented into school systems around 1989. with the publication of Turning Points by the Carnegie Council on Adolescent Development.  It has consistently developed and grown from there.  But as classes across America have switched between traditional and block scheduling, some issues on both sides have come up.
So what are the pros and cons of middle school block scheduling?  Most of them have to do with attention spans, attendance patterns, and testing.  Here is a chart with a list of the biggest issues regarding block scheduling: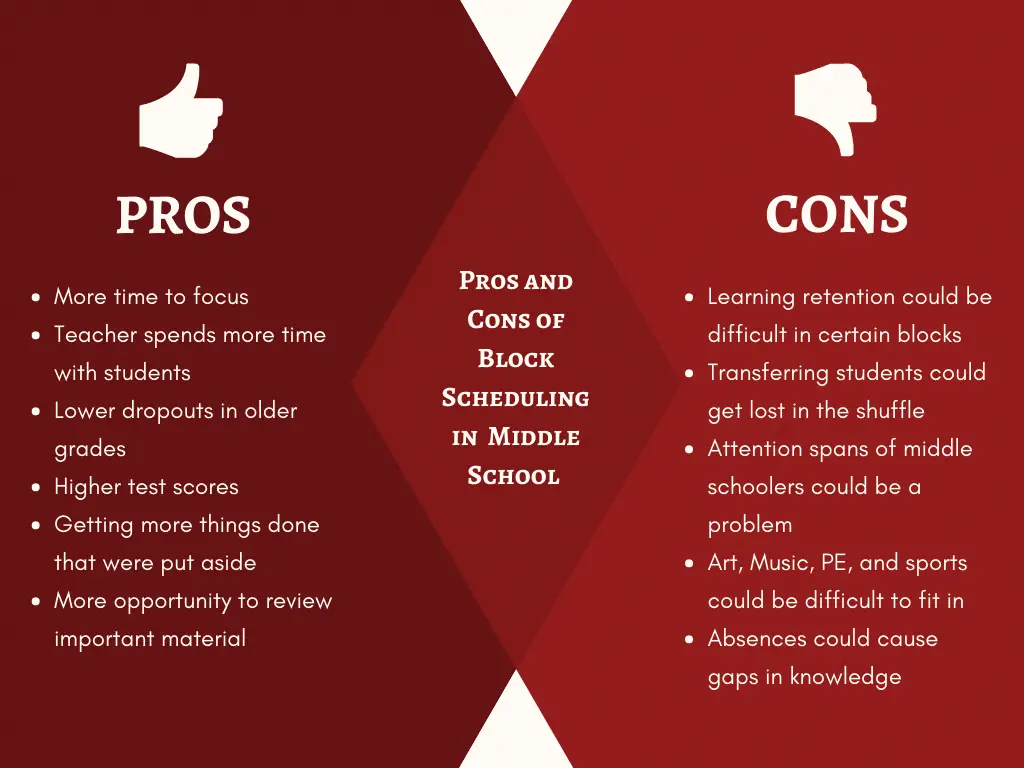 So let's go ahead and take a look at what some of these look like in the middle school classroom.
The Pros of Middle School Block Scheduling
This list is by no means complete.  But it should give you a good idea of what some really good reasons are for block scheduling in middle school.
More Time to Focus
On an almost daily basis, teachers in traditional scheduling need to quickly get their students attention (read more about this in my article on the anticipatory set), then get the most critical points across to them, and make sure they truly comprehend them before rushing on to the next subject to do the same.  That happens daily for 6-7 periods a day for a lot of classrooms.
And while there are certainly advantages to this method that has been used for well over a hundred years now, there are also some disadvantages.
One of those is that it is hard to focus when there is such a rush to get things done and move on to the next class period.  Having a larger block of time allows teachers to be able to truly concentrate on the discipline they are teaching.  And it allows the students to be able to take it in, apply it, and reinforce the learning with activities related to it.
Because so many elements are being brought into the larger block of time, real focus on what is being taught can take place.  And that will allow students to better retain what they have learned because it wasn't just briefly touched on before moving on to the next thing.
But one of the biggest advantages to having more time to focus is that teachers can do projects with their students that they traditionally either had to split up or forego because there wasn't enough time in the traditional schedule.
The Teacher Spends More Time With the Students
Because there is less rush to get from one class to the next, teachers are able to really get to work with their classes.  They have fewer classes, which means fewer students to work with overall.  And this allows them to get to know the students they have better.
Teachers can work with them better because they learn more easily what works for the students they have.  When they implement those things that they know the students will do better with, their classroom becomes so much more productive.
Teachers getting to know their students better is such an advantage in so many ways.  The more they know their students, the better they can serve them in the classroom.  And the happier and more productive the students become.
Research Shows Lower Dropout Rates in Older Grades
Studies have been done that have shown that when students are more engaged and learning productively, the dropout rates decrease  (O'Neil, 1995; Eineder & Bishop, 1997).  While this is not necessarily a middle school statistic, it certainly affects middle schoolers.
If they are able to learn productively and well in middle school, it tends to continue on into their high school years.  So maybe those students who were having a hard time in middle school but turned it around while still in middle school will not later become a statistic.
I was not able to find any more recent studies done.  But I plan to look more into it and write about it at a later time.
Higher Test Scores
In the summer of 2015, Yancy Jason Ford conducted a study on testing scores between traditional and block scheduled classrooms.
He concluded that, indeed, students in a block schedule did perform better on tests in all subjects discussed in the study.  But interestingly, he seemed to attribute it more to teacher attention and ability to get lessons across to their students than to the tests and dissemination of material.
I know I'm a nerd, but I found his study to be really interesting and good reading.
Getting More Things Done That Were Put Aside
I touched on this point a little bit above, but one of the things that teachers loved about block scheduling was that they were able to take on projects and get them done that they couldn't before.
When they previously had a large project to do, they would take a couple of class periods to do it.  And that would actually take extra time because they would have to pick up and then set up materials for the additional classes.
So not only were they able to get more done in the block schedule, but they were able to cut out extra busy-work along the way.  That was a win-win for both them and their students.
More Opportunity for Review of Important Material
This is a huge benefit to block scheduling in middle school.  Because there is enough time to do several activities within the subject they have scheduled, they are able to sufficiently review material that the students have been learning.  This allows them to fully learn the material before going on with the new lessons.
And because of the extra time, teachers can be more creative with how they conduct their review time.  It can be in the form of a game show, classroom discussion, or video.    Or it can literally be anything they can come up with to reinforce the material already learned.
These are the things that students will remember the longest.  And they will remember a lot of the facts that went along with those fun moments.  Helping your students to learn lifelong lessons in this way is a pretty awesome way to do school.
The Cons of Middle School Block Scheduling
Again, this list is certainly not a complete list.  But it should give you an idea of what the major cons are regarding middle school block scheduling.
Learning Retention Could be Compromised
So this statement seems a little bit contradictory since I just said in the list above that student retention could be higher based on a couple of the pros of block scheduling.
The reason for this seeming discrepancy is that while retention throughout a course has proven to be higher, unfortunately, it doesn't always play out that way long term.
Once a course is done for the semester, it could be a full year or more before the subject is covered again.  And with no reinforcement or review for such a long period of time, students could actually regress in their study of those subjects.
One of the best ways to combat this is to spend a certain amount of time reviewing in the beginning of the new semester.  And this isn't so different from having to review concepts after summer vacation.
But either way, significant time is needed for the sake of getting students back on par.
Transferring to Other Schools Could be Detrimental
This is probably one of the biggest cons that I found in block scheduling.  The reason why this is such a problem is because if the blocks are significantly different from one school to another, students can miss half or more of a book or course that they have been doing.
Unfortunately, this is just not something students can make up for in a viable way.  The closest thing I would think they could do is find the equivalent of the classes they are taking and take them independently of their classmates.  Then go back and take the new ones with the new semester.  But that is a whole lot of shuffling around.  And that could be even more detrimental for students that are new to the school and trying to make a new social life on top of their new studies.
While there aren't a whole lot of students that would find themselves in this situation, there are still enough students that would experience this.  And the number of students doesn't really matter if any students are working through this.  We don't want them to feel like they are slipping through the cracks.
Attention Spans for Middle Schoolers Could be Difficult to Deal With
This sounds like a problem because middle schoolers are so active.  But honestly, it really isn't a problem if the teachers are getting to know their students and those students' strengths/favorites.
Learning that is fun and experiential is way more productive than book learning and lectures.  And the best part of block scheduling is that the teacher can now do this more effectively and for more students.  There is enough room and time for everybody's strengths to be celebrated and capitalized on in the classroom.
I don't have room to write about that here, but here is another article I wrote about differentiated instruction, and one about the seven styles of learning.  
Music, Sports, Art, and PE Could be Hard to Work In
These have been issues for longer than block scheduling has been on the table.  I remember this being an issue when I was in middle and high school myself (I won't discuss how long ago that was!).
One of the things that I have not seen implemented specifically but that I think could work is to maybe split one block between two of those things for each semester and then  you have all four of them taken care of for the year.
Don't you love how simple I made that sound?  Seriously, though, I know there are so many moving parts to this, that it may sound like a good suggestion.  Until someone tries to do it.
Other than that, maybe students could choose between music and art for one year. And then they get at least a whole year of each one.
Absences Could Cause Students to Miss Large Amounts of Material
This sounds like a pretty big hurdle at first.  But honestly, if a student misses a day of school, they are missing the same seven hours whether they are in a block or traditional schedule.  So they are either going to have to make up work in 4 subjects or 6 or 7 subjects.  But it will all basically be about the same amount of material.
If the teacher can share the notes that she worked on with the class or extra reading material that could be helpful.  Recorded classes could also be an advantage.
All of these things take extra prep work on behalf of the teachers.  And if there are absent students every day, which is pretty normal, that is a lot of extra work for the teachers.
But if there is regular review done in the class, that is an opportunity for students to catch up.  Maybe having a study time for students to help other students catch up is also something that could be worked out in the schedule.
Conclusion
So this is what I have learned about middle school block scheduling.  I would love to know what your experience has been with it.  The truth is that because there are pros and cons of both traditional and block scheduling, teachers and administrators need to work together to find what works best for their classrooms and schools.
Everything is going to need to be worked with to make it better because nothing is perfect.  And at the end of the day, we aren't trying to show our students how to be perfect.  We are trying to teach them how to get along in the real world.  Which is what teachers are doing too!
If you would like to read more scheduling in middle school, I found this book, Scheduling Strategies for Middle Schools to be extremely helpful!
And I also have a couple more articles that you may find helpful as well:
Are Shorter Class Periods Better for Students?