In the first article of this two-part series, I went over about half of a week's reading program.  If you haven't read that one yet, you can find it here.  In this article, I will finish up the components of a well-rounded elementary or middle school reading program. This program can help you to create an amazingly fun classroom for you and your students.
A Quick Review
Before we begin, though, let me quickly review what I went over in part 1 of this article series.  Or you can also access my whole article by clicking here.
So in the first article, these were the main points that I covered:
Ready Display:  have your special literature class features out on display when your students get to class. Then they can eagerly look forward to what is in store for them in their school day.
Let's Play:  plan an activity that your students will love to play.  Of course, they will also love to see how the game ties into your reading lesson/application for the day/week.
Reading:  that's what makes this a literature class!  The readings in my class were generally recordings of dramatic readings whenever I could find them.
Discussion:  going straight from reading to discussion always allowed the students to reflect on what they learned/thought about the lesson.  The sooner I did this, the more eager they were to share what was on their mind because it was so fresh.
There was also a great infographic that allowed you to see exactly where everything is going instantly.  Click back on the article here to see that as well.
The Last Four Activities
So, now that we've had time to do some reading, some application, and some activities to help the kids understand the themes you are trying to teach, now you can add these next four things (plus a bonus!) to help you create your own amazingly fun classroom!
Here is the second infographic for this series. It will allow you to see clearly the direction this class goes in.  Of course, you will tweak it to fit in with your own schedule/big picture.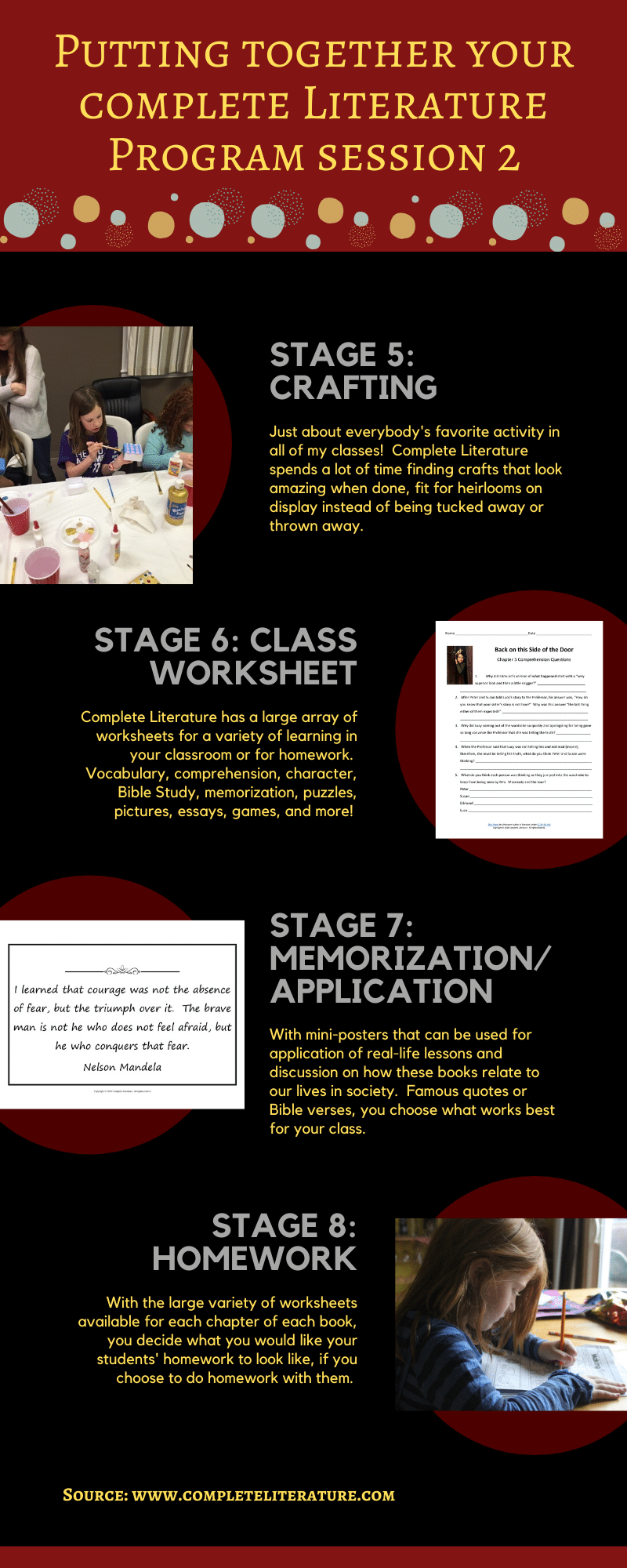 Stage 5:  Crafting
Very quickly into the new school year, this always becomes the thing that the students raced into the room to get a sneak peek at.  I always had my example craft prominently displayed in the classroom.  Then when they came in they could see exactly what they were doing.  Everybody–even the "too-cool" boys–got excited about these crafts.
When you are able to get ALL of the kids on board with what you are doing, you will indeed create an amazingly fun classroom (especially for you because you aren't dealing with the struggle to motivate everyone).  And sometimes, especially at the beginning of the year, they would express doubt that they could pull those crafts off.  But they did!  I always spent a good amount of time researching the best looking craft ideas I could find.  Then I would adjust the theme and the difficulty level to whatever the ability of the current class was.
Keys to Success
One key to great looking crafts was breaking it down step by step and letting them create as their vision allowed.  Some of those kids crafts went way beyond my talent!  It was awesome to watch that develop through the year.
Another huge key that worked for my class was having parents come in and help out.  This was strictly on a volunteer basis, but there were always moms that were excited to see what was going on in class.  Or they loved to craft and loved helping out with the current craft.
This was the only part of my program that I had to know what I was doing at least a week or two before we did it in class.  That way I could shop for any supplies.  And I could do a practice run or two to master it before I taught it. Plus the practice runs helped me to know how to divide up the work into class slots for time constraints.
Finally, in order to fit these activities into our school day, I would adjust the more labor-intensive crafts into the art slot for the week.  They loved seeing how it tied into their literature unit.  And I was usually able to tie in the literature craft with an art concept that was in our art program.  Getting a two-for-one project in lesson plans–priceless!
Stage 6:  Class Worksheet
You may have already used one of my worksheets for the discussion part of the class.  But there are tons of other projects/worksheets that you can fill in here.  These also work for a large number of grades:  third through eighth.   For the younger grades, you may have to explain a little bit more, and for the older grades, you may want to assign extra or discuss it more heavily to branch out a bit.
The worksheets consist of the following:
Vocabulary worksheets with mini-poster visuals included
Comprehension worksheets
Worksheets that focus on character
Bible study worksheets
Puzzle or game worksheets
Essay worksheets
Picture-drawing worksheets
Some chapters can have even more than this, but this is the bare minimum you will be able to choose from.
When I did these worksheets as class discussion, I always found the kids to be eager to share and contribute, regardless of age or grade.  One of the best ways I felt that I could create an amazingly fun class was when the kids were so open and eager to communicate.  Not only did it feel like an amazingly fun class for them, it was a safe place for them to express their thoughts, feelings, and dreams.  And the fact that they felt supported in that on a regular basis was icing on the cake!
All of this from a worksheet, though?  Actually, yes, because I intentionally worked to formulate worksheets that made it easy for them to apply to life in their world as well as the world they were reading about.
Stage 7:  Memorization/Application
With each chapter of each book, Complete Literature has usually one Bible Verse and one famous quote to commit to memory.  Once in a while there are additional verses or quotes when there were too many to choose just one.
This helps the students apply the life lesson from the chapter in a way that is lifelong and culturally rich.  And students in the targeted grades are still adept at quick memorization, so it is a great form of application.
You can choose to use either one for your class or even both.  And they come in a mini-poster format that allows you to hang them up for reinforcement.
You can also hang them together throughout the book study because they are uniform to allow for a collage effect but slightly different for variety.  This will be great for review over time.
They make perfect conversation pieces, not just with students, but with anyone who visits your class!  You can also laminate them and use them year after year.
Stage 8:  Homework
So this stage of the plan is actually totally optional.  By this time the students have read, reviewed, discussed, played, eaten, crafted, memorized, and applied the material.
I did assign homework most of the time, but it was not for grades.  It gave me an opportunity to reward the students.  I had implemented a "dollar" reward system into my program.  The students would get (not real) dollars for helping out, memorizing Scripture or quotes, being quiet, obeying quickly and cheerfully,winning games, and homework.
Also, I awarded dollars for any random thing that I saw that I felt deserved a reward.  I will have more on these dollars in the next section.
To help with busy after-school schedules, I always made sure the homework pages were super quick and easy to finish. Plus I made them somewhat entertaining while still maintaining educational integrity.  That way it wasn't torture for them to finish.  I wanted it to be something they actually had fun doing.
It is super easy for you to implement because it can be any of the worksheets that are in the program that you haven't yet done.  There should be more worksheets in each chapter than you can do.  That allows you to maintain variety.
I have to say that the students would hands-down say that this was the biggest thing I did to create an amazingly fun classroom for them.  They especially thought so because the dollar reward day was also on the party day at the conclusion of all of the books that we did.  A party with prizes during the school day would be the definition of how to create an amazingly fun classroom in anybody's book!
And honestly, it makes a pretty amazingly fun day for the teacher too.
Bonus Idea!
Back to the Dollars
So let me get back to the point of the dollars which I touched on in the homework stage.  The students may not realize if and when you first implement this how much they will be rewarded.  And it is a bit of work and planning for you.  But the reward is absolutely astounding. And once they realize how it actually works, they are all in!  This alone will create an amazingly fun classroom for the students because they love collecting the dollars and watching them rack up.
Basically, you spend a good amount of time weekly during the reading activities rewarding good behavior.  Because the dollars were themed with the book we were working on, I tried to keep the dollar rewards close to the reading/literature class time. At the end of the particular book study you are doing, they will get to use their dollars for a "store" to purchase rewards based on how much money they earned.
And as far as designing your dollars to match the book you are working on, you can make your own design on a word document, or you could click over to Canva to make your perfect dollar design for free.
Watching the Excitement Build
The very first time I implemented this, the only students that really participated were the few that always did everything that was assigned to them.  I warned all of the students throughout the year that they reward would be great if they were willing to put in the effort.
But the thing that actually motivated them to do it was finishing that first book study and they saw the "store" and rewards that the higher earners got.  They also saw how much more they could earn next time by going the extra mile (or actually quarter mile since none of the dollar rewards are that labor-intensive).
Just make sure that you are giving reward dollars for things they are doing in class that deserve recognition if they aren't doing homework so they can at least see the store and get some amount of items.
So, what are the dollars?  I always named them some cheesy thing because the kids loved it.  Narnia Dollars were their favorite.  I had a small scene and mimicked a real dollar so that it would theme perfectly.  They loved it.  I also kept them in a file for safe keeping so the kids wouldn't lose them and have nothing to spend.  And I also kept a record in the teacher record book.
The Store
So, how do you make a "store?"
It was actually pretty easy.  Every time I went to the dollar store I would collect a few things.  It was even better if whatever thing I bought came in a multi-pack.  Super cheap!  I shopped in hardware, toys, cosmetics, decor, stationery, housewares, just about anywhere because there are always great things to add. I also looked for things in discount stores that were no more than $5.  They would be way more expensive in the "store" so I would only buy a few of these items.
The students loved the high ticket items.  Only the students that had done the most work to get their dollars could get those, so it was a great reward.
Over time I collected quite a good number of items.  Then I was able to set them up in the "store."
As for pricing, I multiplied everything's value by 5.  So a dollar store item would cost them 5 Narnia Dollars.  Then I made sure that the number of dollars I awarded corresponded to the number of gifts they were able to procure.  This worked amazingly well.  And because it was done over time, it wasn't overwhelming to the budget.
Finally…
One final note about the store is that I used an ez-up tent with the walls attached and only let in a few at a time.  You can use just about anything to keep the area hidden until they can get in there.   I can't even tell you how much they loved this reward program! It was such a treat for them to get to walk into a "secret space" to get their hard-earned treats.
You can choose to do it anyway that works for you, but you do want to make sure that they aren't all trying to commandeer the same items at the same time.  I limited how many could go in at a time.  It worked like a charm.
Putting it all Together
So now you have my two-part series on how to create an amazingly fun classroom.  While my specialty is literature based, you can implement some of these same strategies in any of your other classes.  At first it will take some extra time for you to figure out where to do that, but once it becomes a natural part of your classroom routine, it really doesn't take very much extra time at all and the improvement of morale in your classroom (for both you and your students) is so worth it!
Let me know how you implemented these things into your own class.  I would love to hear how life in your class is going.
To read part one of this article, click here.