Creating tests for students is a frequent aspect of teacher life.  And studies have shown that more  teachers create their own tests as compared to using tests that have been previously created.  But sometimes it's hard to know exactly how to formulate the perfect test.  One important factor is how many questions should be on a test.
I did some research to find out what the best number of questions should be on a test and combined it with both my own school experience and teaching experience.  I came up with some great information.
So how many questions should actually be on a test?  The quick and easy answer is 20-25. While there is not one specific number that applies to all situations, there are a few factors that make it much easier to know what the best number is for your situation. 
The two greatest factors are how much time students have to complete the test and how to find the perfect number of questions to accurately represent the level of student knowledge without overburdening them.  I will go over both of these issues as well as a few other pros and cons of how many questions should actually be on a test.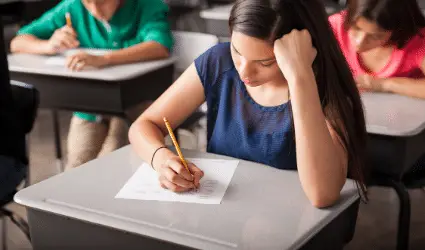 Some Preliminary Thoughts
Generally speaking, nobody likes taking tests.  At least not the academic kind.  But since tests are a necessary part of life, the question then becomes how many questions should be on a test.
I know that for me personally, I liked more questions rather than fewer questions.  I knew that if I had mastered most of the material I could answer most of the questions correctly.  But if I got stumped by  one particularly difficult question, getting it wrong on a longer test would not be worth nearly as many points as getting it wrong on a short test.
It used to devastate  me to get one or two questions wrong on a 10-question test.  Each wrong answer would drop me by one letter grade.  The pressure was amazingly high!  I know, I was a little bit too OCD about my grades in school. But for many students, that is a big deal, especially if they are within a couple of points of a grade going up or down.
What Everybody Thinks About Testing
I mentioned above that generally speaking nobody really likes to take an academic test.  But maybe I was not exactly right about that.  Surprisingly, I found a survey taken on Gallup that talks about how students, teachers, parents, and administrators feel about the frequency of tests in the classroom.   Here is the chart recording the results: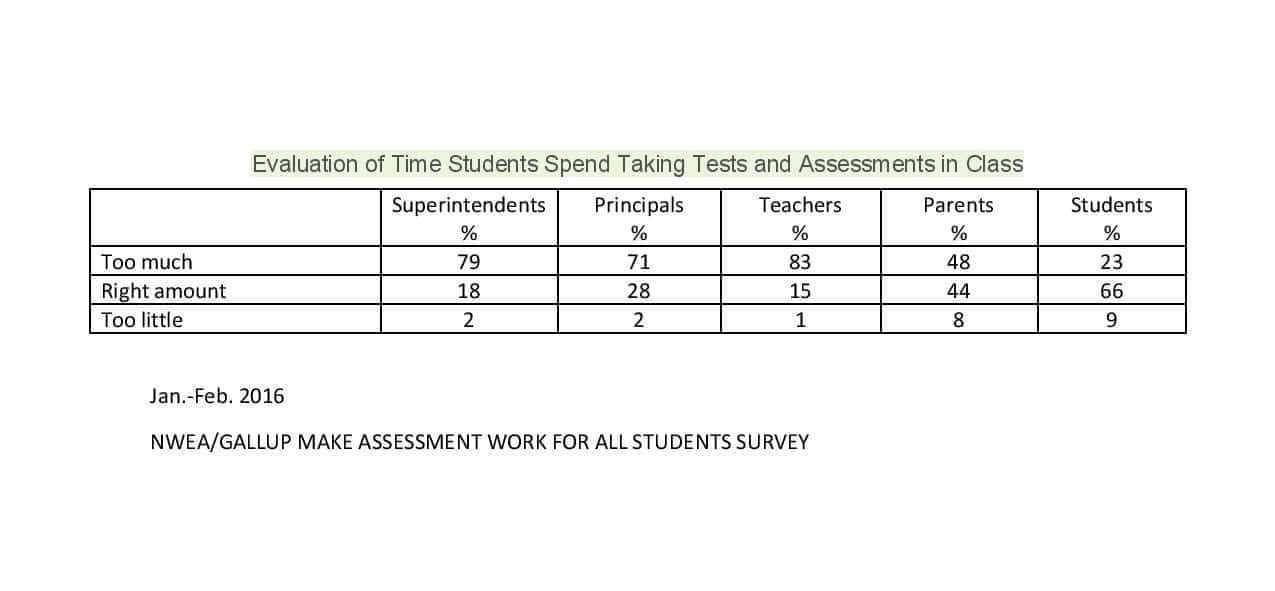 What I found most surprising about this Gallop poll is that students seemed to be more satisfied with the current testing "status quo" than anyone else surveyed!
Interestingly enough, I do remember having anxiety before tests. I was afraid I would not have learned everything the teacher wanted me to learn.  But on the flip side I was also eager to see what my own level of mastery was.
So maybe these issues explain what is in play in this Gallup poll.  Maybe the students are happy that they are tested at the level they are because it allows them to gauge their own mastery.
Also, they may prefer more frequent testing because the pool of knowledge they would have to know would be smaller.
Unfortunately, beyond guessing, I can't tell you why they answered the way they did.  It would have been interesting to find out exactly why they answered the way they did.
If you are interested in checking out the rest of the Gallup poll information, click here.
So What's the Number?!?
So based on the research I did as well as my own student/teacher experience in life, I believe that the optimal number of questions on a test is 20-25.  That means that questions are worth only 4-5 points each.
When you have that many questions and get stumped, many times students can read through the other questions to get hints about the answer you are trying to get to.  It may not even be directly related to the question you are trying to answer.  Maybe the thought of those other questions remind you of the information you learned surrounding the question that stumped  you.
Arriving at this number was originally just my opinion and experience.  So then what is everyone else saying?  I did a very unscientific survey of my now adult kids.  Unequivocally they all said 25 questions rather than 10 for the same reasons listed above.
But now was that result because they are my kids and I raised them that way?  Possibly, but I don't necessarily think so because they are all post college, so they had lots of school experience outside of my world.  So I then branched my survey out to my kids' significant others, who had the same answers.
The Time Factor
As I explained in the beginning, the amount of time a student has to complete a test is critical to the number of questions on a test.  But maybe not as much as we think.  if time is short, you definitely can't create a test with 25 essay questions.  But you can utilize other forms of questions–multiple choice, short answer, or even matching terms.  I am not a fan of true/false questions for reasons I will cover in another article.
But the bottom line here is that if you don't have a large block of time to administer a test to your students, you can still do a longer form test and get a fuller picture of their knowledge level by shortening their response time.
As long as your questions are still reasonably challenging without "tricking" your students, you will still get a good understanding of their knowledge level in spite of their shortened responses.
The Well-Rounded Knowledge Factor
The other factor I mentioned with regard to how many questions should be on a test was how many questions you need to show a well-rounded knowledge mastery.  Many times 10 questions will do the job, but 20-25 will dig deeper to find out how nuanced the students' knowledge is.  Extending the questions to more than double gives the teacher a much larger ability to find the gaps in learning and then fill them in before moving on to the next material.
And when the teacher is able to fill in those gaps, the students are ready to move on knowing that they are ready.  That will make more motivated students who aren't afraid of the upcoming material!
What are the Benefits of 20-25 Questions on a Test?
The biggest benefit that I have already mentioned is that having this many questions on a test allows you to get a greater understanding of your students level of knowledge.  You can ask them questions based on a much wider cross section of information.  And then you will discover how well-rounded their understanding actually is.
Another benefit to having more questions on the test is that you will be giving the majority of your students confidence in what they are learning.  And they generally will not leave the classroom feeling like they could have either done really well or really poorly but have no idea which one it is.
When they test with a larger number of questions, they will have better intuition on how they performed on the test.  And that could help alleviate some of their anxiety while waiting for the results.  Unless, of course, you grade the tests in class during the class period.
Related Questions
How long should it take to finish a 25-question test?  
If you give students an average of 30 seconds to one minute to answer the questions, then the average time to finish a test of this size would be around 15-30 minutes.  Of course, some questions would take more time and some less.
How much time does it take to answer different kinds of questions on a test?
The average time to answer various questions on a test is as follows:
Multiple choice:  1 minute
Short Answer: 2 minutes
Essay Question:  10-15 minutes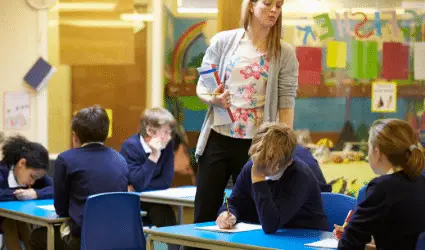 If you liked this article, I think you will also like these other articles:
What is Inquiry-based Learning and Why Will Your Students Love It?
What is Universal Design for Learning?
The Madeline Hunter Lesson Plan:  Should We Still Be Using It?
Problem-based Learning:  Boosting Your Students' Success in the Real World